Postpress
Vol.05
Apressia CTX Series for Bindery Automation
Covers of booklets are usually designed with the front cover, spine (in the case of perfect binding) and back cover as a single item, with a bleed area of 3 mm around the periphery. While taking this as one leaf means multiimposition on large sheets, it is general practice to set vertically or horizontally adjacent leaves together with no gutter margin. Since bleed marks are common for leaves next to each other, subdivided cutting before binding will reduce the overall number of knife drops.
Due to longtime practice, this sort of imposition layout has become the industry standard. It is actually common in bindery -- and not a significant problem -- to receive requests to 'extend the bleed area by a few millimeters' or to 'put a gutter margin between leaves' if paper conditions permit. The binding process consists of combining the solid parts of various grades of paper that make up the cover and signatures. For this reason, play is desired to leave room for lengthening the cover as much as possible and adjusting the dimensional error that occurs in folding with three-knife trimming. Adjusting the layout by a few millimeters leads to unimaginably increased productivity and higher quality throughout the binding process.
Even though not applicable in all jobs, it is the role of prepress to flexibly change the layout. The bindery side that receives these changes will then modify the cutting procedures. The automation on cutting systems has made tremendous progress recently. The Apressia CTX series of high-end Komori cutting systems is equipped with software that automatically creates the cutting procedures. In addition, preset data for the back gauge can be received from KP-Connect Pro, the cloud-based middleware that manages all printing processes. Today that is sufficient setoff to increase binding productivity and quality even if there are more knife drops for the cover.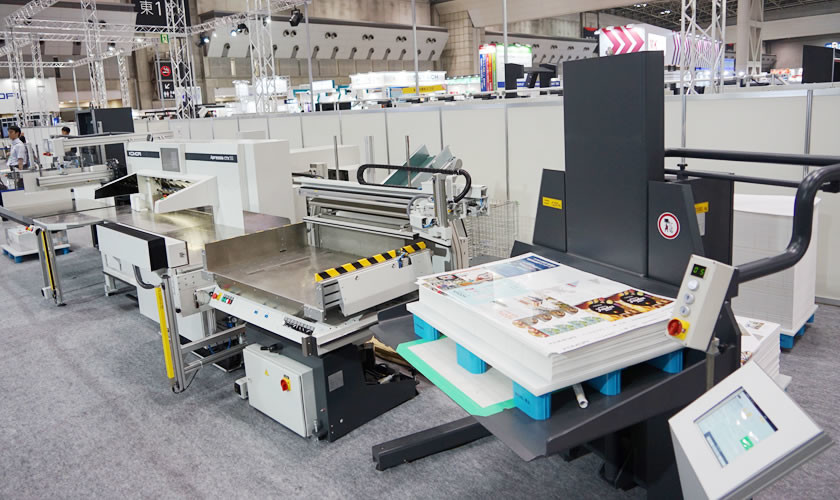 Apressia CTX132: Core of high-end cutting system (at IGAS 2018)
Back to list