Postpress
Vol.06
Printed Sheets Waiting for the Cutter? Make Improvements at the Jogger
How to properly maintain the productivity balance of the printing process and subsequent postpress processes is always a difficult issue. A small difference in production timing can result in full pallets accumulating around the jogger.
Printed sheets are semifinished products. Whether they are delivered as is after cutting or sent for additional postpress
processing, raising cutting efficiency is crucial to finding the
proper balance.
A printing company replaced a press with a new machine and raised productivity, but piling up in front of the jogger increased. Loaded pallets were placed directly on the floor. The normal practice was to set about 150 mm of sheets on the jogger. The machine operator on the shop floor had to bend and stretch to move each bundle onto the jogger. The company thought that there was room for improvement in this process. So the printer installed a commercial lifter, adjusting the height of the paper on the pallet. Although this did not fully solve the problem of pallets accumulating, cutting system throughput was improved by about 10 percent.
Further reducing accumulation would require improvements that take into account the particular situation on the cutting shop floor. Komori makes available a wide range of solutions, including a system that uses an automatic lifter equipped with sensors that is capable of maintaining a fixed height of printed sheets and loads the jogger by just sliding the printed sheets sideways. From conventional methods to high-level automation systems to reduce the workload, Komori is leading the development of mechanisms ideal for each workplace.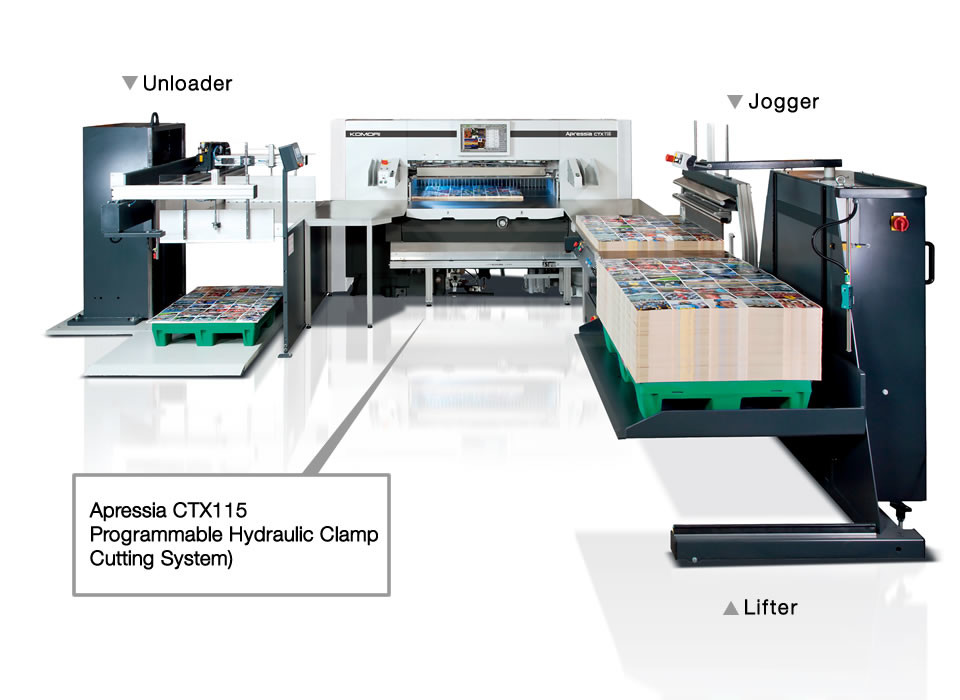 Komori Apressia High-End Cutting System
Back to list