New 8-color Lithrone G37P LED powers all-Komori lineup
Italy, Leardini Guerrino | Lithrone G37P [GL-837P H-UV L (LED)]
05 June 2020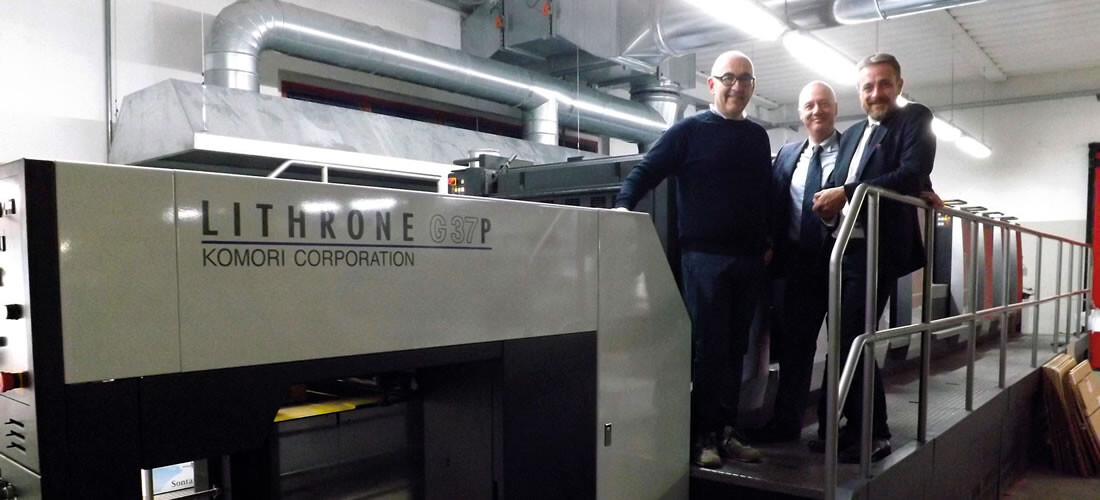 Specializing in a particular market segment can be the key to success for a printing company. One such company is Leardini, a publishing and printing house located in Macerata Feltria, in the Marche region of Italy, and the market in question is school textbooks. This rather unusual niche includes not only journals and penmanship workbooks but also teaching, secretarial and personnel forms plus related printed material such as registers, evaluation sheets, attendance logbooks, gradebooks, timetables, school calendars and yearbooks -- for schools from primary level to universities throughout all Italy.
From left: Giuseppe Leardini, Owner; Andrea Faglia, local sales agent; Fabrizio Giannuzzi, Area Manager of Komori Italia
"We had specialized in school textbooks for many years,"says Giuseppe Leardini, the company owner. "Our business is now almost 80 years old. My grandfather Guerrino started it in 1941 when he and my grandmother took over a small printing company. The company then passed to my father, Lanfranco, and finally to me and my wife, Simonetta." Today, Leardini employs 30 people in a 1,500-square-meter plant, has a yearly turnover of about 4 million euros, and offers a wide range of commercial printed matter such as catalogues, brochures, letterhead, business cards and forms as well as books, magazines, packages, boxes, displays and shopping flyers, thus serving a wide clientele with complete one-stop service, from graphics to finishing and binding.
"Our rather isolated geographical position in Italy does not make it easy for us to outsource work to other suppliers," explains Mr. Leardini. "This is why, in order to respond to the growing demand for fast delivery, we have had to equip ourselves to do everything in-house. The wide range of printing techniques and substrates allows us to offer the best solution for any customer need. Our extensive experience in everything related to printing methods and paper makes us able to advise our customers on the best solution possible. For instance, we can print on regular or coated, glossy or opaque paper, and boards of different weights, which we make available as sheets or rolls in various formats. Different processes can be used to obtain a particular tactile or visual effect. All products can be bespoke designed depending on end use and printing techniques."
A very particular sheet size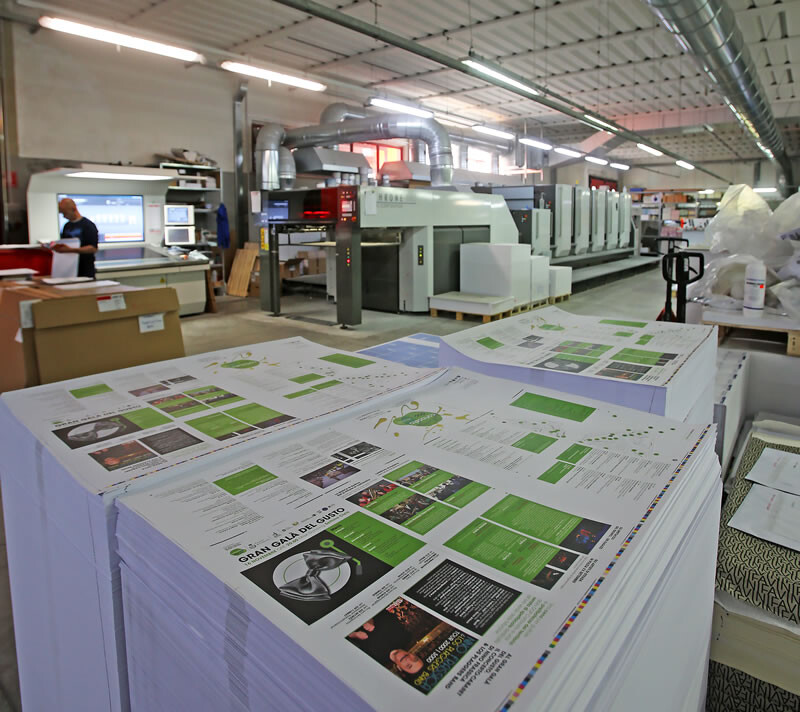 The company has an excellent press lineup: two digital printing systems, one single-color machine for technical manuals and one fullcolor system for short runs with variable data, plus all the necessary finishing and binding equipment, and four Komori offset presses: a two-color Sprint GS perfector, a five-color Lithrone 20, a five-color Lithrone G40 H-UV with in-line coater (purchased about two years ago), and, more recently, a new press that was installed in June 2019 to replace an old five-color Lithrone S40P perfector. This new entry is an eight-color Lithrone G37P perfector with Full-APC. It is the first press in Italy equipped with LED curing in the 640 x 940 mm format. "It's a very special format that allows us to print 16-page A4 impositions, but it's not very common in Italy because most of the presses work in the 700 x 1,000 mm format," says Leardini. "We chose it for a number of reasons: first, because most of our jobs are currently in this sheet size. Also, because of the compact size of the press, its printing speed, and, finally, for economy, since it uses smaller plates than classic 700 x 1,000 mm presses and has lower energy consumption."
LED curing speeds up cycle
Thanks to the press's LED curing capability and the consequent instant drying of the ink, printed sheets can be sent immediately to finishing, thus saving a lot of time. "We were invited to Komori International (Europe) in Utrecht, the Netherlands, where the LED lamp manufacturer analyzed our work and urged us to opt for the LED technology, which they believe is ideal for paper substrates,"says Leardini."
Before the new investment, Leardini says he looked at the presses of another supplier but chose to stay with Komori, "We have always been happy with their technical support and their presses have always been very reliable." In addition, the Komori competitor could only offer an unusual smaller paper size, which would pose a difficult problem."Thanks to the superior print quality and the more competitive turnaround times of the new press," he continues, "we will certainly gain new market share in both the school and commercial print markets."
Importance of responding to change
"The school business is seasonal, so there are peaks from spring until early autumn," observes Leardini. "But with the advent of digitization in the 1970s and 1980s, most printed matter disappeared from schools, and therefore we had to reinvent ourselves. This is why, unlike my grandfather who was totally dedicated to schools, my father began to combine municipal administration printing and school business with commercial work for individuals. Today both lines of business contribute equally to our turnover."
"We have always been a family business and have always reinvested our profits in the company. This has allowed us to grow exponentially even during the economic downturn of recent years. We are also financially prudent, lean and efficient, and quickly understand the needs of our market. Which means that we have always been able to renew ourselves by transforming difficulties into opportunities, which is perhaps our greatest strength over the years."
Plans for the future
"Our future investments," concludes Leardini, "will be in the area of finishing equipment. Drupa will certainly provide us with a useful starting point with regard to our future acquisitions. Our priority is undoubtedly a UV screen printing press, so that we can take this process in-house too. But for now, after our major investment in this new Komori press, we are going to experience a period of integration ahead."
Contact Komori Europe