Sentido y Significado 'amazed' by print quality of Lithrone G29
Mexico, Sentido y Significado | Lithrone G29 [GL-629+C H-UV/IR]
05 June 2020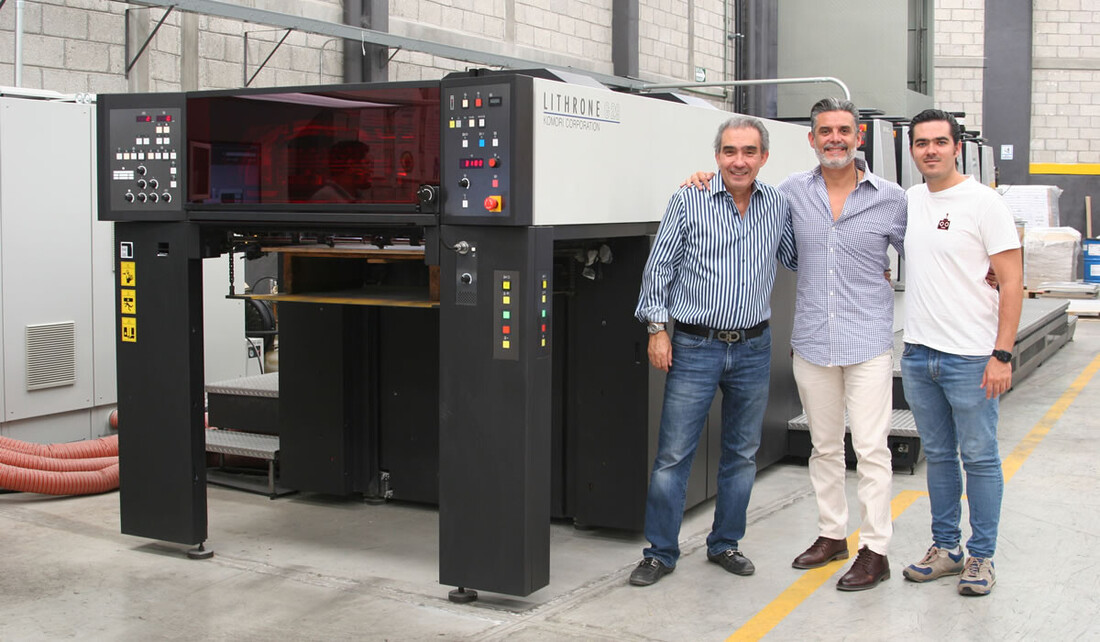 Sentido y Significado is a Mexican company that began operations in 1989 as a specialist in offset printing. The printer is located in Cuernavaca, the capital and largest city in the state of Morelos. Only a 90-minute drive away from Mexico City, the capital of Mexico, Cuernavaca has a year-round pleasant, warm climate with abundant sunshine.
From left: Miguel Conesa Navarro, General Director of Sentido y Significado; Roberto Herrera, Press and Finishing Sales Manager of Grupo Sánchez; Miguel Conesa Jr., Manager of Sentido y Sinficado
Thirty years ago, the company began printing on two-color machines for the commercial, cosmetics and pharmaceuticals sectors. Over the years, Sentido y Significado grew, following a bold vision to become a leader in the Mexican market. The company worked hard to stay at the forefront of innovation and technology by emphasizing quality, training and continuous improvement.
In 2000, they established a strong relationship with Komori thanks to Grupo Sánchez (the authorized Komori distributor in Mexico), leading to the acquisition of a four-color Lithrone 28.
In 2013, the company ventured into the packaging business, where new customers were sought and acquired. Sentido y Significado began to manufacture packaging boxes, mainly for the pharmaceuticals market, and grew at a significantly faster pace.
As the needs of the company grew, new machinery was acquired, including two fourcolor Enthrones, one with perfector and one without. As of 2018, Sentido y Significado had a fleet of six offset machines, focused primarily on the pharmaceuticals and cosmetics packaging. Their commercial work specializes in instruction manuals, POP items and flyers.
In 2018, the company knew it was time to invest in a packaging machine. After extensive market research and with the support of Grupo Sánchez and Komori, they were able to find in Komori Graphic Center- Europe and at the IGAS 2018 International Graphic Arts Show a machine that met the company's expectations: a six-color Lithrone G29 with coater and the H-UV Innovative Curing System. This opened a completely new market for the company. There was limited expertise in H-UV technology -- both within the company and in Mexico. However, given the wide range of market opportunities in addition to the positive environmental factors, Sentido y Significado decided to invest in this stateof-the-art machine.
The Lithrone G29 arrived in March 2019, followed by installation and training. Everything was unfamiliar, but thanks to Komori's highly trained team, it was possible to create great synergy and get the press up and running quickly. The machine's technology opened a world of possibilities not only for packaging but also for customers looking for innovation and unique detail.
New options in processes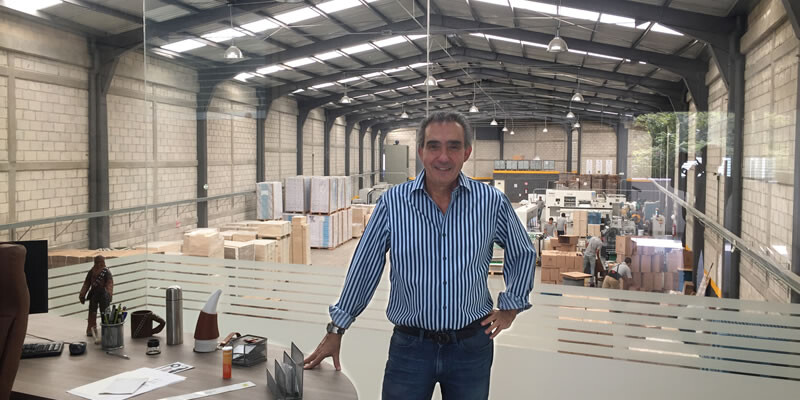 "The machine is a hybrid -- printing with both conventional inks and H-UV inks, which was a new process for us. It was our first experience with this technology. We were amazed at the high quality of the printing and the new offers that we're able to present to our clients, such as drip-off coating, printing on synthetic and metalized paper, and coating with UV varnishes. And everything with the eco-friendly H-UV system!" says Miguel Conesa, General Director.
Today, they have grown their volume of packaging production, delivering large quantities of products with outstanding quality. Another benefit of acquiring this machine was being able to achieve global Graphic Measures International certification, which affirms them as suppliers of the highest levels of standardization and quality.
Thanks to this, Sentido y Significado has been able to grow their client portfolio, offering a new world of processes, finishes and specializations. "Sentido y Significado is definitely looking to expand to new technologies and services, mostly in the packaging industry, and also looking to expand to premium boxes. We are developing a highly trained team in our prepress and postpress departments so we can offer greater innovation to our clients," says Mr. Conesa. "We are planning to innovate in both the Mexican and American markets."
Contact Komori South America, Asia, Oceania