ICS invests in Komori Apressia CTX132 cutting line
France, Imprimerie Coopérative des Sucs (ICS) | Apressia CTX132
05 June 2020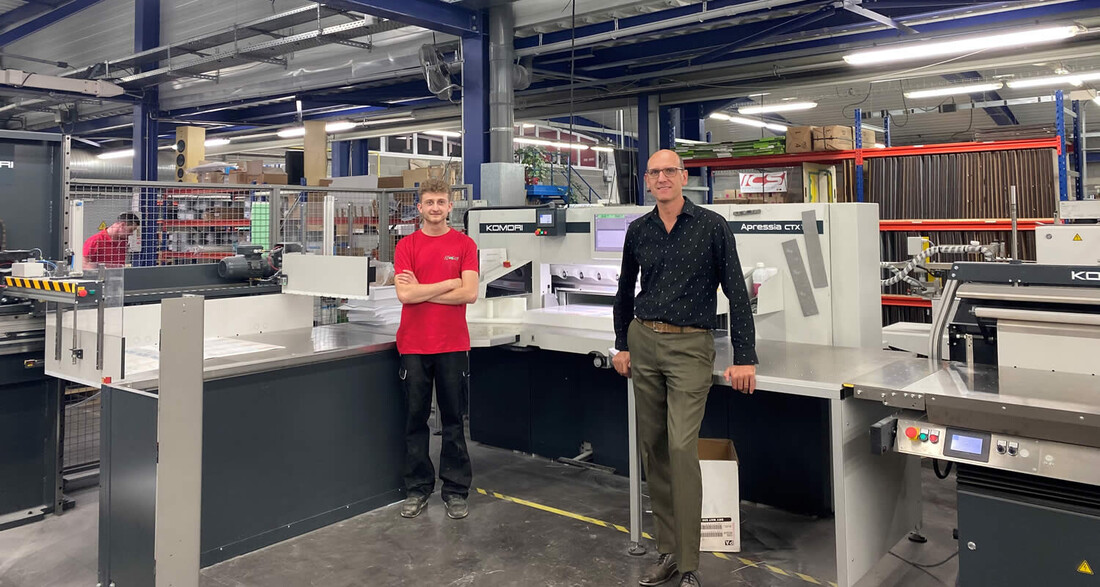 French commercial printer ICS invested three million euros in the development of its production capacities. In addition to a five-color Lithrone G40 with coater, the company built an automated cutting line based on the Apressia CTX132 Programmable Hydraulic Clamp Cutting System. The choice of the system was driven by its overall robust construction and Komori's exceptional customer service.
From left: Anto, guillotine operator, and Jean-Marc Marzona, CEO
Based in Yssingeaux, in the French region of Auvergne-Rhône- Alpes, Imprimerie Coopérative des Sucs (ICS) is a commercial printing business producing posters, brochures, leaflets, maps, stationery, coffee-table books and other items. Beyond its environmental focus, which has earned the company a number of certifications, including the Imprim'Vert® and PEFC ratings, both highly regarded in France, ICS also distinguishes itself by its governing structure. Indeed, the company, originally founded in 1982, was taken over by its employees in 2016 and has been cooperatively managed since then.
In the years following, ICS redefined its strategy, placing customer service at the forefront. "In particular, we have developed an ability to respond to customer requests in record time, both when generating customer quotes and producing print jobs," explains Jean-Marc Marzona, CEO of ICS. "To make this possible, we have invested 3 million euros to modernize our production equipment." These efforts did not take long to show their benefits and produce very positive returns. In fact, over the past three years, ICS grew from 17 to 31 employees. The company now generates 5 million euros in annual revenue.
ICS's recent investments include a five-color Lithrone G40 offset press with coater. Installed in August 2019, the system replaces two existing printing presses, offering a level of productivity higher than both previous units combined. ICS also increased its finishing capacities, with the addition of a new cutting line. "We selected an Apressia CTX132 cutting line with lift, jogger, unloader and robust guillotine," says Mr. Marzona. "We have been using a Lithrone S40 printing press for a long time, now replaced by the Lithrone G40. We have very rarely been confronted by problems, and Komori has always provided us with outstanding service. This encouraged us to trust Komori to supply both our new printing press and our new cutting line."
Useful features, shorter turnarounds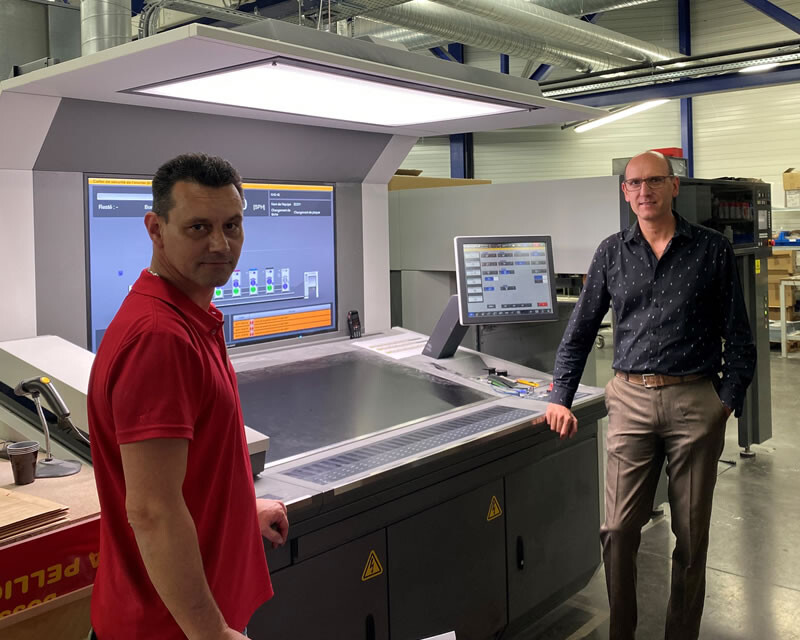 When it comes to taking stock, the company's management expresses its great satisfaction. "The Apressia CTX132 handles beautifully and fully matches our expectations," concludes Marzona. "In particular, the system allows us to adjust the cutting pressure, which is a very useful feature when handling print jobs with scratch-off surfaces, for instance. On a broader scale, our investments allowed us to shorten our production deadlines by 30 percent in less than three years."
Contact Komori Europe