Strengthened clear packaging business using the Lithrone G40 with UV and streamlined manufacturing through KP-Connect Pro
Japan, Daiko Printing Co., Ltd. | Lithrone G40 [GL-740] / KP-Connect
23 December 2020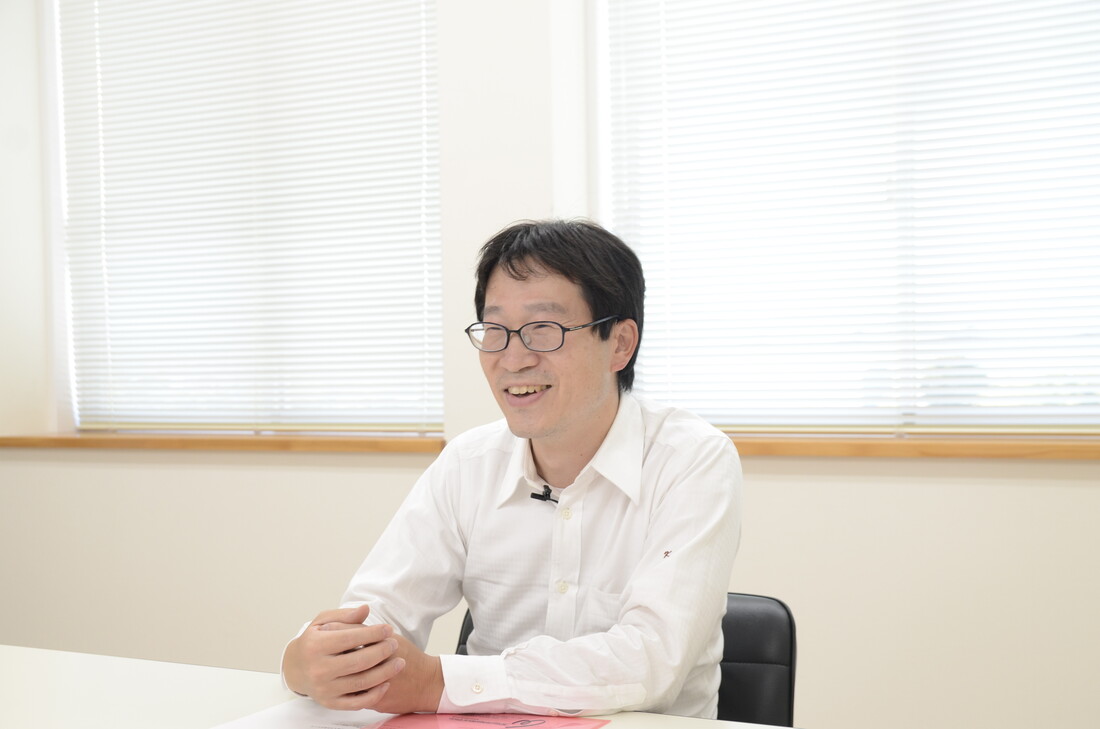 Kazunori Nakamura, President
Daiko Printing interview video
Daiko Printing Co., Ltd. is a highly trusted company specializing in printing for the medical industry. In recent years, Daiko Printing has combined their extensive knowledge and skill set with medical-related printing with their expertise in printing on clear plastics to develop a new market in the cosmetic industry. Daiko Printing's success in this new market led to the purchase of Komori's 7-color Lithrone G40 for dedicated clear case and clear package printing in February 2019. To improve press efficiency even further, the company implemented KP-Connect Pro last January.
Bringing a track record of trust and quality to the cosmetics industry
"We reject even small defects or scratches. We promise absolute quality, and in order to meet customer expectations have largely ignored unit costs when printing our products," said Daiko Printing's president, Kazunori Nakamura. However, there were other factors behind the company's rapid upgrades to their Kameoka Plant. One underlying reason was increased digitization of medical package inserts, due to changes to Japan's Pharmaceutical and Medical Device Act.
"Sooner or later, most pharmaceutical companies will stop dealing with printed inserts. Previously, the packaging business played a supporting role at our company, but since inserts will soon be gone we will need to start producing solid profits through our package printing, as well."
For over 30 years, Daiko Printing has led the way in printing clear materials on their offset presses making them a recognized leader delivering the highest level of print quality.
"Currently, we are capitalizing on the level of quality and trust we have amassed in medical printing to expand our business into the cosmetics industry. We decided to strengthen our clear packaging production capacity in order to increase our competitiveness in this industry."
Daiko Printing has already been using the 7-color Lithrone S40, for dedicated film printing, for over a decade. In anticipation of further growth, in February 2019 they also introduced a 7-color UV-equipped Lithrone G40 or dedicated clear case and clear package printing.
Increasing production speed with the Lithrone G40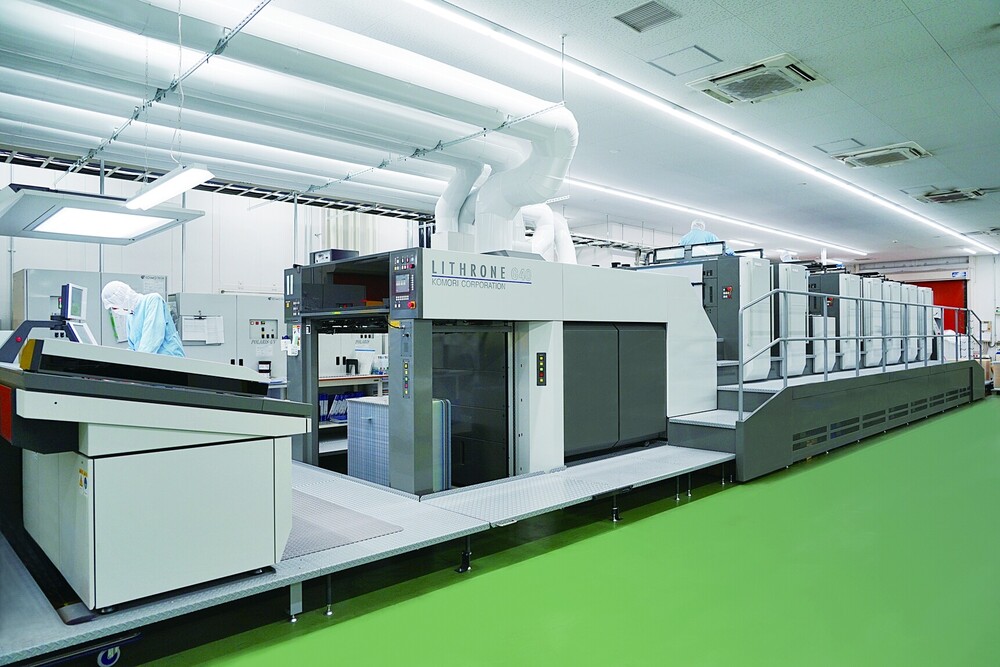 The Plant Manager of Daiko Printing's Kameoka Plant, Otsuki, commented on the Lithrone G40. "Printing on clear packaging and other non-absorbent materials requires special technology that is different than that for paper. The water to ink balance is very strict, and expertise is indispensable. In this area, the Lithrone G40 delivers beyond expectations, with even greater stability and functionality than the Lithrone S40. It's been about one year and a half since we introduced it, and production has become much more efficient," he said.
"We have also improved production speed," added Nakagawa, who is the head of the production department responsible for actual operation of the Lithrone G40. There's no need to bend plates due to the bender-less clamping system. That alone has saved loads of time."
Improved productivity and reduced subcontracting costs through introduction of KP-Connect Pro
Additionally, Komori's cloud solution, KP-Connect Pro, was introduced to optimize process management and make it less dependent on individual workers and skills. Full-scale use of KP-Connect Pro at Daiko Printing began in January 2020, linking their Lithrone G40, Lithrone S40, a foil stamping machine, a die cutter and two box makers. "Previously, we managed production schedules in Excel, which required a lot of effort to share information between departments," said Hirabayashi, the deputy manager in charge of marketing at Daiko Printing's headquarters in Kyoto, "and since each process management staff lead created schedules according to their own rules, searchability was awful. Additionally, since people often used copy and paste, human error was a common occurrence."
KP-Connect Pro, however, greatly changed the situation.
"Necessary job data is automatically linked from the main system, significantly reducing mistakes by manual entry. Sales, production and scheduling departments can communicate while seeing schedules and progress statuses in real-time. Now that we can take the initiative with scheduling, we are able to operate, from printing to postpress much more efficiently." said Plant Manager Otsuki. As a result, in-house production ratios increased and subcontracting costs decreased.
"Accurate production data of each press is recorded." said Deputy Manager Hirabayashi. "By analyzing the number of sheets used for each job we were able to eliminate unnecessary surplus paper. We were also able to optimize production management to make it less dependent on individual workers and skills, which was one of the challenges facing us."
Reducing material costs through visualization
Further use of KP-Connect Pro, to increase added value
"Through visualization we were able to significantly reduce paper costs, which constituted the greatest proportion of unit costs," said President Nakamura, commenting on KP-Connect Pro. "We check the ratio of paper costs, as a percent, compared to sales. The results were surprising. After introducing KP-Connect Pro, that ratio improved by 5 to 8 points," he stressed, pointing to the specific numbers.
"Moving forward I want to introduce KP-Connect Pro for not only the film line, but also the paper packaging line, raising operating rates for the entire plant while also solidly increasing profits, from each and every product, along the way. I believe we can achieve this with KP-Connect Pro. We will increase our worth as a printing company that offers greater accuracy than ever before."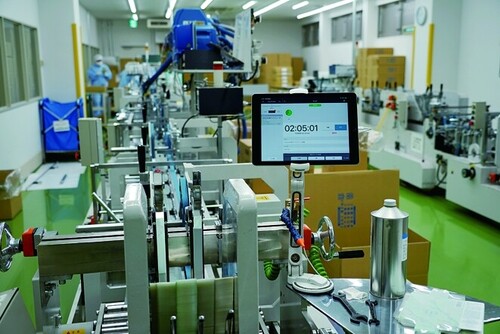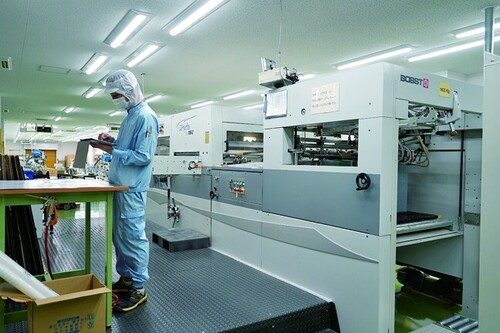 Related Information
Contact Komori South America, Asia, Oceania