Dual Lithrone G44s: Unique size enables double imposition with minimum paper waste
China, Gansu Jinshitai Packaging & Printing Co., Ltd. | Lithrone G44 / GL-544+C
16 June 2021
Ningxia Jinshiji Packaging & Printing Co., Ltd. was founded in 1998 and has been engaged in the package printing industry for 23 years. The company is a comprehensive package printer integrating product development with design, production and manufacturing.
The main product is paper packaging, and the main business categories include fine packaging of Chinese Baijiu (white liquor), and cardboard cartons for daily consumables such as food and milk and colored boxes.
Ningxia Jinshiji General Manager Wu Bin says, "Jinshiji is committed to being the premier packaging print provider in western China. Yili, Daliyuan, Qingdao Beer, Snowbeer and other famous domestic brands are our main customers. 'Offering customers high-quality printing' is our motto, and these well-known brands have very exacting print quality requirements."
The pursuit of high print quality
Print quality is crucial to the value of packaging products, and a high-end press is a fundamental guarantee of stable production and cost-efficient performance. "In 2005, we introduced our first Komori press, a four-color Lithrone S40. In more than 10 years of use, we have become very confident of the quality, stability and operability of Komori presses."
The pressure of competition in the packaging industry has only intensified in recent years, so the application of offset printing in packaging must develop in the direction of larger formats. Only in this way can efficiency be improved and costs reduced.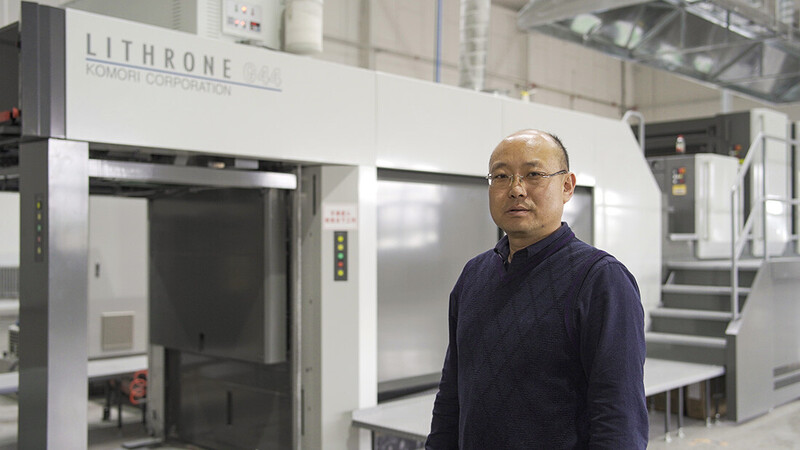 In 2019, Jinshiji established Gansu Jinshitai Packaging & Printing Co., Ltd. in Wuwei City, Gansu Province, and the new plant implemented an eco-friendly smart factory. Wu Bin says, "In the new factory, we are introducing more smart equipment. The Lithrone G44 is the first offset press we've installed here. Ever since it was put into production, it has exceeded all of our goals, such as cost-performance and quality. As the scale of our operations in the market continues to expand, we believe that our cooperation with Komori will grow even deeper."
Lithrone G44's 840 x 1,150 mm maximum sheet size just right for double-imposition jobs
Wu Bin says: "The reason we introduced two Lithrone G44 presses at one time is that the maximum sheet size is just right for milk cartons. Our previous 40-inch press could only handle a single imposition, but the 44-inch Komori press can accommodate two, which nearly doubles overall productivity from printing to postpress. The use of plates is very economical, and the press's power consumption is the lowest of its type. All these make the enterprise more competitive in the market in terms of cost and efficiency."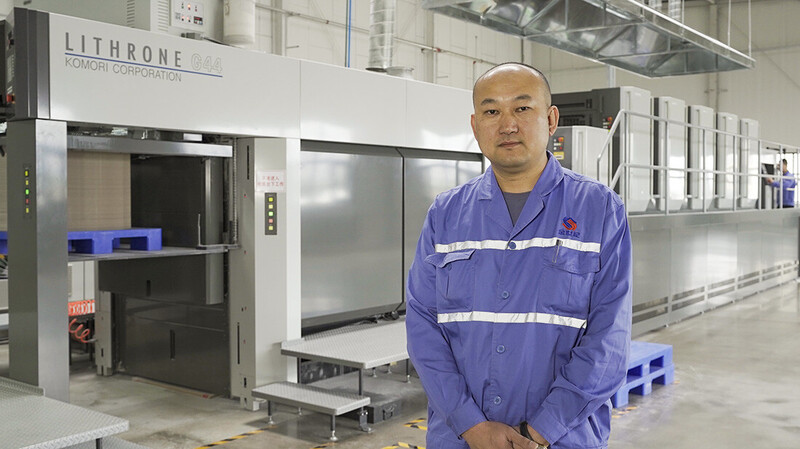 Wu Bo, plant manager of Gansu Jinshitai, says, "The press is the core production machine for packaging printers, so we are very careful in the purchase of equipment. For this reason, we chose the Lithrone G44 press after taking into consideration and carefully analyzing the characteristics of the entire industry that we serve and our own product structure."
"At the beginning, our company used presses with a maximum sheet length of 1,060 mm, and all milk cartons were printed with a single imposition. Customers came under pressure each year to reduce costs and boost efficiency, so it was necessary for the printing industry to change from conventional single-imposition to double-imposition presses, and our existing equipment was not able to meet our requirements. For printers, there were only two options: one was to choose a large-format 1,450 mm press to perform double-imposition printing. The other was to install the 44-inch Lithrone G44. Our existing products were concentrated mainly in the 800 x 1,000 mm format. The Lithrone G44 press, with its 840 x 1,150 mm maximum sheet size, was a perfect fit for the size requirements of our double-imposition carton printing."
Lithrone G44: economic benefits very substantial
Wu Bo used the actual output of one of his products to illustrate the huge changes in production efficiency brought about by the Lithrone G44: "Take the carton for 16 packs of 250 ml mini drinks as an example. The press can print this product with three impositions due to the 840 x 1,150 mm maximum sheet size. In the past, when other models were used for double-imposition printing, we output 90,000 sheets that produced 180,000 cartons. Now with three-imposition printing, the 90,000 sheets produce 270,000 cartons. Productivity has been instantly increased by 50 percent. In addition, paper waste has also been reduced by 50 percent due to smaller margins, making the economic benefits quite substantial!"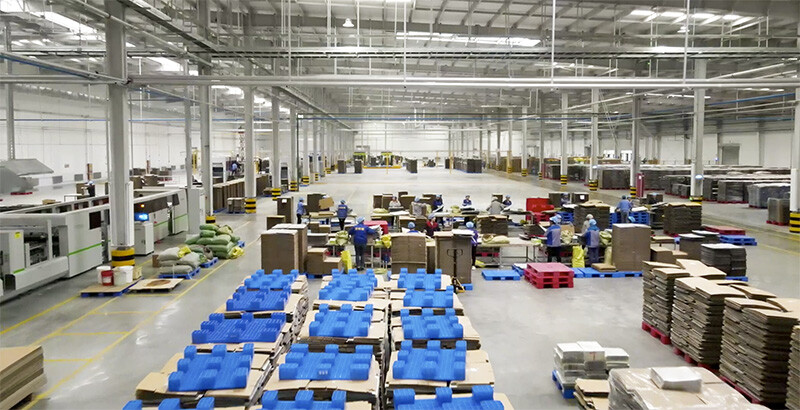 "In addition," Wu Bo also pointed out, "it has been in operation for more than six months, and my sense is that the Lithrone G44 is very simple to operate and easy to manage. Automatic functions such as automatic cleaning, automatic plate changing, and automatic color changing greatly reduce the operator workload and makeready time. Compared with previous presses we've used, the Komori ink train is more clear-cut, the dots are sharper, and the print quality is great!"
Related Information
Contact Komori China