Komori-Chambon creates KCUBE Competence Center to introduce innovative solutions for packaging Printing and Converting
04 August 2021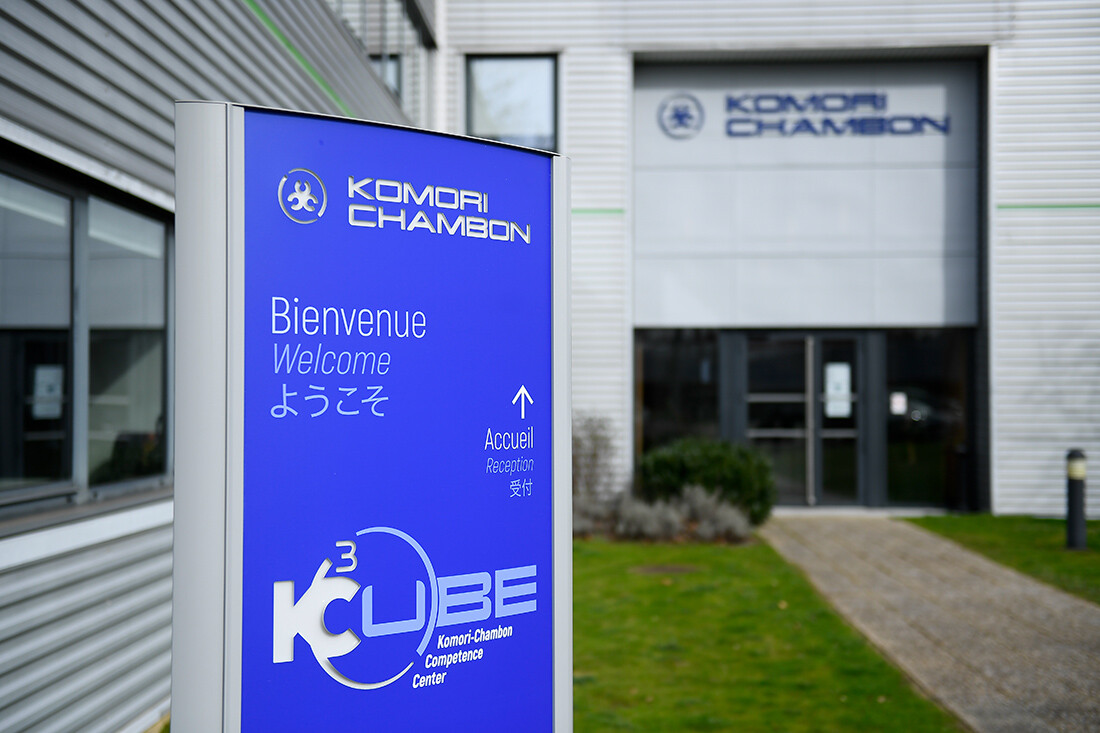 KCUBE entrance, ORLEANS, center of France
As a longstanding specialist of cardboard printing and converting presses, Komori-Chambon is a major solutions provider in a packaging industry where plastic is more and more questioned for its negative impact on the environment. And with webfed production lines, Komori-Chambon allows all operations to be performed inline, without any interruption. A roll of cardboard is thus transformed into ready-to-ship blanks in less than 10 seconds for the liquid packaging, food or tobacco industries. One line can produce up to 15,000 tons of cardboard per year. Over 80 percent of the cartons of milk consumed in Japanese homes are made on Komori-Chambon presses.
Complementary to sheetfed solutions, inline printing and converting is less common and convertors might not be familiar with the concept. Therefore, we decided to create a Competence Center in order to share our experiences. A 5,000 sqm building hosts the headquarters and the Competence Center, inspired by the Komori Graphic Center.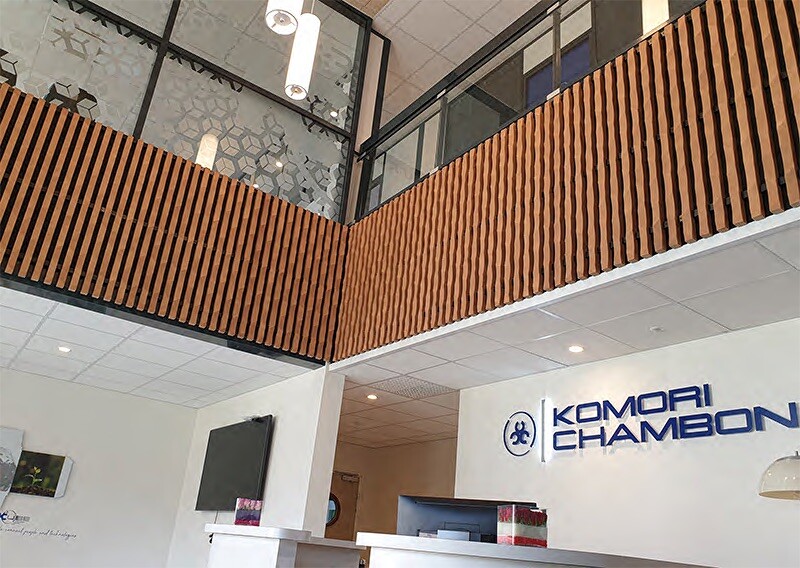 The KCUBE (for Komori-Chambon Competence Center) comprises three divisions: a demo zone (worKCshop), a training center (aKCademy) and a service center (Customer KCare).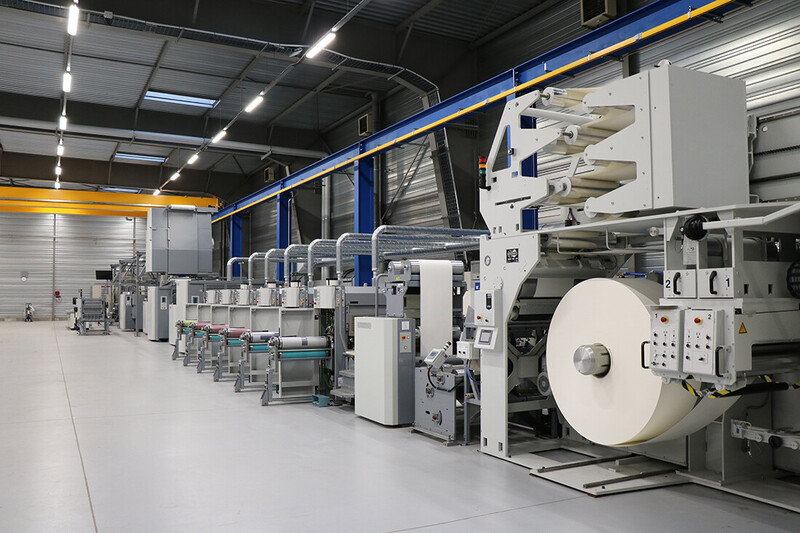 The worKCshop represents a 1,500 sqm surface where up to three production lines (with an average length of 45 meters) can be installed in parallel.
One production line is fully dedicated to customer visits and demonstrations. The printing section is made of 6 offset units + 2 flexo units for finishing. Rotary die-cutting comprises two stations, creasing and cutting, and can include embossing. Finally, the delivery section ensures shingling and stacking of the blanks.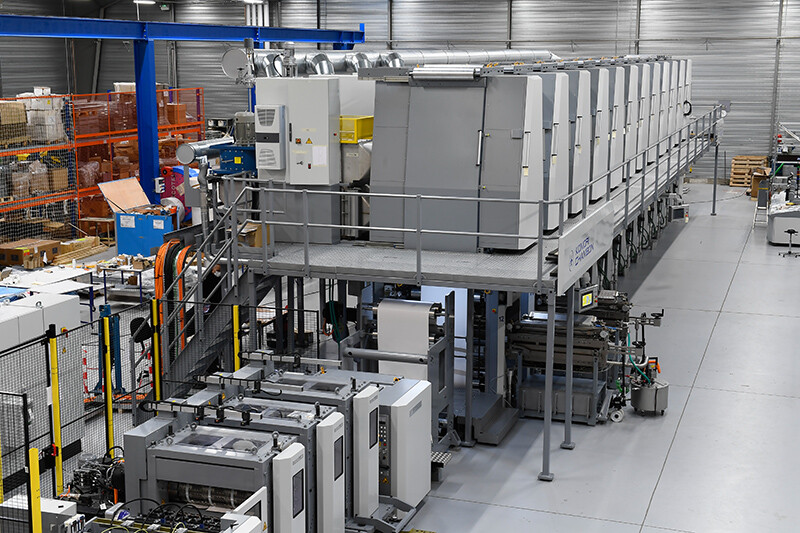 For maximum flexibility in the organization of demonstrations, the worKCshop production line offers two configurations: roll-to-blanks or roll-to-roll.
Komori-Chambon always offers customized development. Clients can even provide a specific cardboard or particular inks for tailor-made tests. These tests can utilize offset, flexo or rotogravure printing in any combination with the rotary die-cutting and delivery units. Close cooperation is the best way to help convertors meet all of their challenges.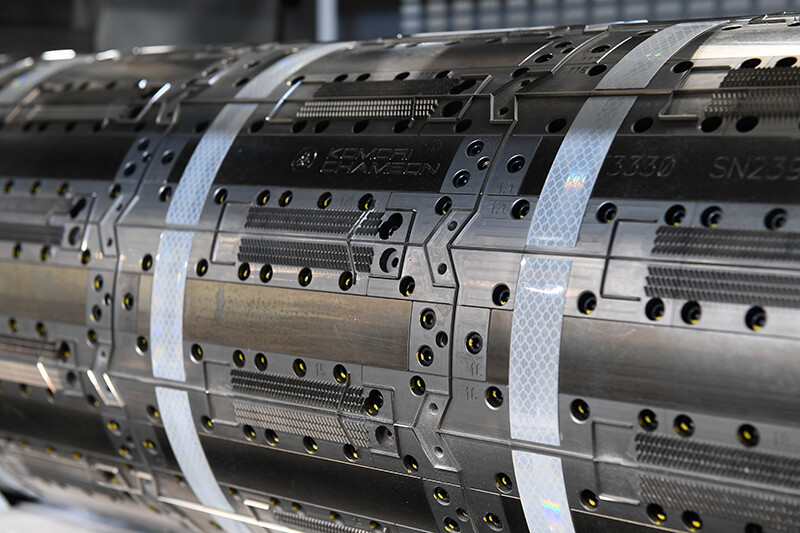 The aKCademy center provides many types of training and is a great opportunity to combine theory and hands-on sessions. From basic information for newcomers to programs designed for experts, all teams are available and focused on performance and the best working conditions for operators.
The Customer KCare division gathers all teams to ensure 24/7 (365 days) support to our customers: remote assistance, installation and commissioning, and spare parts. Komori-Chambon delivers premium services worldwide, in line with the high quality of its presses.
"First visits since the opening have been organized successfully in June. We are convinced that KCUBE will help us establish multiple long-term partnerships. We are eager to welcome customers and partners from all over the world who want to prepare the future of packaging" says Laurent Bince, Managing Director at Komori-Chambon.