Two Lithrone GX40 Presses Deliver Overwhelming Productivity as Computer Numerical Control and Systemization Transform the Production Process
Japan, Asahi Printing Co., Ltd. | Lithrone GX40 [GLX-840] / Lithrone GX40RP [GLX-840RP]
25 October 2021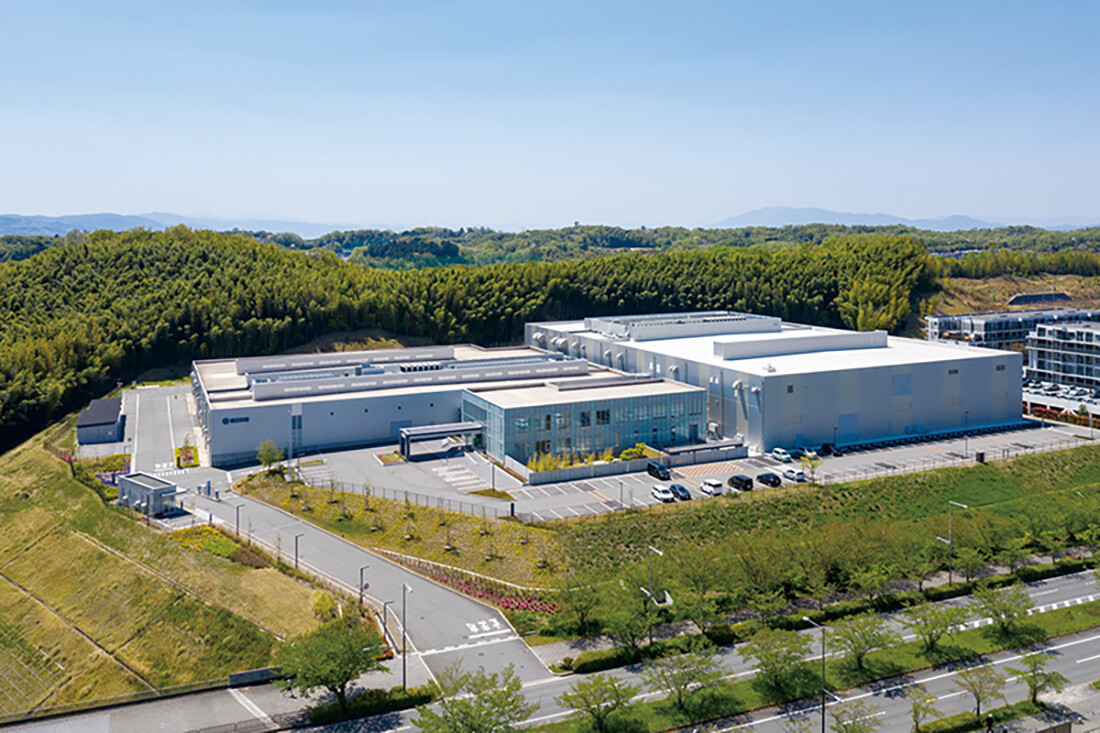 Asahi Printing, Japan's leading manufacturer of packaging for pharmaceuticals and cosmetics, is transforming production at Kyoto Creative Park, the company's research and development base. Kyoto Creative Park began as a producer of packaging for ethical pharmaceuticals, and in April 2020 expanded its production line to include cosmetics and over-the-counter (OTC) pharmaceuticals and installed two new presses, an eight-color Lithrone GX40 and an eight-color Lithrone GX40RP double-sided press. On Press interviewed Ryozo Nomura, Managing Director and General Manager of Production Operations, as well as production management personnel about the background and results of these changes.
Kyoto Creative Park (Kyoto CP)
Expanding Kyoto Creative Park, Asahi Printing's second production base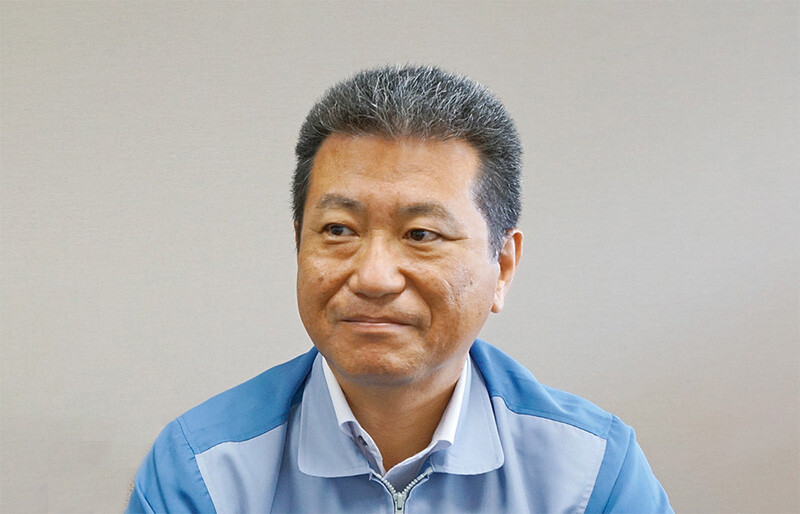 With its production base in Toyama Prefecture, Asahi Printing had been producing high-quality pharmaceuticals and cosmetics packaging for many years. To strengthen the supply chain, the company established Kyoto Creative Park in 2015. Nomura explains: "The company's manufacturing was concentrated in Toyama, so we established Kyoto Creative Park for business continuity planning and to ensure a stable supply of products to the western Japan area. Since then, we have expanded our production facilities with additional floorspace to produce cosmetics and OTC pharmaceuticals packaging. This enabled us to produce all kinds of packaging at Kyoto Creative Park, further strengthening our manufacturing base."
Kyoto Creative Park is the base for leading the company's transformation. It conducts research and development of technologies and production methods that produce new products offering new added value and functions as a pilot plant to direct these developments to other plants.
The new presses were installed with three goals in mind: reproduce the high quality that was cultivated in Toyama, transform the production process based on computer numerical control (CNC), and maximize production efficiency.
High quality a must for cosmetics and OTC pharmaceuticals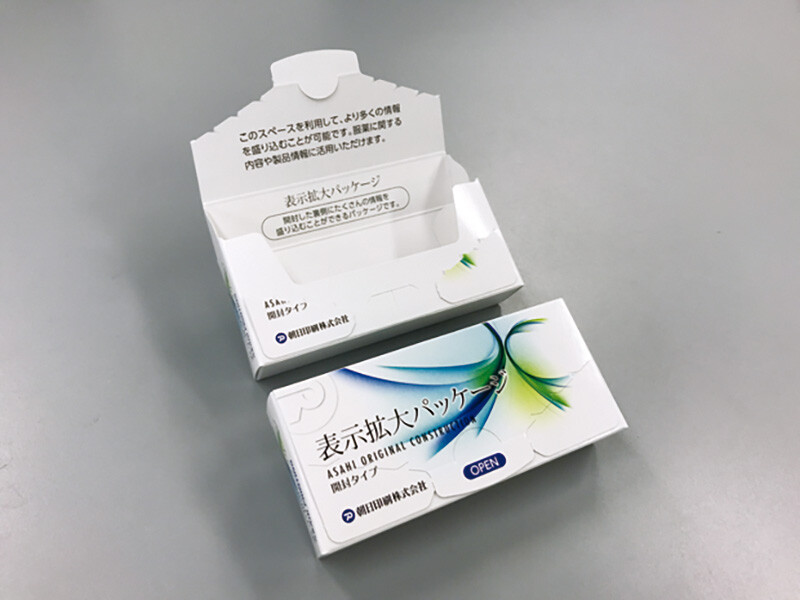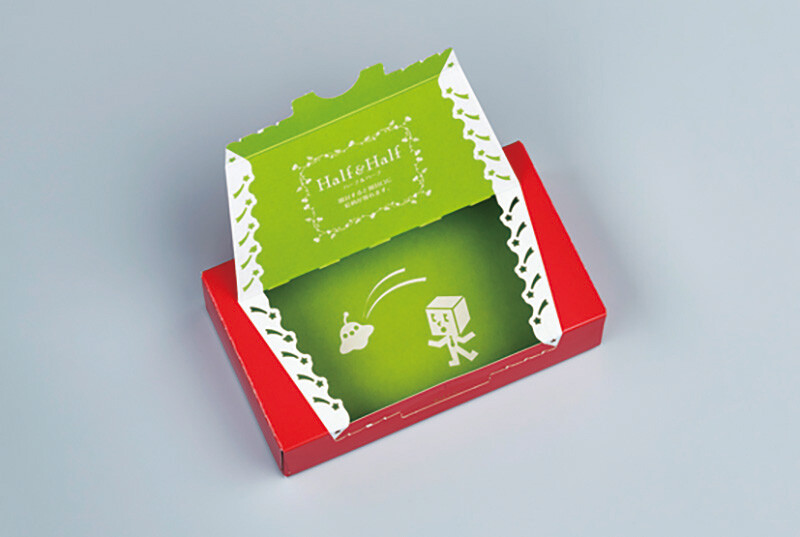 The company has long been meeting the strict quality requirements of its customers. Especially for cosmetics packaging, which requires highly accurate print register, Asahi Printing frequently works with substrates such as metallized paper. "One of the reasons we chose Komori presses is that the design criteria for cosmetics and OTC pharmaceuticals are high, and with Komori we can build the same high-quality manufacturing system that we have in Toyama," says Nomura.
Multi-imposition jobs are common in package printing, making color control across the entire sheet very important. Komori's unique Komorimatic dampening system forms a uniform water film in the lateral and vertical directions, minimizing color variation and contributing to stable quality.
Lithrone GX40RP offers high reliability and solid front/back register accuracy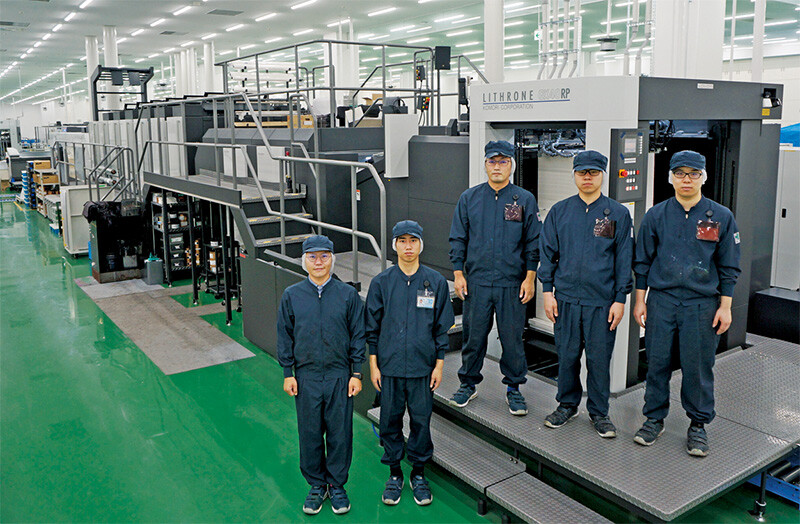 The unique Lithrone GX40RP was the press of choice to efficiently produce Asahi's high volume of double-sided print packaging. The arrangement of the RP press allows printing on both sides of the sheet without using a standard sheet-reversing perfecting module. Nomura mentions three reasons the RP was selected instead of an ordinary perfector.
First, the Lithrone GX40RP has superior front/back register accuracy. "Front/back register on a perfecting press is inherently unstable due to changing gripping from the leading edge to the tail edge in sheet reversal. This press, however, prints both sides of the sheet without sheet reversal, so front/back register accuracy is outstanding. Especially for cosmetics packaging, postpress accuracy is very closely inspected, so having excellent register matching on the front and back sides is a great advantage," Nomura continues.
Second, back-side drying performance is very good. "Two UV curing lamps for the back side are used on the Lithrone GX40RP, so ink cures reliably even when the back side includes a large area of solid color."
Third, it simplifies the work process before and after printing. "With a perfecting press, paper must be flipped either before or after printing and then be rearranged. This is a big disadvantage in package printing."
With the configuration of the Lithrone GX40RP press, the paper can be loaded directly into the feeder for front- and back-side printing, eliminating the need for the printed work to be turned over.
Breaking free from 'islands of individualization' and transforming production by computer numerical control and systemization
The second goal is transformation of the production process, which has been characterized by islands of individualization based on a printer's experience. In this process, the color matching of special colors is an artful operator technique, difficult to control and difficult to teach to the next generation. For this new expansion, Asahi Printing has switched to computer numerical control that deploys a printing system with color bars for almost all jobs. The company focuses particularly on special colors for repeat jobs and works with Komori on this point.
Nomura says, "We were looking forward to the latest pre-inking program, which utilizes previous data to quickly launch special colors."
Yuki Kishigami, Engineer in the Technical Department, says, "In the past, we used intuition when we wanted to 'make it a little darker,' but we are getting close to the point where machines can do this kind of craftsmanship for us."
According to Takahisa Ueno, Manager of the Printing Section, Kyoto Creative Park, "We have been able to reduce the number of test prints for all jobs."
The latest pre-inking program has made it possible to use special colors with high accuracy, which has a significant effect on the number of test prints and start-up time for repeat jobs. This way, the company is gaining positive computer control of its production process, freeing itself from the islands of individualization.
High quality packaging at maximum printing speed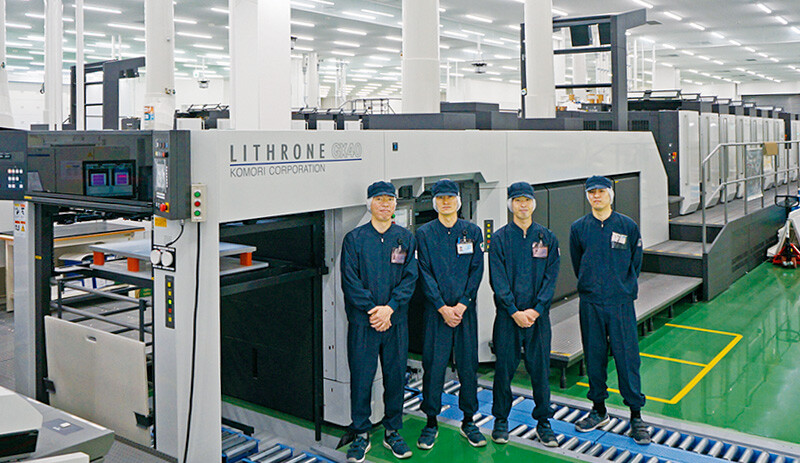 To realize the third goal, maximizing production efficiency, a high target has been set for the printing speed. We asked about actual operation after the press was installed.
"The challenge of printing at the highest speed was also appealing. In the past, we believed that there was a limit to how much we could increase the speed of the presses, but with the new machines we are achieving printing at the maximum speed with heavy stock, a first for us. We could make this breakthrough due to the automation of the printing systems installed on these machines," says Nomura.
Kishigami adds, "The stress on the press operators has been reduced because sheet feeding and delivery are stable even at high speeds."
Itaru Motohara, Printing Chief in the Printing Section, says, "To be honest, I was surprised because I didn't think we could print at the maximum speed."
For actual high-speed printing on paperboard, color tone stability is very important. The new presses feature the Komori PQA-S quality inspection system with an automatic color tone control function. We asked Kishigami about the actual operation of the system:
"PQA-S allows us to control color tones by targeting registered standard values and monitoring color tones in real time during high-speed printing without taking out a sheet. Operators can work with confidence. Also, when a sudden quality problem does occur, the double delivery system is engaged and sorts out waste sheets. This system operates with exceptional stability even at high speed regardless of sheet size or thickness," he says.
With a high return on investment (ROI) as its development concept, Komori has been improving the high-speed stability of the feeder and delivery, which ensure the basic performance of a printing press. As a result, the company has demonstrated high productivity in high-speed operation with these two presses. The technologies have been inherited by the latest Lithrone GX/G advance series presses.
Job changeover time slashed
In package printing, it is often necessary to use special colors for each job. As the variety of products and the number of small-volume jobs increase, the preparation time required for special color changeover increases, and this impedes production efficiency. To solve this problem, the new presses are fully equipped with the latest devices and systems. One is Parallel Makeready, a control system that automatically performs plate changing, blanket washing, and ink roller cleaning simultaneously. The machines are also equipped with a replaceable ink fountain film that is part of the new lineup in the 40-inch class.
Kishigami explains the effect of these features: "Changeover time has been significantly reduced compared to conventional presses. Job changeover is completed simultaneously, and I can really feel the time reduction. When we installed the presses, ink roller cleaning was our foremost concern. If cleaning performance were poor, we would have to clean the rollers again many times, which would interfere with pre-inking and negatively affect changeover time. With the latest heavy-duty cleaning program on these presses, we feel that cleaning performance is very good and color is stable after start-up."
Motohara adds, "Since we change colors frequently, the fountain film has greatly improved changeover efficiency. In addition, we have been able to reduce the amount of cleaning solvents and shop cloth used."
In addition, the latest devices and systems for the coater, such as the independent drive and Semi-APC, have been very effective in minimizing job changeover time.
Extending the benefits to Toyama and raising production capacity per person

Masahiro Fujino, Plant Manager of Kyoto Creative Park, says: "Our goal is to maximize production efficiency through an environment that makes the most of press performance. To achieve this, we need to minimize variations in quality and efficiency due to differences in people and materials. The use of support systems to maintain and monitor quality that cannot be tracked by the human eye, such as color tone control, will be a key point."
The visualization of production using KP-Connect is being effectively utilized in operation analysis and improvement activities at each of the company's facilities.
Kishigami says, "With KP-Connect, we can remotely check operating conditions such as the actual printing speed and makeready time."
Fujino says, "At regular monthly meetings, we discuss issues based on the results of data analysis of equipment operating conditions, and Komori gives us suggestions for improvement."
We asked Fujino about the company's prospects:
"We have been responding to changes in the market in our main business field -- beauty and health-related paper packaging -- and I expect that it will be necessary to continue to respond to various changes in the environment. I believe that quickly detecting changes and then acquiring the ability and technologies to respond will ensure our future. 'Wrapping' is inseparable from advances in printing technology. I hope that Komori will work with us to develop technologies that will raise added value," he says.

Lastly, we asked Nomura about future transformation:
"As the availability of labor in Japan continues to decline, it will become increasingly difficult to secure workers. We need to increase our production capacity per worker to become a Smart Factory. To do this, we need to invest in the latest equipment. We will not stop with the success proven by this installation of two presses at Kyoto Creative Park but will expand this to the entire company, including the Toyama production base."
Up to now, there was a stereotypical notion that both high quality and productivity could not be achieved in package printing, but this installation has proved that it is possible to achieve both. Based on the experience gained from operation of these full-spec flagship presses, Komori will offer solutions to further optimize package printing. Moreover, Komori will respond to future demands from the user's viewpoint and promote global expansion in the package printing market.
Related Information
Contact Komori South America, Asia, Oceania