Impremia IS29 sheetfed UV inkjet digital printing system with double-sided printing, wide color gamut and special substrate support expands Kenbunsya's high-margin, added-value print sales
Japan, Kenbunsya, Inc. | Impremia IS29
15 March 2022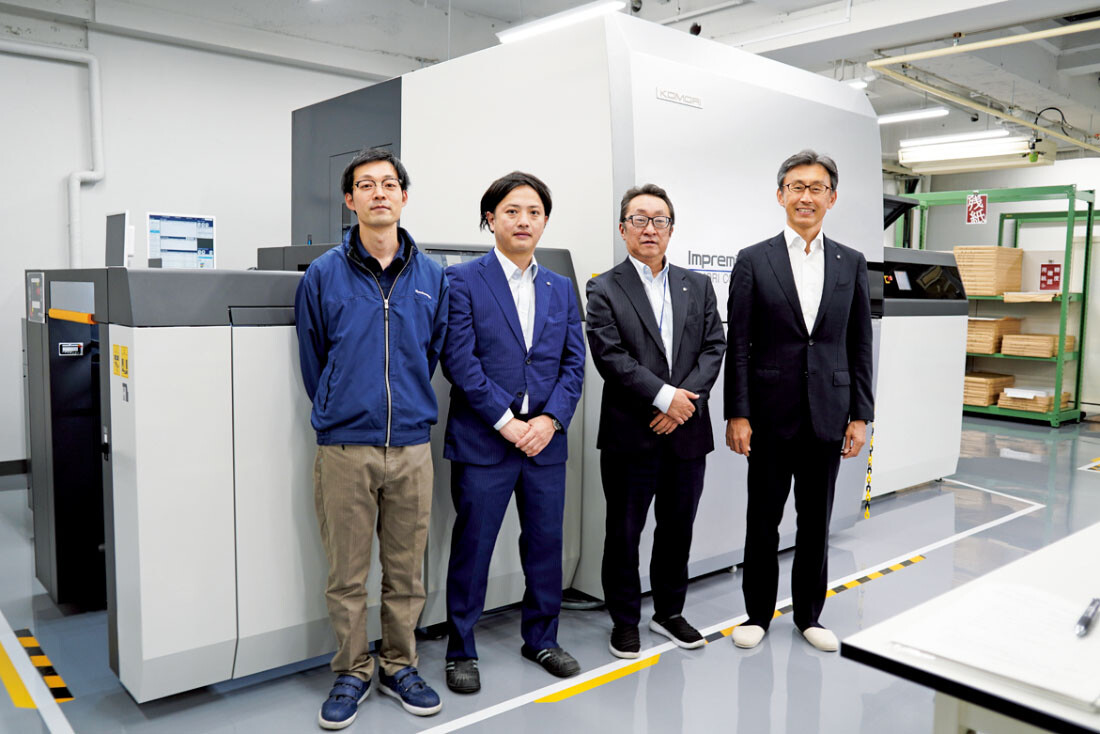 Founded in 1946, Kenbunsya, Inc. has grown mainly by producing printed materials for automakers and financial institutions. The company has three manufacturing bases: the Amagasaki Plant in Hyogo Prefecture, focused on the production of hybrid offset and digital print work; the Saitama Plant, focused on web offset production; and the Digital On-Demand Center, which opened in the Tokyo headquarters in October 2020. When the On-Demand Center was opened, all offset machines in Tokyo were taken out to make way for a totally digital production environment. On Press interviewed Katsuhiko Amino, President; Shinobu Oya, Deputy General Manager of the Digital Development Department; Yoheita Yoshihara, General Manager of the Digital On-Demand Center; and Takuya Kabuo, Senior Manager, about the creation of a new business model using the expanded capabilities of the Impremia IS29.
Background to opening of center specializing in digital printing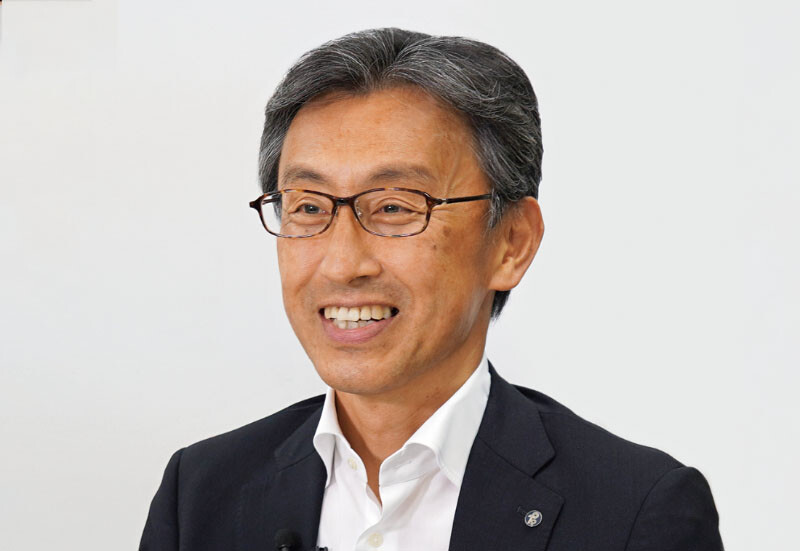 Kenbunsya was a leader in the transformation from letterpress to offset print technology by installing Japan's second color offset press in 1952 and took a leadership position 25 years ago by installing new digital technology. Mr. Amino says, "We began tackling the digital shift when the digital transformation of the print industry was still in its infancy. As more of our customers' activities involve promotions using digital information, there is a growing need for variable data printing, such as the insertion of barcodes and individual changes in layout and design. Print production continues to be compelled to move towards digital."
This is why Kenbunsya opened the Digital On-Demand Center, which specializes in digital printing. "The center is our development base for new business. We installed the Impremia IS29 and digital embellishment systems at the same time to create an innovative business model, and provide new business services with digital printing, featuring high unit price and added value," says Amino.
Why the Komori Impremia IS29?
"In order to handle conventional printed materials, a double-sided printing system was a prerequisite for productivity. About 70 percent of our work is repeat jobs, and we had problems matching colors with offset printed products but now K-ColorSimulator makes color matching exceptionally easy. We also want to sell high unit price printed materials by adding value to paper. The main purpose of introducing the Impremia IS29 is strengthening our competitiveness by using this technology," says Mr. Oya.
Mr. Yoshihara says, "We print very fine characters by offset printing, and we were worried about reproducing them digitally, but we are very satisfied with the beautiful reproduction and high resolution from the Impremia IS29. From the perspective of developing a business model, we must consider color. Color is excellent, and the gamut covers a range close to RGB, which is well received by our customers. Color reproduction is also very high."
Regarding paper compatibility, which is often limited in other digital printing systems, he says, "The fact that there is no need for pre-coating and that it can handle special substrates such as film and Japanese paper are great advantages. We would like to explore various possibilities, including eco-paper such as Limex, which is gaining attention for its SDG-compatibility."
Several factors are contributing to the expansion of the company's business: the Impremia IS29's high productivity provided by its B2 size and double-sided printing as well as the added value of its wide color gamut and support for special substrates.
Development of high-unit price, high added-value business model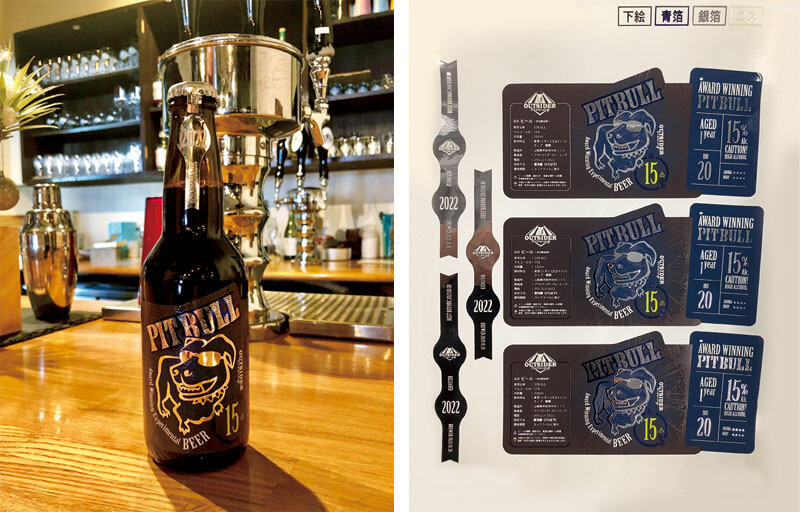 Amino says, "B2 size is a whole different world from A3 wide size, and since we can try a variety of stocks and materials, the range of creativity is expanded." The center is actively promoting high added-value sample production and product development using the Impremia IS29 UV inkjet digital printing system, along with the new digital decorating machines, to build a new, diverse business model.
Yoshihara says, "The ability to immediately decorate after printing with UV inkjet technology is a great added value. We like to work together with our client's designers and creators using these machines." In fact, in response to a client's request, the company has created and sold a limited-edition craft beer label using the new printing and decorating technologies. The Impremia IS29 is playing an important role in promoting Kenbunsya's diverse product development.
'Sales-less workflow' facilitates orders
Five years ago, the company established a totally digital workflow system to receive orders from clients without a customer facing sales staff, which is still in operation today. "In the case of digital, the key is to establish a workflow system that allows us to receive orders easily and have them automatically entered directly into the printing workflow system," says Yoshihara.
Furthermore, aiming to expand orders and production by data marketing, the company released SmartPress Direct in June 2021, which automates ordering, production, and delivery of direct mail. Yoshihara is confident about this service, saying, "It is a model that seamlessly connects marketing data to printing output."

Contributing to community and society by pursuing the value of printing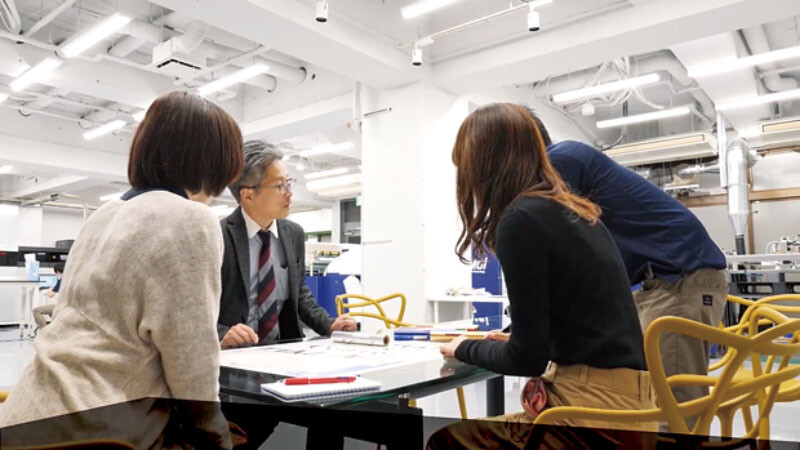 Amino says, "Since the texture and quality of paper can be embellished in our new processes, we want to further expand the possibilities of printing through trial and error. We have also acquired Universal Communication Design Association certification and have developed a system and an educational program to meet these ideals. We are producing UCD and UD-based health management notebooks and distributing these to communities. We will continue to contribute to communities and society through printed materials."
Digital printing is said to face the challenge of securing enough work. Kenbunsya's efforts to add value to printed materials and increase orders from data marketing may be a model to solve these problems.
Related Information
Contact Komori South America, Asia, Oceania