Korea's top web-to-print company growing rapidly with IT-based management: Lithrone GX40RP advance sets stage for new breakthrough
Korea, Sung Won Adpia | Lithrone GX40RP advance [GLX-840RP-A]
31 March 2022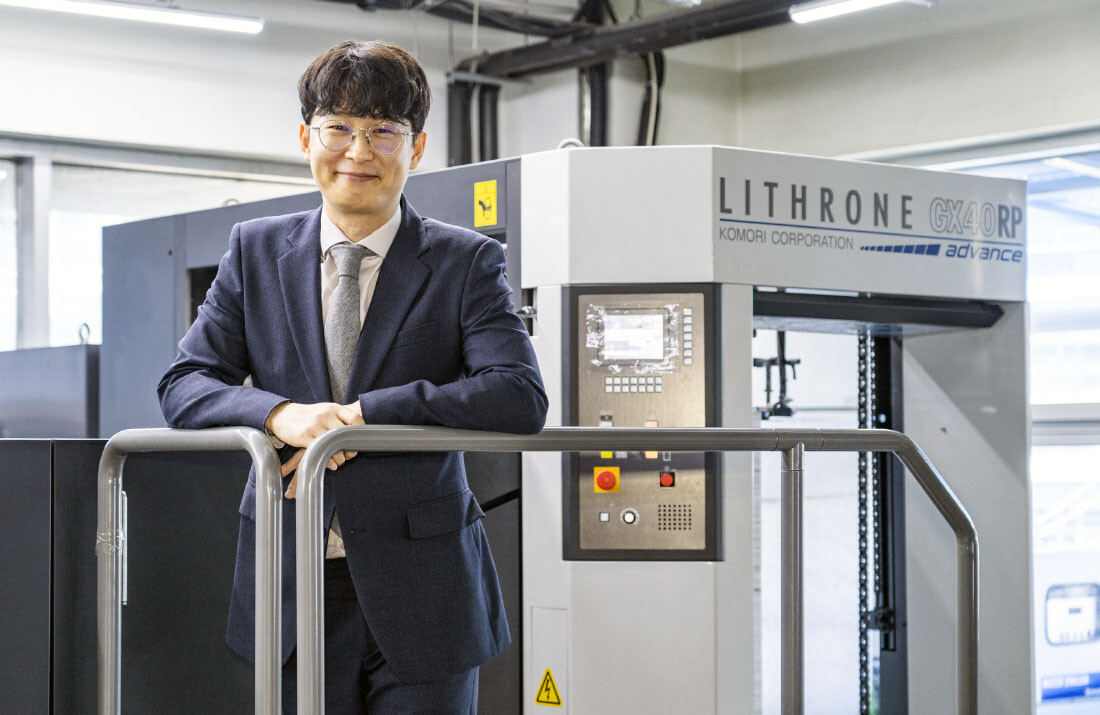 Sung Won Adpia, the first web-to-print printing company in Korea, will celebrate its 18th anniversary in 2022. The company prints sales promotion materials, catalogs, pamphlets, booklets, flyers, and direct mail. Through management development that integrates advanced IT and printing, the company has tripled its sales in the last 12 years, reaching annual sales of 80 million USD in FY2021, and has established a firm position in Korea. Furthermore, in July 2021, the company introduced a new strategic machine, the 8-color Lithrone GX40RP advance H-UV L (LED) 40-inch double-sided sheetfed offset press with parallel control, PDC-SX, and PQA-S. We interviewed Jung Chang-Hee, the company's Managing Director, and Ha Si-Dong, the General Manager in charge of the production department, to learn more about the background and achievements of the company.
Jung Chang-Hee, Director
Ensuring both productivity and a worker-friendly environment to meet strict labor policies in Korea with the latest double-sided, one-pass press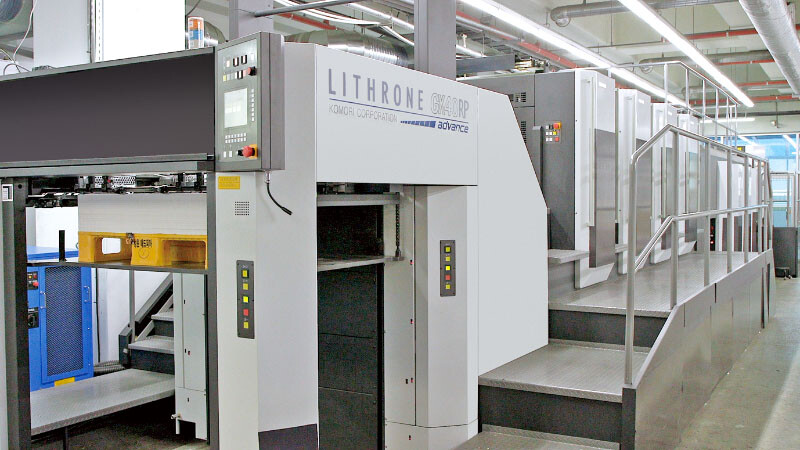 With its headquarters in Seoul, Sung Won Adpia has continuously expanded its core printing and publishing business since its founding in 2004. The company's activities have attracted attention in the Korean market beyond the printing industry.
Under the South Korean government's policy, work reform and job creation policies were enacted in 2018. Working hours were reduced from 68 to 52 hours per week, and the minimum wage was raised 42 percent over a period of five years. Violations are firmly enforced with sanctions, so companies must urgently improve their cost structure and efficiency in order to make a profit. Now that weekends off in the manufacturing industry have become the norm, the printing industry is facing serious business issues due to working hour restrictions and labor shortages. Sung Won Adpia has succeeded in raising its performance while ensuring a worker-friendly environment for its employees. Their strength lies in an innovative, in-house designed, IT-based management system, which automates almost all processes from order placement to the final delivery of products to customers. Face-to-face sales, order acceptance, paper and telephone production instructions, and product delivery tasks have been taken over by the core IT system. Furthermore, the company has been able to change their internal business model which now includes no salesmen, no managers, and no factory manager. The system has paid for itself through significant labor savings. Additionally, they have invested in production equipment to provide high quality products with short delivery times, further increasing their competitiveness.
"We decided to invest in a double-sided one-pass press that can improve production efficiency -- the Lithrone GX40RP advance with LED-UV dryer, our second RP press. This will greatly improve productivity and cost-effectiveness, and we hope to take a step ahead as a leading full-service printing company in the Korean printing market," says Director Jung. In the past few years, the introduction of such double-sided one-pass machines has been rapidly increasing in Korea.
Our relationship with Komori began with the introduction of two Lithrone S40SPs in 2006. The first Lithrone GX40RP press was delivered in 2018, enabling the company to offer products that combine high quality with short delivery times. These two factors have allowed the company's sales to grow more than threefold in 12 years, reaching 80 million USD in fiscal 2021.
In July of 2021, while other companies were reluctant to invest in equipment due to the Covid-19 pandemic, Sung Won Adpia introduced the first Lithrone advance press with an LED-UV drying system in Korea, which is still a novelty in the country. The purpose was to enable quick drying and immediate postpress processing to meet our customers' short delivery time requirements. When selecting the press, the company compared machines from various makers, but quality and ease of maintenance were highly evaluated, and Komori's press, with double-sided printing due to single-edge gripping and a high level of automation, was selected.
Jung says, "The value we want to provide to our customers is caring for their time. For this, we are committed to improving our production efficiency. We decided that the Lithrone GX40RP advance press was the best choice because it allows us to achieve high production in a limited amount of time. As a company that grows together with our customers, we chose Komori machines as our partner for sustainable development."
The results of productivity improvement and generating profits through automation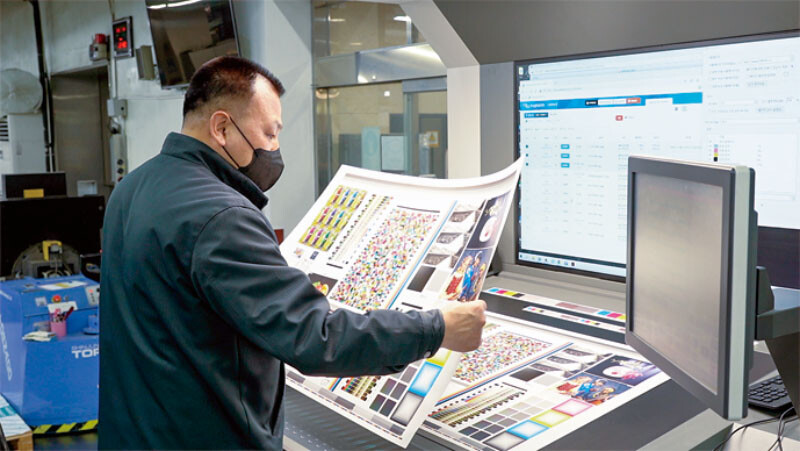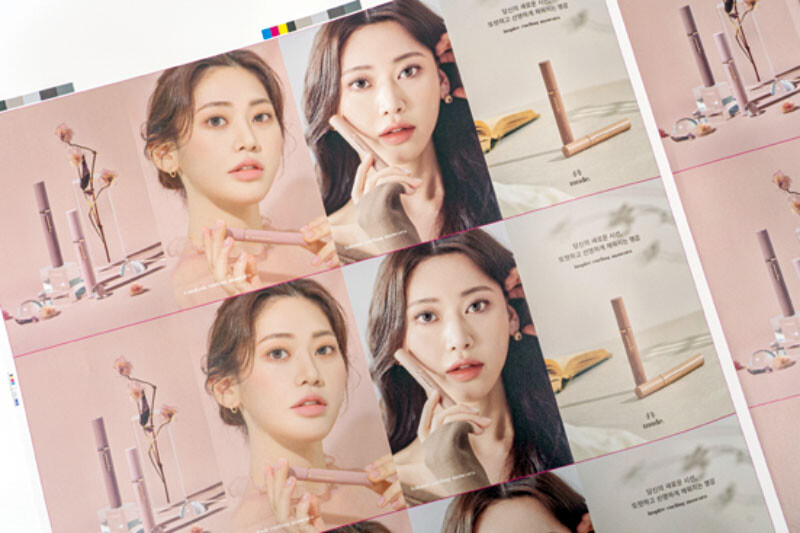 "PDC-SX automatically measures color density and registration and provides feedback to the press for color matching. This reduces adjustment time and allows for faster makeready for the next job. Efficient production has increased the number of jobs produced per day dramatically."
-- Ha Si-Dong, General Manager, Production Department --
Sung Won Adpia, which is working with IT to automate its operations, is taking full advantage of the automation capabilities of its state-of-the-art Lithrone GX40RP advance press. Jung says, "The benefits in terms of cost and profitability were immediately apparent. The short makeready time and efficient production have significantly increased the number of jobs we can run each day. Printing starts up quickly, which has reduced paper waste and materials costs. The presetting technology and the advanced Komorimatic dampening system have also been highly effective."
KHS-AI's pre-inking function and automation of color measurement and register adjustment by PDC-SX are also very effective. General Manager Ha says, "The same kind of performance can be obtained even from new operators. KHS-AI's pre-inking function has reduced startup waste paper by about 10 percent. PDC-SX automatically provides feedback on color and register, saving adjustment time and paper." In terms of quality control, the PQA-S is a new strength. "Because printed materials are inspected automatically, the risk of defective sheets being mixed in with products has been reduced," he adds. In job changeover, which is the key to web-to-print productivity, "The new parallel control system enables simultaneous plate changing and cleaning, which significantly reduces changeover time. We feel this has a tremendous effect in high-mix, small-lot production" says Ha.
As for the change in productivity with the new advance press, "The productivity of the new Lithrone GX40RP advance press is high. It can run at an average of 14,000 to 15,000 sph, showing stable performance. We feel that the stability at high printing speeds is superior to that of our previous Lithrone GX40RP press. In particular, feeding and delivery performance and sheet alignment have improved dramatically with the Lithrone GX40RP advance press," he says. In terms of operation with PQC-S (V6), "The number of touch points has been reduced, making it intuitive and easy to understand. It is clear that PQC-S (V6) was designed with the operator's convenience in mind." As he says, operators experienced easy operation. Regarding the advantages of the Lithrone GX40RP advance in particular, he says, "Register accuracy is particularly good due to the single-edge gripping. The printing plates do not need to be oriented differently on the front and back sides, so there is no confusion in platemaking or onsite."

"The automation functions allow even new operators to get the same performance as veterans."
Lithrone GX40RP advance production performance accelerated plans for ordering a second unit and relocating to a new plant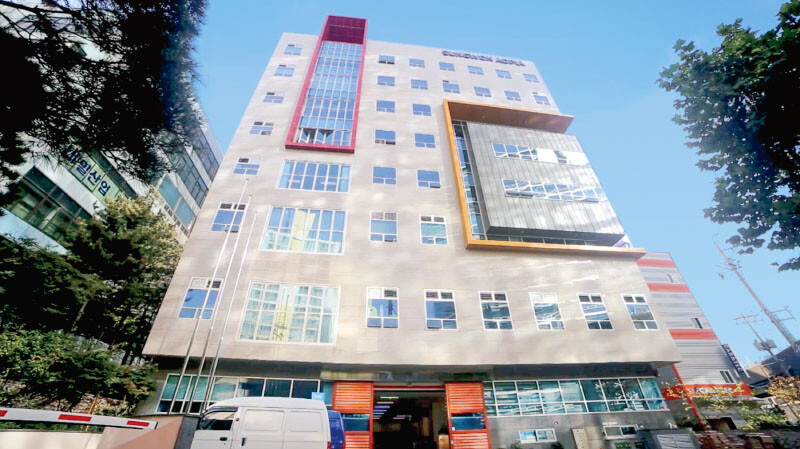 The productivity of the Lithrone GX40RP advance has been well received by management, so much so that another Lithrone GX40RP advance press was ordered and will be delivered in April 2022. Company growth is robust and they now plan to build a new 4,500 square meter factory in the suburb of Hanam city and to relocate the production facilities from the current factory in Seoul next year.
Jung comments on the company's future prospects: "We have achieved high productivity and differentiation by combining printing and IT technologies. We have a high opinion of the track record of Komori presses. We have ordered another press with the same specifications. This will be the third RP press we have ordered."
He adds, "Through our constantly evolving relationship with Komori, we hope to mutually enhance each other. As the leading web-to-print company in Korea, we will continue our efforts to create value and grow together with our customers, and further solidify our position in the industry."
Related Information
Contact Komori South America, Asia, Oceania