Utrecht demo sparks order for full-spec seven-color Lithrone G40 from German label and seed packaging printer
Germany, Gebrüder Güttler GmbH | Lithrone G40 [GL-740]
24 May 2022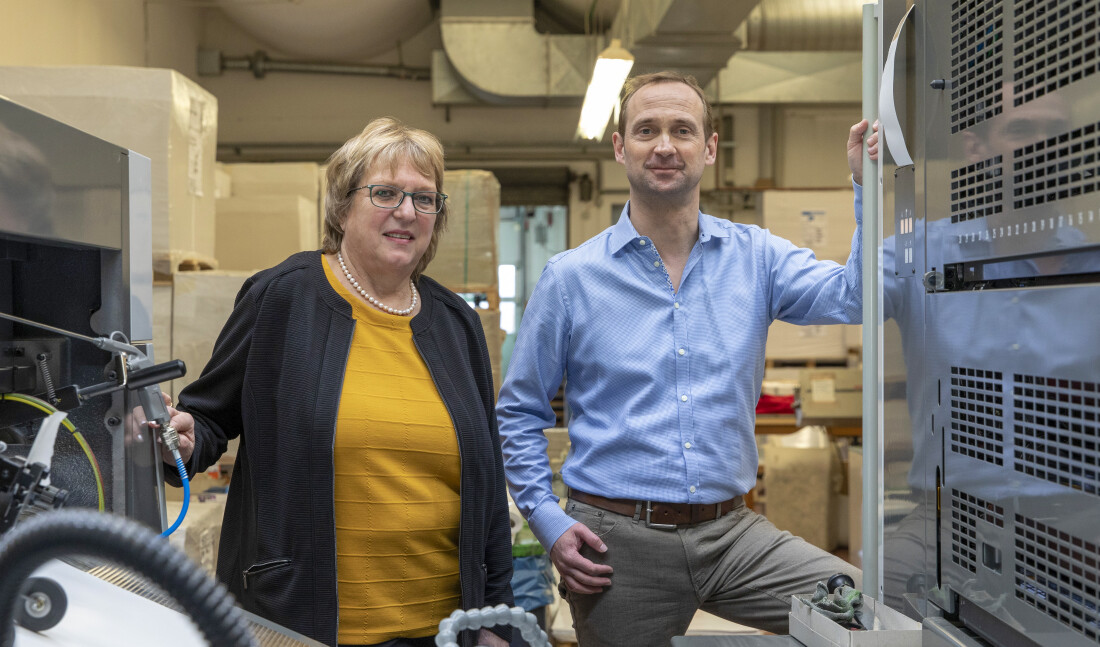 Gebrüder Güttler, a label and seed packaging printer in Dietzenbach, Germany, ordered a seven-color Lithrone G40 with coater packed with Komori's high-end quality control systems that make all the difference in the package printing market. The company's annual turnover is divided equally between label printing and flat bag production, mainly for plant seeds. This is a niche market in which Güttler with its highly specialized production processes is one of the few remaining European suppliers. Six employees, including the management, work there in administration and sales. Four more work in printing and four in prepress, as well as 17 other employees in highly specialized postpress. In autumn 2021, the company invested in a new printing press.
Petra Güttler, Managing Director (left), and Alexander Güttler
Out of this world feeder and delivery performance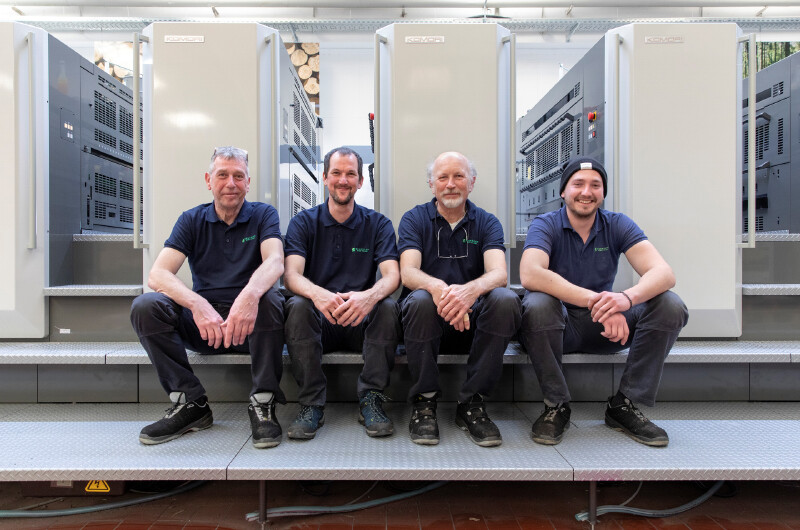 The Komori seven-color Lithrone G40 with coater is equipped with the PQA-S inline color measurement and control system with inline quality inspection, plus all the new features of the Komori advance series in a 40-inch format. This includes new state-of-the-art systems for smooth sheet transport in the feeder and delivery for from very light to very heavy substrates, and asynchronous, fully automatic platechanging (F-APC) without plate bending. This high-performance Komori press replaced an older German six-color with coater press.
Petra Güttler, fourth generation managing director, takes the reins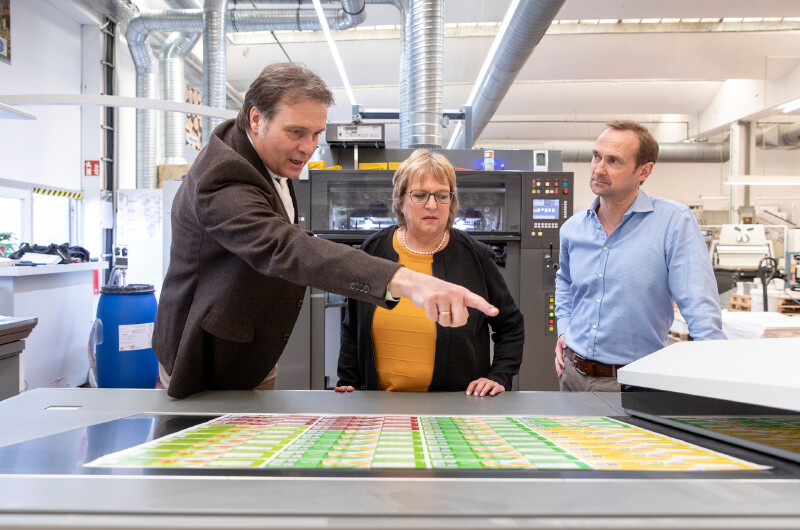 "Our family business was founded in 1907. We are now the fourth generation of cousins to run today's printing company. I chose to study biology and didn't have any great ambitions to get into this trade. However, research work as a biologist was difficult to reconcile with the needs of my family and children, so after finishing my degree, I decided to do further training in typesetting and work in my parents' company. After the birth of our second son, we relocated to the U.S. for two years. Upon our return to Germany, I first worked in a Würzburg typesetting studio and later in a printing company there," says Petra Güttler, Managing Director.
"Eventually my father wanted to know who would take over the company when he retired, and so I returned to Dietzenbach in 2000 to support him in his business. At the end of 2009, I completed a part-time master's degree in business administration in order to get the necessary background for management. Eventually I took charge of finances and managed the company together with my great-uncle, Hagen Güttler, and, as of 2011, his son, Alexander Güttler," Petra continues.
History of production base founded in Saxony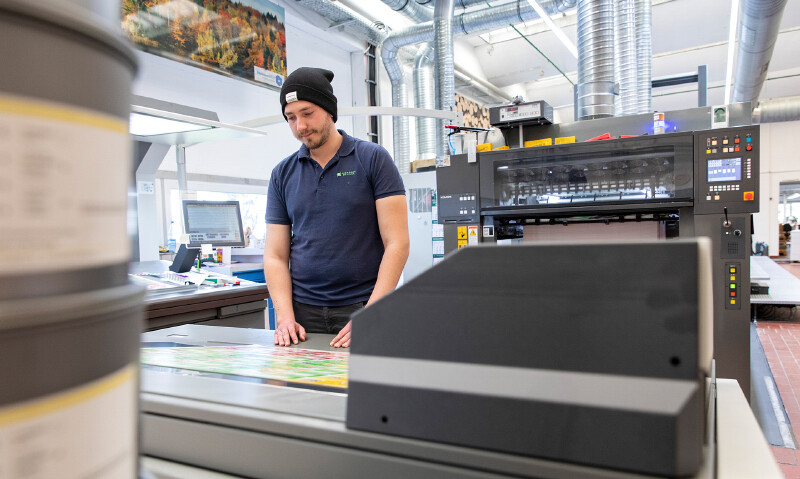 "Our company was originally located in the small town of Zittau near the border triangle of Germany, Poland, and the Czech Republic in Saxony - founded by my great-grandfather, Adolph Güttler, and his brother, Hermann Güttler. In the late 1950s, the historic company building in Zittau was expropriated and my grandfather and father had to flee to West Germany. In the 1990s, my father negotiated with Treuhand, the agency in charge of privatization of East German enterprises before German reunification, to recover the family inheritance in Zittau. We then began running our subsidiary, Zittauer Offsetdruck, on this site. We first had to renovate and refurbish the factory with new technology.
"Unfortunately the production site in Zittau was never able to meet our expectations. We stopped production in 2010, when major investments would have been necessary. We still use the building for sales. In addition to a caretaker, three employees look after our numerous label customers, many of whom are based in the former East Germany. I am in charge of our major customers in the food sector. The labels are used for fruit juices, beer, baby food, pickled preserves, stock extracts, tomato sauces, and spices. A growing proportion is used for products from the booming organic food sector. We print the labels in Dietzenbach on gang forms and process them further by cutting and punching. My cousin, Alexander, takes care of the seed bag business, our second important mainstay," Petra explains.
Ecological awareness increased demand for seed business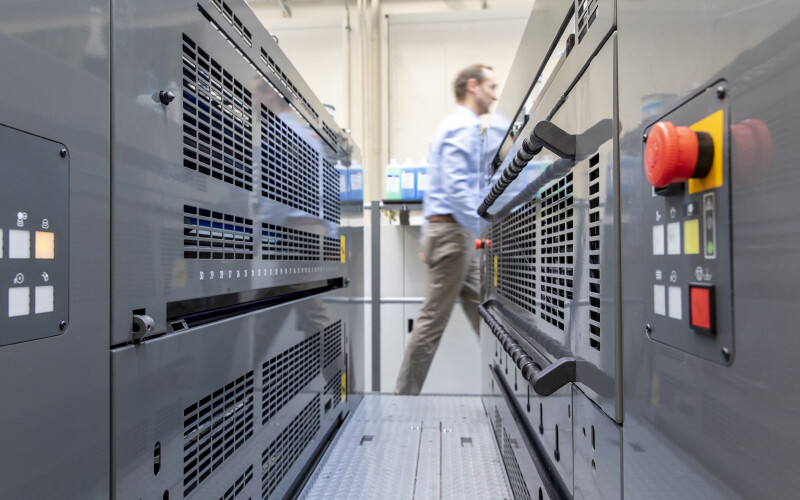 "As the youngest of three siblings, I was the only possible successor to my father, as both my sisters made it clear early on that they had no interest in joining the company. So at quite a young age, I decided to study business administration and commercial law. Prior to joining the company, I did not have much to do with printing, so I had to pick up printing know-how as I went along. My father helped me a great deal until he retired. To this day, despite his advanced age, he helps out whenever necessary. Our specialty has always been the production of seed bags, labels, and catalogs and brochures for the garden sector," says Alexander Güttler.
"We distribute these products across Europe -- with customers from the Mediterranean all the way to Scandinavia. In fact, there are very few producers in this market worldwide. It is not only the press technology that matters but also the special machines used in our postpress department. We have had the necessary know-how and technology for many decades and have found our niche in the competitive printing market.
"We deliver the seed bags glued with an open flap as empty bags to the producers of plant seeds or to specialized filling companies. The production and sale of plant seeds has remained a stable market despite the Covid pandemic. However, seed procurement has now become increasingly difficult. The supply is limited, and seed quantities in some years are lower than expected. Recently the demand for seed bags has been increasing again. This has a lot to do with increased ecological awareness. For example, sowing wildflower meadows to protect bees has become enormously popular. Numerous municipalities and companies in all kinds of industries are riding this ecological wave and are giving away flower seed mixtures to interested citizens and customers. 'Save the bees' is a popular motto.
"In addition, younger people are increasingly interested in gardening. There is also the urban gardening movement, where people garden in very small areas and in planters, growing herbs, vegetables, and a wide variety of flowers. And seeds are needed for everything. There are numerous suppliers in this green industry, many of whom are our customers," continues Alexander.
Upgrading to the latest technology to meet market demand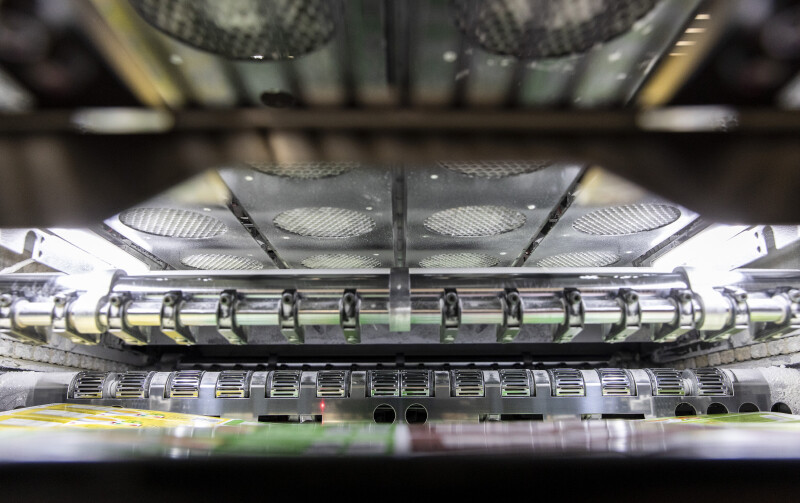 "Products with high gloss using UV varnish and coated paper used to be in greater demand but are now the exception for us. Natural and recycled papers without any coating or varnish are very popular. Special colors are also a trend. For many years, we only had a four-color and a five-color press with coater from a German manufacturer. That was enough. Today, products with at least two special colors are almost standard. These older presses were replaced in 2007 by a four-color and a six-color press with coater from another German maker," says Petra.
"Our fathers always took the position that our company needed two presses in order to be able to limit the loss of production when repairs were necessary. Of course, that didn't make economic sense. That was one of the reasons why we sold the four-color press in 2011. We only printed seed bags on it because it was practically useless for our label printing without special colors. It was difficult to fill a full day's shift with both presses, and the postpress department couldn't keep up either. The six-color machine was replaced last autumn by our new Komori seven-color press with coater. The press is linked to prepress via a state-of-the-art Fuji XMF workflow, which also handles a digital printing system from another manufacturer. We primarily use the digital system to produce short runs of labels and seed bags," she continues.
A well-considered choice of Komori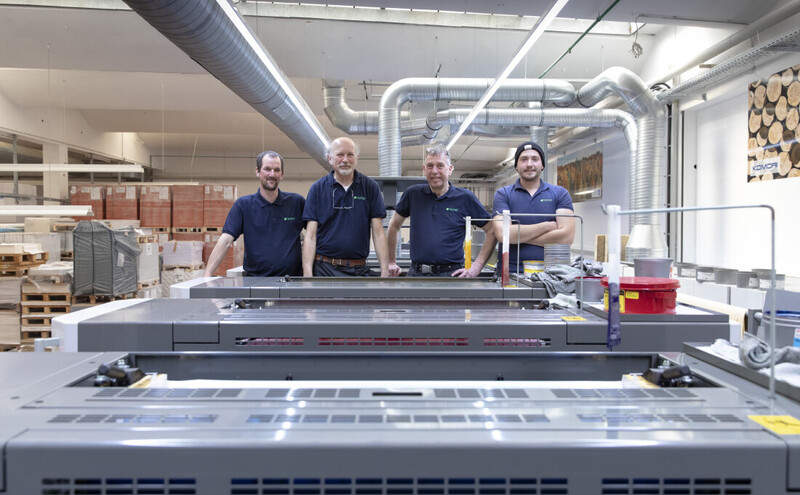 "With the Komori press, our company has now entered new territory. Our fathers were very conservative when it came to technical issues and always relied on German manufacturers. Buying a Japanese printing press would probably never have crossed their minds. But in today's globalized world, one cannot really afford that mindset, because excellent technology is being developed everywhere in the world. We first found out about a German press and had already tested it. At the same time, we also contacted the Heinrich Baumann company about a Komori press. Baumann's offer for a comparable press was favorably priced. Unfortunately the planned date for a printing demo in March 2020 at Komori Europe in Utrecht was canceled due to the Covid restrictions and could only be rescheduled for September.
"In the meantime, we were a little unsure whether we should even make such an investment in view of the pandemic. Back then nobody knew how the whole thing would affect our market. Fortunately, the Covid situation has given both our food label and seed bag businesses a boost. People were spending a lot more time at home, cooking instead of going out to eat, and maybe some rediscovered gardening. The pandemic had given us an unexpected increase in sales.
Top print quality as benchmark
She evaluated the demonstration as completely persuasive: "One reason why we finally chose the Komori press was the truly convincing print presentation in Utrecht. For testing, we brought four of our own jobs, with which we had had some printing issues in the past. These included a job on very thin paper with a difficult register on the outside front, and a job on cardboard with a large area in a special gray, which we almost never got printed without stripes. In addition, we brought a job on embossed paper and a very demanding label job.
"The tests in Utrecht were run on a five-color Lithrone G40 with coater, which, in terms of technology, was almost identical to our new seven-color Lithrone G40. During the tests, the focus was primarily on print quality, which is at the top of our company's requirements. Two of our printers attended the tests and were very impressed with the quality and also with how quickly and efficiently our four jobs were processed. We have had the Lithrone G40 up and running since October 2021, and our printers are still learning every day how to get the most out of the press."
Purchase prompted by decades of trust in Heinrich Baumann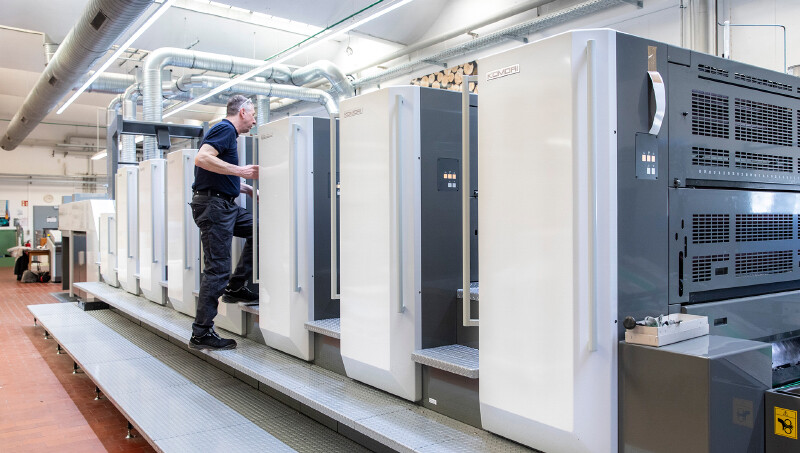 "Our business relationship with Komori sales partner Heinrich Baumann, which has existed for decades, also played an important role in our purchasing decision. We know and trust each other. The branch is close by, and they are there for us immediately when we need help. Without the support from Baumann, we would probably not have dared to switch to a Japanese manufacturer. Having such support nearby is an important criterion for us.
"The Komori brand has a reputation for offering particularly dedicated service. In the past, we hadn't always had great experience with other manufacturers. The press has now been in operation for half a year and no serious issues have arisen. And that's how it can stay for a while, as far as we're concerned," she concludes.
Related Information
Contact Komori Europe