Mainline Printing deploys Lithrone G40+C advance to further grow production capacity
U.S., Mainline Printing | Lithrone G40 advance [GL-640A+C]
13 July 2022
Founded in 1958 in Topeka, Kansas, Mainline Printing has enjoyed remarkable growth in the past few years using a family-style business model that extends to customers and suppliers alike. Komori is honored to play a significant part in the journey by providing a full complement of UV and conventional offset presses. Mainline's latest installation, a six-color Lithrone G40 advance with coater, is their fifth Komori press. It targets packaging, trading cards, and general commercial work.
John Parker, Jr., Chief Operating Officer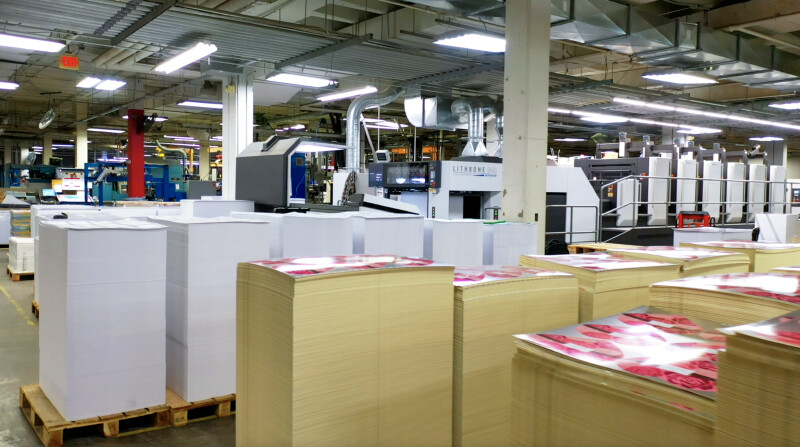 General commercial printing started the company, but it has evolved into several segments. Over the years they built a cut and stack label segment for the packaging industry, Mainline holographics providing holographic board stock for packaging and specialty products, Mainline digital focused on personalization and variable data needs, and Mainline signs modeled for the wide format market.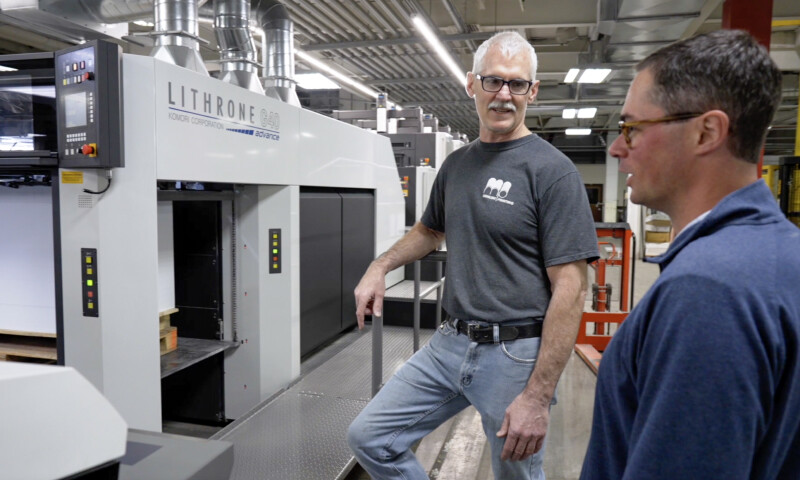 "My grandfather, George Parker, bought the business in the mid-1980s. My father, John Parker, Sr., bought the company in the 1990s, and now the three boys work for him, carrying on the tradition. It's a true family business and I think a lot of customers enjoy working with us for that reason. There are no layers of decision-making and people to give you the runaround. You're going to deal directly with the people that own and run the company," says John Parker, Jr., Chief Operating Officer. He continues, "We feel like the family business component is a very important part of the culture and production mentality here in terms of a place to work. It's in the culture here. We really strive for long-term close relationships. And that, I think, has been a big factor in some of our success."
Komori advance press features are key to efficiency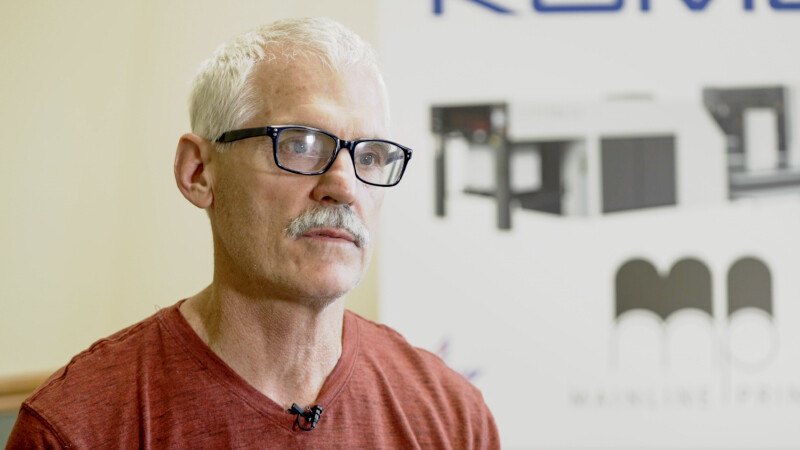 Komori's advance series of presses contain new features to enhance the presses' effectiveness over a broader range of stocks. Many upgrades are in the feeder and delivery areas of the press.
"We obviously needed the capacity of a 28 by 40-inch press as well as the capability of printing on both light and heavy stocks. The upgrades in the feeder and delivery give us the ability to flow the sheets into the machine better and to deliver them better. The delivery on the advance does give us advantages with air control and sheet delivery," says Joey Dowding, Vice President, Manufacturing and Facilities. He continues, "Everyone knows that a good release at the grippers is important, but then air control after that to float the sheet down for the joggers to hit it at the right time and to make that perfectly smooth stack. It's really about air management." He is also enthusiastic about Mainline's relationship with Komori. "Komori always responds quickly whenever we have a problem."
Parker adds, "The feeder and delivery upgrades on the advance have been something we've definitely noticed. They deliver exactly what was sold to us. We run a very wide range of paper weights, so it's a fairly wide window that everything has to work on that press. So far, it's been everything that we thought it would be in terms of getting sheets through and delivering them in a neat pile. It's been fairly seamless."
The presses stand the test of time
As a fourth-generation company, Mainline has had to adjust its business model since the mid-1980s to stay relevant. At the time of this study, Mainline has five Komori presses, one still dating back over 20 years, and a new 2022 six-color Komori advance. As technology changed, Komori provided Mainline with the most advanced press systems available. They have a wide range of curing capabilities including conventional, H-UV, and LED-UV. Komori's attention to quality from year to year matches Mainline's needs for their production model.
Parker comments, "Komori as a manufacturer has kept up with what we've needed as our business has changed and grown over the years. Whether it's equipment for specialty labels, whether it's having inventory available in the United States, to designing custom presses, Komori has been the best fit for what we need as a general commercial printer. They have the answer for everything, including UV and LED. Our first Komori UV press in 2016 was used for printing on metallized polyester and other plastics. For trading cards, you need the full UV. The next press that we bought in 2018 was an LED-UV press. That has been fantastic for not only paper printing, but we also run the same silver-metallized polyester plastics."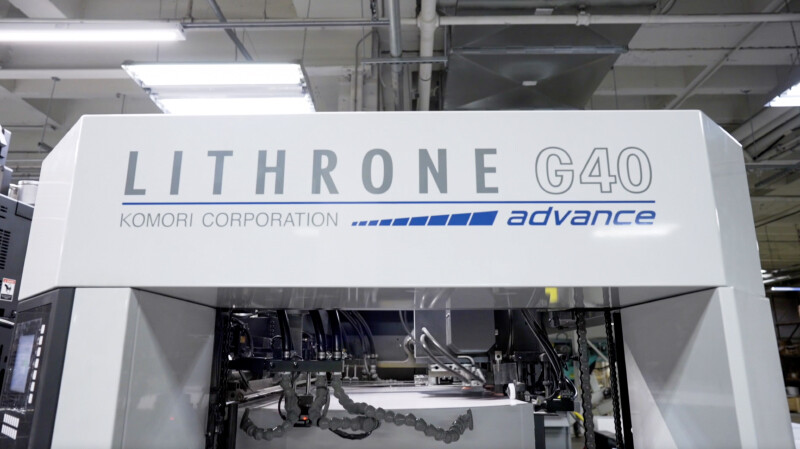 Companies invest in technology and production platforms over time. As a supplier, Komori must provide systems that provide high quality print regardless of the vintage, which can pose challenges for internal processes if the production machinery does not have a solid base. "One of the things for us is we are able to run different jobs on different presses at different times, and the quality expectations of our customers are all exactly the same. There is no allowance for this press is five years old and this press is brand new. They're looking for a printer who can provide a solution, which is to get something done. And for us, the long-lasting quality of a Komori press has been an important factor for us to continue to run Komori machines," says Parker.
Labor is the greatest challenge
Labor and automation are the top subjects in any business sector and Mainline is no exception. High productivity must be accomplished with minimal labor. A pressman and a helper must be capable of maximum production rates while still being confident that print quality is high and changeovers are fast. Control systems must be powerful, intuitive, and easy to learn, not only to aid productivity but also to attract a new generation of labor. The print unit must have fast, positive control of dot reproduction to keep waste to a minimum, and do so with very little, if any, human input. Komori presses have been meeting those challenges for many years.
"Labor is our biggest challenge right now, and I think that's true of not only every printer but every manufacturer in the world. It's all about training. How quickly can you get someone to work as a press helper on the feeder side and quickly move them over to operator. The Komori equipment, we have found, makes this a very easy transition," says Parker. "The hiring challenges that are out there are very real, and so that's another reason that we have to invest in more technology, more speed, and more automation."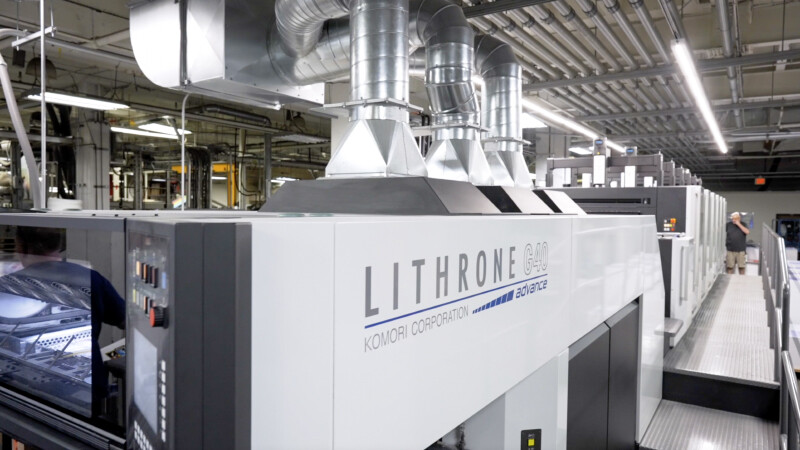 "From the operator point of view, any operator can run any Komori down there. And we can take any one of those operators and move them between machines. They can efficiently run those machines. That is huge to us, with one operator being productive moving in between machines. We really understand how Komori presses work, so we can keep them up and going," says Dowding.
Unwavering relationship with Komori
"We've had the president of Komori from Japan visit this facility. They're invested in us continuing to grow, which is not always the case with every equipment manufacturer. As we've grown, we've looked at different press manufacturers, and every time we keep coming back to Komori. It's a slam dunk decision," concludes Parker.
Related Information
Contact Komori North America