Elma Basim opts for H-UV on second Lithrone
Turkey, Elma Basim | Lithrone G40 [GL-640+C H-UV]
01 March 2016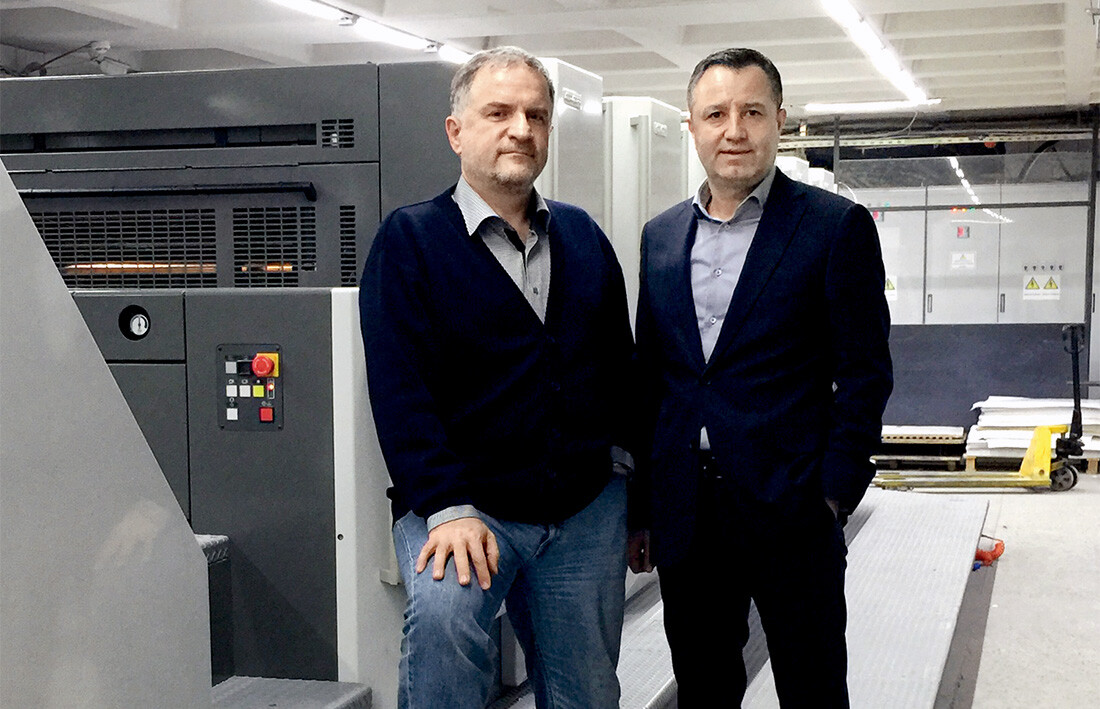 Istanbul's Elma Basim was founded in 1986 as an IT systems integration supplier for newspaper publishing and advertising companies, diversifying in 1995 to become a repro house. Having thereby familiarized itself with printing production, one year later it moved into print itself, attracted by the prospect of better profits.
Ihsan Elhan, Managing Partner, Elma Basim (left), and Hamdi Kaymak, Managing Director, ArasGrup
Initially Elma Basim produced brochures and folders for local agencies and designers, and now it handles a massive range of print, most of it general commercial work, for customers throughout Turkey, producing an annual turnover of six million US dollars. Although currently packaging printing constitutes only a small part of the workload, the company hopes that with its new H-UV-equipped six-color Lithrone G40 and coater, its carton business will grow in time.
Managing Partner Ihsan Elhan explains: "Our early days in IT and repro helped us to understand the importance of integrated production in order to offer the fastest response and shortest turnaround times — and we learned that this is best achieved by handling everything in-house." The company manages this through a unified workflow system, and its 4,000-square-meter premises house substantial prepress equipment and a massive finishing facility.
Elma Basim's first initiative with Komori was in 2006, when it installed a four-color Lithrone S40. The press served the company well for eight years, but the advent of H-UV curing prompted the printer to look to Komori again in 2015 for its next major press investment.
Illustrating H-UV benefits to customers and competitors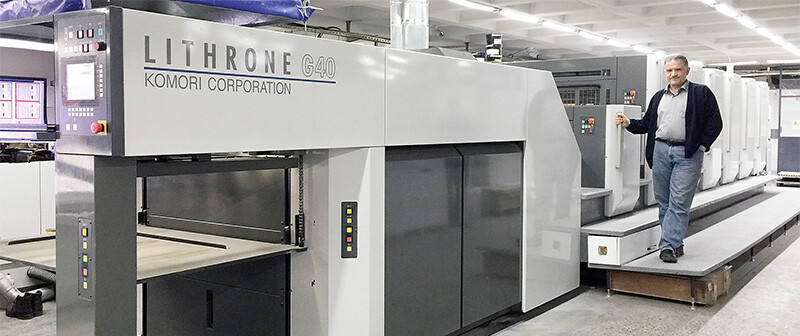 Mr. Elhan says: "We examined the H-UV curing system in detail at the Komori Graphic Center-Europe in Utrecht, where we later subjected it to strenuous tests. What appealed to us about the H-UV system in general was the increased flexibility it would add to our production capabilities."
"We consider ourselves strong at our own marketing, and we are one of the few printers prepared to invest in exhibiting at international trade shows. We realized that the new capabilities of this press would provide us with excellent marketing opportunities to present to customers and new prospects. We could promote not only the range of finishes and accelerated throughput that the rapid curing offers but also the superior quality and enhanced appearance of jobs printed without spray powder, especially on uncoated papers. We recognized that we would also be able to illustrate — not only to customers but also to our competitors — just how competitive the H-UV system makes us through savings in consumables, such as ink and replacement UV lamps," Elhan continues.
"These were some of the key aspects behind our specifying a press with six units and a coater — a combination that is also allowing us now to look into hexachrome, the addition of offset metallic to our four-color work, spot colors and varnishes, and even seven-color work," he adds.
Elhan explains why he chose Komori for H-UV: "Of course, we did look at the alternative new-generation UV systems on the market, but we did not consider them ready yet. Komori is the pioneer in this field — with a system that's been thoroughly tried and tested internationally across all specifications. The H-UV curing system also delivers environmental benefits — with lower energy consumption, no ozone or heat emissions, and no spray powder hazards around the factory or the press itself."
"Additionally, we were influenced by the latest level of Komori press technology such as the automatic plate changing, the KHS-AI fast makeready system that reduces waste, and the control systems," he says.
H-UV in action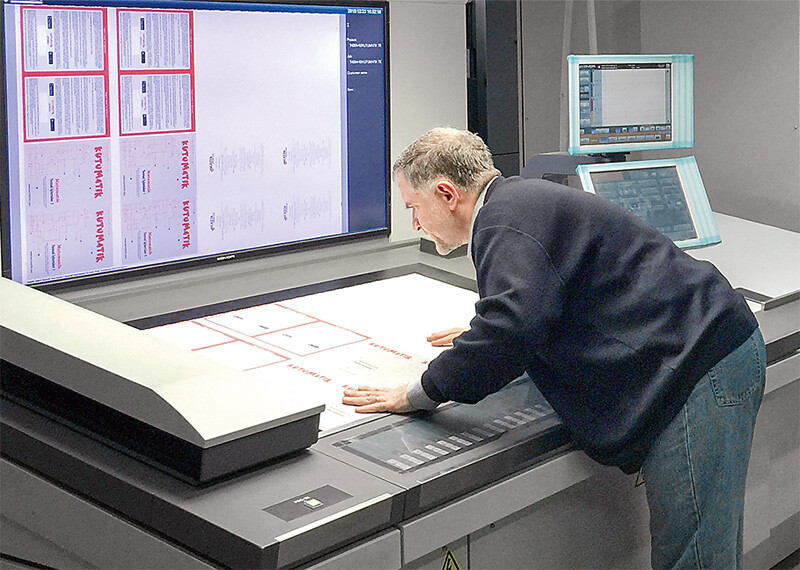 Elhan says the new Lithrone G40 has given them not only great advantages but also new business: "In practice, we are definitely finding that the immediate drying on the new press is helping us to turn around work faster. Adding a coater to the specification has proved beneficial in several ways. We're working on drip-off techniques to offer clients added value, and we use it, for example, to add extreme gloss on H-UV jobs and to add a protective layer over some plastics."
"We're attracting business through a balanced combination of direct sales and promotions as well as new opportunities from existing clients. Because of our confidence in offering rapid turnaround times and consistent quality as well as our compliance with FOGRA/ISO PSO standards, we're able to build our business and move into new fields both locally and internationally," concludes Elhan.
Related Information
Contact Komori Europe