Achieving goals drives printer up value chain
U.S., Specialty Print Communications | Lithrone GX40 [GLX-640+C UV]
01 December 2016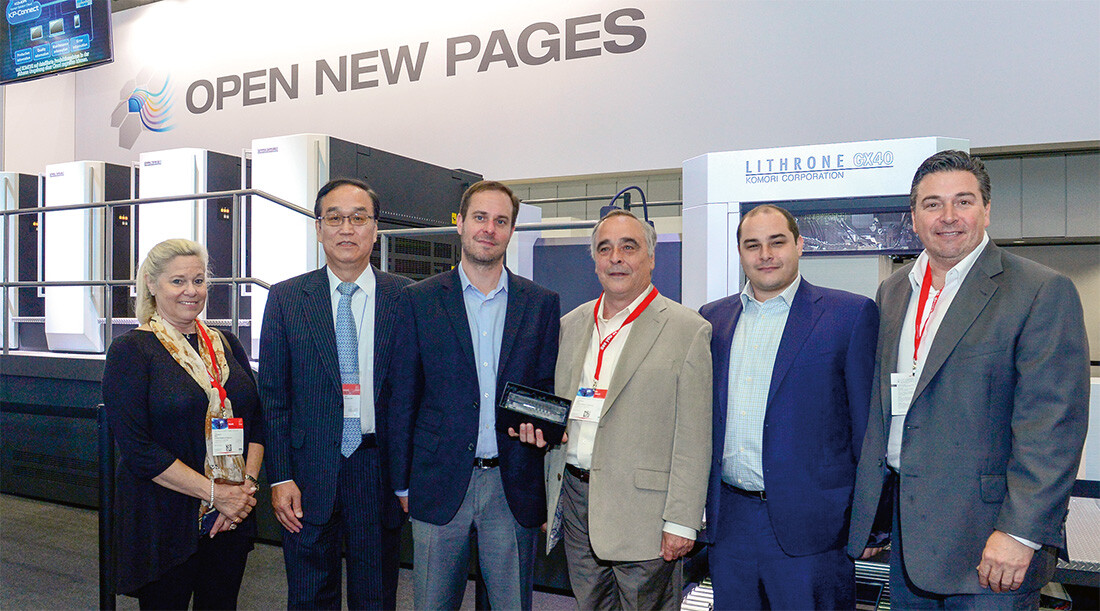 The word that comes to mind when one meets Adam LeFebvre, President of Specialty Print Communications in Niles, Illinois, is "chutzpah." The LeFebvre family is a "print" family. LeFebvre's grandfather started the company that Paul LeFebvre, Adam's father, eventually took over.
From left: Leslie LeFebvre; Satoshi Mochida, President and COO of Komori Corporation; Adam LeFebvre, President; Paul LeFebvre, CEO; Ryan LeFebvre, Partner; and David Parzynski, CFO
But in 1996, after years of success, LeFebvre Intergraphics fell on hard times and closed its doors. The very next day, Specialty Print Communications was born. "As difficult as it was, it was a great learning experience to see what my father had gone through, and the way you can be on top one day and on the bottom the next. We learned a lot from that experience and were determined to learn from those past mistakes as we built our new business," says Adam. The company started in a suburb of Dallas, Texas, and was primarily an ad specialty company that provided print as part of that business. "After nine months, we decided we needed to go back to our roots and headed back to Chicago."
Startup enjoys fast growth
Specialty opened shop a few miles from where the original company had been located, and set about building a business. "We bought a company, installed a lot of used equipment — from offset to web — and my dream was to grow to a $60 million company really fast. But seeing what my father went through, and his openness in sharing how to run a company, really forced us to make measured, thoughtful decisions." After a year, the company needed to relocate in order to continue down their growth path, and moved to their current location in Niles. The company grew at a surprising rate — from $500,000 in its first year, to $21 million in its sixth year. "We were just printing commodity work — quality wasn't too important. We were focused on volume and price. And we were getting plenty of business."
In 2003 the company changed gears. "I thought, maybe this isn't where we want to be. Maybe being the low-cost, low-quality provider is not who we need to be as we grow our business. We knew that to change gears, we needed to install new state-of-the-art technology and be a cost-effective printer, not a low-cost printer," Adam explains.
Direct mail saves the day
Specialty purchased a Nexpress (an early adopter), a new 40-inch Heidelberg press, and some additional web presses. "We had all this great technology and were feeling pretty good about where we were headed, and then in 2008 we decided to shake things up again. With our technology we could provide high print quality, so we decided to enter the direct mail space. And that's where we've been playing ever since." When they entered the direct mail market in 2009, less than 20 percent of the company's business was direct mail. By 2013, that had all changed. "By month 10, we had blown away our five-year projections. It's growing like wildfire, a real game changer. When the economy tanked beginning in 2008, direct mail was what really saved us."
Never one to rest on his laurels, Adam's next challenge was to build a great company: "In spite of our success, we were just an OK company. We needed to completely change our culture. We have great people — along the way we lost some, we recruited some, and we've built a solid team that has an absolutely unrelenting desire to build a great work environment. To care about our people, to care about our customers, and to do it right. We have the faith that by focusing on our people, being transparent and empowering our staff instead of focusing on improving the bottom line, the bottom line will follow. Everyone knows the goal. Everyone is excited. That's how we got to where we are today."
It's not the press, it's the people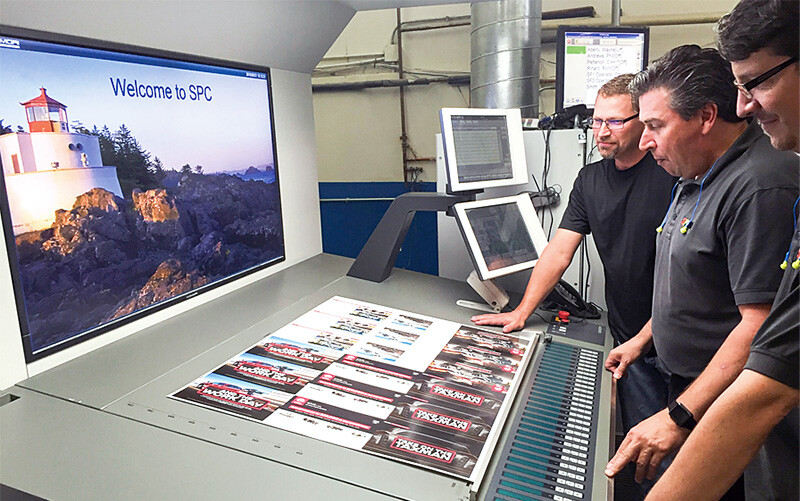 John Gaspari, Vice President of Operations, couldn't agree more: "It was exciting to open up a whole new market segment, get a whole new wave of customers. We're really state-of-the-art in our direct mail business now, and we knew that to get the high end business, we needed to add UV capabilities." That led them to the purchase of a six-color Lithrone GX40 press with UV — their first Komori press. "Frankly," says Adam, "at the end of the day, all the manufacturers make a good printing press and can provide good output. But what sold us on Komori was their people." It started with District Sales Manager Clark Scherer. "Early on in the process Scherer told us exactly what we were going to buy, exactly what to expect and exactly what our challenges were going to be. And I told him exactly what we were going to need to install this press. It was a two-way dialogue. That openness and honesty is not something you get from other press manufacturers," says Adam. "It is prevalent through the entire Komori organization, and we have been extremely pleased so far."
"I love the efficiency of the press," says Gaspari. "I know we still have a lot more we can get out of this machine as we continue to learn more about the KHS-AI software. We're learning more every day and we're excited to see where we can go from here."
Specialty Print Communications has gone through significant change in a short period of time and grown a business that serves some of the largest brands in the direct mail space, all while building a new company culture and rebranding their business. "We're all about innovation now. We've got some great new marketing on the horizon and it's going to be a lot of fun. We're excited every day and our success is based on partnerships like the one we have with Komori. We could not be more pleased and we look forward to our next Komori press," concludes Adam.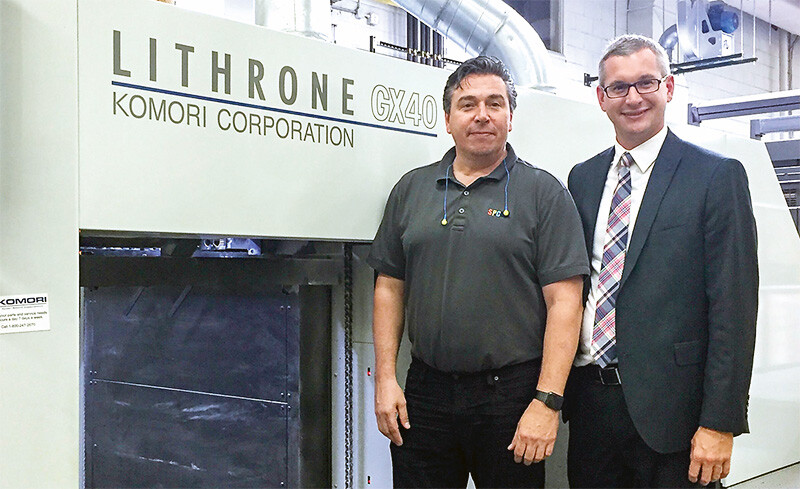 Related Information
Contact Komori North America