Vietnamese printer overcomes adversity with Komori
Vietnam, Nguyen Quang Huy Company | Lithrone G40 [GL-640+C UV]
01 March 2017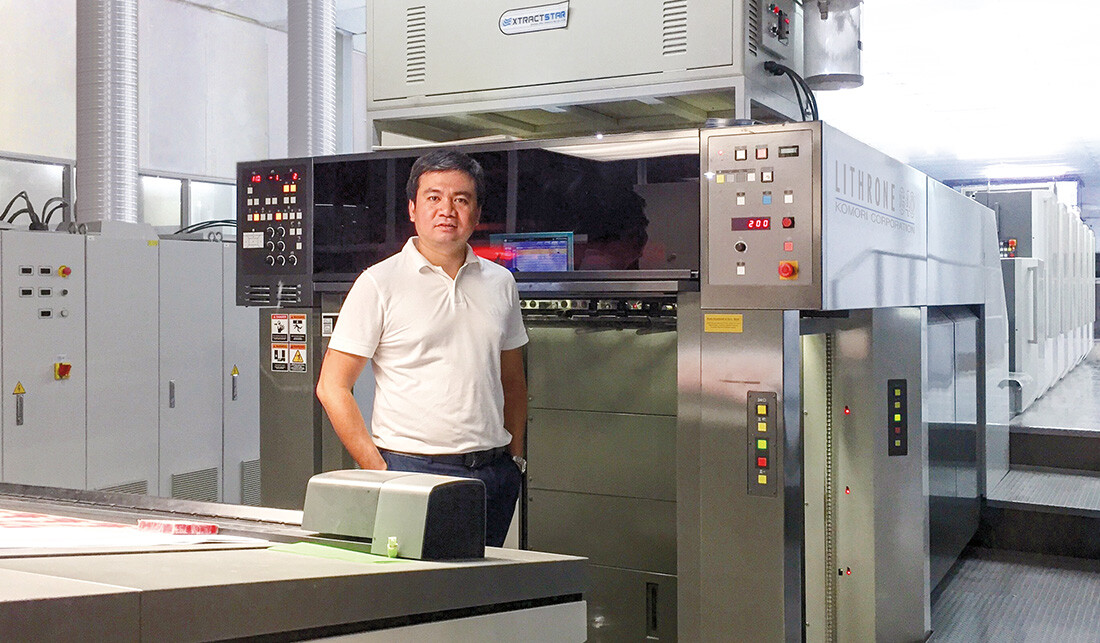 Growth was not necessary in the absence of competition, so the Vietnamese printing industry stood still for more than a decade. At the beginning of the 21st century, Vietnam experienced explosive population growth, with the average age of Vietnamese currently just around 30.
Nguyen Quang Huy, Managing Director
The country has one of the leading consumer goods markets in the region and thus faces an increasing demand for higher quality packaging. In addition, Vietnam is an outsourcing destination for companies such as Samsung, Wal-Mart and Microsoft.
As the nation becomes more attractive to global corporations, with more and more big names in industry looking for opportunities to cooperate, the printing market of Vietnam is entering a period of international integration. Indeed, the printing market cake is rising fast but will soon be shared by new owners. Vietnam enterprises are going to step into a new stage of competition — that of globalization in a flat world.
Toughness tempered by difficulties
Most private printing companies in Vietnam were established about 20 years ago, starting out as family businesses and quickly encountering many difficulties: meager initial capital, outdated equipment and poorly qualified local labor. These seemingly unfavorable factors, however, forged a generation of enterprises capable of adapting to market change in an incredibly flexible and versatile manner.
Starting with a Sprint 26
Launching in 2001 with only an old two-color Sprint 26 in a workshop with floorspace of less than 100 square meters, 20-year-old Nguyen Quang Huy, without any formal training, threw his passion and enthusiasm into building his business, Nguyen Quang Huy Company Limited, a printer and packaging company.
A period of 15 years is neither too long nor too short for a young man who has just embarked on his professional life. Nguyen Quang Huy, now the managing director of the company, learned from the real world, daily work, friends, colleagues, predecessors, superiors, short-term training courses — and from the failures inevitable with such a young age and lack of experience.
The company has overcome business challenges, economic difficulties, and professional shortcomings to persist and develop into the company it is today. It is the pride of not only Nguyen Quang Huy but also all the employees who have contributed to this success.
The year 2016 marked a turning point — a new stage of the journey of Nguyen Quang Huy Company on the path of integration and development. The entire plant has been relocated to an industrial zone in Binh Duong Province with a facility five times larger than the previous factory. Investment has also allowed the installation of more modern equipment, spearheaded by a Komori six-color Lithrone G40+C UV and followed by a brand new four-color Lithrone G40 purchased in 2013. "We've had amazing results. Customers are very satisfied with our print quality and we easily meet the expectations of very demanding clients. Since this move, we have received more and more orders — so the new plant is feeling smaller and smaller," says Director Huy.
Development of UV offset printing technology is essential to all printing houses and Nguyen Quang Huy is no exception. However, such development requires not just the right press but also the right materials, conditions and technicians. Director Huy is hoping to harmonize all of these elements in order to maximize the throughput of the six-color Lithrone G40+C UV and is asking for Komori's help in achieving this goal.
A successful organization in a prosperous country

A family, an organization or a country can only be happy when everyone is doing well and all are doing their jobs properly.
Having undergone a lot of changes and setbacks, the Nguyen Quang Huy Company understands the fundamental core of success: build human assets, commit to continuous training, focus on the environment and working conditions, develop transparent management policies, and share with and understand all stakeholders. "We want to contribute to the building of a prosperous country," adds Director Huy.
The Komori Sprint 26 lit the fire and kindled the passion in the heart of Nguyen Quang Huy. He credits Komori and Cuulong Trading, the distributor of Komori products in the region, for giving him confidence, pride — and ultimately belief in himself. And for that, he is grateful to Komori.
Related Information
Contact Komori South America, Asia, Oceania