Lexon: First UK Adopter of Impremia IS29 Sees Significant Benefits
UK, Lexon | Impremia IS29
01 August 2017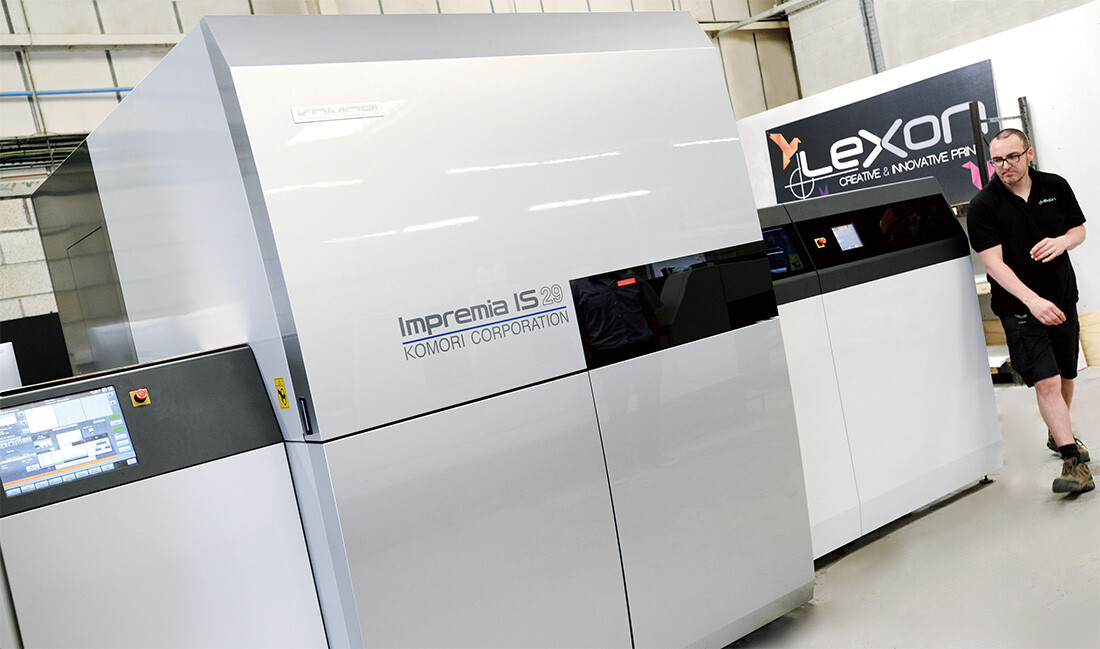 At drupa 2016 in Düsseldorf, executives from the Lexon Group in South Wales, UK, visited the Komori booth to take a look at the live demonstration of the Impremia IS29 29-inch sheetfed UV inkjet digital printing system. Already running Lithrone offset presses, the print project handling and fulfillment company was intrigued by the potential of digital output from a machine built by an offset press manufacturer.
The vision of digital flexibility combined with offset realities grew more compelling each time they considered it. In May 2017 Lexon became the first company in the UK to install the Impremia IS29.
From key fobs to full service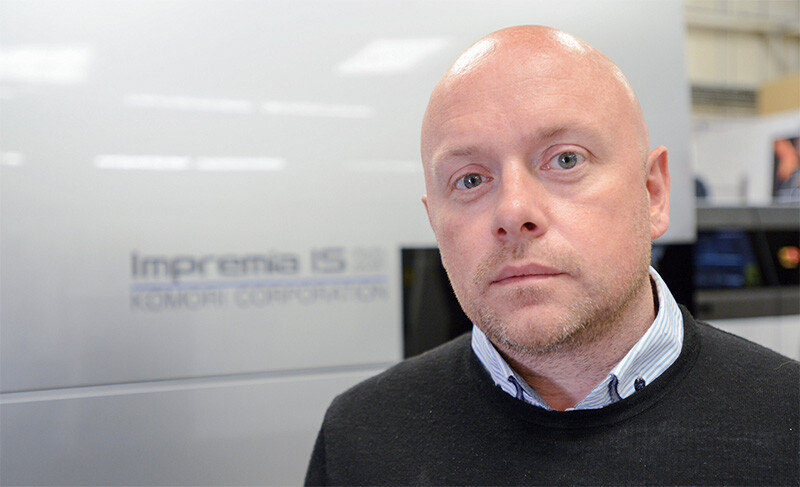 The story of the company illustrates just how far innovation and creativity can carry an enterprise. Lexon was started 46 years ago when founder Malcolm Davis began producing car window vinyls, foiled key fobs and welded plastic vehicle license disk holders from his home in South Wales. His vision was to build a business to secure a future for his growing family. With the help of his wife, Ruth, and two of his sons, Garth, now Managing Director, and Benn, former Sales Director, the business experienced steady growth while diversifying into silkscreen, lithographic, large format and digital printing. Lexon has always stayed ahead of the competition by investing in cutting-edge technology as soon as it became available, knowing that their ever-growing client base was just as hungry to innovate.
Lexon's integrated print solutions now include creative packaging, point-of-sale materials, exhibition displays and commercial work. With turnover of around six million pounds, the company runs three Komori 29-inch Lithrone offset presses.
Distinctive, even personalized, design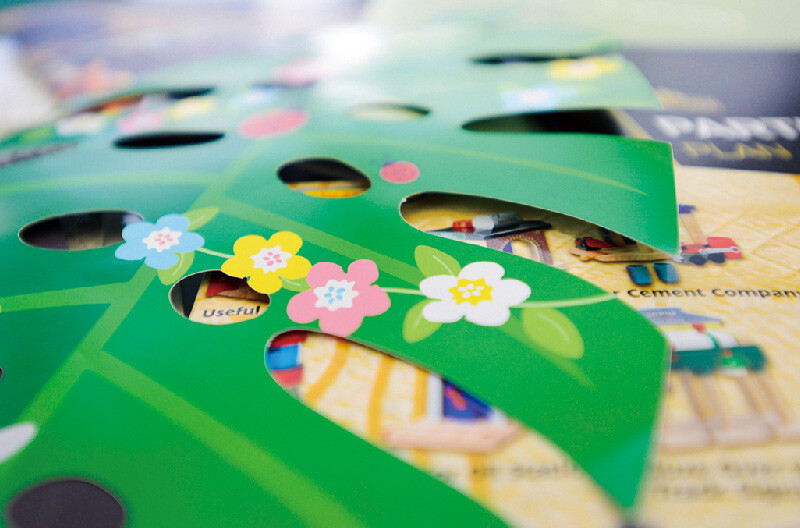 "Our philosophy is to invest in the latest technologies that allow us to influence our customers' marketing and buying trends and, at the same time, address new opportunities for our own development," says Garth. "We are a dynamic print company focused on quality. We needed to add versatile inkjet capacity capable of delivering stunning print results on the same bespoke materials as our offset presses. Typical applications for us are luxury packaging, reports and folders, often in run lengths as low as 500, along with specialized projects for our clients. Common trends throughout are calls for even faster turnaround and requests for increasingly distinctive, even perhaps personalized, design. We became seriously interested in the Impremia IS29 at drupa 2016 and began case studies on the possible contribution that it or a similar press could add to our diverse business operation. It became apparent that there was opportunity to exploit further revenue available to us from our existing client base."
"We spent considerable time putting the Impremia IS29 through its paces at the Komori Graphic Center-Europe in Utrecht, the Netherlands, and we were very impressed with the print quality and the instant UV curing on a wide range of jobs and substrates. Additionally, as the color gamut of the Impremia IS29 inkjet system is noticeably wider than with offset, the colors produced are more vibrant. Since installation, we have seen significant benefits for our production, especially in our point-of-sale offering. The increased productivity and flexibility of the new machine not only improve our ability to serve customers but also enable us to confidently accept jobs that were previously very difficult to print in super short timeframes. We've also added a digital dimension in postpress by installing the Highcon Euclid III digital cutting and creasing system," Garth explains.
"A no-brainer"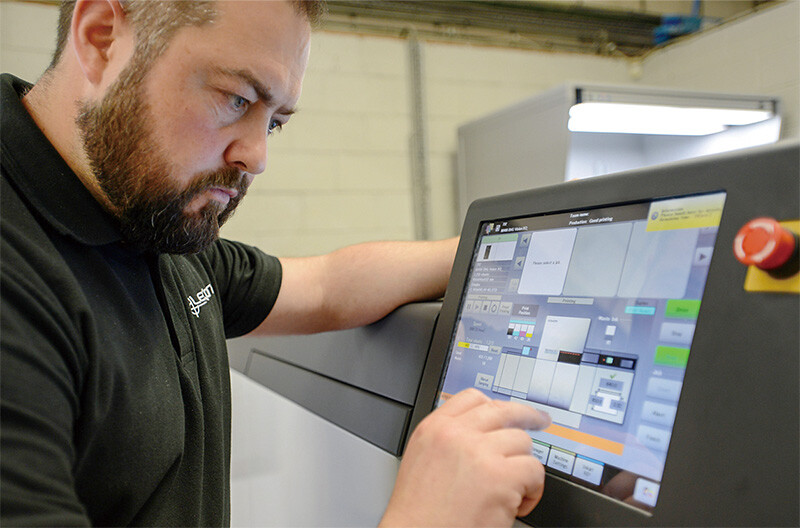 "Shorter production runs, versioning and personalization have been pushing more and more of our work toward our digital department, but with digital the compromise has always been quantity and quality. The Impremia IS29 was the first serious answer to our needs. Shorter lead times, unusual stocks and heavy ink coverage are a real bugbear to deal with. A UV process that produces dry-enough-to-finish sheets is a no-brainer. Since the only real alternative had slower speeds, a requirement to pre-coat stock with a surface preparation coating and no duplexing option, it wasn't a serious contender," says Garth.
"Lexon has three main areas of expertise: commercial printing, packaging and large format. These areas combine and overlap as we provide clients with everything from R&D and design to printing, specialist finishing and fulfillment for projects of any size. And because trust is everything in business, we make sure that our clients know that our expertise and accreditations conform to the industry's highest standards. We strive to be leaders in new print technology, producing the industry's highest quality print, such as with our Spekta 2 screening. Additionally, our streamlined production flow is certified to meet all pertinent ISO standards. We are a B2B supplier and work with large independent breweries, cosmetic and pharmaceutical companies, design houses, print management companies and everyone in between," Garth says.
"There are several unique selling propositions that make us attractive to potential clients. We outsource very little, which gives us better control of our production, and we have such a diverse range of equipment that we will always find a solution to a print problem. Our buying power as head of a group affords us the luxury of being more competitive. Our new warehouse allows us to stock materials for shorter lead times and handle orders too large for our competitors. Our family ethos and the spirit of our dedicated staff mean that we will go the extra mile to provide the right product at the right price at the right time. With our technologies and comprehensive equipment lineup, we are able to undertake complete print projects from the initial stage and finish production under one roof," Garth concludes.
New spectrum of opportunities
Says Robert Holscher, Director of Digital Sales, Komori International (Europe), "The Lexon installation represents a significant step for Komori into the digital print arena. Our Impremia IS29 provides the same high quality and print reliability as our customers achieve on their Komori offset presses, and it's also capable of printing on the same substrates used in offset, including uncoated material and special substrates — all with no special pre-coating needed. The exceptionally short job throughput times provided by the UV curing system, whatever the substrate specified, make the Impremia IS29 the perfect digital production printer for short runs and variable data. This first installation places Komori firmly on the path of combining offset reliability with digital flexibility, which provides a whole new spectrum of business opportunities for our customers and opens up new creative marketing solutions for them to offer their clients."
Steve Turner, Komori UK's Director of Sheetfed Sales, adds: "We're especially pleased to be installing the Impremia IS29 at Lexon, which is a Komori offset house. The Impremia IS29's ability to color match offset production is especially attractive to printers like Lexon who also run offset machines, enabling them to digitally produce very short runs, samples and proofs of jobs that could also be produced by offset, in the sure knowledge that the digital and litho versions will match. At the same time, it's providing them with new capacity for the high speed production of dedicated inkjet work such as variable data jobs, inserts and point-of-sale material."
The four-color Komori Impremia IS29 29-inch sheetfed UV inkjet digital printing system was launched at drupa 2016, and further European installations are scheduled to commence mid-2017.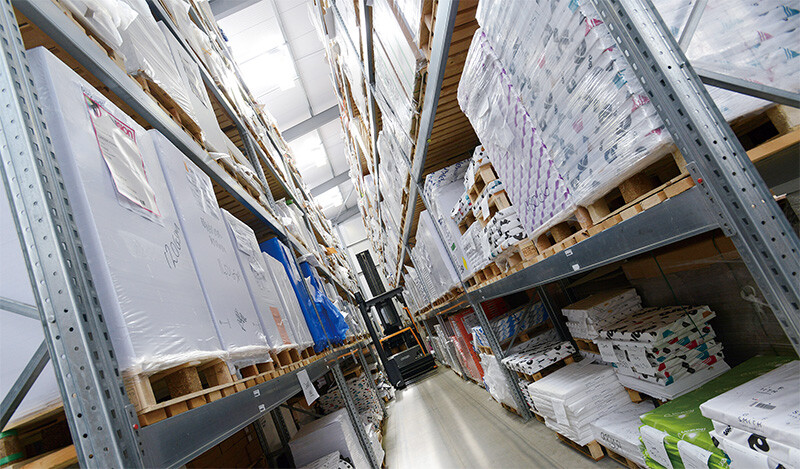 Related Information
Contact Komori Europe