Seoul printer does commercial to packaging
Korea, Art D&P | Lithrone G40 [GL-640+C UV/H-UV]
01 December 2017
Since the 1960s, an area of industrial shops has taken shape in Seongsu-dong in Seoul. Small-scale shops are still fairly numerous here due to the convenience of access to the capital city. And in this district Art D&P has grown while drawing attention to the advantages of Komori presses.
From left: Tae-young Ham, President, and Jung-ah Park, Section Chief
Tae-young Ham joined the printing industry in a shop that was operating a German press, and there he built up a foundation of experience in print sales and printing. Making the most of his experience, he started Name Bank, his own company, in 2004. It started out small but grew quickly. The name was changed to Art D&P in 2006, and the company installed its own offset press for the first time in 2008 — to print cards, pamphlets and deluxe catalogs.
Move to Komori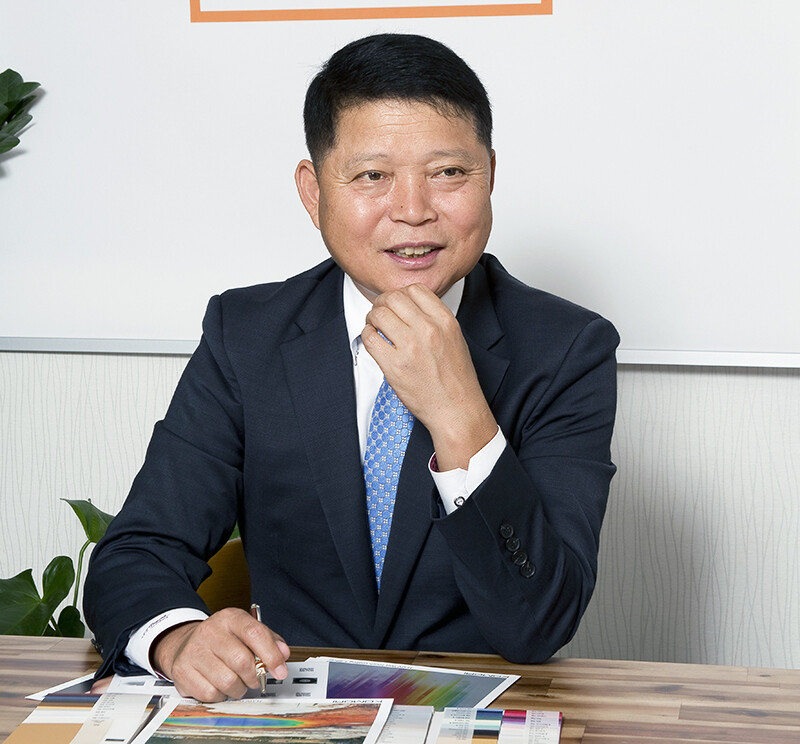 Clients were constantly clamoring for higher quality and shorter turnarounds. Mr. Ham realized that there was a limit to the productivity of the machine that he had. In 2011, he decided that new equipment was necessary to solve the problems facing the company, and he began considering a manufacturer who could become a long-term partner. Having used various machines for a long time, he knew their respective strengths and shortcomings. But he didn't have any experience with Komori. However, Ham already knew that Komori offered state-of-the-art automation such as Full-APC and KHS and only Komori enabled truly fine dot reproduction. Although there was still some anxiety, Art D&P went ahead with the decision to install a five-color Lithrone S40 to make differentiation its competitive strength. The first connection with Komori was made.
Another takeoff
The installation was a success. The Komori machine was capable of reproducing smooth gradations with fine dots, it was easy to operate, and thanks to prompt service by Komori and Korean distributor Iljin PMS, operation was trouble-free. Immediately after the installation, the number of customers began to grow thanks to the press's fine dot reproduction. Art D&P began producing catalogs, flyers and coupons for convenience stores in Korea, who became the printer's main customers. The new press secured Art D&P's position in the market.
With the Lithrone S40's stable operation, aggressive sales and efficient client management became easy and the company grew. In 2015 the company organized new business such as POP production into a department and issued its challenge to new markets. It soon became necessary to print on special substrates, and so the printer began to seriously consider a UV printing press.
Shift to UV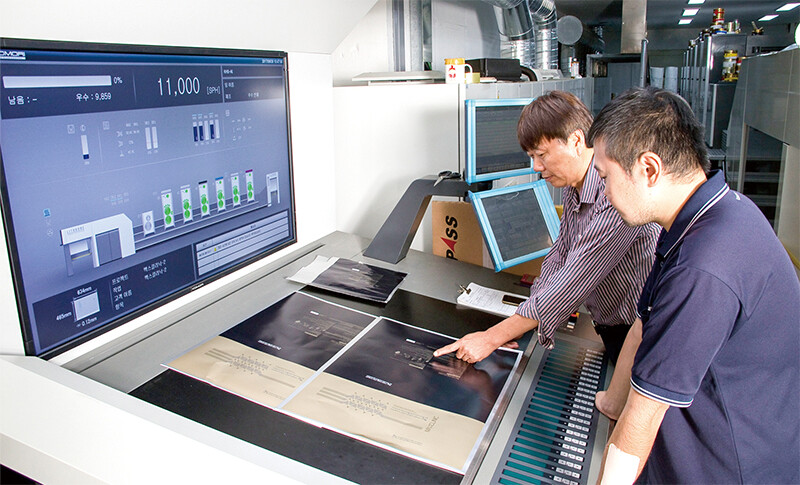 Regarding shifting presses, Ham says: "We began to notice that only the packaging field is growing in today's shrinking print market. And where markets are contracting, investment in equipment is at a standstill and most competitors take a negative stance. I was worried at first since UV printing is a new field, but I decided that the best time to challenge a new market is when other competitors are stagnating."
For the new UV machine, he ordered without hesitation the proven, high-reliability Komori Lithrone G40. In May 2017 the six-color Lithrone G40 UV/H-UV with coater was installed. This is the first Komori UV press with coater to go into operation in the middle of Seoul. A certain amount of trial and error related to the shift from conventional to UV printing had been expected, but thanks to the Lithrone's high performance and stability, the press went into regular operation immediately after installation and customer orders for UV printing have been continuous.
Taking advantage of multiple capabilities
"Now we're able to offer the competitive edge of processing for customers who had been looking outside the city for specialist UV printers to handle added value printing. And we're providing the competitive power of manufacturing with attention-getting special substrates," says Section Chief Jung-ah Park.
"The shift to UV printing was not difficult at all. The Lithrone G40, an upgrade of the Lithrone S40, is easier to operate, and the combination of KHS-AI and PDC-SX makes operation more stable. Easy switching of the operating mode between UV and H-UV enables cost reduction through energy management, and the press provides differentiation that is totally unlike conventional UV," says the press foreman.
'Share the profits' has been the management ideal of Art D&P since the company's founding: recognize the perspectives of the company's staff, diligently keep promises to customers, think of win-win strategies for mutual survival with subcontractors and, finally, do everything possible to return a portion of the company's profits to society. All future efforts will seek to abide by this ideal.
Related Information
Contact Komori South America, Asia, Oceania