A New Cutter to Celebrate 50 Years in Business
Italy, Nuova Stampa | Apressia CT137
01 April 2018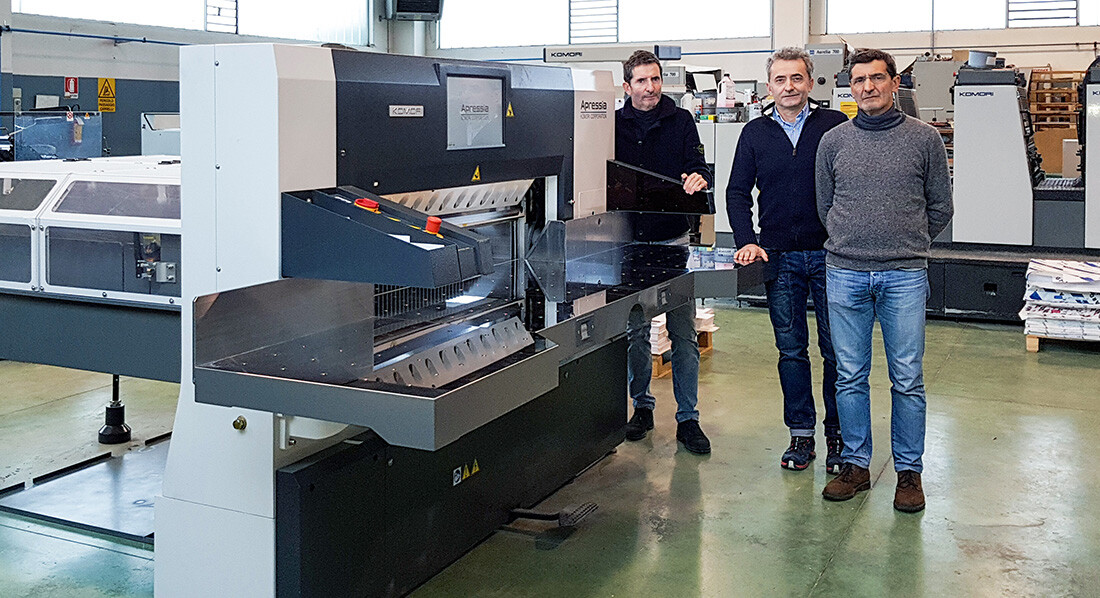 Nuova Stampa is a small printing company located in Revello, a lovely village in the province of Cuneo in Piedmont, Northern Italy. This year they will celebrate 50 years in the business, and since the postpress department needed an upgrade, they decided to acquire a new cutter, namely the new Apressia CT137 Programmable Hydraulic Clamp Cutter.
From left: Diego, Riccardo and Massimo Castellino, Owners
The family business was founded by Carlo Castellino, and today the company is managed by his three brothers, Riccardo, Diego and Massimo.
"Nuova Stampa," says Massimo, "has carved out a prominent role for the printing of materials related mainly to the economic activities in our area — short-run brochures and other services for the fruit and vegetable markets that constitute the main economic engine in this area."
Finding the weak link
Throughout 50 years Nuova Stampa has evolved dramatically while facing the challenge of providing clients with complete service — by running the printing process at high speed and handling everything from the most creative parts of the job to imposition, CTP, printing, folding and binding. But now the company is aiming to make the whole process even more efficient.
Right in the cutting department, where the company had relied on old equipment up to now, the production's weak link was finally identified. Therefore, in light of their important anniversary, the Castellino brothers decided to invest in the new Apressia CT137 cutter.
Why Komori?
"We have been using a five-color Lithrone 28 and are a very satisfied Komori user," says Diego. "And when the need for a new cutter presented itself, we carried out a thorough technical analysis, which in the end led us to decide in favor of the Apressia in the larger 137 cm format for better ergonomics with our paper size." Adds Riccardo: "The robust construction of the machine also played a significant role. The fact that it has greater strength and rigidity than competitors' equipment completely convinced us of the quality of the Apressia CT137 despite it being a very new development."
Future prospects
"Our mission is to continue speeding up the production process in order to offer even faster service. We are also interested in Komori's H-UV technology, which is unique and is also the safest and fastest option for drying ink at a reasonable cost. Hopefully, if the current positive economic upturn continues, we will certainly look into this investment too."
Related Information
Contact Komori Europe