High quality and low cost of ownership: Texas printer excels with Lithrone G40P
U.S., Next Day Four Color | Lithrone G40P [GL-840P LED]
01 December 2018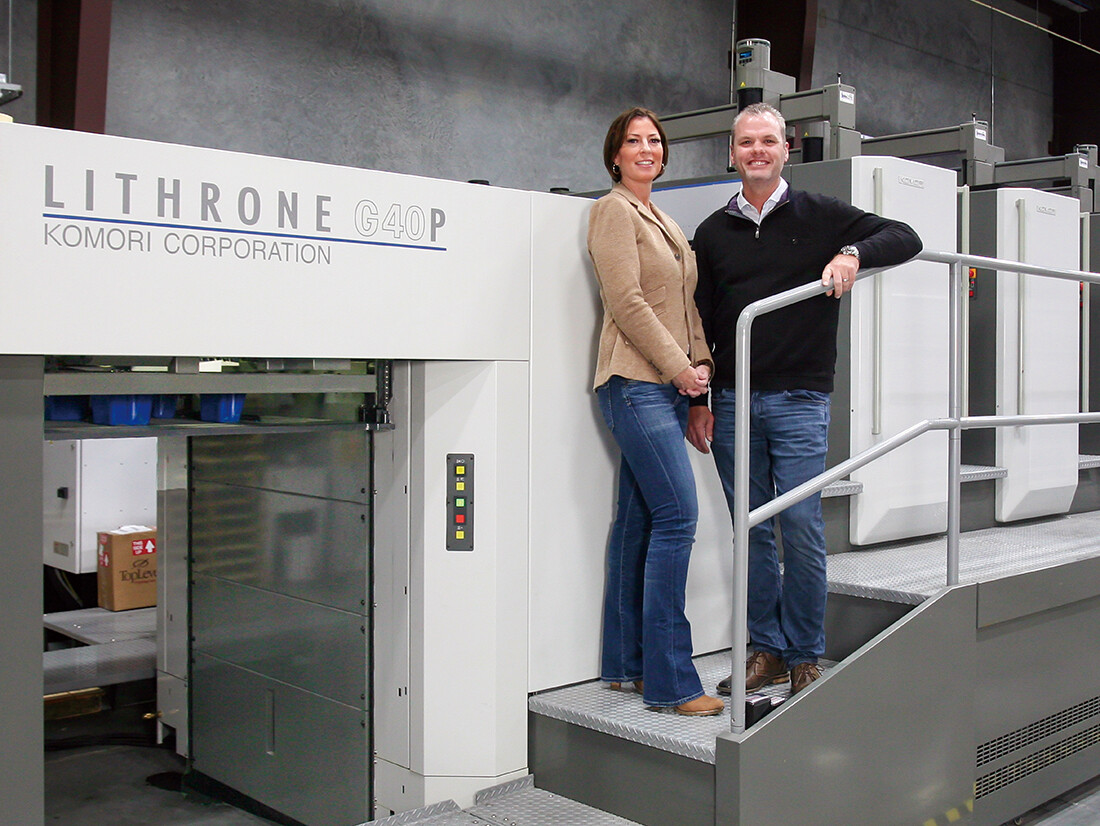 "We looked at other manufacturers, but the technology on the Komori press was exactly what we needed for our business. We knew it would produce more than any other press we were considering. We need fast job-cycle times, fast order turnaround and high quality print." — Todd Frost, CE
Todd Frost with his wife, Brandy
When people think of Texas, the first images that come to mind are often cowboys and cattle. Houston, however, defies those stereotypes, and, as the fourth most populated metropolitan area in the United States, ranks among the most culturally diverse cities in the nation. Home to over 20 Fortune 500 companies, including many in the energy sector, Houston is also known for world-class medical facilities and the Johnson Space Center, hub of NASA's manned spaceflight activities.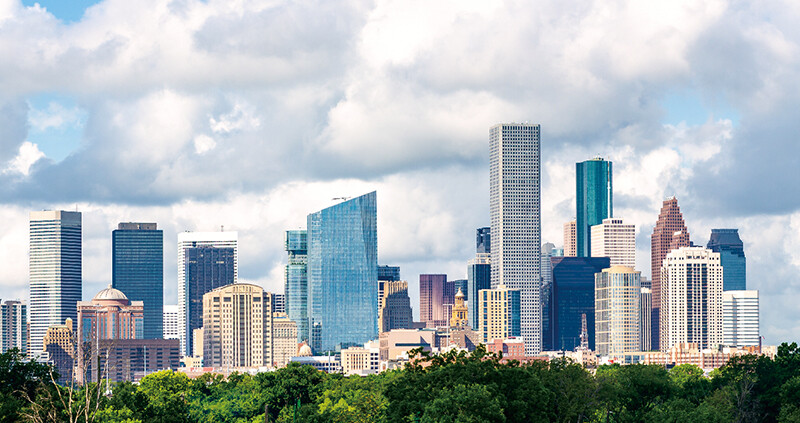 Houston is also home to Next Day Four Color, a wholesale trade printer specializing in fast turnaround four over four jobs for the reseller market. CEO Todd Frost is a second-generation printer. Growing up, Mr. Frost worked at his family's printing company, and in 2010, when his father retired, purchased the business. Since that time, the company, with a second location in San Antonio, Texas, has seen annual double-digit growth and is now a major provider of wholesale printing to Texas as well as the Gulf Coast and Midwest regions.
As a trade printer, ND4C's customers include smaller printing companies, ad agencies, promotional product distributors and even small sign shops. All customers have their own log-ins, which provide them their templates and order information. "Being a high-volume trade printer allows us a certain flexibility. We've developed our own proprietary system that runs all processes in the business. We can gang run jobs — by combining short runs on the same sheet, which allows us to keep costs down and further our position in the market-place as a provider of high quality, fast turnaround, low-cost print. A big advantage is that we have no accounts receivable since all business is conducted online." Next Day provides products to the reseller market that include everything from business cards and brochures to pocket folders and door hangers — and everything in between. User-friendly templates are provided for print products, streamlining layout and design for ND4C customers.
The company's growth has been primarily organic, and its easy-to-use website is what attracts many buyers. "We invest significant time in ensuring our website is a valuable tool for our customers. We strive to make it not only easy to use but also a management resource for our customers where they can track the progress of their jobs and make sure they are meeting their customers' expectations," says Frost. Marketing efforts for ND4C include email and direct mail as well as participation in trade shows and exhibitions.
Efficiency is critical to all trade printers, and in 2016 Frost began the search for a new, more automated offset press for his Houston facility. "All of our equipment is focused not only on quality but also on efficiency. We were looking for a press that would have a low cost of ownership, provide high print quality and be extremely efficient," says Frost.
'Exactly what we needed'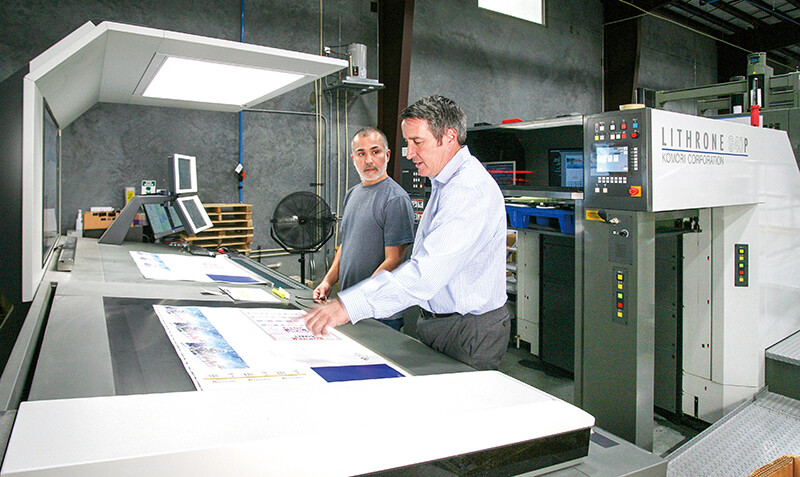 He did his due diligence and compared all the manufacturers, visited other printers, and at drupa 2016 purchased an eight-color Lithrone G40P perfector press equipped with LED curing technology. "We looked at other manufacturers, but the technology on the Komori press was exactly what we needed for our business. We knew it would produce more than any other press we were considering. We need fast job-cycle times, fast order turnaround and high quality print. We are very pleased with our decision to buy the Komori press and have never looked back."
The new machine was installed in early 2017 in the company's new Houston plant. Experience with LED at its San Antonio plant led Frost to make the decision to go with LED on his new press. "LED curing has been simplified over the years, so we weren't overly concerned with a learning curve. We had some understanding when it came to chemistry, blankets and inks."
When asked how LED curing has impacted the business so far, Frost says, "LED curing has had a phenomenal impact on the efficiency of our day-to-day operations." He pointed out that they no longer use spray powder, which has led to a cleaner pressroom. "The pressroom has gone from a typical offset print shop to the cleaner environment that you would see in a digital print shop."
Big impact on turnaround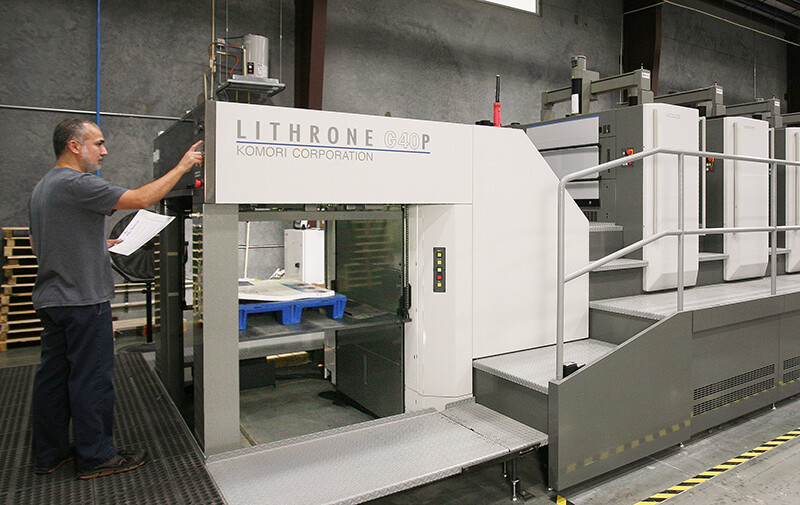 In terms of benefits, Frost says that the LED system has decreased ND4C's setup and production times, allowing them to be more competitive on bids for both shorter and longer runs. "Turnaround has absolutely been impacted. With LED, the sheet comes off the press and is immediately bindery-ready. While with other UV curing systems the bindery may have a wait time. Even if it's only 30 minutes, that can be critical to meeting deadlines."
Frost says the automation on the Komori press has also played a huge role in speeding up production. "Eighty percent of the time we're printing to the numbers, letting the press do its thing and getting to color in 50-100 makeready sheets. That's a huge savings on press consumables and paper. We can even produce some short-run jobs of 250 sheets more efficiently on offset than on digital."
Quality on par with high-end commercial printers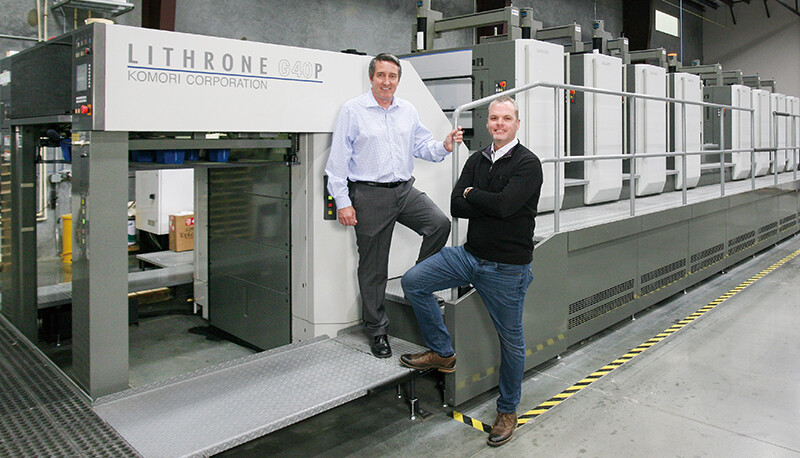 Frost says in the past trade printers had a reputation for producing lower quality work. Today that just isn't so. "With the technology on the newer model presses, both digital and offset, our work exceeds most commercial print shops. We think that's a good differentiator for us and is what keeps customers coming back to us."
Another new addition at ND4C is the hiring of its new COO, Kent Carney. Carney has a long history in the printing industry, working in his family's print business even before he could drive. During his career, he has worked for some of the big powerhouse commercial printers as well as large trade printers. "I was looking for an opportunity to work in an organization that was forward thinking and where my experience could help it grow and expand. Next Day Four Color is just that kind of company," says Mr. Carney. And says Frost, "Kent's background is a perfect fit for our organization. His experience and expertise will play a huge role for us going forward."
What lies ahead for Next Day Four Color? "We definitely will keep growing the business," says Carney. Whether that is through additional products, production capabilities or acquisitions remains to be seen. Frost says, "We are in a really good position right now. We have great people, great equipment and great customers. We're excited to see where the future takes us."
Houston offers a dynamic economy based on energy, manufacturing, aeronautics and transportation. Nicknamed the "Space City," it is a global city, with strengths in culture, medicine and research.

A second-generation printer, Todd Frost has put the company on the path of double-digit growth.
Related Information
Contact Komori North America