Inspiring kando with K-Supply Ink and a Lithrone GX40RP
Japan, Inoue General Printing | K-Supply H-UV Ink
01 December 2018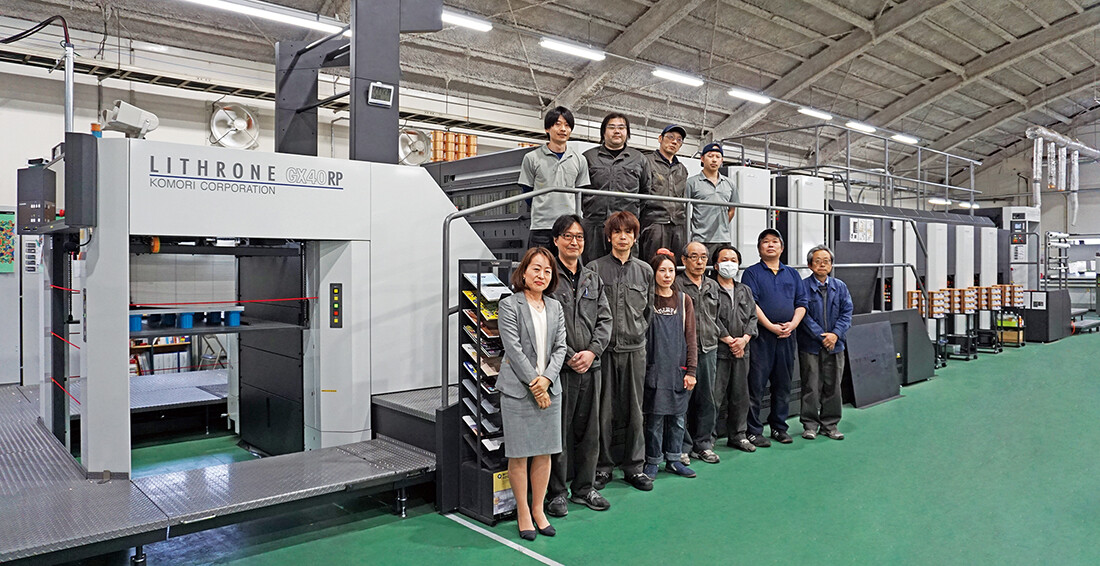 Inoue General Printing installed a Lithrone GX40RP and decided to run with K-Supply H-UV ink. The combination paid off in more ways than one: stable quality and greater ease of use all round. Now the printer believes that the press manufacturer is well positioned to deliver improvements in both the machine and the ink.
Kayoko Inoue, President (far left), with staff
With its head office in Utsunomiya City and operating two printing plants and a binding center, Inoue General Printing has contributed to the region since its founding in 1996. Concentrating on high quality with an integrated production system that ranges from planning, editing and design to printing and binding, Inoue is working on customer issues through an active program of investment in new facilities. Taking notice of the exceptional performance of H-UV, the company installed its first H-UV press in 2013. Further, in November 2017, it installed an eight-color Lithrone GX40RP press. President Kayoko Inoue and Second Printing Section Chief Koichi Yokota spoke with On Press about the objectives and results of installing this press.
"These moves answered our customers' issues," says President Inoue. "Our H-UV initiative began in 2013 with the installation of a four-color Lithrone A37 H-UV press."
"While seeking originality, we forecast that high quality printing and work on special substrates would grow, so we installed an H-UV press. This solved many problems such as dry-down, set-off, scratches and smearing that we had been experiencing. Customers who came to watch their jobs being printed said, "It's fast. And it's beautiful," feeling the kando when they touched the printed sheets. When we thought of what we might do to make the process even faster and the quality better, we decided to install the eight-color Lithrone GX40RP front/reverse double-sided press.
K-Supply ink also introduced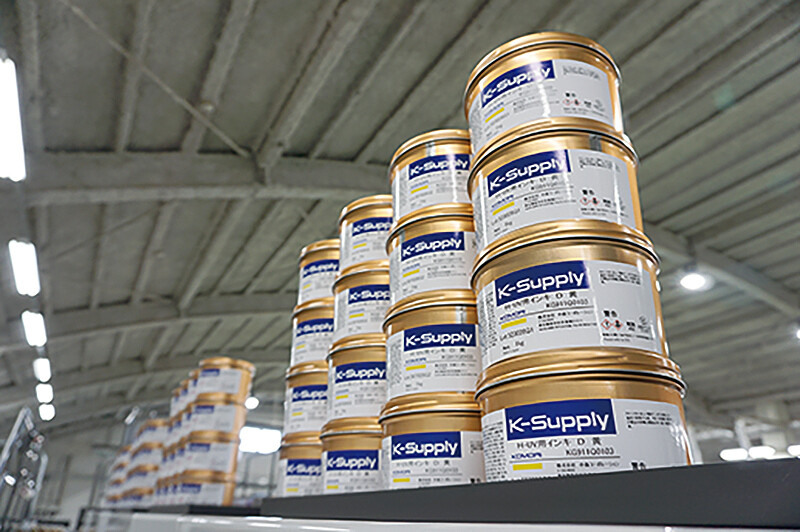 K-Supply H-UV ink was also adopted at the same time. Mr. Yokota explains it as follows: "We tested inks from various manufacturers. Our impression was that the conditions relating to water and oil were just right and the key response when adjusting color was extremely good with K-Supply ink. It was also easy to use. We saw that Komori, as a machine manufacturer, was not simply dealing with ink but seeking improvements in both the machine and the ink."
"We work saying to everyone — to ourselves, to our customers and to the community, 'We want to be a great company.' We've only just begun and the goal is still distant, but we want to make every effort," says Inoue.
"Right now we want to take advantage of H-UV's instant curing, inform customers about the speed of our printing, and work to have them see it. Designers and self-publishers can watch their own works being printed, experience the kando and leave with a smile on their face."
"We were worried at first about using ink not produced by an ink maker, but Komori carefully responded in detail, and now we use K-Supply ink with confidence." 
Contact Komori South America, Asia, Oceania