Advantages
About the Impremia IS29s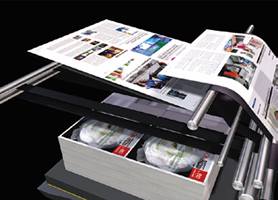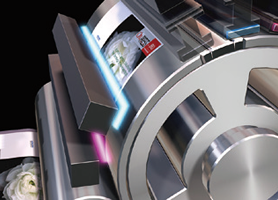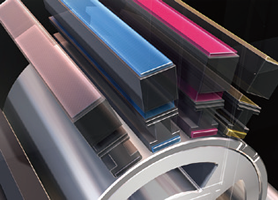 The Impremia IS29s performs double-sided, one-pass printing with a level of register accuracy only possible from an offset press manufacturer.
The Impremia IS29s boasts high productivity, able to output 3,000 sheets per hour of up to 585 x 750 mm size, at a resolution of 1,200 dpi, to rival offset printing.
Furthermore, the Impremia IS29s offers sheet path technology that capitalizes on Komori's previous range of experience in offset presses, and can handle a full array of paper thicknesses—from thin paper that poses challenges for previous inkjet printing to thick stock for packages—all on a single machine. As a digital printing press inheriting the unique advantages offered only by Komori, the Impremia IS29s delivers a level of quality and productivity perfectly suited for use as a main production machine.
Features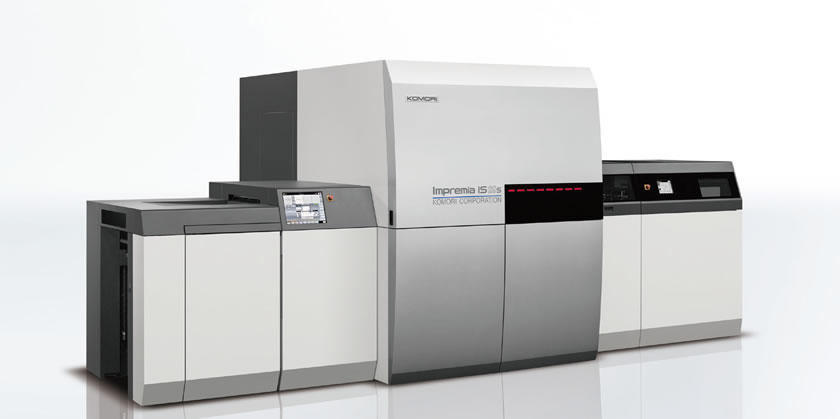 No need for any precoating or special paper, printing can be done on same paper as offset printing
High level of front-to-back registration accuracy only available from an offset press manufacturer
Instant curing and the ability to start finishing immediately due to UV ink
Can color match with offset printing *1
Wide color gamut capable of reproducing a wide range of special colors


Pantone V3 coverage: 77.6% (1,867 colors), DIC coverage: 83.7% (1,280 colors)

*2
0.06-0.6 mm sheet thickness range in single-sided printing
Manage operations with KP-Connect
*1 With use of K-ColorSimulator2 (KCS-IS Connect).
*2 Results of reproduction with Kodak Spotless Software.Coverage=ΔE00<1.5.All colors produced on OK topcoat, using ΔE2000 formula.
Cloud-enabled: whenever, wherever.
Easy visualization of print operating status

KP-Connect Basic is a service to increase productivity by enabling visualization of print operating status.

Scheduling and workflow automation for all presses

As an interface connecting MIS with printing presses, KP-Connect Pro digitizes and streamlines process management. The scheduling function can enable job automation between prepress, press, and postpress workflows and resolves bottlenecks between the processes.

KHS-AI: Next-generation Integrated Control System

Performs integrated control of the press and functions as the window linking the press with various software and systems

The version of KHS-AI included with the Impremia IS29s is a revolutionary total productivity enhancement system for digital printing system that incorporates previously developed KHS-AI integrated control features with new print quality management features. For digital printing, where short runs of many different printed items and short turnarounds go without saying, KHS-AI handles a wide range of job changes by simple operations and meets customer requirements.

KHS-AI Main Functions

・Machine operations
・Self-diagnostics
・Job management
・Linked to the RIP system
・Operating records and maintenance data
・Air presets
Options for added value and convenience
Digital Station

Improves operating efficiency of digital presse

Digital Station provides quality control, preventive maintenance and centralized information management for multiple digital printing systems.

・Quality management

Create Profile data

・Preventive maintenance

Central management of maintenance and consumables information

・Central information management

Centralized press operations monitor

K-Color Simulator2

Easy-to-use color matching with offset. There is no need for precoating or special paper, so printing can be done on the same paper as offset. Also excellent for proofing sheet printing and additional short runs after delivery.

*With use of K-Color Simulator2 (KCS-IS Connect).

Tape inserter

A system for inserting tape between jobs or at specified page intervals. Increases production efficiency through smoother management of short-run jobs of many different printed products.

Pre-loader with trolley

Allows for offline paper piling.Paper can be replaced easily. Just set the preloaded cart into the feeder and remove the handle. Reduces the time required for changing trays. The carts allow anyone to transport paper easily. Use multiple carts for even greater convenience.

Postpress interface

Interface available to directly connect the delivery apparatus to devices such as conveyors and postpress machines. This allows for inlining of postpress stages such as varnishing, blocking, trimming, folding and binding.

*One example of postpress interfacing. Please inquire for more details.

Ink saving

Can reduce ink used by replacing CMY ink portions with K ink. Reduces costs by using less ink without sacrificing color matching accuracy.

PPML compatibility

Compatible with PPML 2.2 for rapid output of variable printing.

*Confirmed using PODi (standardizing body) test site.