HIGH SECURITY PRINTING ASIA - BANKNOTEOLOGY : New currency press debuts
Yokohama/Tsukuba, Japan
05 June 2020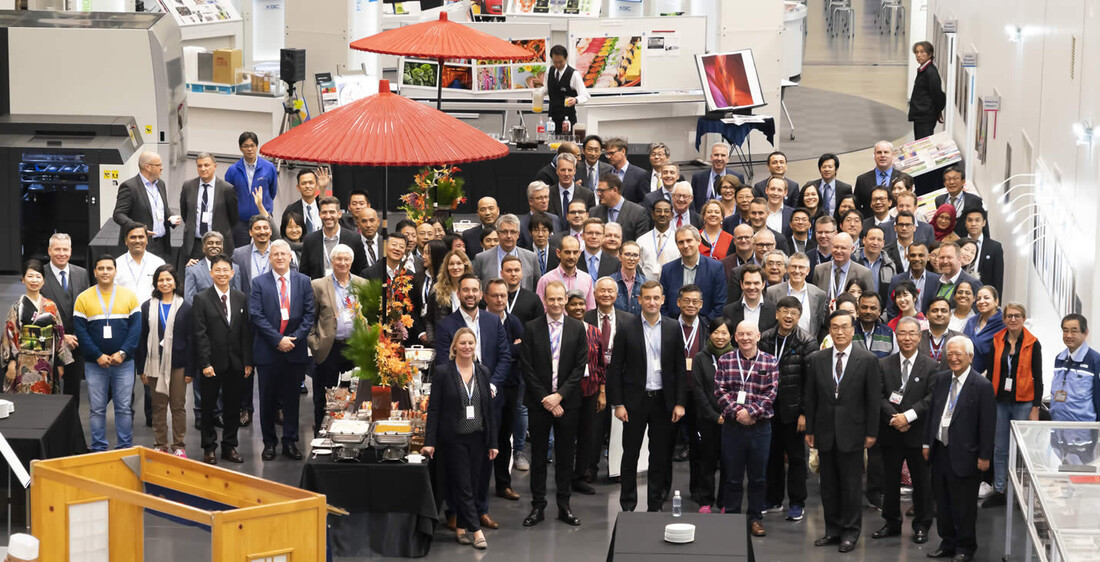 High Security Printing Asia was held from November 25 to 27, 2019, in Yokohama with 350 participants from more than 120 central banks, national printing bureaus and security printing companies. Because the conference was held in Japan, Komori was the Platinum Sponsor and set up the largest booth at the event. The booth design featured an Edo komon pattern (a Japanese traditional fine pattern) and a security press, thus representing the harmony of Japanese culture and state-of-the-art technology. Komori took full advantage of this opportunity and succeeded in maximizing Komori's presence in the industry with a security printing branding activity called Banknoteology, a part of the Kando project.
On November 27, the final day, the Komori World Party was held in the Yokohama Noh Theater. Following a greeting by President, Representative Director and CEO Satoshi Mochida, guests saw a Japanese traditional performing art as Kisho Umewaka of the prestigious shite-kata Kanze school performed a Noh dance-drama from the Muromachi period of 600 years ago.
On November 28, a tour of the Tsukuba Plant was held, and guests experienced Komori's "Manufacturing of Trust and Quality," which received a great response. In addition, employees in Japanese kimono provided hospitality, and a luncheon was offered with the cooperation of the Komori Graphic Technology Center. As the finale of the plant tour, the World Premiere of the CURRENCY LT, a new simultaneous banknote offset press, was staged, concluding the very successful event.


Contact Komori South America, Asia, Oceania