World Class ROI Printing Press: Lithrone GX/G advance Series Debut
30 September 2020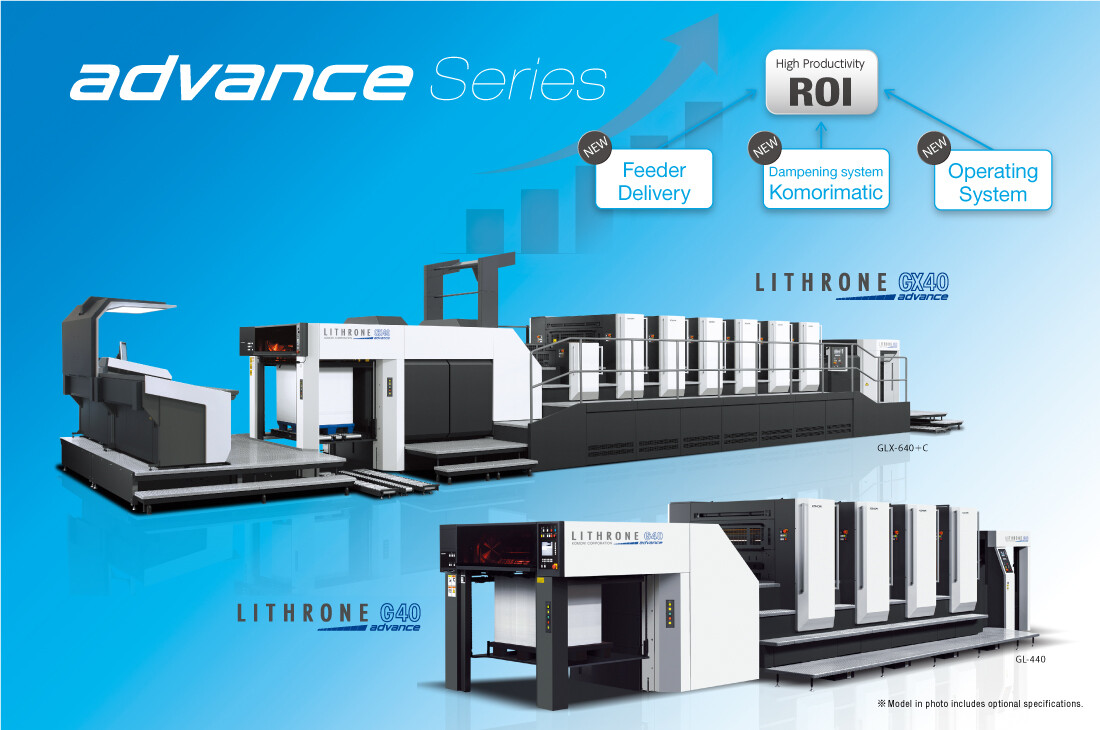 On August 3, 2020, Komori announced the Lithrone GX/G advance series of highly advanced Lithrone sheetfed offset presses. High productivity and print quality achieved by IoT technologies and self-learning functions. These machines provide customers with a world class ROI (return on investment). Komori delivers strengthened linkage with KP-Connect solution cloud, which enables the smart factory, including MIS, prepress and postpress. KP-Connect was developed based on Komori's Connected Automation concept. This realizes strengthened linkage and optimization between processes as well as high-level automation with presets based on information from high-end systems. This contributes to improved productivity throughout the printing process. The value and features of the Lithrone GX/G advance series are introduced here.
advance series introduction video
Increasing productivity for varied needs
Dramatic social and economic changes are intensifying. Something unimaginable happened a year ago and companies had to deal with uncertainty. The waves of change are also affecting the printing industry. In particular, the demands for production of small lots, high added value products and short turnarounds have become urgent. To meet these needs, many printing companies are refining their business models, strengths and production flows, thus increasing their competitive edge.
What is the key management issue for the success of these changes? First, increasing productivity in the printing process while responding to the varied needs of customers. Also, mobilizing digitalization (the evolution of the smart factory) as a countermeasure for the lack of sufficient manpower, changes in work styles and the coronavirus.
Lithrone GX/G advance to solve printers' issues
The Lithrone GX/G advance delivers world class ROI

Komori started developing a new press based on a review of the basic functions of the previous model and crowned this project with the Lithrone GX/G advance machines.
These presses incorporate a significantly evolved feeder and delivery, Komorimatic dampening system and operating system.
The feeder and delivery include new or improved functions and options made standard in a total of 14 locations. This simplifies work and reduces the number of adjustment points. Paper feed settings no longer depend on the operator's skill level.
The effectiveness of Komori's original Komorimatic dampening system has been enhanced while maintaining dot sharpness and stability and improving suitability for high-speed, long-run printing. Because getting color is very quick, makeready time and paper waste are also cut.
advance improvements: Komorimatic dampening system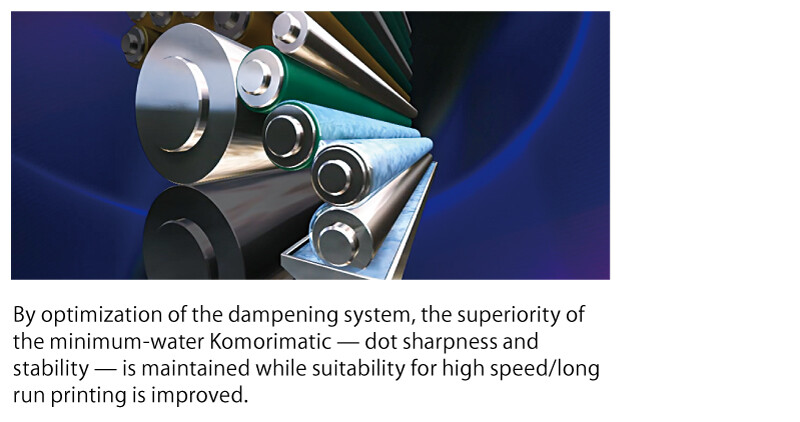 For the operating system, Komori developed a next-generation operation stand for ease of use. A new control platform that handles self-learning functions and links advanced press systems. With Komori's Connected Automation, operator touchpoints are dramatically reduced.
advance key feature: quality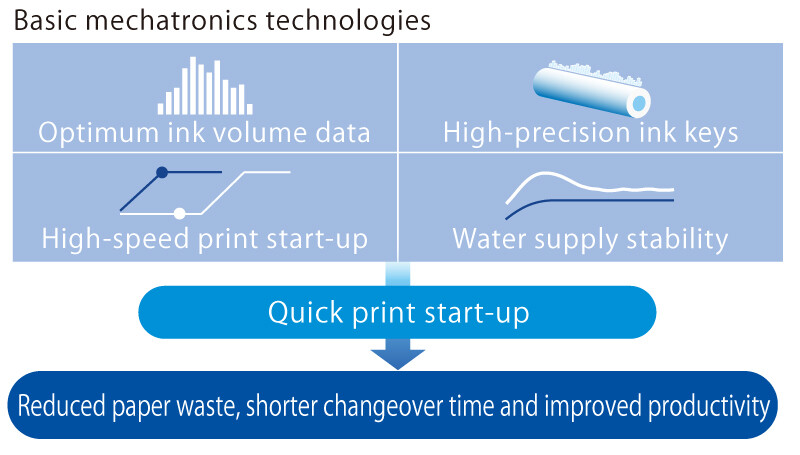 KHS-AI (Advanced Interface) receives job data from MIS-linked KP-Connect Pro and automatically makes presets. Moreover, integrated control of the entire press allows makeready tasks to be performed in parallel, greatly reducing makeready time.
The self-learning function of KHS-AI learns the differences in the conditions of materials due to temperature and humidity and the peculiarities of the machine, and significantly reduces paper waste by preset data optimization.
advance improvements: operating system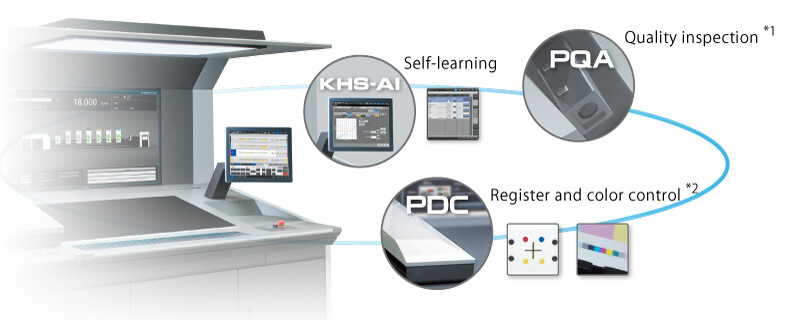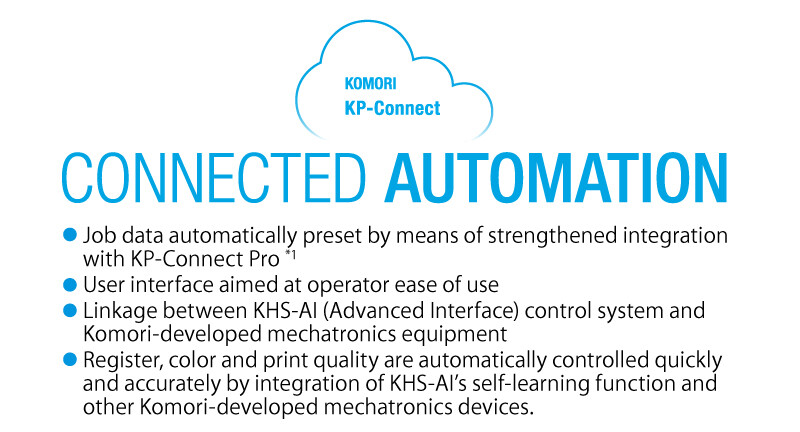 In addition, based on KHS-AI, the press offers linkage with the PQA series (Print Quality Assessment System) and the PDC series (Spectral Print Density Control), which maintain quality from print start-up to the end of the run. Fast feedback control maintains both productivity and print quality.
The strength of linkage with various mechatronics devices is also shown clearly on the operation screen. For example, the main tasks during production printing are aggregated onto one screen. This greatly improves the visibility of information, eliminates input repetition and simplifies operation.
World class ROI for printing company managers

How Lithrone advance delivers a high ROI

The Lithrone GX/G advance series presses have significantly evolved feeder and delivery mechanisms, the Komorimatic dampening system and the operating system.
With easy operation using IoT technology and self-learning functions, work no longer depends on the operator's skill. The machine ideal for today's printing company managers thanks to world class ROI achieved by high productivity and print quality.
Production printing is completed in less time than on a conventional machine and makeready time is sharply cut. Turning around more jobs means more profits and efficiency.
Related Information
Contact Komori South America, Asia, Oceania