Qiaokun Color Printing: Prevailing in a specialized field
China, Kunshan Qiaokun Color Printing | Lithrone G40 [GL-640+C]
07 October 2020
Efficiency is the 'royal road' these days, a time when markets change in the blink of an eye, and only by mobilizing every advantage is it possible to meet customers' expectations. Kunshan Qiaokun Color Printing is indeed such a company. The printer's ideals stress stability, creativity and innovation throughout its operations. The company is passionate about providing the absolute best service and value for customers.
From left: Tony Wu, Chairman, Chris Wu, CEO
Founded in 1998, Qiaokun has been working in the package printing field for 20 years, serving many top 100 companies. The company's product lineup consists mainly of packaging items such as gift boxes, handmade cartons, manuals, stickers and tags. Over the past 20 years, Qiaokun has gradually built a system to link and share technologies with its five plants in Asia. In packaging printing, the company is working with all its heart, continuing its efforts to reach the top, and implementing the flexible delivery service and quality improvements that customers demand.
Steady progress by working together on the technical side
In addition to pursuing high quality, Qiaokun strives to find new technologies for its business. Mobilizing the customer management and ordering system, Qiaokun has dispatched a number of veteran engineers from Taiwan to factories in China and other countries to manage quality and respond quickly to the needs of customers who place regional orders. No matter how severe the trading environment, the printer selects factories in different regions, arranges production, and delivers products on time in accordance with quality requirements, an important advantage that supports the growth of Qiaokun.
Twenty years have passed, and the scale and influence of Qiaokun grows day by day. To further enhance customer satisfaction, Qiaokun set out a clear plan for corporate growth, and as an important part of that, expanded its production equipment lineup, which now comprises five Komori presses.
"The superiority of the Komori press is very clear. The operation screen is simpler and reliability is truly exceptional," says Press Manager Joy Han. "The two new six-color Lithrone G40s with coater are equipped with high-end options to further improve operating efficiency. You can print six colors at a time and also add a coating varnish. The ink control system is very easy to operate, and the density stability function makes color control simpler, effectively increasing quality. Features such as the semi-automatic plate changer, automatic ink roller cleaning system, automatic blanket washing system, automatic scanning and automatic drying significantly reduce operation time in daily production and also effectively ensure product quality."
Working hand in hand, Qiaokun and Komori will drive the future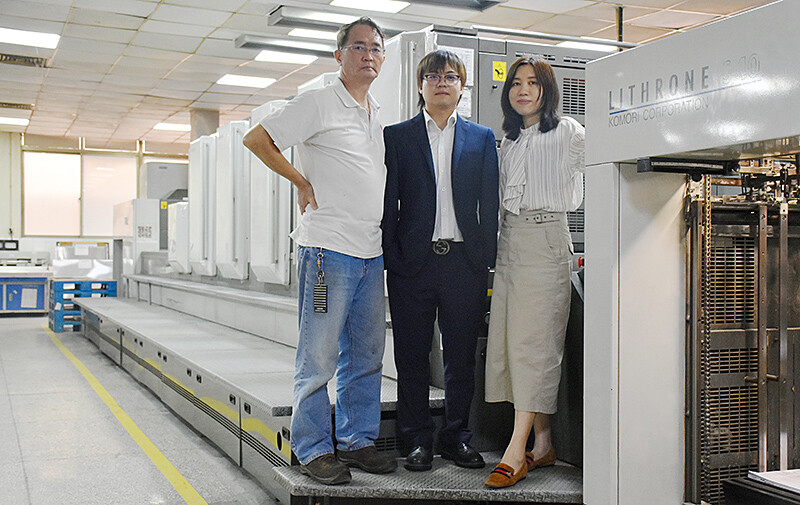 Qiaokun's first Komori press is still operating stably, and it enabled a qualitative improvement in Qiaokun's productivity. According to Qiaokun CEO Chris Wu, "Qiaokun planned to invest in another Komori press at the end of 2020. However, a difficult situation began in early 2020. Even though this was a year in which difficulties were inevitable, Qiaokun was steadfast in joining forces with Komori and chose to aim for growth by overcoming adversity. This was, of course, due to our very high opinion of Komori and also expectations of growth in the package printing industry."
Regarding future growth, data-based intelligent management is the route that large printing companies must take, and this is Qiaokun's next objective. Mr. Wu says: "To make production visible and data intelligent, the Qiaokun Group believes that Komori's KP-Connect is a promising production collaboration platform. KP-Connect provides the company with detailed press operating data and production information for each phase by using services in the secure environment of the cloud. In the future, if our company is able to introduce KP-Connect, it will raise our automated production standards and step up our production capabilities, allowing us to be among the first to enter an era of data-based intelligence."
Looking back on the Qiaokun Group's 20 years of growth, printing technologies were constantly evolving, printed products were becoming ever more sophisticated, the obsession with quality had intensified, and customer needs had invariably raised the bar for performance. The only constant was the passion of Qiaokun people for package printing and their boundless trust in Komori quality.
Aiming high
Of his expectations for the future, Wu says: "Packaging plays a very important role. Qiaokun knows very well that it is the final step in the customer's branding. Going forward, the Qiaokun Group will continuously advance digital processes in our five factories. In addition to quickly responding to the business needs of customers who order regionally by building group-based data centers, we will ensure that the quality of deliverables is a standard for growth. In global markets, where conditions change with bewildering speed, Qiaokun aims to be a package printing supplier that provides customers with a sense of security."
Related Information
Contact Komori China