KP-Connect Pro raises operational rate to more than 50 percent
Japan, Futaba Printing | KP-Connect Pro
10 February 2021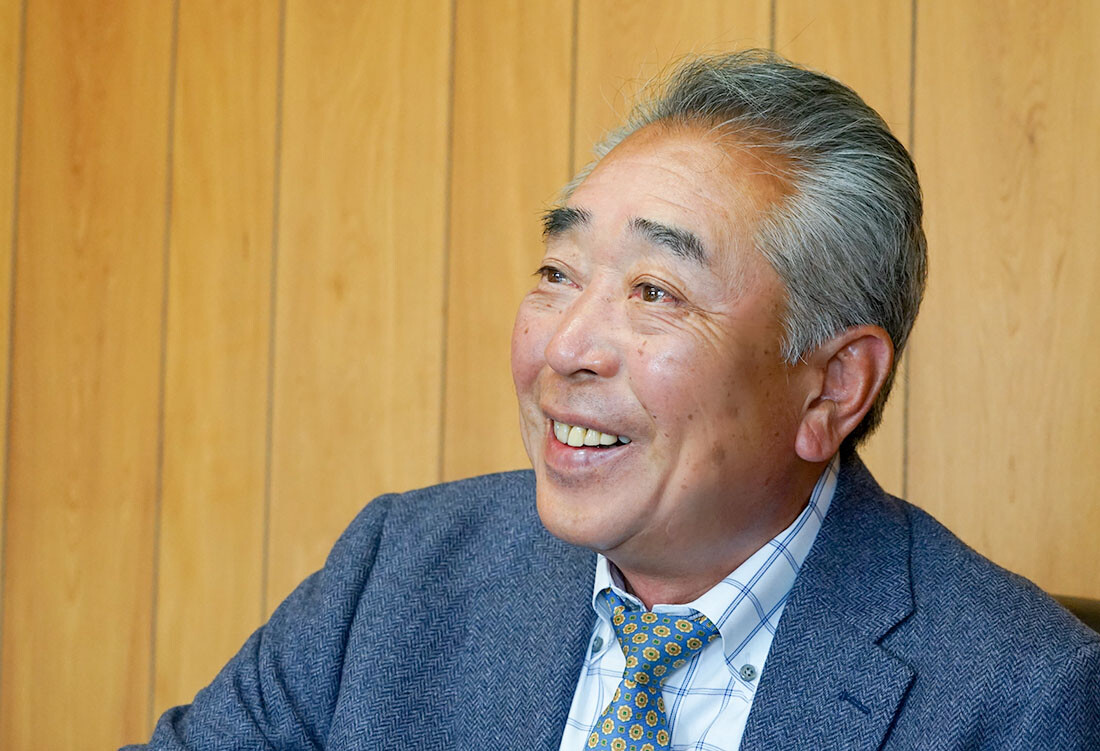 "With KP-Connect Pro I know the full operational status of both the Kyowa and the Futaba manufacturing facilities, even if I'm not at the company."
Hidenori Kikuchi, President and Representative Director
Futaba Printing interview video
In 2015 Futaba Printing and Kyowa Printing companies were consolidated into one group. The resulting synergy improved technical capacity, strengthened sales capabilities, and helped the group secure a firm management base. In order to unite the two companies, the first thing that the group did was merge their production management and process management systems so they could efficiently manage the six printing presses across the two plants. After extensive research, Futaba installed Komori's KP-Connect Pro to aid in this high-level integration of the two plants.
Enhanced production management with KP-Connect Pro
When Futaba Printing, founded in 1949, and Kyowa Printing, founded in 1964, were consolidated into one group, President Kikuchi promoted changes to increase efficiency and productivity. He looked to the pressroom and focused on maximizing press productivity, which in turn would greatly improve overall profitability. Efforts were devoted to unifying and improving production management to achieve these goals.
"Even if you've installed the latest printing press, it's important to schedule it according to the type of work in order to get the best performance. For example, if you plan your schedule by going from large sheets to small sheets, you only need to wash the impression cylinders once a day."
However, it wasn't easy for the shop floor to understand the importance of this type of scheduling and to actually implement it. President Kikuchi installed KP-Connect Pro, which unified the workflow of the two companies and migrated all production management tasks that had been done in Excel and on paper to KP-Connect Pro.
Streamlining the workflow meant zero status calls and the reduction of office work to one-third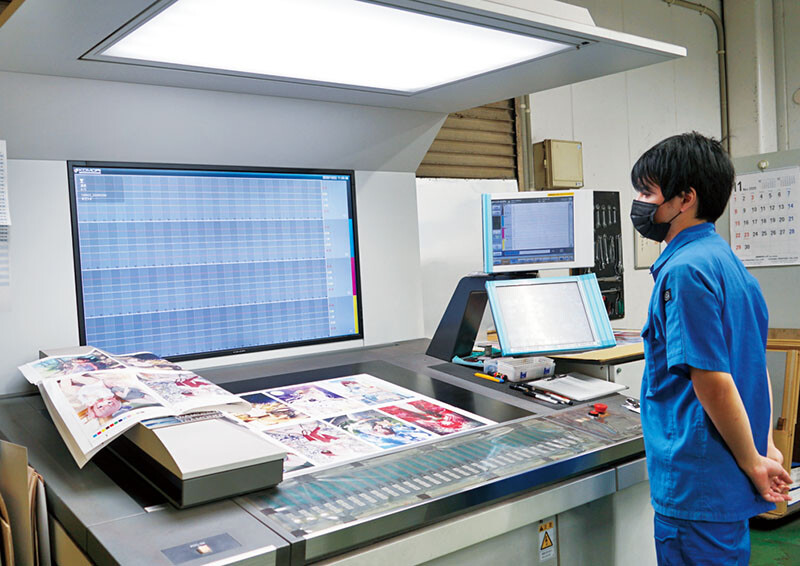 "Before the introduction of KP-Connect Pro, we created multiple documents and schedules for each order, one by one in Excel, which we then printed and distributed. We had to make revisions whenever there was a change, and we had to check the progress by phone or by visiting the shop floor, so it felt as if we were doing office work all day rather than production management," says Hiroki Kikuchi, head of production management.
"With KP-Connect, we only need to enter order information once, and it is reflected in all documents and can be easily shared with each process. We can do this in about one-third the time it used to take, so we can spend more time on our core business, such as examining efficient scheduling, analyzing press operational rates, and managing the plant and employees."
The printing schedule relies on the status of final image data, paper preparation, and platemaking. An efficient schedule can be created by knowing the status of these three elements. KP-Connect's scheduler provides not only the operating status of the printing presses but also the status of final image data, paper preparation and platemaking in real time, making it easy to create an efficient schedule. "We used to make 20 to 30 internal phone calls a day to check on the status of a job, but now we make zero calls," he says, referring to the significant improvements. "Without KP-Connect Pro, this level of efficiency and production management would not be possible."
The system has also had a positive effect on operations at each site. "The sales department is now able to understand the work schedule and the load on the presses in real time, which allows them to conduct efficient sales activities based on the availability of the machines. For the paper management department, a list of stock orders and warehousing schedules are displayed in real time, so they can accurately follow and manage any sudden additional jobs on the same day without any issues. The system can also print stock tags, further reducing bottlenecks. This used to take about two hours a day to complete, but now it is down to almost zero. Additionally, this production step was done by three people and now it is done by two. We are able to efficiently manage deliveries and pickups with the same methods used for stock management," says Manager Kikuchi.
In addition, the printing plate and printing departments no longer need to record daily reports, which used to be handwritten. With KP-Connect Pro the progress status is automatically shared, which has brought about significant changes and positive results.
Addressing future utilization, President Kikuchi says, "We've improved production management efficiency for each plant, but in the future, we will further improve overall efficiency by consolidating schedule management of both companies under one person, taking into consideration the balance and difficulty of the work and the suitability of the presses."
Operational rate more than 60% in some months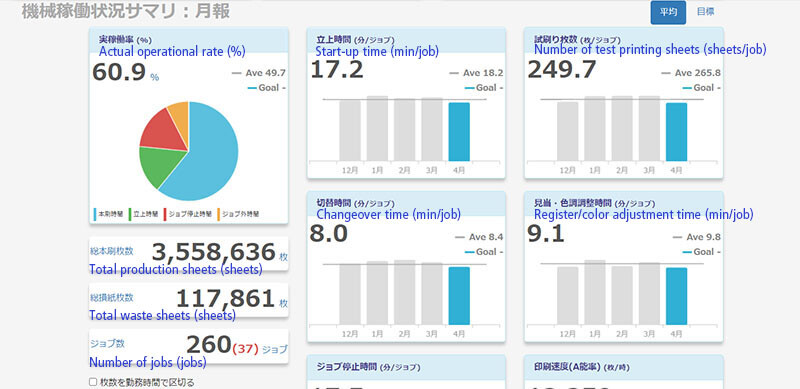 Mr. Kikuchi also mentioned the effect of KP-Connect Pro on the change in awareness on the shop floor due to visualization. "If we have two machines and the operational rate goes up from 30% to 50%, it's equivalent to having an additional press. By installing KP-Connect Pro, my aim was to increase net productivity for all presses to leverage our investment in Komori presses and to increase earnings. We can see the results in numbers, such as the operational rate and related details. By looking at the results and discussing them with the operators, we were able to share issues, clarify what needed to be done on the shop floor, and get everyone to work with efficiency in mind."
As a result, Kyowa Printing has improved net production and has achieved an average monthly operational rate of 50%, due in part to changes that were implemented.
In some single months, the rate has exceeded 60%
Integrated management of the printing process
From management to shop floor, KP-Connect Pro has brought about improved efficiency and significant changes. President Kikuchi says, "After consulting with Komori, we're thinking of expanding KP-Connect Pro functions to cover purchase orders and invoices. Once this is achieved, we'll be able to manage all printing-related operations with KP-Connect Pro. In the early stages of this project, I thought KP-Connect Pro was just a system for looking at the operational rate. KP-Connect stores an incredible amount of data, which is very useful for making decisions on maintenance plans for the machines, so we can always keep the printing presses running at their best. For a printing company, this is a key component to ensuring consistent quality and profitability."
Related Information
Contact Komori South America, Asia, Oceania