NPN Drukkers takes giant leap forward with Komori H-UV L (LED)
The Netherlands, NPN Drukkers | Lithrone G40 [GL-540 H-UV L (LED)]
10 March 2021
Dutch printing house NPN Drukkers has established itself as one of the top quality print providers in The Netherlands. So, when the time came last year to replace one of its printing presses, the company drew up a list of critical requirements. By selecting Komori as their new supplier and also opting for H-UV L (LED) technology, NPN Drukkers is once again raising the bar in print quality.
Erik de Lorme, Owner
NPN Drukkers interview video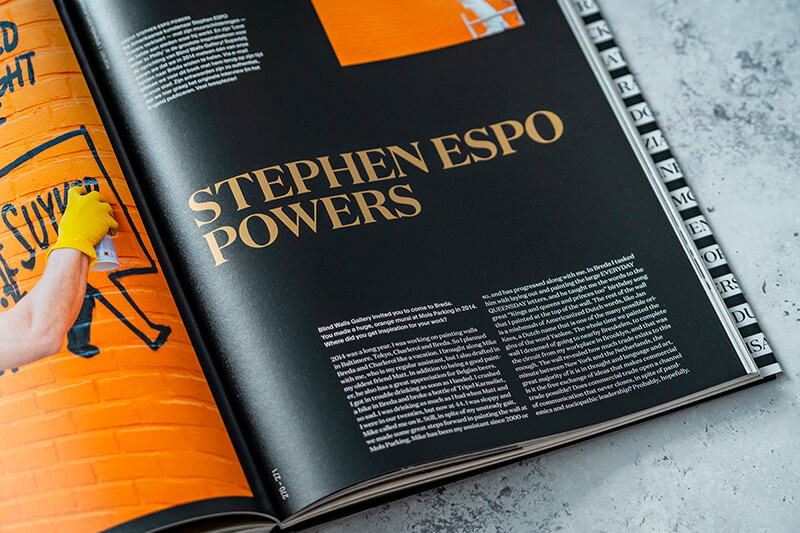 NPN Drukkers, based in Breda in the south of The Netherlands, produces high quality print for communication, marketing and packaging. However, their strongest growth now comes from photo books and catalogs printed for clients in fashion, design, architecture and interior design as well as for museums, photographers and artists. As a consequence, there is an increased demand for more creative designs, stronger colors and the use of more tactile, often uncoated, paper.
Selecting a new press is a serious business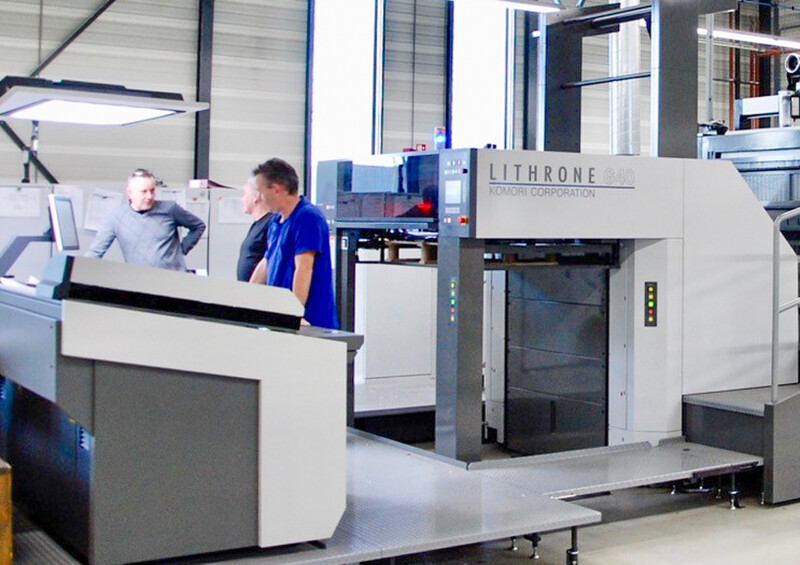 Demand for high quality, strong colors and uncoated paper pushes the limits to the extreme for a printer, explains Ron Baartman, technical manager at NPN Drukkers. "For that reason, we are one of the very few printing companies who still have our very own in-house lithography specialist to make sure we get maximum results in print. But even so, printing large and heavy patches of color on both sides of the sheet always remains a huge technical challenge."
NPN Drukkers selected three press manufacturers in its quest to find a new printing press — preferably equipped with LED UV curing capabilities: "This was a new technology to us, but very well suited to the demanding type of print jobs we produce."
During the first round of assessments, it became clear that one manufacturer did not fit the budget. The remaining two were asked to print "a rather challenging test form" (as Ron Baartman puts it) provided by NPN Drukkers. While one demo did not quite hit the target, production at the Komori Graphic Center-Europe (KGC-E) in Utrecht actually exceeded expectations. "They really proved to be the true specialists in H-UV L (LED)."
Opting for H-UV L (LED) curing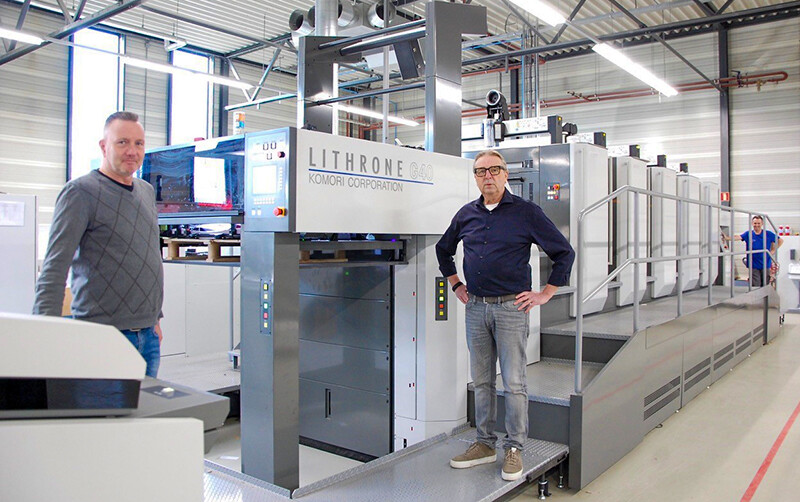 The advantages of H-UV L (LED) curing easily outweigh the disadvantages, says Baartman. "The special inks are more expensive. And the press operator has to work within more narrow margins. But there are many more pros than cons. Start-up and makeready take a lot less time. You do not need spray powder. Printed sheets are dry on leaving the press and can be handled or finished immediately." Installing the five-color Lithrone G40 with H-UV L (LED) has had a huge impact: "We replaced a conventional press from 2007 for a state-of-the-art machine. That has allowed us to take a giant leap in further possibilities and quality."
H-UV L (LED) cures inks immediately and completely, without solvents evaporating or ink absorption into the paper. No ozone is involved, and CO2 emissions are being reduced as H-UV L (LED) uses less energy. Baartman further explains: "Instead of ink being absorbed into the paper, these inks stay and dry on the surface of the sheet. This results in a much sharper image, more powerful colors and stronger contrasts."
Instant curing allows for immediately printing the reverse side of the paper as well as producing higher stacks of paper without any risk of set-off or damage to the printed images. Baartman describes a recent order: "A while back, we had a job on colored paper where we needed to print four layers of solid white and a full color image on top of that. Previously, that would have taken us a lot of effort and several days to achieve. But now, no problem at all!"
Great support secures smooth transition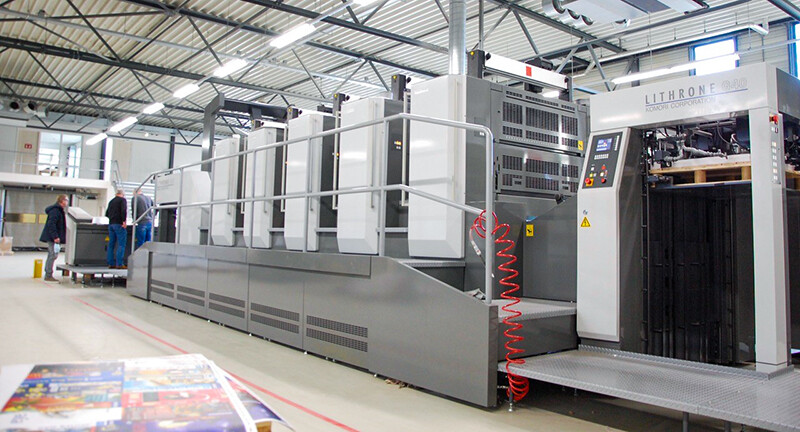 The plinth-mounted Komori Lithrone G40 is very impressive in the print room at NPN Drukkers. Selecting a new manufacturer and implementing a new technology naturally required some getting used to: "Our press operators have been working on a different press from a different supplier for many years, so they needed to adapt. That is why we have involved them in our search from the very beginning. They have seen the demos and joined our visits to many reference sites. So they completely support the decision to go with Komori. And Komori has done a great job in training them in Utrecht to get used to the new press, the new inks and the high degree of automation. Additionally, they have had great support on site during the first weeks after installation." And it is not just about the press operators having to adapt: "Our lithographer has to take the many new capabilities of the press into account as well."
Opportunities for growth
The new Komori Lithrone G40 was installed in August 2020 and has been living up to its promises ever since. Though Ron Baartman suspects they still have not quite pushed the press to its full potential, he also realizes how quickly all improvements and enhancements have already become the 'new normal': "We have many photographers and lithographers visiting us, and we always welcome our customers to come over and look at the press for approval of their print job. They now all see that we can do even more — and they are ready to take full advantage of that. Thus, there are many opportunities for further growth."
Related Information
Contact Komori Europe