Komori Solutions Stand Out at virtual.drupa
Cybersphere
28 April 2021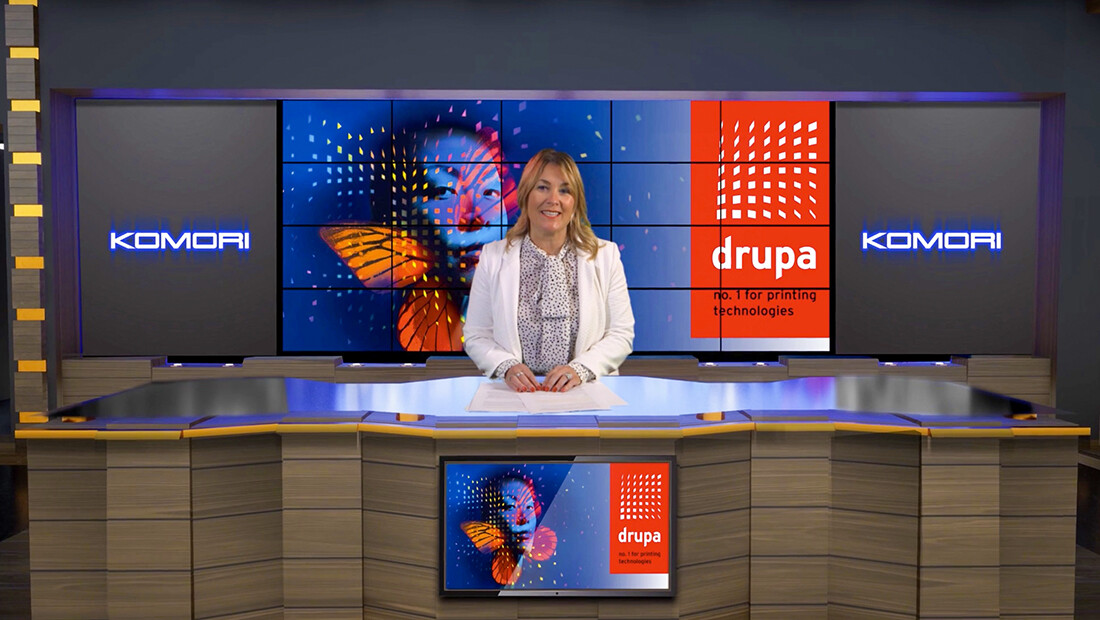 Komori's latest innovative technologies and most advanced presses were presented to the printing industry virtually! virtual.drupa made history from April 20 to 23, 2021, as the first purely digital version of the leading global trade fair for printing technologies. This virtual event, implemented to maintain contact within the industry during the Covid-19 pandemic, successfully bridged the gap between the previous and the next face-to-face drupa in 2024. Komori supported virtual.drupa as a Gold Partner, the highest rank among printing press manufacturers.

Connected Automation for Future Smart Factories
Drastic changes in the social and economic environment in recent years have demanded similar transformations in the printing industry. In particular, the degree to which productivity can be raised and profits generated has become a critical issue for printing companies. Connected Automation, Komori's concept for creating the smart factory of the future, was the overall theme of the Komori presentation. Connected Automation improves productivity through implementation in the Manufacturing Execution System (MES)-based KP-Connect Pro solution, the heart of the Connected Automation concept, as well as in the new advance series of cutting-edge presses.
KP-Connect Pro improves printing processes, increases productivity and ultimately optimizes production output. By integrating not only all press data with both prepress and postpress as well as the existing MIS system, KP-Connect Pro manages each process with its Scheduler function, enables visualization for identifying any bottlenecks, and offers end-to-end automation. The integration of KP-Connect Pro into a production workflow provides a streamlined process: fewer touch points and easier operation, thus eliminating errors and increasing throughput. KP-Connect Pro addresses the problems that printers around the world face — limited labor force and the requirement to increase production and thus profitability. Simply, KP-Connect Pro allows printers to do more with less! Optimization of plate-making to eliminate plate waiting. Automatic print sequence optimization and automatic presets for quicker changeovers. Lightning fast and error-free.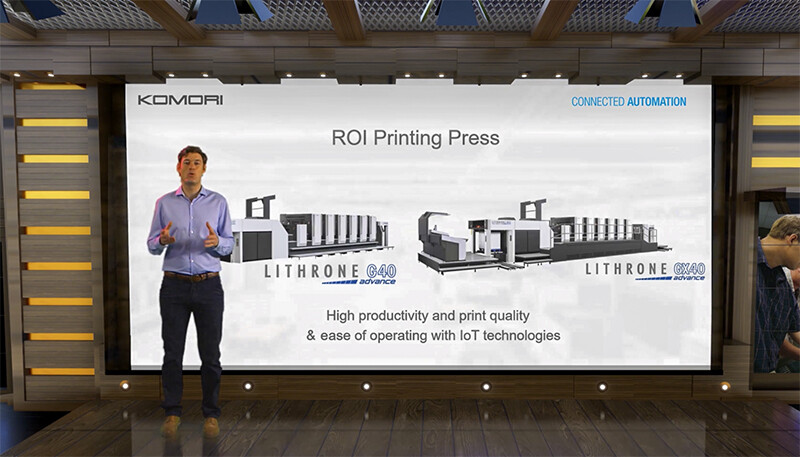 The new advance series world class ROI printing presses, featuring unprecedented productivity, printing quality and ease of operation, also took the virtual stage. Real enhancements in the feeder, delivery, Komorimatic dampening system and operating system were covered in detail.
Future Package Printing with Smart Color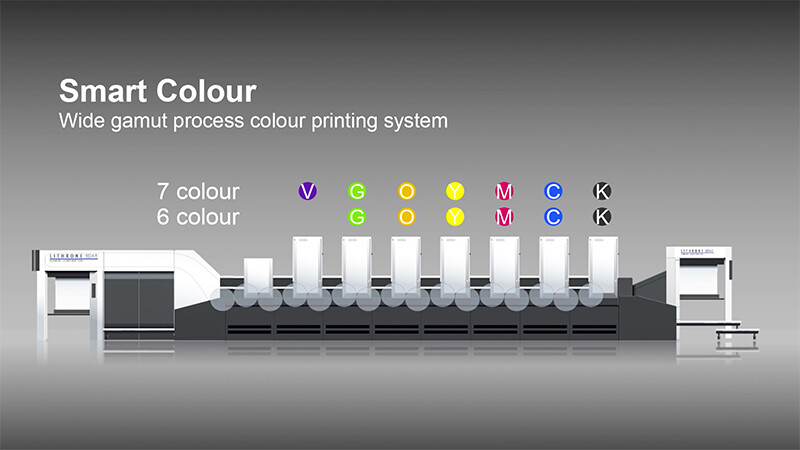 The Komori show at virtual.drupa was produced in two sessions: Packaging and Commercial. For the Packaging session, Komori's flagship machine, the six-color Lithrone GX40 advance with coater, demonstrated the power of these breakthrough technological innovations by running three jobs on 350 g/m2 stock. The key advances shown were ultra-short makeready times enabled by Parallel Makeready and the creative possibilities to be had with Komori's Smart Color wide gamut process color printing system, which adds orange, green and violet to CMYK colors to cover 80% of Pantone colors in a six-color system and 85% in a seven-color system.
The Apressia lineup of postpress finishing solutions highlighted the Apressia DC105, the first platen-type die-cutting machine focused on packaging solutions. It was shown with Komori's Apressia MB100E high-performance blanking system.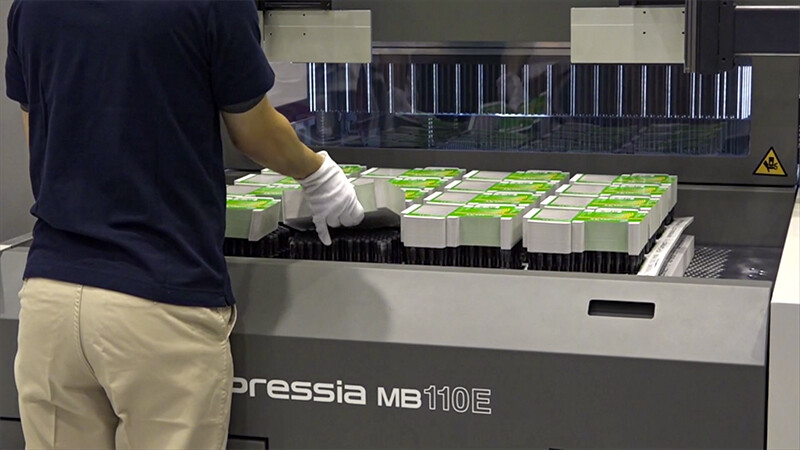 And last, Komori Impremia NS40 40-inch Sheetfed Nanographic Printing® System, an utterly unique solution that does not require any plate changing or color changes. The demo featured a seven-color machine with onboard in-line coater and double pile delivery.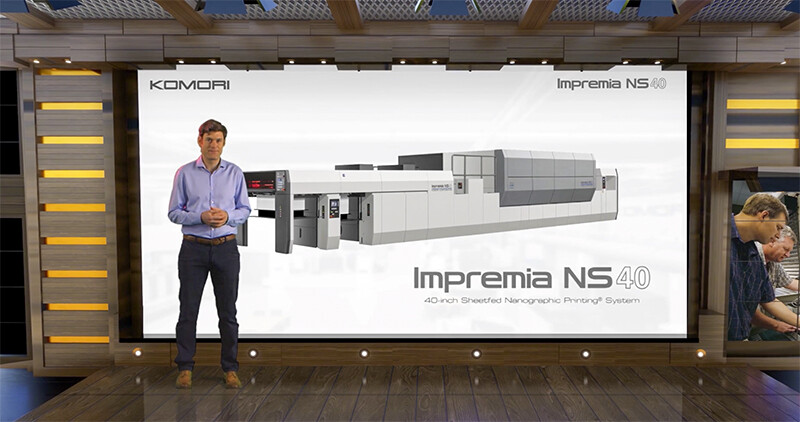 Future Commercial Printing with Autopilot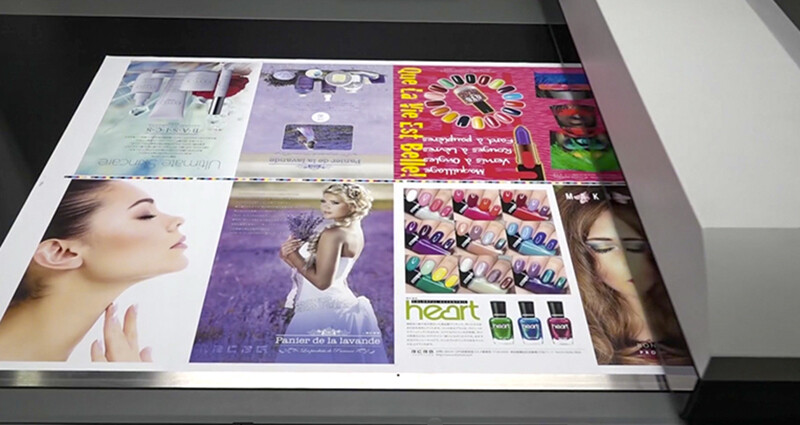 The Commercial session demonstrated the eight-color Lithrone GX40RP advance, a dedicated 4-over-4 perfecting press that is a unique platform designed by Komori. The demonstration showed Parallel Makeready simultaneously performing plate-changing by A-APC, blanket washing and pre-inking in parallel, enabling quick print start-up. Based on Autopilot, PQA-S V5 controlled and monitored print densities and register adjustment in real time. Two jobs were run at the 18,000 sph maximum printing speed with no operator intervention at any point.
In addition, the eight-color Lithrone G37P advance, offering high-speed stability, high print quality and quick changeovers, showed its aptitude in short runs. To support the operator, this machine was equipped with the PQA-S V5 system to deliver print quality inspection, color control and automatic register adjustment. A total solution for both the publishing and commercial printing segments.
In postpress solutions, the CTX132 programmable hydraulic clamp cutting system, with its wide range of options, and the MBO K80 folder and CoBo-Stack automatic palletizing robot were presented.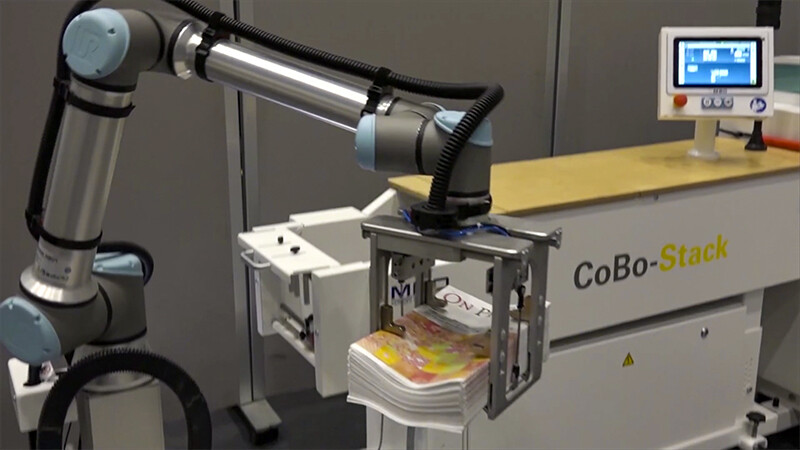 Success at virtual.drupa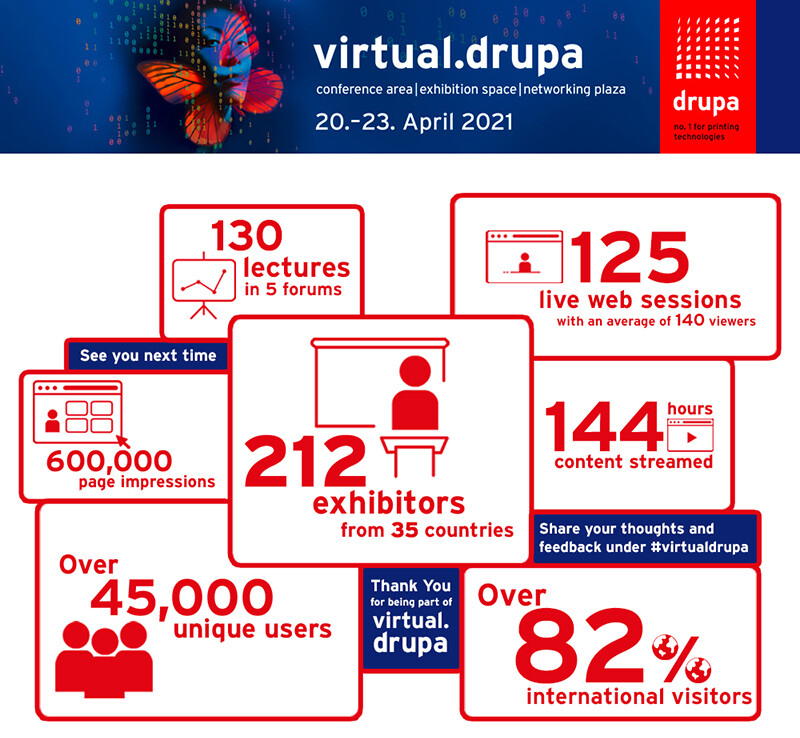 virtual.drupa proved quite a success, gathering 212 exhibitors from 35 countries and a total of around 600,000 page views and 45,000 unique users. International visitors from 155 countries made up more than 82% of the total number.
The chat function of the virtual meeting rooms for matchmaking will remain open until the end of October. In addition, videos and keynote speeches will soon be available in the video library on demand. They will remain online until the end of December 2021, as will the exhibitors' virtual showrooms.
Komori's Virtual Exhibition Space
Finally, Komori also organized a Virtual Exhibition Space providing extensive product information and the ability to contact staff from anywhere on the globe to get answers to questions, seek advice and discuss product demonstrations.
Related Information
Contact Komori Europe