drupa 2016
Düsseldorf, Germany
31 May 2016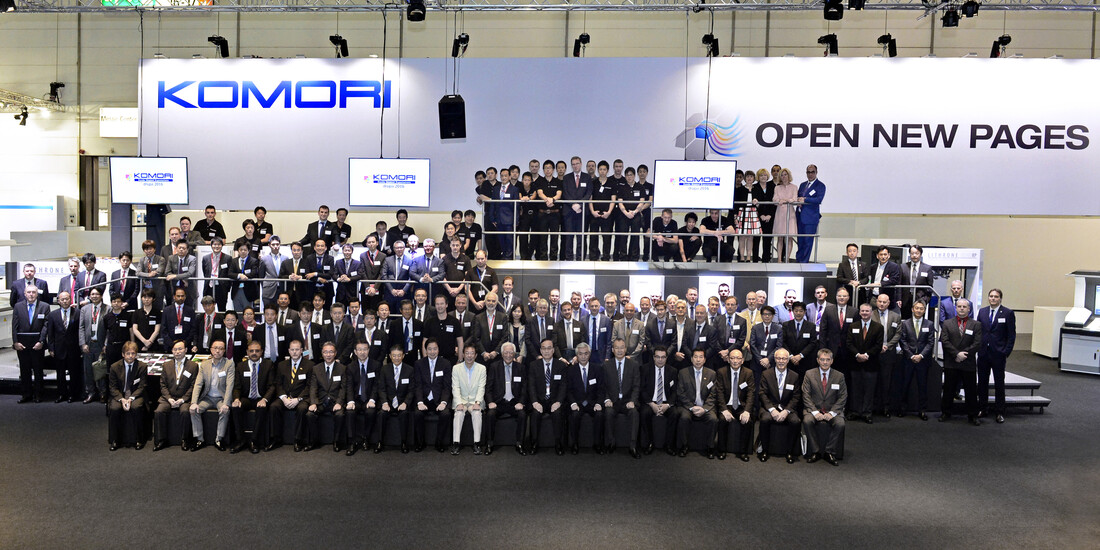 Organizer: Messe Düsseldorf GmbH
Support: German Engineering Federation (VDMA), Printing and Paper Technology Association, German Pulp and Paper Association (VDP), Paper-Processing Trade Associations (WPV), German Printing and Media Industries Federation (bvdm), German Paint and Printing Ink Industry Association (VdL)
Venue: Düsseldorf Fairgrounds HALL 1-17
drupa 2016 was held for eleven days, from Tuesday, May 31 to Friday, June 10, at the Düsseldorf Fairgrounds with the theme of [touch the future] with 1,837 exhibitors from 54 countries in an area of about 155,000 sqm. Some 260,000 visitors from 188 countries came to the show.
Komori is looking to expand the new potential of printing by offering offset, digital, printed electronics (PE), materials and auxiliary equipment. In addition, we are aiming for richer print communications for customers by presenting all-new value and solutions born from the connection of all things and functions. At drupa 2016, Komori exhibited under the theme 'Open New Pages', the same as IGAS 2015, and the subtheme 'Connected Print'.
[Exhibit]
・Exhibit Machines
Lithrone GX40 H-UV-equipped Six-color 40" Offset Printing Press with in-line coater (GLX-640+C)
Lithrone GX40RP H-UV-equipped Eight-color 40" Front/Reverse Multi-Color Offset Printing Press (GLX-840RP)
Lithrone G37 H-UV L (LED) -equipped Four-color 37" Offset Printing Press (GL-437)
Lithrone G29 H-UV-equipped Five-color 29" Offset Printing Press with in-line coater (GL-529+C)
Impremia IS29 29" Sheetfed UV Inkjet Digital Printing System
Impremia NS40 40'' Sheetfed Nanographic Printing® System
Apressia CT137 Programmable Hydraulic Clamp Cutter
・KOMORI ICT Solutions
K-Station 4 Printing Task Control Software
KP-Connect Komori Solution Cloud
K-ColorSimulator 2  Easy Color Matching Software
■Demonstrations
During the show, three demonstrations a day were run on the exhibit machines (except for the last day) based on the idea of next-generation 'Connected Print.' Total solutions that showed new value and potential by connecting offset and digital, hardware and software were proposed. In particular, the demonstration of the Impremia IS29 digital printing system that was launched at IGAS 2015 was remarkable. In addition, the Impremia NS40 new printing system that debuted at this drupa drew a lot of visitor attention. All demonstrations of the offset presses used K-Supply ink, which is optimized for Komori presses.
■Connected Print with ICT
Komori ICT (Information and Communications Technology) Solutions is the general name for solutions to boost printer productivity that only Komori as a press manufacturer could deliver. These solutions use the latest ICT and connect print manufacturing processes to make them visible, automatic and labor saving. In the Komori stand, three objectives (print visualization, process management and workflow automation) that Komori's ICT Solutions can realize for print communications organizations were introduced with a demonstration movie.
1.KP-Connect/ Komori Solution Cloud
Komori developed a cloud-based IoT platform KP-Connect and has started its operation from this April in Japan.
KP-Connect is a service that improves productivity by allowing the printing company and Komori to share detailed press operating information in the safe environment of the cloud, making printing operations visible in real time. A platform supporting stable, efficient and high quality production that is not dependent on the individual skill of the operator by providing data-based, advanced know-how from Komori as well as the printer's own improvements.
◆Features
・Able to check pressroom productivity on a mobile device.
・Enables immediate response to abnormality in plant by informing supervisor.
・Real time simulation of production cost per job.
・Allows analysis of monthly operating state and discussion of improvements.
・Operator can check standard working time as well as printing and maintenance procedures on tablet.
・Allows analysis of operating state and presentation of improvements.
2.K-Station 4/Printing Task Control Software
K-Station 4 is printing task control software positioned between the MIS and the production site that makes complex task control visible and enables anyone to share the latest operating information in real time. Capable of integrated control, including schedule creation and distribution and production results collection for both o­ffset presses and digital printing systems. In addition, information is made visible in real time by digitizing the operating schedule table and the daily operating report. At this drupa, various software products including Gamsys (EFI), Prinergy (Kodak) and EQUIOS (Screen) were exhibited, and they demonstrated collaboration with K-Station 4 by CIP4/JDF.
◆Features
・Able to check pressroom productivity on a mobile device.
・Enables scheduling while viewing printing progress. No need to input twice due to link with MIS.
・Operation with fewer personnel possible by automation of prepress and postpress. (Multi-skill development)
*Advanced Option

【Lithrone GX40】
・Product
1.Food package (4 colors plus OP varnish plus high gloss varnish [drip-off embossing]) 10-up imposition/300 sheets
2.Garment package (4 colors plus special color plus high gloss varnish) 30-up imposition/400 sheets
In the demonstration of the H-UV-equipped Lithrone GX40, the business model of food and garment packaging was presented by printing with instant curing at the 18,000 sph maximum printing speed.
The Lithrone GX40 can be equipped with the nonstop feeder, nonstop delivery and a range of logistics systems to handle long runs of package printing. For the first job, the power of quick start-up to production was shown. The PDC-SX spectral print density control-SX model is built into the new operation console. It measures color and register in one process and provides feedback to the press. This is very effective for overall color control on packaging, particularly with special colors.
Also, the PDF Comparator System can be incorporated in PDC-SX. The system performs inspection by comparing the PDF, which is digital data, with the actual printed item that has been scanned by sensors.
The PQA-S V5 Print Quality Assessment System with high-precision 4K camera installed in the upswing of the delivery realizes high level quality control in line.
A sheet numbering system is equipped above the feeder board of the Lithrone GX40 that prints a serial number on all sheets. By linking the numbers on the sheets with the inspection numbers of the PQA-S V5 Print Quality Assessment System, the inspection results and the defective sheets can be reliably checked, leading to a higher level of incident prevention.
For the second job, garment package printing was shown. The defect of a small red dot on the sheet was detected by PQA-S V5 and the PDF Comparator System. These functions realize high level quality control that meets the demands of the ever-stricter packaging market.
In addition, we introduced on-demand personal packaging for a special exclusive customer in the ultra-short-run business model. The Impremia IS29 UV inkjet digital printing system has an overwhelming advantage in cost and turnaround. Stock up to 0.6 mm in thickness can be printed. For example, these are samples output on the IS29 with fine postpress processing done by laser with the Highcon Euclid 2.
By connecting offset with digital and then with postpress, Komori packaging solutions that meet diverse packaging needs, from long runs to personal on-demand packaging, were introduced. In the demonstrations, K-Supply ink including a special color and varnish was used.
【Lithrone GX40RP】
・Product
2 kinds of 16-page A4 brochure (A : 200 pieces, B : 400 pieces)
The state-of-the-art Lithrone GX40RP has no perfecting mechanism so no margin is needed on the tail edge of the sheet. Because of the single-sided gripper configuration, paper costs can be minimized and stable, high-productivity one-pass double-sided printing at 18,000 sph is possible with not only light but also heavy stock.
The demonstration showed the new technologies that enable high productivity, quick start-up and ultimate short makeready. Komori's Asynchronous Automatic Plate Changing system with parallel control contributed to fast job changeover.
Parallel control means that multiple press functions are occurring simultaneously - plate changing, blanket washing and KHS-AI ink settings - making total changeover time less than two minutes.
Since it is benderless, there is no bending work even in jobs with many plate changes, resulting in much higher efficiency.
After the quick changeover, presets for color, register adjustment and air according to the paper grade are made by KHS-AI with self-learning function for printing start-up.
Then the press automatically checks quality using the color control of PQA-S V5 with the 4K camera and the newly equipped automatic plate register system. Afterwards it maintains quality and color during production printing.
Additionally, K-Station 4 Printing Task Control Software was introduced. It performs overall optimization of the production processes and takes maximum advantage of the Lithrone GX40RP.
With the K-Station 4, not only the press but also the prepress RIP and the postpress controller are connected by CIP4/JDF. This streamlines the operator's workload, reduces errors and automatically collects information on the progress of the job.
In the demonstration, the finishing information for the 16-page A4 brochure that was printed in the first job was sent to the Horizon i2i workflow, and folding and perfect binding were introduced by VTR.
For the second job, the press accelerated to 18,000 sph at start-up. The monitor switched to the PQA-S V5 measurement, feedback and quality maintenance process screen. The machine stabilized register and color and then maintained quality. The surrounding area of trend graphs of average densities turned green when the density came into the OK zone, and then production printing started. Total changeover time was less than two minutes.
The standard equipment KHS-AI records a detailed operation log. The enormous amount of data accumulated by KHS-AI is sent to the cloud. Detailed job information enables the visualization of not just press operating information but also cost and quality information by KP-Connect.
Problems related to presses and printing methods and also solutions are sent automatically as alerts by utilizing the high-level analysis results, and printing productivity can be improved by connecting these to the knowledge seen here and Komori Preventive Maintenance support.
High basic performance, automation equipment and various systems of the Lithrone GX40RP were proposed as a solution to achieve high productivity even with the accelerating trend of small lots of many different items.
【Lithrone G37】
・Product
1.8-page A4 brochure /170 pieces (work-and-turn printing)
2.Poster /200 sheets
The new Lithrone G37 that debuted in Europe at this drupa can print 8-up A4 impositions. It enables a high-efficiency, low-cost production environment by saving space, saving energy, and cutting plate costs. The exhibition machine was equipped with H-UV L (LED), which has been added to the H-UV lineup. Perfect for a wide range of needs in publishing and commercial printing using either light or heavy stock due to printing with the instant curing system. In addition, it was equipped with the Full-APC fully automatic plate changer, the PDC-SG Spectral Print Density Control-SG model , and the PQA-S SG in-line color control system. These functions excel on small lots of many different items.
The Lithrone G37 showed work-and-turn printing at the 15,000 sph maximum printing speed in the demonstration. Because of H-UV L (LED), high-productivity short-run operation is possible even with a one-sided press.
The PDC-SG Spectral Print Density Control-SG model that specializes in cost-effectiveness was newly equipped on the press. Also, in-line color control is handled by PQA-S SG equipped above the delivery. By these facilities, quick color matching is enabled.
The press was newly equipped with KHS-AI parallel control technology. In other words, automatic blanket washing and ink settings for the next job are performed simultaneously.
Changeover for the next job, a poster, was completed in just five minutes. This technology shortens changeover time by approximately two minutes. When automatic blanket washing and ink settings are completed, the Full-APC fully automatic plate changer operates.
During changeover, the K-Supply products that maintain stable print quality on Komori presses were introduced. This includes the K-Supply ink that is optimized for H-UV printing, printing materials, chemical products, the power consumption monitor that gives visibility to operating waste and loss from the power used as well as the ED motor and DC blower for even further energy saving. As a service provider for customers, Komori will continue to expand the offering of K-Supply products and solutions as KOMORI-Kare.
In production, measurement results were displayed on the screen. With the measurement data, the press immediately performs automatic density correction by means of Komori's original color feedback technology, so the operator does not need to adjust each key.
The ability of H-UV L (LED) that enables instant curing and printing even for a hard-to-dry matte paper and its solution for short-run OffsetOnDemand printing were presented in this demonstration.
【Lithrone G29+Apressia CT137】
・Product
1.Postcard 16-up imposition/200 sheets
2.Poster (4 colors plus OP varnish plus high gloss varnish [drip-off embossing]) /300 pieces
A new product - the Lithrone G29 - was unveiled with a completely new design. The exhibition machine was configured with five colors, coater and extended delivery. The high productivity that comes from being equipped with the latest systems was demonstrated by H-UV printing using heavy and light stock.
This press maintains high print quality even at its maximum printing speed. PQA-S V5 has a 4K camera and provides in-line color control in addition to high-precision inspection.
During production, the process of quality maintenance by PQA-S V5 was displayed on the monitor.
During changeover time for the second job, printing a poster on light stock, the advanced technologies that are equipped on the new Lithrone G29 were introduced.
With the latest version of KHS-AI parallel control, ink settings and automatic blanket washing are performed simultaneously.
The measurement data of the PDC-SX Spectral Print Density Control-SX model was fed back to the press, and it adjusted the color and plate register automatically.
With flexibility of changeover between light and heavy stock by simply changing the sheet thickness on the touch panel, one press can handle a range of needs, from printing on light stock to high added value printing. And it realizes high productivity by short makeready.
When fully automatic plate changing by Full-APC was completed, the press began printing right away. Changing for five units was completed in just a bit more than three minutes.
In print start-up for the next job, the postcards printed in the first job were cut by the Apressia CT137 to make the final product. This process was displayed, and also the KP-Connect that connects the printer and Komori was presented at this time.
The finished samples of the final product were distributed and the drip-off effect achieved by the Lithrone G29 printing 4 colors, drip-off varnish and over-print coating was checked. Also, the quality of the paper folder made with fine postpress processing of the card cases on heavy stock output by the Impremia IS29 was shown.
For the second job, the press started production printing at the maximum printing speed by quick start-up with the high-precision preset technology of KHS-AI.
Quick checking of quality is performed by the PDC-SX Spectral Print Density Control-SX model , and in-line color control by PQA-S V5 realizes high quality and productivity.
The new Lithrone G29 for printing on both light and heavy stock offers high added value printing thanks to a wide range of unit configurations. It makes possible a flexible production environment due to high quality and agility.
【Impremia IS29】
・Product
1.Brochure /10 sheets (5 sets by 2 sheets)
2.A2 poster /30 sheets (5 sets by 6 sheets)
3.Paper folder/ 10 sheets
The Impremia IS29 is suitable for a wide range of stocks and sizes and enables printing on the same stocks as offset and inkjet without any precoating or special processing. It is also capable of single-sided or double-sided high quality printing.
The gripper-to-gripper paper transfer device ensures high register accuracy. The UV instant curing system makes possible one-pass double-sided printing. The work is sent to postpress right after printing. This enables small lots of many different items and short turnarounds.
The business model put forward in the demonstration at this drupa was a printing company presenting a sales promotion idea for a fashion brand. A small number of copies of a brochure that is color matched with offset, a poster for a shop, and a premium paper folder were output. In addition, this demonstration featured color matching with the Lithrone GX40RP for commercial printing and printing of on-demand personalized packaging.
For the first job, five 2-sheet sets of the brochure with the same image on the same paper as printed on the Lithrone GX40RP were output with perfecting printing at 1,500 sph. A total of 10 sheets were finished in about 20 seconds. In addition, showing high accuracy color matching thanks to K-ColorSimulator 2, the process of production that connects offset and digital printing was shown.
For the next job, five 6-sheet (total of 30 sheets) sets of an A2 poster with the vivid colors of wide-gamut RGB were output in about 30 seconds.
For the final job, the Impremia IS29 made presets for front- and back-side printing on heavy stock and 10 sheets of the paper folder were output by perfecting printing in 20 seconds (about two seconds per sheet).
The paper folder had creasing and fine die cutting done by the Highcon Euclid 2 Digital Cutting and Creasing System. Highcon is the only company in the world offering in-line one-pass creasing and cutting by laser. Komori has entered into a sales partnership with Highcon in Japan. This sample wes introduced as new added value by connecting offset printing, digital printing and the postpress process.
*The Highcon Euclid 2 offers the world's first fully on-demand digital die cutter by using laser and digital rule generation technology DART (Digital Adhesive Rule Technology).
In addition, the Impremia IS29 can be optionally equipped with a workstation that enables total workflow coordination, including coordination of job information with the front-end MIS, one-touch job presetting of the machine, off-line inspection with comparison of PDF and printing results, and color management with offset.
Finally, samples of high added value printing with the Impremia IS29 on various stocks, including a metalized paper called Offmetal Silver, NT Soufflé Snow White that has a raised surface, and a paper which is like Japanese washi, were displayed.
The new high added value printing of the Impremia IS29 from Komori provides you the tools to add new customers, new types of work and help you open new pages.
【Impremia NS40】
・Product
1.Variable printing (about 50 sheets)
2.Continuous printing of poster
The Impremia NS40 is the fastest B1 size high productivity digital press with an output speed of 6,500 sph thanks to the fusion of Komori and Landa technologies.
In the Nanographic Printing® process of this system, the droplets are ejected onto a heated blanket from ink ejectors instead of onto the substrate, and they very quickly lose water. When all of the water has been evaporated, the ink becomes an ultra-thin, 500 nm dry polymeric film on the blanket. This layer of ink bonds to the substrate without penetrating it. The formed images are tough, abrasion resistant, do not need post-drying and leave no residual ink on the blanket. Can be used with all common commercial substrates (coated and uncoated paper, paperboard, plastic and specialty substrates).
This printing process employs Landa NanoInk® colorants, a proprietary water-based ink with nano-pigment particles, which has a low cost per page and is environmentally friendly. It realizes a wide color gamut coverage with CMYK and print quality similar to offset presses.
As an optional function, the digital workstation allows the operator to have total workflow control. This is accomplished by Komori's expertise with offset presses and includes coordination of job information with the front-end MIS, one-touch job presetting of the machine, off-line inspection by comparison of PDF and printing results, and color management with offset. The system exhibited was equipped with an inspection system and rejector to ensure quality reliability.
The Impremia NS40 is being developed for a maximum of 7 colors (+OGB) in both standard simplex and optional duplex configurations along with an in-line coater and a nonstop production system, and can be specified to meet any needs. Before the demonstration, the basic printing flow of the Impremia NS40 was explained with computer graphics.
In the first job, about 50 sheets of several different images were printed by variable output. The second job was continuous printing of a poster. These jobs were displayed on the screen. Even with variable output and a job changeover, this only took three minutes at the 6,500 sph maximum printing speed.
At the end of the demonstration, the variations of the uniquely Komori sheet transfer platform were explained. In commercial printing, one-pass double-sided printing is the most efficient production method, and the Impremia NS40 lineup will include a perfecting system.
The Impremia NS40 with the Nanographic printing® system will soon be commercially available.
The fusion of Komori's high level technologies and high manufacturing capabilities with the reliable Landa Nanographic printing® technologies will open new pages in printing.
■K-Supply/Service Corner
At the exhibition site, products that contribute to energy saving on existing machines and in the plant, such as DC blowers and a real-time operations monitor (power consumption monitoring device), were shown.
Under the K-Supply brand name, Komori offers a lineup of special consumables, materials and equipment that are standard for Komori-made presses. K-Supply is not just consumables but also printing supplies developed with the Komori Graphic Technology Center (KGC) for high print quality and performance.
All exhibit presses used K-Supply ink. K-Supply ink is the Komori standard H-UV ink offering high-level hardness, print quality, versatility and economical performance.
■KOMORI Ecology Corner
'Building a mild, bright future where the balance is protected through the coexistence of everything' is the green concept that Komori promotes. The building of production environments that incorporate this green concept as well as the current state of product development were introduced in the corner.
■Web Offset/Chambon Corner
At drupa, we showed printing samples from the System G38, an H-UV-equipped web offset press, and comparison samples from an H-UV-equipped sheetfed press using the same image. Panels also introduced the in-line presses for packaging manufactured by Komori-Chambon and printing samples.
■Print Gallery
In the Print Gallery, samples of 3D lenticular and added value printing were displayed. The currency/security press corner was set up in the print gallery. The anticounterfeiting technologies, intaglio printing and samples of Komori currency/security presses that are in operation were introduced in panels. Additionally, the screen-printed printing samples of Seria Corporation, which is in charge of Komori's printed electronics and precision devices business, were shown.
Many visitors attended the Komori booth, and we were able to finish the exhibition with great success. We wish to express our thanks to everyone who came to drupa 2016 and look forward to seeing you all again at drupa 2020.
Contact Komori Europe