Leading book printer ventures into full-color printing on heavy stock: Eight-color Lithrone G40P perfector draws attention by trying new things
China, Nanjing Amity Printing | Lithrone G40P [GL-840P H-UV L (LED)]
16 June 2022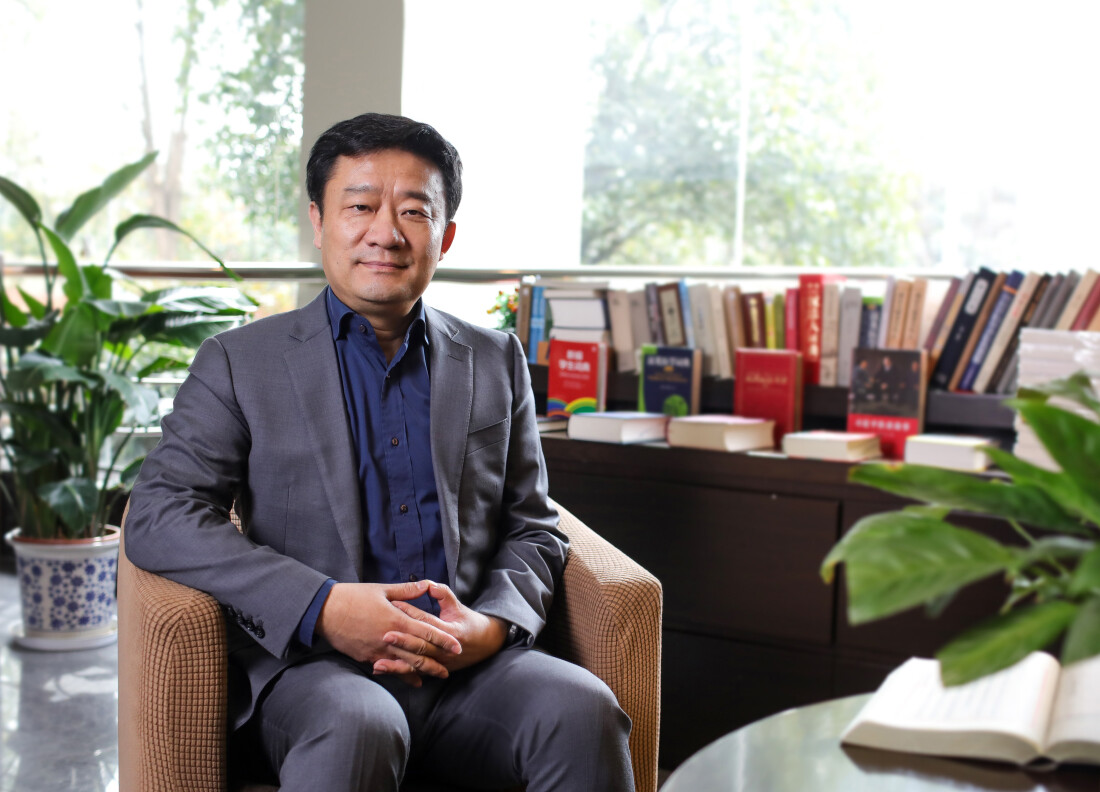 Nanjing Amity Printing, one of China's leading book printers, introduced an eight-color Lithrone G40P 40-inch convertible perfecting offset printing press with an LED-UV drying system in early 2021. Since then, this perfector has played an important role in the company's sustained growth.
Liu Lei, President
Founded in 1986, the company has grown into a global one-stop provider of printing services, from platemaking to printing and postpress processing. Currently, annual sales are approximately $74 million USD, with overseas markets accounting for roughly $50 million USD. The company's products are provided in 192 languages in 140 countries and regions worldwide.
Nanjing Amity's president, Liu Lei, explains why the company chose the Lithrone G40P perfector: "Since our founding more than 30 years ago, Nanjing Amity has specialized in high-quality book printing using thin paper, with single-color and two-color printing as the mainstay of our business. To make further progress at a new stage in the future, it was essential for us to enter the field of high-quality book printing using multicolor printing on heavy stock. Since 2018, we have seen a growing need for multicolor printing on heavy stock. To meet this demand, we considered the use of a new eight-color convertible press. Printed materials in high demand include polyurethane (PU) printing, four-color double-sided printing of book text, six-color and seven-color printing using special colors, and high-color printing. After thorough market research and careful consideration, we chose Komori's 40-inch eight-color Lithrone G40P with an LED-UV drying system. We chose LED-UV curing because this printing process makes a significant contribution to environmental protection as well as shorter turnaround times."
Press performance far exceeding expectations and customers' evaluations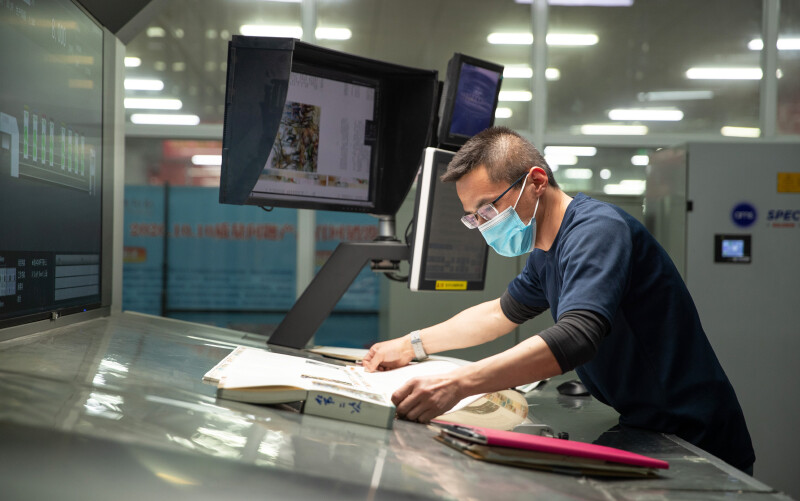 One year after the Lithrone G40P went into operation, president Liu gave the new press a positive evaluation, saying, "I was impressed by the performance of the new press, particularly in two respects. First, the new machine not only meets 100 percent of the expectations we had when we purchased the equipment, it far exceeds them. Thanks to careful printing guidance by Komori technicians and the hard work of our employees, we are now capable of color printing on ultra-thin paper. The performance of the new press exceeds existing eight-color offset presses in quality standards, register accuracy, and printing speed. Second, customers appreciate the performance of LED-UV printing on the Lithrone G40P, especially when printing on uncoated paper, art paper, and specialty paper for high-quality album printing. An art designer who is a publishing house editor has commissioned Nanjing Amity to print books on the eight-color Lithrone G40P press. These customer evaluations prove the superiority and quality of Komori presses."
Efficiency, quality, and volume of orders greatly improved by LED-UV drying system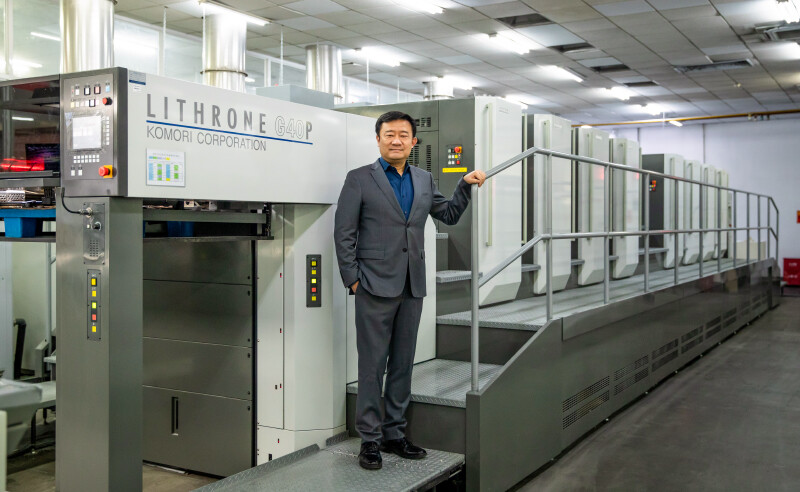 Liu talks about the specific benefits of the new installation: "Compared to our existing eight-color press, the Lithrone G40P has improved our production efficiency by 50 to 60 percent and our profitability by at least 10 percent. The extraordinary printing speed, short platechanging time, and high level of automation are direct benefits of the Lithrone G40P. An additional indirect benefit is that the LED-UV instant drying system on the new press has significantly shortened the finishing time for postpress processes such as folding and binding. For example, one periodical that used to take seven days to turn around now takes only three. This periodical uses uncoated paper that requires quick drying to prevent scratches during the folding process. These indirect benefits such as shortening the production process, speeding up job execution, and increasing the volume of orders are more important to us than the direct benefits."
Automation brings more convenient operation and stable color tones
Enhanced convenience and stability is the overall assessment of the Lithrone G40P by Li Zhonglei, manager in charge of production control. "The Lithrone G40P can print single-sided using eight colors and double-sided with four colors. Moreover, it can seamlessly switch between single-sided and double-sided printing in just three minutes," Li says.
"The Lithrone G40P with the LED-UV drying system is equipped with a color control system. As a result, the automatic feedback function accurately sends prepress plate data to the press, dramatically reducing the time required for color matching by the operator. In addition, the PDC-SX (Spectral Print Density Control System), which is standard equipment on the new press, enables automatic registration and instant confirmation of densities. Automatic registration by the colorimeter monitors and automatically adjusts ink densities from the beginning to the end of the run, ensuring extremely stable color tones within the lot. As a result, the difficulty of color matching by the operator is reduced and makeready time is substantially cut. The time required from the start of the job to the end of production printing is approximately five to six minutes. We realize that this is a significant improvement in production efficiency, as it was not possible to achieve this with conventional printing methods. Furthermore, the Lithrone G40P is equipped with automatic blanket washing, automatic impression cylinder cleaning, and Full-APC (Fully Automatic Plate Changer). Washing and platechanging operations are completed in approximately three to five minutes, significantly reducing not only job changeover time but also operator processing. It has been more than a year since the new machine started operating at the plant, and its performance has been very stable."
Komori's service spirit based on "beyond expectations"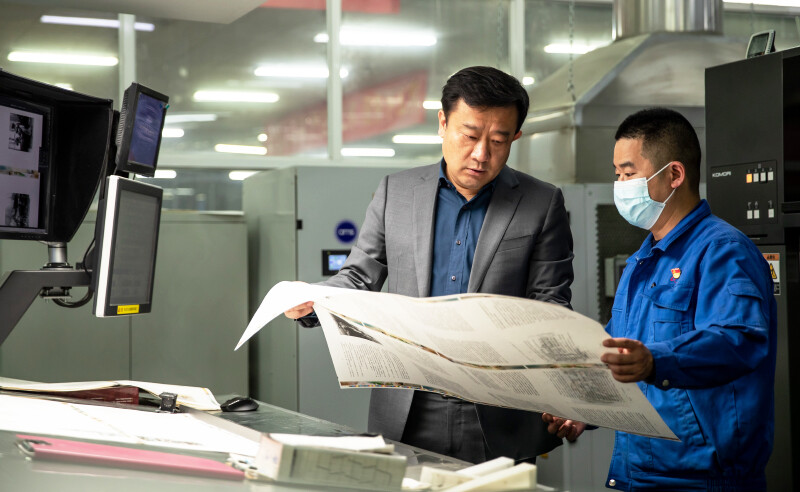 President Liu and Manager Li highly appreciate Komori's service, which they've experienced for the first time. President Liu says, "I would like to give big praise to Komori's service. Up to now we have been using printing presses made by other manufacturers. The Lithrone G40P is the first Komori machine we have installed. I would like to take this opportunity to thank the Komori technicians for their tremendous support in operator training related to machine operation and press maintenance."
Manager Li adds, "After the machine was installed, when we were still unfamiliar with its operation, one of our operators called a Komori service representative regarding machine operation, and even though it was late at night, Komori service staff were able to get to the site within two hours and take care of the problem. All of our operators and managers share the feeling that Komori provides not only top-notch machines but also top-notch service," he says with deep emotion.
Looking to the future, President Liu says, "This is our first Komori installation, but there are many more matters we can work together with Komori on in the future, including the latest Lithrone GX40RP advance, an eight-color perfector, and a four-color perfector. We are also actively considering the installation of Komori machines for our web offset presses."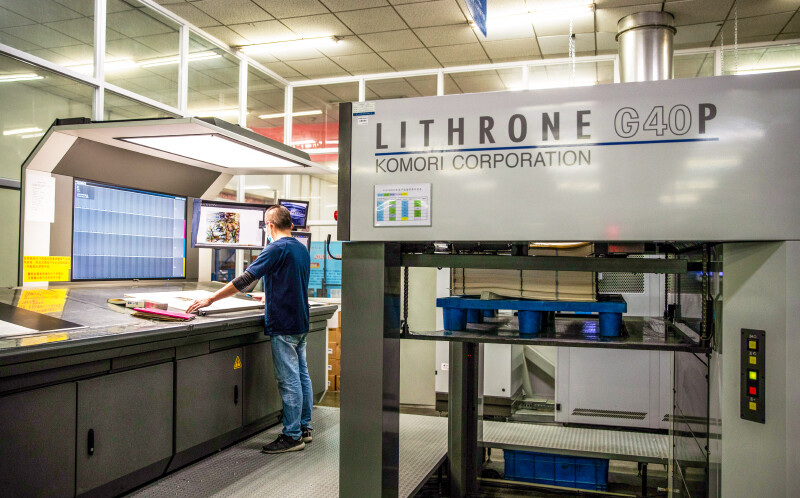 Related Information
Contact Komori China