Postpress Alliance Rolls Out Innovations
Tuttlingen, Germany
10 February 2023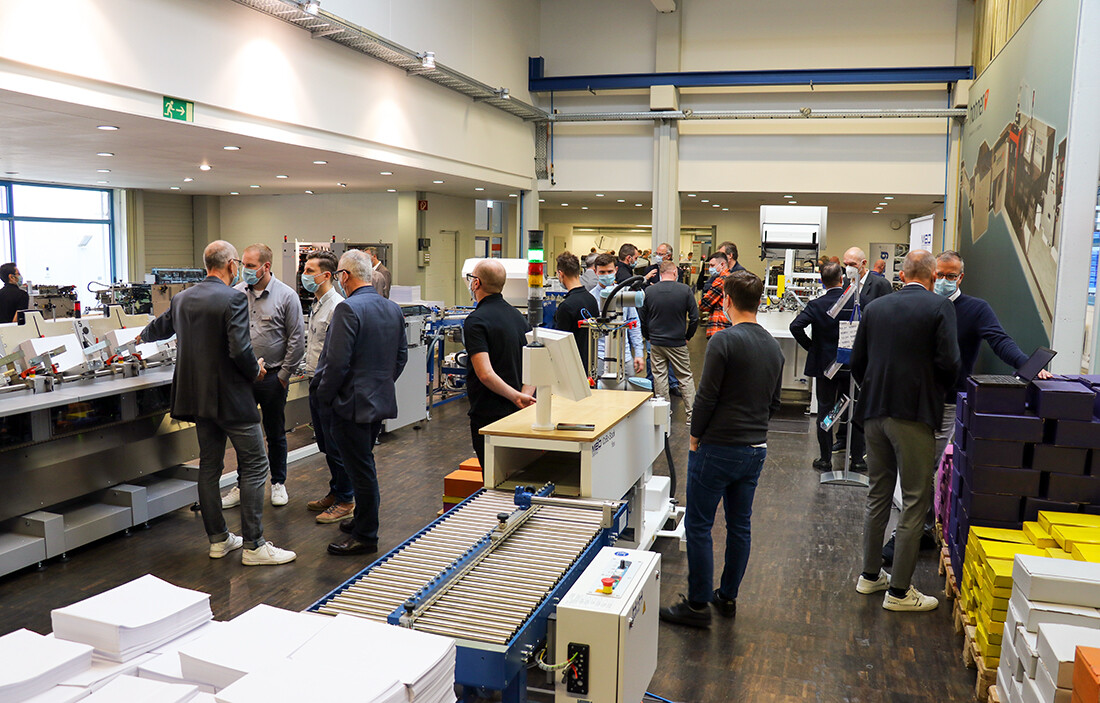 The Postpress Alliance partners, BOGRAMA, H+H, Hohner, MBO, and Wohlenberg, played host to an engaging crowd at Alliance Days 2022, at the home of Hohner Maschinenbau GmbH, Tuttlingen, Germany.
From November 7 to 11, Hohner's Postpress Center was transformed into a showroom for innovations in die-cutting, pharmaceutical folding, saddle-stitching, digital print processing, folding, robotics, and networking.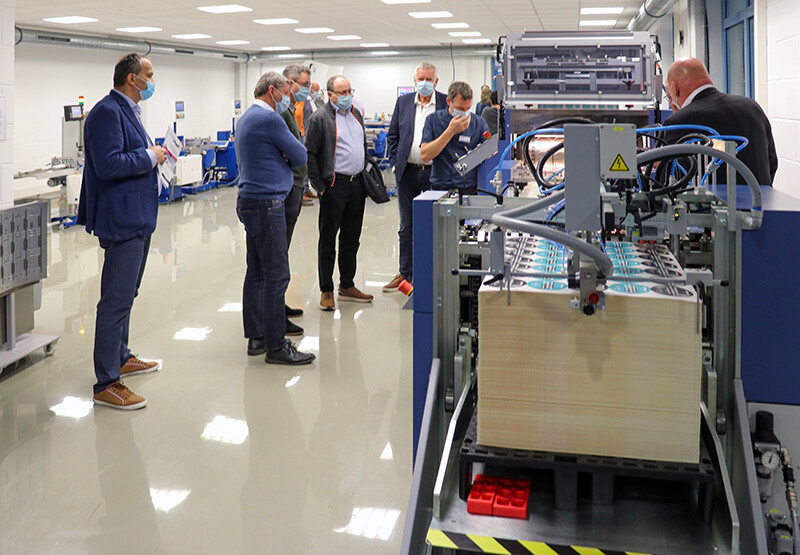 Swiss Postpress Alliance Partner BOGRAMA presented the newly developed STA 550 BK stack delivery integrated with the proven BSR 550 Servo rotary die cutter. The system was demonstrated finishing sheets containing a 35 up pattern of round coasters (5 across and 7 back) into 5 individual stacks of final product. The new STA 550 BK stack delivery is well suited to cutting and stacking small-format labels and cards of all types to finished sizes, with no nicks and all scrap removed inline. The system can be configured to deliver up to nine across the sheet as individual products, or in a shingled stream. With a format range from 50 x 60 mm to 230 x 230 mm, and a maximum stacking height of 150 mm, there is a wide range of possibilities. New features like the adjustable extension height of the pile table to match the pile height and the simplified job changeover by replacing the block with pile chutes has been beneficial for efficiency savings.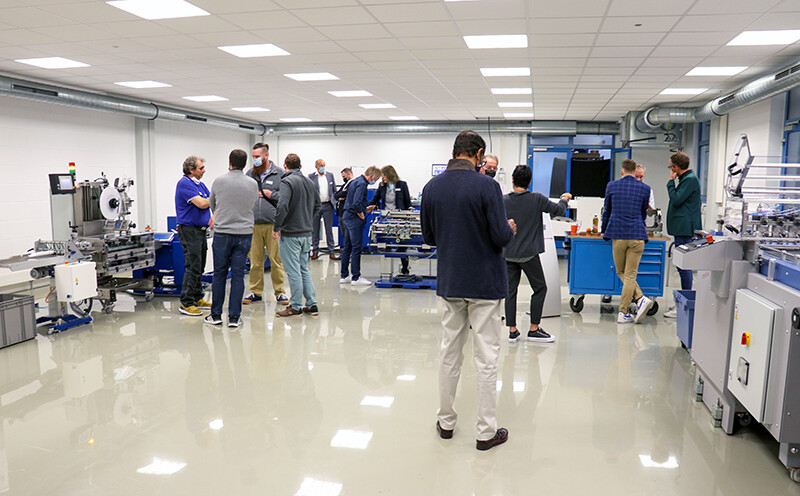 H+H, a member of the Komori Group, experts in miniature folding, demonstrated their new automated M9 folding platform which revolutionizes the production process of package inserts for the pharmaceuticals, cosmetics, food, and agriculture industries. The automated folder has the potential to makeready sixteen plate or more fold patterns in a matter of minutes rather than hours, changing the mindset of the industry.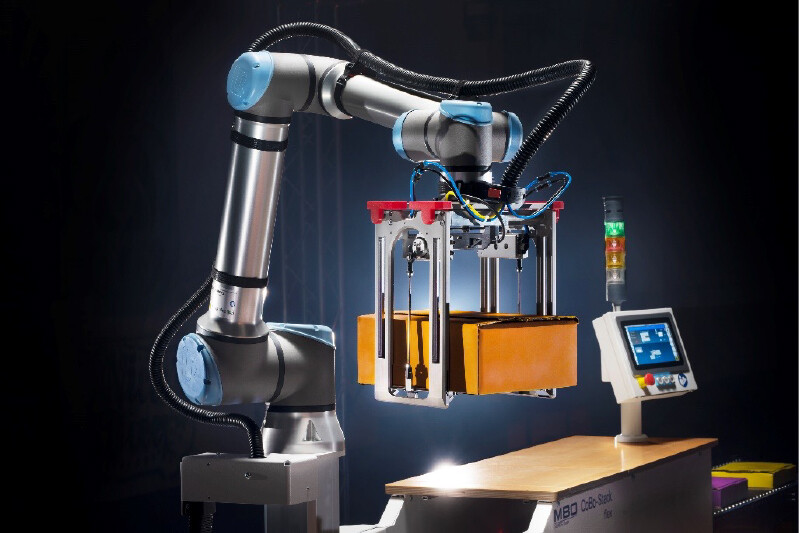 Robots are one of the central topics in these times with a shortage of skilled workers. The ability of the upgraded MBO stacking robot CoBo-Stack flex to handle different stack heights is certainly an innovation of the proven CoBo-Stack.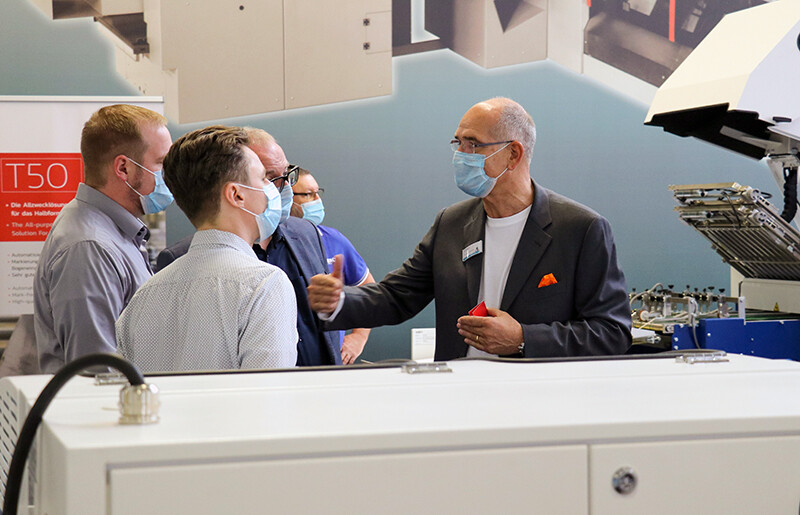 Visitors were shown the versatility of Hohner's HHS FUTURA saddle-stitcher. Two machine configurations in the showroom illustrated the many possibilities for feeding either sheets or rolls using the integrated sheet-fed or roll-fed finishing systems from partner MBO.
Attendees had the opportunity to visualize Hohner's modularity concept by arranging 3D models into customized systems that represent their specific solution.

The module options include a wide range of feeder methods, including tower collating, pallet-fed cross folding with the K70 from MBO, roll-fed web sheeting and folding from MBO (including data matrix code for personalized content), or the MBO T50 buckle plate folder from the flat pile feeder. By far the most compact DIGI finisher configuration is Hohner's horizontal compact digital feeder (KDAL), which, thanks to its loading from above and feeding from below, offers the advantage of production without interruptions for loading. With the FUTURA modularity concept, saddle-stitching is more flexible and customizable than ever before.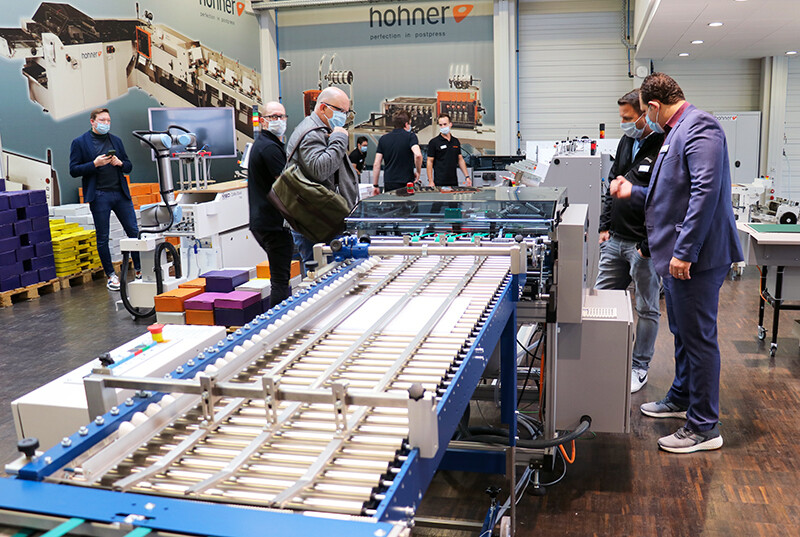 Wohlenberg's booth provided information to attendees on its wide range of cutting solutions that address the entire process from preparation to finished products. Its fully automated BASS system, High-Speed Guillotines and Automated Positioning Systems focus on maximum throughput with minimum labor. Of particular interest was the use of robotics to take over the traditional tasks of an operator. The company engaged customers' questions with its wealth of industry knowledge and vision for new projects and solutions.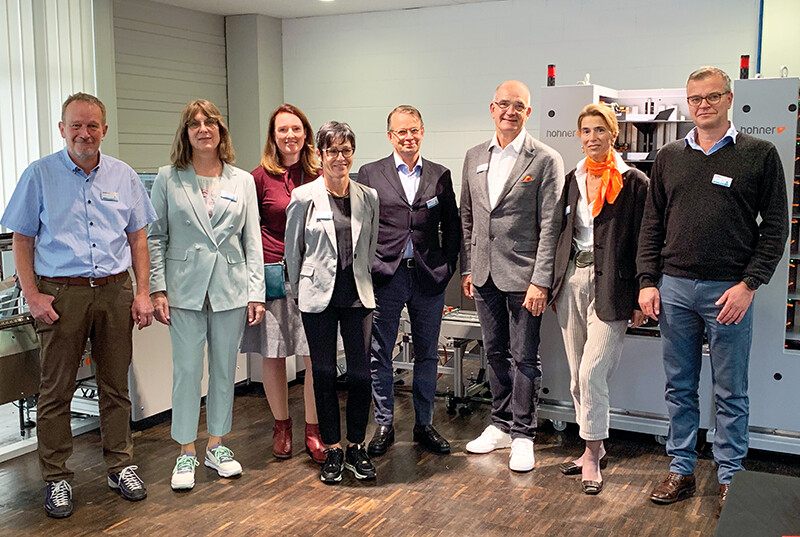 After a successful week of demonstrations, the show closed with a look to a positive 2023 and the knowledge that Alliance Days 2023 will come sooner than you think. Until then, the members of the Postpress Alliance can be reached on their individual channels or on the joint platform: www.postpressalliance.com
Contact Komori Europe