IGAS2022 Report Part 2: Packaging Solutions -- Connected Presses and Robotics Steal the Show
Tokyo and Tsukuba, Japan
31 March 2023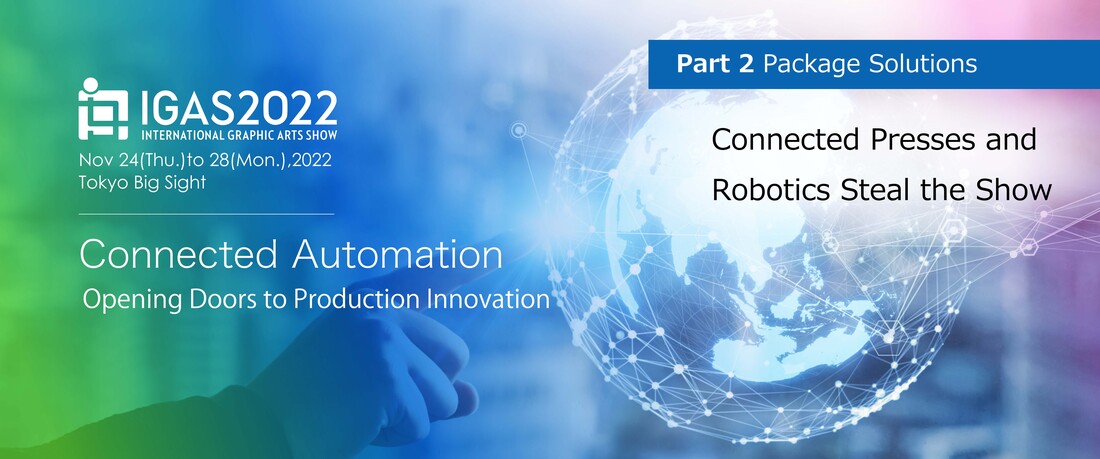 IGAS2022 | Lithrone GX40 advance SmartColor
In the Smart Factory for package printing, the Komori booth and the Komori Graphic Technology Center (KGC) at the Tsukuba Plant were linked up by relay and production of a wide variety of products in small quantities that allow minimal inventory was shown by using the Lithrone GX40 advance equipped with double coater, thus reducing makeready cost. We introduced two demonstrations - Smart Color that reproduces special colors with high color rendering and Super Short Makeready that performs multiple changeover processes in parallel and minimizes makeready time to the same level as general commercial printing (demonstrations 3 and 4).
■ Demonstration 3: Seven-color Lithrone GX40 advance with Inline Coater and Smart Color

Watch the demonstration: https://youtu.be/agxcAe4VDbw


Products
• Package of black tea: Total of 20 colors, four process colors and 14 special colors

• Package of furikake condiment: Total of 10 colors, four process colors and six special colors

Demonstration machine
• Lithrone GX40 advance UV-equipped Seven-Color 40-inch Offset Printing Press with Inline Double-Coater

Smart Color was demonstrated using the Lithrone GX40 advance 7-color press with double coater. Smart Color uses four high-color-rendering process colors plus orange and green for a total of six colors and is a technology that simulates special colors with halftone dots, making it possible to significantly improve the productivity and environmental performance of package printing. In addition to saving time by eliminating the need for roller cleaning, fixing the ink allows operation at standard densities, greatly reducing color adjustment time.

The Lithrone GX40 advance boasts high productivity with a maximum printing speed of 18,000 sph and completed the first job of 300 sheets (a package of tea) in no time. We measured and compared the finished sample with the special color target prepared in advance and confirmed the reproducibility of the special colors.

Switching to the second job did not require color changing or ink cleaning because Smart Color simulates special colors with high-color-rendering six-color printing. Once the test print came out, the operator checked the quality with PDC-SX and started production printing. We pulled out a sample and compared the special color target with the printed sample, confirming that they were very similar and that there was almost no variation on the gripper side and tail side.

■ Demonstration 4: Seven-Color Lithrone GX40 advance with Double-Coater Package/Super Short Makeready

Watch the demonstration: https://youtu.be/q6pkMibIZBw

Products
• Earphone package
• Hair color package

Demonstration machine
• Lithrone GX40 advance UV-equipped 40-inch Seven-Color Sheetfed Offset Printing Press with Inline Double-Coater

Using the Lithrone GX40 advance seven-color press with double coater, two special color package jobs were run. Changeover was performed by switching the special colors of two units and changing the coater plate. Visitors were able to see how quick and easy it is to switch special colors, which normally takes a long time.

After completing the first job of 300 sheets at the maximum printing speed of 18,000 sph, the human- and robot-friendly Super Short Makeready automatically performed plate changing, blanket washing, ink cleaning, coater changing, and ink setting. Ink changing was very heavy and troublesome work in the past, but at this time the operator proceeded without difficulty by using a new system with fountain film.

Coater plate changing, which previously required two operators, can now be completed semi-automatically by one operator in about two minutes. Ink cleaning was completed in about five minutes with heavy-duty cleaning by the new ink cleaning system. After finishing the first job, visitors actually experienced test printing of the second job performed in about 11 minutes.
■ Corner Display

At the Komori booth, a section introduced products and solutions with the themes of environmental friendliness and cost reduction in printing factories as well as a large number of products and print samples from each business, including the currency printing business.

KP-Connect Corner
Under the theme of Smart Factory (one-man operation), Komori promoted digitalization of all processes and data linkage of printing machines. Signage was installed at the venue to connect the exhibition machines, and visitors were able to see how each machine was managed in real time by KP-Connect Pro. In addition, we introduced videos of user success stories and alliance partners on how DX can actually be advanced using data that has been visualized by digitizing analog management.

In addition, a mini-seminar entitled "KP-Connect Pro -- Smart Factory Starting from Visualization" was well received and was watched by many visitors every day.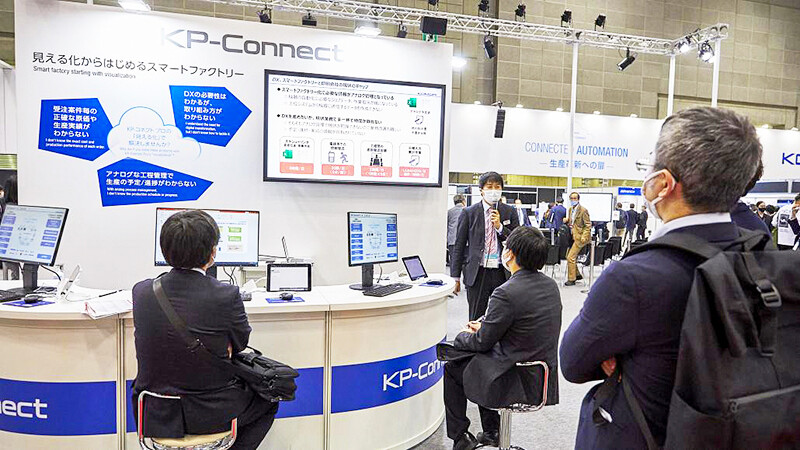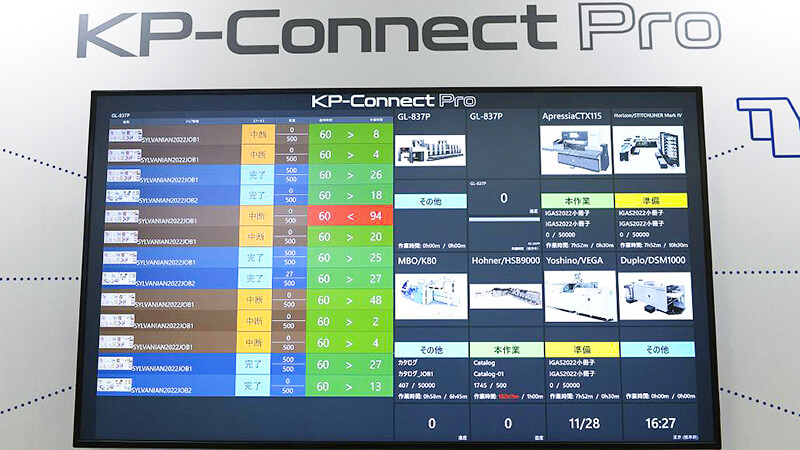 Currency Printing Press Corner
Bank of Japan notes printed by Komori's banknote printing machines are rated as the most difficult to counterfeit banknotes in the world. Komori's banknote and securities printing presses are widely exported overseas and have been delivered to 36 countries. At the booth, we exhibited samples of securities that visitors could actually touch and enabled them to have the experience of lifting up a bundle of banknotes.

Service Corner
With the theme of environmental friendliness and cost reduction in printing plants, Komori developed e-Mist, a device for suppressing static electricity caused by ultrafine particle mist, which frequently occurs in winter, and also K-Supply printing materials such as non-VOC-impregnated cloth that maximizes machine performance and reduces environmental impact. Service staff introduced visitors to the well-received Printing Consultant and the One-Day Check printing press diagnostic service.

Environment Corner
Komori's SDG initiatives were introduced on a panel. The Komori Green Project is linked to the Sustainable Development Goals (SDGs) and its activities follow the three guiding principles of eco-products, eco-factories, and eco-communications.

Seria Corner
Seria Corporation, which is in charge of Komori's printed electronics and precision equipment business, boasts a track record of many deliveries to the electronic component and screen printing industries. We exhibited samples of printed IoT devices and semiconductor substrates as well as samples produced by screen printing.

Print Gallery
Komori exhibited a number of high-value-added printed materials created using special techniques and new business models along with printing methods and key points.
• Illuminated poster
• UV inkjet digital printing on synthetic paper (Peach Coat)
• Prints a normal image (front side) and a reverse image (back side) in one-pass, double-sided printing with high register accuracy.
• Various postpress samples
• Instruction manual on ultra-thin paper folded intricately (MBO/H+H)
• W-folding and 32-page folding for notch binding (MBO K80)
• Toy package
• High value-added printing by double coater of offset press
• Full OP varnish, H-UV printing + gloss varnish + matte varnish, H-UV printing + gloss varnish + soft touch varnish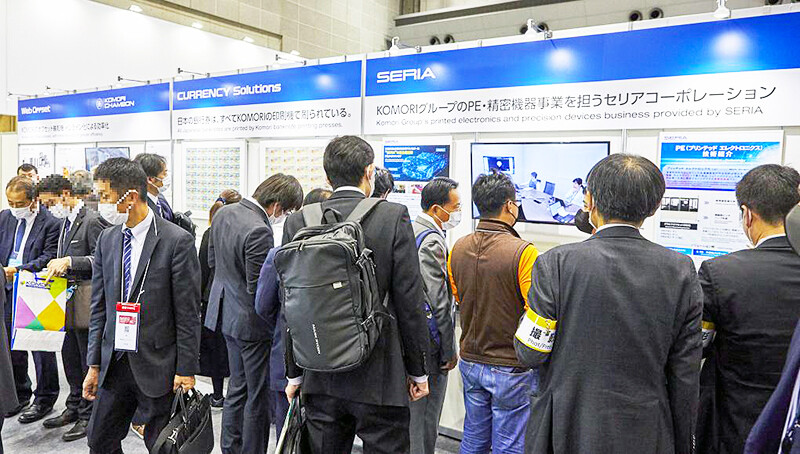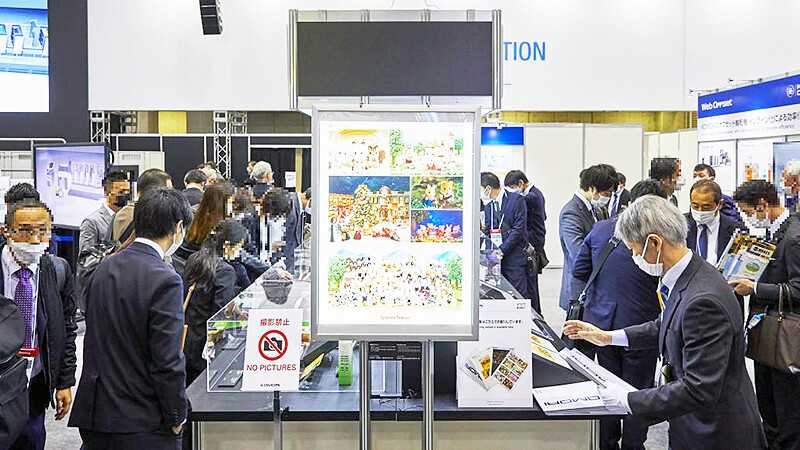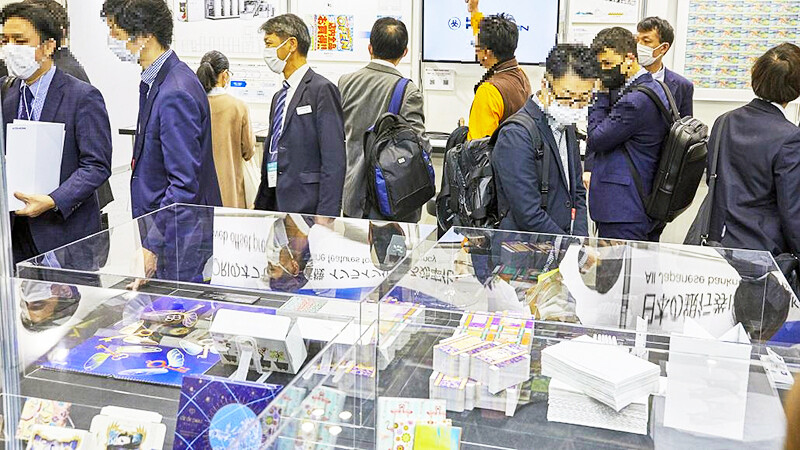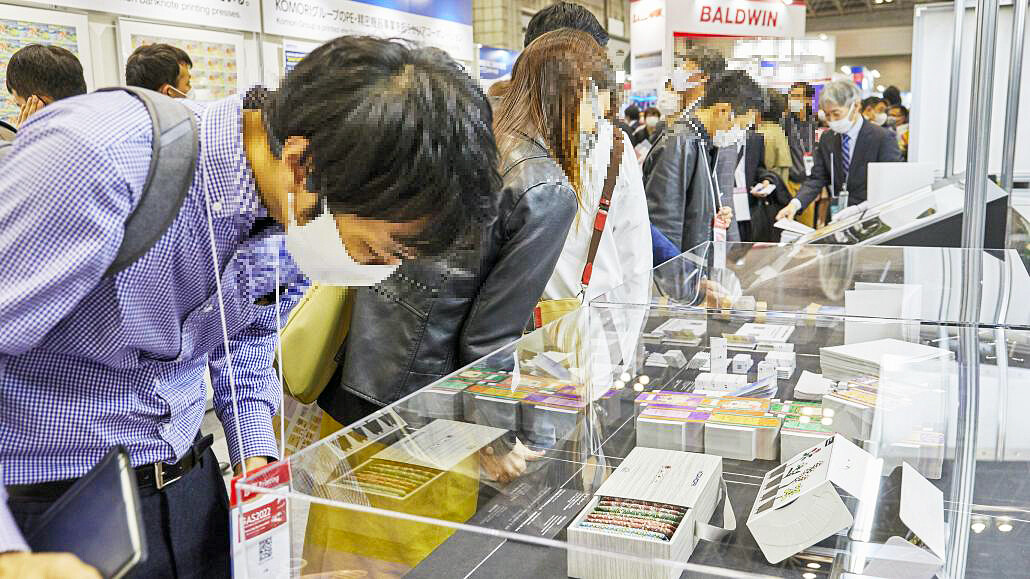 Related Information
Contact Komori South America, Asia, Oceania