IGAS2022 Report Part 3: Digital Solutions -- Connected Presses and Robotics Steal the Show
Tokyo and Tsukuba, Japan
03 April 2023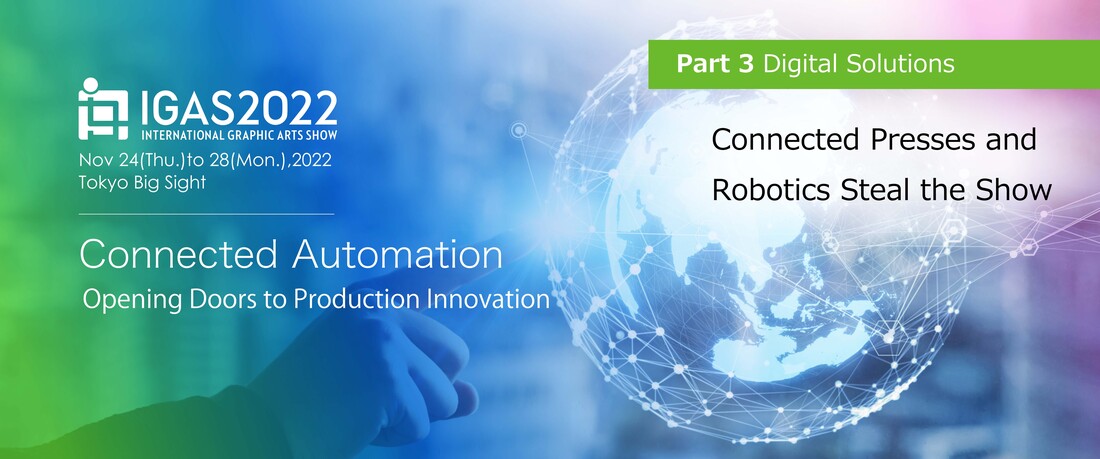 IGAS2022 | Impremia IS29s
Digital printing solutions include the HD mode, which is a new function of the Impremia IS29s, a 29-inch digital printing system that reduces graininess when printing images of skin and metallic surfaces, and a video introduces printing on a wide range of environmentally friendly special substrates as well as package cutting and ruled line processing in collaboration with a die cutter (demonstration 5). We also exhibited large works created in collaboration with the Tokyo Camera Club at the Komori booth so that visitors could see and experience the new possibilities of the latest 40-inch digital printing system, the Impremia NS40.
■ Demonstration 5: Impremia IS29s 29-inch Sheetfed UV Inkjet Digital Printing System

Watch the demonstration: https://youtu.be/Hq1o-JFwjCQ


Products
• Postcards (10 sheets of double-sided printing on special YUPO paper)
• A4 samples (10 sheets of single-sided printing on gloss coat paper, Sun Cards)
• Packages (10 sheets of single-sided printing on gloss coat paper, Sun Cards)

Demonstration machines
• KP-Connect Pro
• Impremia IS29s 29-inch Sheetfed UV Inkjet Digital Printing System

Since its launch in 2015, around 20 Impremia IS29 digital printing systems have been installed in Japan and about 50 units are in operation worldwide. The system has already acquired the highest-ranking three-star Green Printing equipment and materials certification.
This system contributes to reducing the environmental impact in six ways: Eliminates the need for printing plates. Reduces waste liquids. Wide-gamut process four colors capable of reproducing special colors. Reduction of spare paper and waste paper by production printing from the first sheet. VOC content 0% due to UV printing. Power saving compared to offset presses.

In the demonstration, in three jobs, visitors were able to see features such as high-precision double-sided printing, the ability to handle a wide range of paper types, quick drying of LED-UV, and the ability to output on the same paper as offset without the need for special paper or pre-coating.

This digital printing system can also reduce makeready time and visualize operation through press automation. Job information and the PDF from MIS are scheduled together by KP-Connect Pro, and necessary information is sent automatically. Operations requiring operator touch are minimized and operating information can be recorded in real time.

The first job was a postcard using special YUPO paper, and visitors confirmed the capability of printing on special paper and the vivid RGB finish.
The second job introduced the new HD mode. The exact same pattern was printed in HD mode on paper that had been printed in normal mode in advance, and you could see the difference.

The third job was a collaboration with Duplo to provide integrated production from digital package printing to varnishing and punching.

At the end of the demonstration, we delivered the latest video of the Impremia NS40.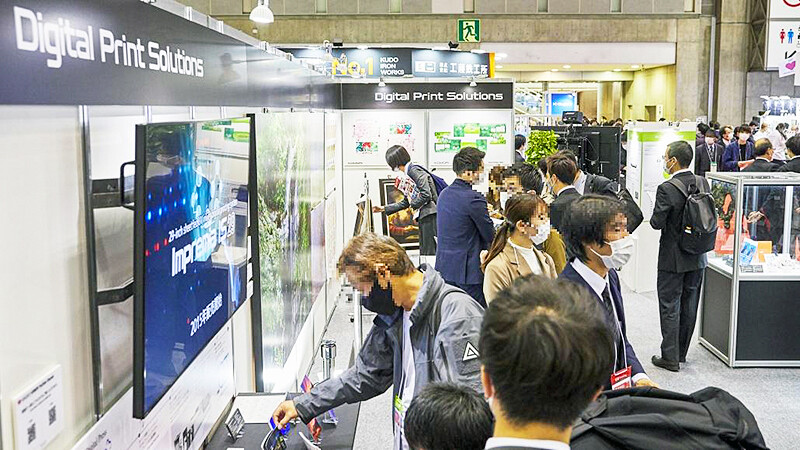 ■ Komori Sessions
Sessions were held in which managers and administrators of printing and bookbinding companies took the stage or made video appearances to introduce case studies from each company. Some 189 people participated in 5 days.
• Chuo Packaging Co., Ltd.
Chuo Packaging's efforts in the packaging industry during the corona crisis: Introduction of Lithrone G40 advance (GL-840A) and its effects
• Kenbunsha Co., Ltd.
Establishment of the Kenbunsha Digital On Demand Center and building of a high value-added business model
• Konno Printing Co., Ltd.
Printing DX through collaboration of KP-Connect Pro and MIS and environmental response through completely waterless printing plant
• Nikkei Printing Co., Ltd.
Efforts to Improve Productivity and Environmental Responsiveness in Graphic Gardens: Aims of Introduction of State-of-the-art Double-sided Multicolor Printing Presses
• Daikoku Printing Co., Ltd. / Kato Shiko, Ltd.
Efforts to increase productivity, improve quality, and develop multi-skilled workers through Komori postpress solutions

■ IGAS2022 Komori Tsukuba Tour
For three days from Thursday, November 24 to Saturday, November 26, Komori held a Tsukuba Tour where participants could experience going from the IGAS venue to the Komori Graphic Technology Center (KGC) of the Komori Tsukuba Plant. Approximately 350 customers from Japan and overseas participated.
The Package Super Short Makeready was demonstrated by relay from the IGAS venue on the Lithrone GX40 advance, and digital printing solutions were shown by the Impremia IS29s digital printing press.


We are grateful to visitors to the Komori booth.
Komori always provides next-generation products from the customer's point of view. We will continue to propose total printing systems to solve customer issues, such as cost reduction, operating rate improvement, and higher added value.
All of us are looking forward to seeing you at the next IGAS.