GRAPH EXPO 2015: Komori America Combines 
Booth and Showroom Demos
01 December 2015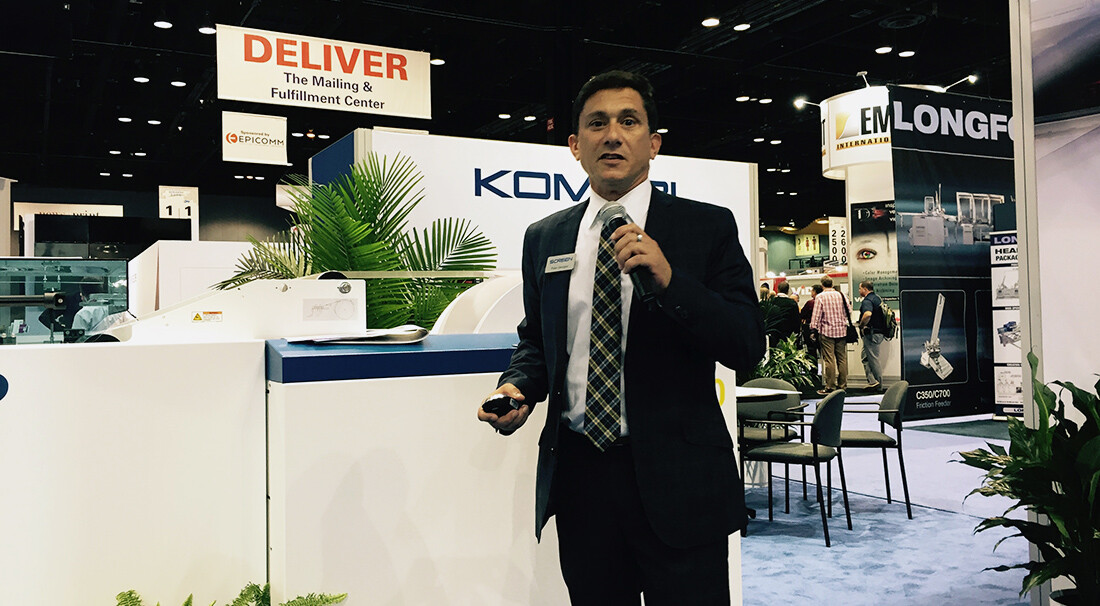 Once again, the exhibit halls at Chicago's McCormick Place were home to the largest U.S. graphic arts exhibition, Graph Expo. From September 13 to 16, over 11,000 attendees were able to see the latest technology — from software to bindery equipment. Komori America garnered significant interest with the announcement that they are partnering with Screen Americas to sell the Truepress Jet520HD inkjet web press. This partnership has a unique twist, says Jacki Hudmon, Sr. Vice-President, Sales of Komori America: "Komori not only has the exclusive rights to sell the Truepress Jet520HD in North America but also to take the relationship a step further and actually jointly sell. Screen has the expertise in inkjet products and Komori has the expertise in offset products. We are very excited about this unique arrangement."
In the Komori stand, live demonstrations of the Truepress Jet520HD impressed visitors with its quality and speed. "The Truepress Jet520HD is a great solution for direct mail applications that require personalization and for short-run publication work. It will be a great complement to our Impremia IS29 as we continue to expand our offerings in the inkjet market place," Ms. Hudmon adds. To further present Komori's digital future, a video presentation of the IS29 was also shown in the Komori booth. "We have many prospects for the IS29 who were extremely impressed with the samples we were showing at Graph Expo and are looking forward to a live demonstration on this new device in our Komori Graphic Center-America in January," says Hudmon.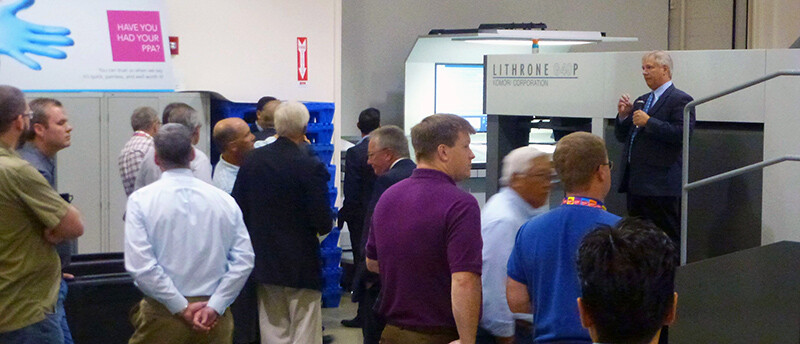 Customers also had the opportunity to visit the Komori Graphic Center-America to see demonstrations on the eight-color Lithrone G40P perfector press with H-UV and PQA-S. "We had great interest and attendance at these demos — visitors are always impressed with H-UV and its capabilities," says Doug Schardt, Product Manager for Komori America. It was also announced during Graph Expo that the showroom perfector was sold to Wallace Carlson Printing in Minnetonka, Minnesota.
Komori America also made public at Graph Expo that the first Lithrone GX40 packaging press was installed at Ellis Packaging in Pickering, Ontario, Canada. "We had many new announcements to share that were well received and created energy for us in our booth," says Hudmon.
Contact Komori North America