Open New Pages: drupa 2016
01 August 2016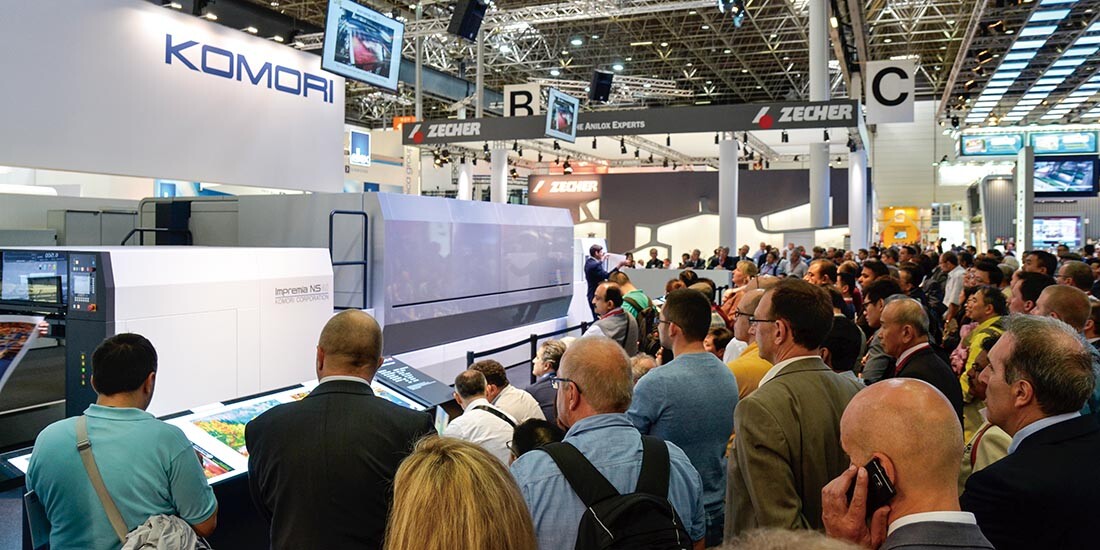 Flying the flag of its drupa themes, 'Open New Pages' and 'Connected Print,' Komori put on a show for the ages in Düsseldorf, Germany, for 11 days, from Tuesday, May 31 to Friday, June 10. The impossible became doable, the leaders of the printing industry presented the roadmap to the future, and the machines wowed the crowds from start to finish.
'Connected' was very much the watchword. Komori connected digital and offset through every stage of the print production process with both hardware and software solutions. Prepress, press and postpress were connected through an integrated workflow driven by innovative new systems. K-Supply connected consumables, materials and equipment optimized for Komori production machines. Komori ICT Solutions connected printers and Komori for an entirely new level of support and collaboration. And Komori partnered with other leading vendors like Landa and Kodak to present even more options for mastering the challenges faced by printers everywhere.
The Komori stand was a wonderland of new technologies, new machines and new business models geared to the future. The cloud-based KP-Connect for greater productivity by allowing both Komori and the printer to visualize the state of the job and share operating data. The new Lithrone G29 with its full redesign. And the debut of the Lithrone G37 equipped with a new LED version of the H-UV innovative curing system. The start of regular sales of the Impremia IS29 Sheetfed UV Inkjet Digital Printing System. The unveiling of the Impremia NS40 Sheetfed Nanographic Printing® System.
Cross-industry tie-ups in printing technology, ink production, workflow solutions and more. Standing-room-only demonstrations that combined cutting-edge presses with new inks and innovative substrates to introduce the ideas that will power printing in the years ahead. Lively events, presentations and a Komori World Party that was the talk of the town for days. Visitors left with no doubt that they had indeed 'touched the future.'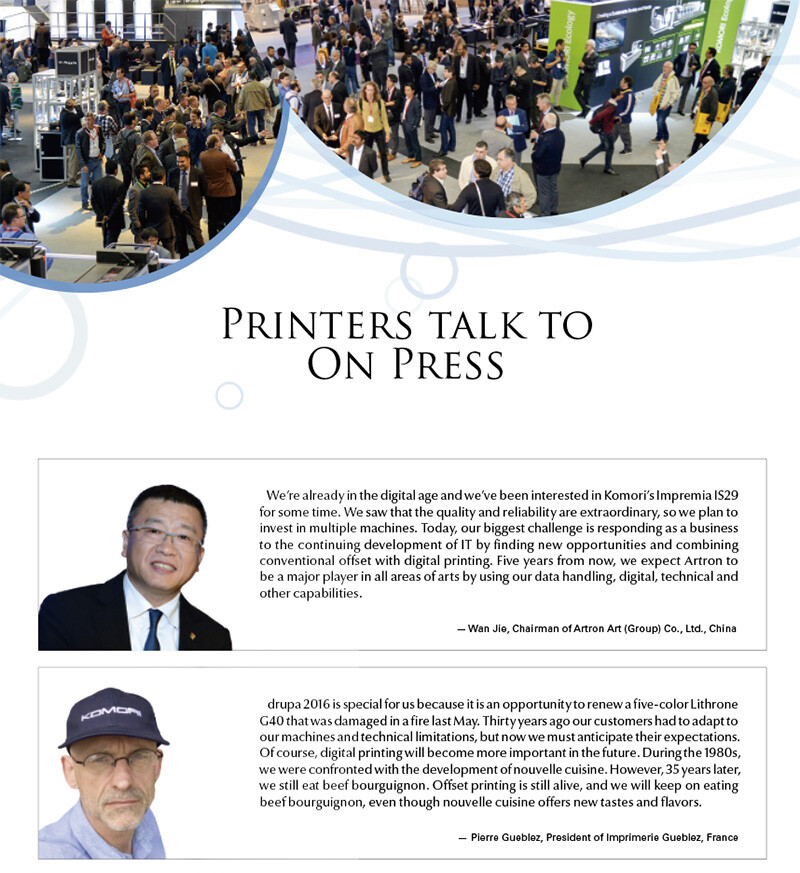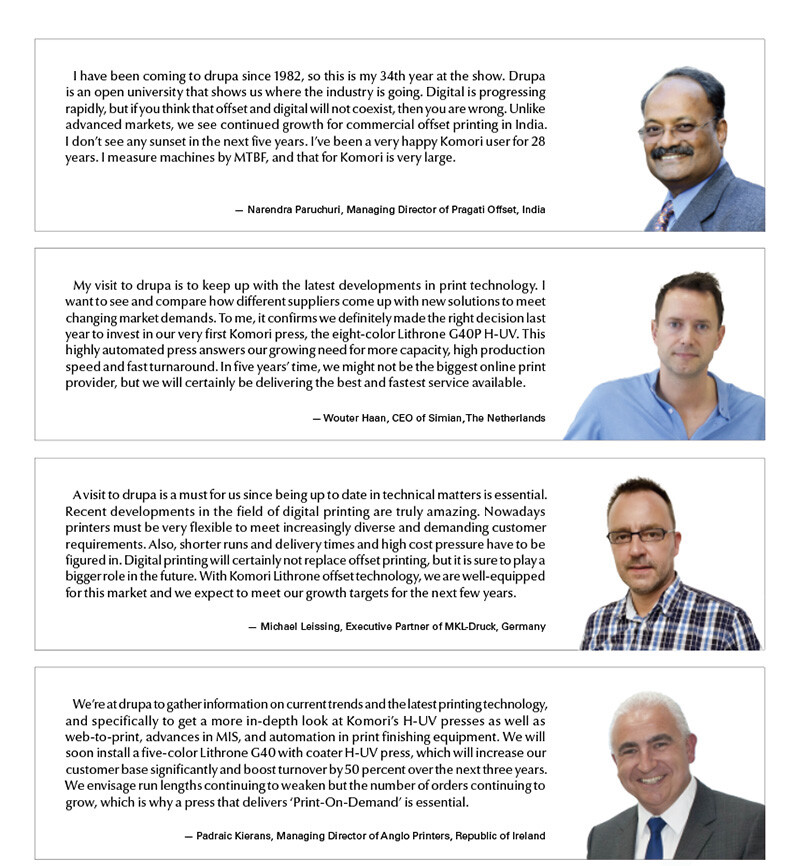 Connected Print:

Digital
Impremia IS29

|

Impremia NS40


Over the last few years the Impremia IS29 has attracted rave reviews as it was shown in technical exhibitions and open house events throughout the Komori network. At drupa 2016 regular sales were launched and the reception was enthusiastic.
The core machine in Komori's strategy for the fusion of digital and offset, the 29-inch sheetfed UV inkjet digital printing system is designed expressly to meet the needs of commercial printers -- substrate freedom, the ability to print on the same stocks with offset and inkjet without any precoating or special processing, high print quality that mirrors offset quality, and the ability to print single- or double-sided.
The Impremia IS29 at drupa displayed these capabilities by printing the same image produced by the flagship Lithrone GX40RP. Komori's K-ColorSimulator 2 made possible color matching of digital and offset that had been considered inconceivable before. This highlighted the Impremia IS29's ability to handle short runs while long runs of the same work are printed on offset.
The Impremia IS29 showed off other possibilities -- first printing 30 posters in 30 seconds in exceptionally vivid colors using wide-gamut RGB, and then a file folder on heavy stock that was immediately sent for creasing and fine die cutting on the Highcon Euclid 2 Digital Cutting and Creasing System.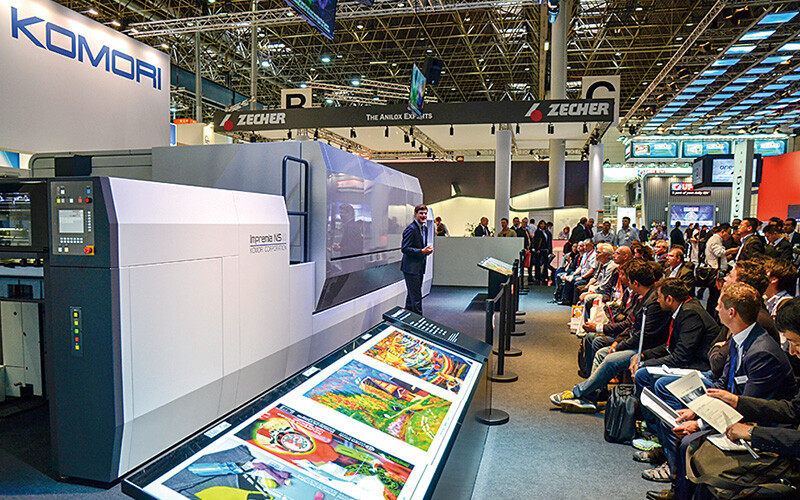 Komori also demonstrated the Impremia NS40 Sheetfed Nanographic Printing® System, a digital printing system incorporating a revolutionary new print process that uses Landa NanoInk®. This system meets the essential requirements to become a mainstream printing system: outstanding print quality, high printing speed, low cost per page, excellent area coverage and the ability to print on any substrate. The Impremia NS40 features a perfecting system that facilitates one-pass, double-sided printing, the most efficient production method and the ideal mode for commercial printing. Printing at its 6,500 sph maximum printing speed, the machine demonstrated variable printing of different images and then instantly executed job changeover for continuous printing. Samples exhibited a very wide color gamut and extraordinarily sharp, glossy dots.
The Impremia IS29 and Impremia NS40 together establish Komori -- the leading offset press manufacturer -- as a major player in the digital realm. The Impremia IS29, perfect for short runs and personalized packaging in tandem with an offset fleet, and the Impremia NS40, soon to emerge as a unique alternative for work that falls between the 'sweet spots' of digital and offset. Both with unprecedented tight integration in workflow control solutions. Both with distinctive strengths in color reproduction. And both are the only digital systems on the planet built on the foundation of Komori's unbeatable expertise in the development of sheetfed presses.
At drupa 2016, the future suddenly became much more exciting.
Connected Print:

Offset


Lithrone GX40RP | Lithrone GX40 | Lithrone G37 | Lithrone G29


Four powerful Lithrones, each packed with innovative new technologies and all designed to address a range of printing needs. Never before has such performance, quality and precision offered such new printing potential in such promising business models.
The flagship Komori offset press for commercial printing stole the show at drupa. At its maximum printing speed of 18,000 sph, the Lithrone GX40RP state-of-the-art double-sided front/reverse multi-color press for OffsetOnDemand not only cuts paper costs with its single-sided gripper configuration but also delivers drop-dead color as well as low environmental impact with its H-UV system. The A-APC plate changer and parallel control slash total job changeover time to just two minutes. Equipped with PQA-S V5 for both color and register adjustment control, the machine itself automatically checks and maintains quality throughout the run. At drupa, finishing information was sent to the Horizon pXnet workflow, which directed cutting and binding. Offset and digital, hardware and software. All connected. All the time. The Lithrone GX40RP.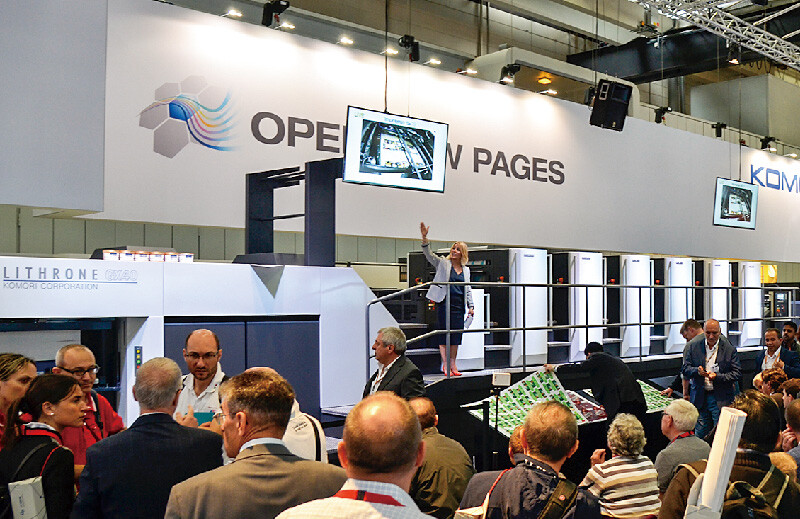 The other heavyweight in the booth was a six-color Lithrone GX40 with coater expressly specified for package production. The new operating console featured a built-in PDC-SX. The machine was also configured with the KCB Komori Chamber Blade System and the KDS Komori Drying System. Because pharmaceutical and food packaging requires extraordinarily accurate quality control, the Lithrone GX40 also demonstrated Komori's PDF Comparator System, which compares the PDF with the actual printed sheets scanned by PQA-S V5 and its high definition 4K camera. And to ensure full traceability whenever a defect does occur, an inkjet sheet numbering system stamped a serial number on all sheets. The total solution for packaging: the Lithrone GX40.
The new Lithrone G37 debuted in a four-color configuration that also introduced a new addition to Komori's renowned H-UV lineup: H-UV L (LED). This variation employs an LED lamp -- and Komori has also developed K-Supply H-UV L (LED) ink to ensure optimum results. The press was equipped with the new, reasonably priced scanning-type PDC-SG print density control system that digitizes colors, facilitating quick color matching. And PQA-S SG offers in-line color control with Komori's innovative color feedback technology. "Everything is just right" -- the Lithrone G37.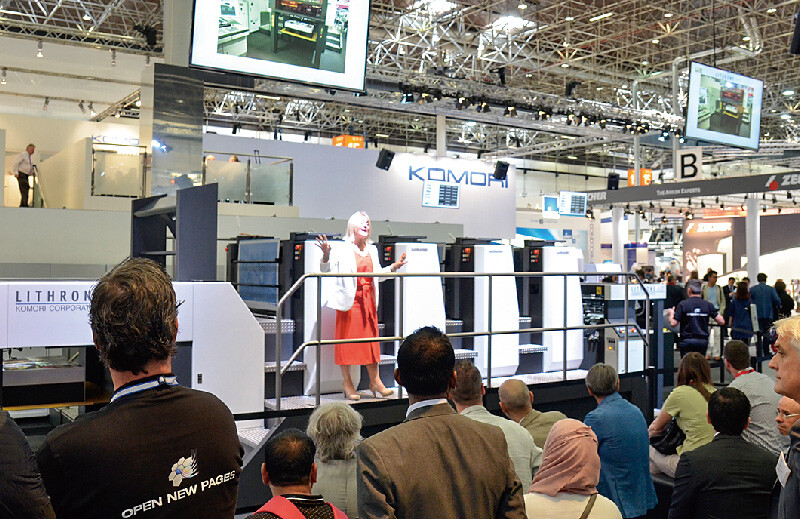 Finally, the all-new Lithrone G29, with a completely new and stunningly updated body design. Configured with five colors, coater, extended delivery and KDS Komori Drying System, this press is available in a lineup of H-UV, UV and IR types. The machine was also specified with the PQA-S V5. And since high productivity is a must in today's world, the latest version of KHS-AI was on board to ensure blindingly fast makereadies. Changeover between light and heavy stock is accomplished by simply changing sheet thickness on the touch panel. Printing has never been easier, faster or more precise. Totally beautifully new: the Lithrone G26/G29.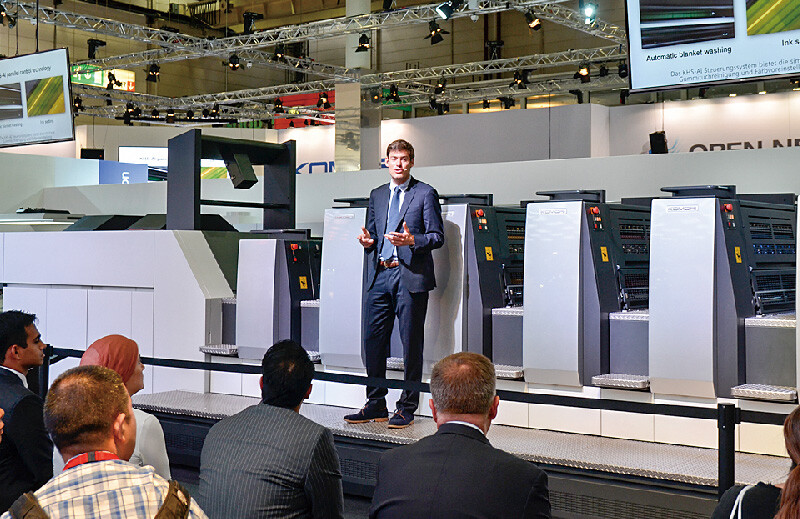 Connected Print: ICT
KP-Connect | K-Station
Komori long ago secured its reputation as the premier supplier of proven hardware to the commercial offset printing industry. But things have changed in the digital age. So for years, Komori has also developed and deployed software solutions aimed at maximizing the productivity of Komori machines. Core systems such as KHS-AI and K-ColorSimulator have transformed the performance of both sheetfed and web offset presses, becoming virtually essential for thriving in today's intensely competitive marketplace.
At drupa 2016, Komori unveiled new advances that will, in the years ahead, shape every aspect of printing with Komori machines. The bedrock concept that underlies the entire Komori approach is 'Connected Print.' The idea is to connect every manufacturing process, every piece of production equipment and every participant through Komori Information Communications Technology (ICT), the general name for Komori solutions using the latest technology to boost productivity. These solutions accomplish three objectives: print visualization, process management and workflow automation.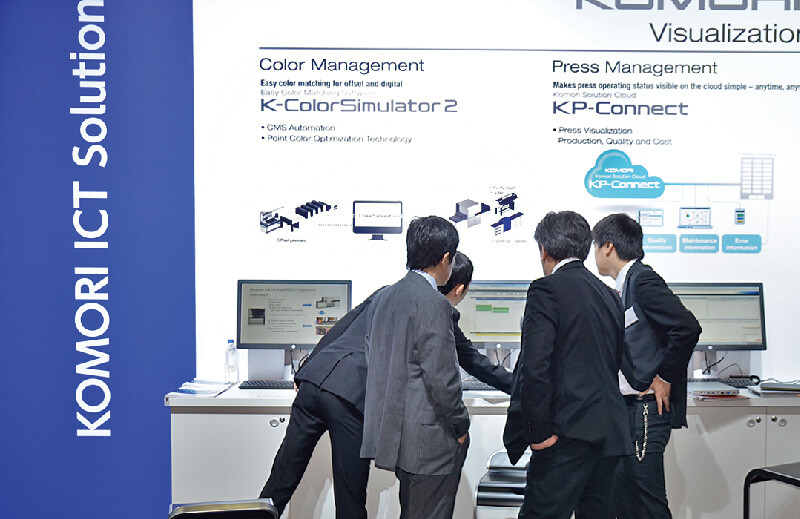 KP-Connect, a revolutionary cloud-based platform, enables the operating status of the machine to be automatically uploaded to the cloud. Which in turn means that this information can be seen anytime, anywhere, from a PC browser, tablet or smartphone. This information can also be shared with Komori, so service and sales representatives can provide suggestions for improvement. Productivity can be increased by tracing the causes of obstacles and bottlenecks, allowing appropriate action to be taken immediately.
For connecting to older Komori presses and third-party machines as well as linking to MIS by CIP4/JDF, KP-Connect can be upgraded to K-Station 4, the printing task control software positioned between MIS and the pressroom. It includes a scheduler that checks the constantly changing pressroom situation in real time for maximum flexibility. K-Station 4 also collects the real-time operating status of KHS-AI Version 5/6-equipped presses, enabling checking of job schedules, job tickets and the job tracking process for all presses in the plant. And finally, K-Station 4 Advanced Option makes possible an end-to-end workflow for process automation covering prepress, press and postpress that breaks logjams and improves productivity.
Postpress automation is also in range with this end-to-end setup. By linking the Komori Apressia CT Series cutter with CIP4/JDF, the postpress JDF created by the prepress RIP is sent to the finishing device by K-Station. The settings for the cutter are made automatically, reducing the operator workload. No more errors, either.
In the Komori booth at drupa, Komori's collaboration with Kodak was shown in the form of a demonstration of the Prinergy Workflow. This makes print even more connected: instructions for prepress output to the prepress RIP and imposition output for a digital printing system can be set with the K-Station 4 Scheduler. In fact, this makes possible a hybrid workflow through the fusion of offset and digital. And when connected to the Impremia IS29 by an automatic link function, CMS automation is made possible by the combination of the K-Station 4 task control system and K-ColorSimulator color management software. The color profile matching the paper type is automatically set in the Impremia IS29. No expertise necessary.
Integrated management of all presses -- offset or digital, Komori or third-party -- for optimization of the entire print workflow. Prepress, press, CMS and postpress. Only with Komori.
Related Information
Contact Komori Europe