Firstan: Dual Lithrone GX40 Presses Make UK Printer a Player in European Packaging Market
UK, Firstan Quality Packaging | Lithrone GX40RP
01 March 2017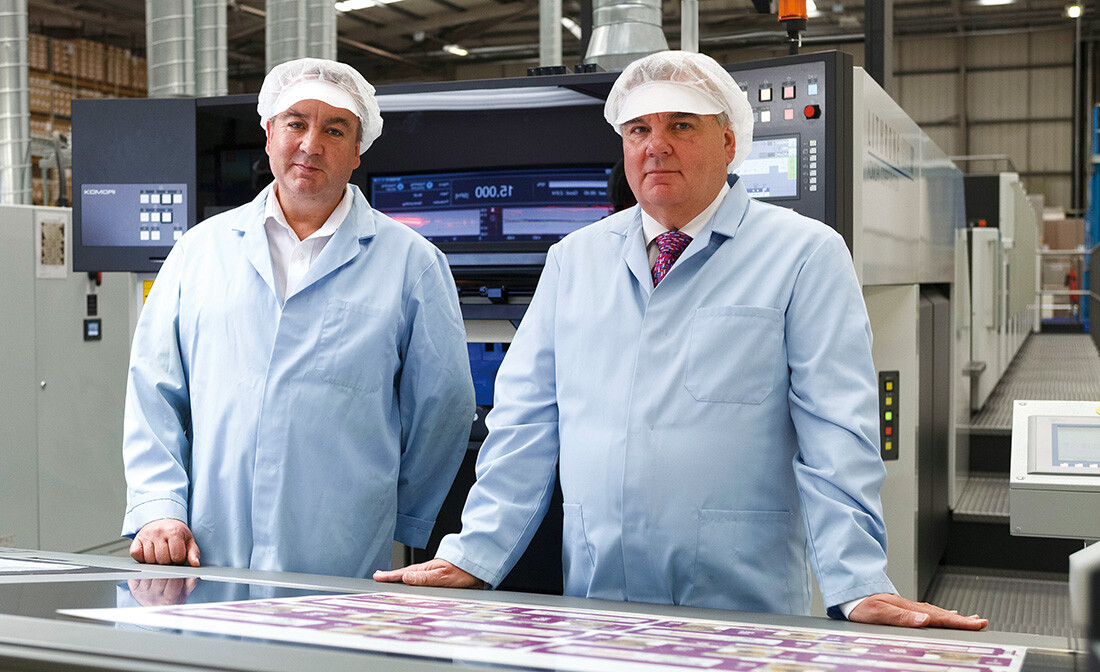 Installation of a Lithrone GX40RP with front- and reverse-side printing units and inline coater has recently been completed at Firstan Quality Packaging in the small Cambridgeshire town of Godmanchester. This is the second of the company's first two Komori Lithrones — following the six-color Lithrone GX40 with coater installed in November 2015. The company also runs two six-color presses from another manufacturer.
From left: Paul Hartwig, Production Director, and Andrew Hartwig, Managing Director
As with its first Lithrone GX40, the Lithrone GX40RP has a nonstop feeder and nonstop delivery to provide automatic nonstop operation. The conveyor-equipped logistics system enables carton board stacks to be resupplied continuously to the feeder pile and removed automatically from the delivery without operator intervention, allowing the press to maintain maximum printing speed throughout the run.
Firstan Quality Packaging is a leading UK supplier of food, confectionery, cosmetics, and beverage cartons and sleeves. Firstan Pharmaceutical is one of the UK's leading pharmaceutical and healthcare packaging manufacturers, specializing in developing packaging solutions for boxcard cartons. The group's workload is split evenly between these two sectors.
Firstan was founded 40 years ago, and for the first 34 years it was located in Bar Hill, near Cambridge, in premises that it expanded stage by stage into adjacent and nearby units as these became available. Says Managing Director Andrew Hartwig: "Twenty years ago we pioneered the use of UV curing in the UK carton printing industry and this generated a period of fast growth for us — we increased our print production from two machines to four within just four years. To consolidate processes and streamline production, we needed everything under one roof and the move into our purpose-built 90,000-square-foot site in 2010 has enabled us to do just that."
Going for a billion a year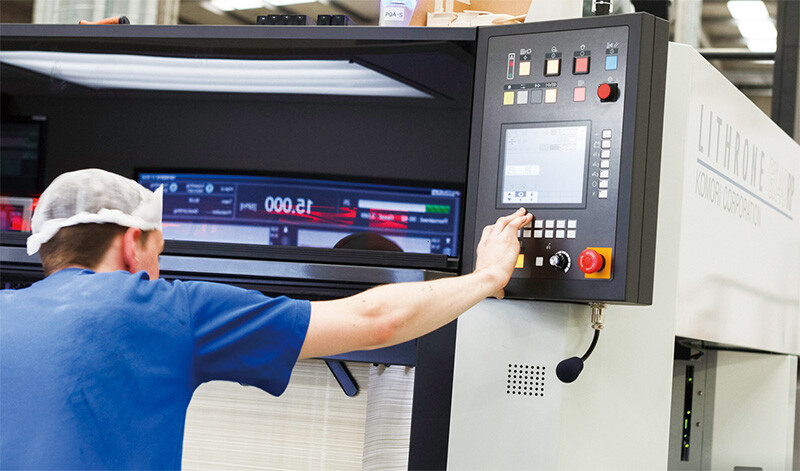 The company turns over a total of £20 million annually and produces 600 million cartons a year with 150 staff. Now that the new Lithrone GX40RP has joined the six-color GX40, annual capacity will rise toward a billion cartons, signaling a predicted turnover target of £24 million for next year.
In the pharmaceutical division, for which quantities on work such as special medication cartons can involve runs as low as 500 sheets, overall run lengths average 7,500, compared with an average of 15,000 in the food packaging market.
Says Production Director Paul Hartwig: "The six-color Lithrone GX40 installed last year runs at twice the speed of the press it replaced, and its time-saving makeready systems enable us to substantially improve daily output even when the schedules include a high volume of short-run work. We run it almost constantly at 18,000 sph and it increased our overall capacity by 35 percent. Now, combined with the Lithrone GX40RP running at its rated maximum of 15,000 sph, capacity will increase by more than 50 percent."
Expanding further afield
"Several of our UK-based clients have divisions within the EU, and our new Komori presses give us the capacity to supply these new territories and beyond. As a result of recent favorable changes in sterling-to-euro exchange rates since the UK signaled its intent to withdraw from the European Union, interest from other European countries has increased considerably. We've had inquiries from Belgium, Ireland and elsewhere. From our location in eastern England, which is within easy reach of several east coast seaports, we are now able to offer not just quick delivery but also competitive pricing to the carton market throughout the rest of Europe," explains Paul.
Accreditations a-plenty!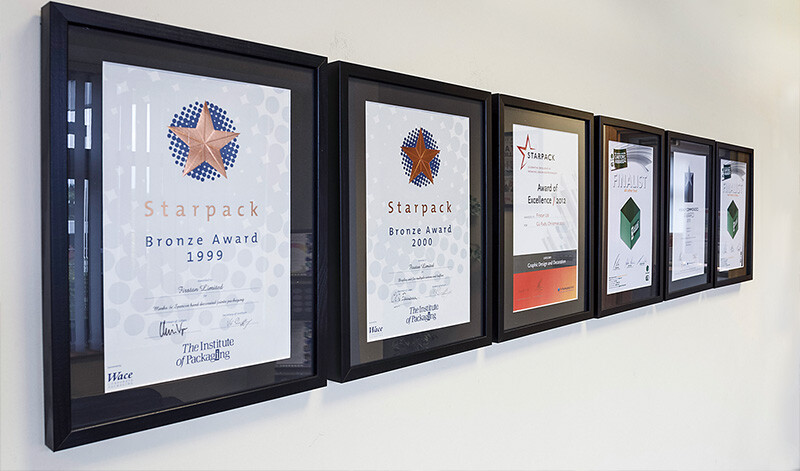 To provide the necessary assurances to customers in the food and pharmaceutical fields, operational accreditations are essential and environmental credentials much welcomed.
The company has a whole host of certifications for forestry stewardship and sustainability and additionally carries all the major quality management accreditations. It was the first in the UK to achieve PS9000:2010, the standard for the supply of pharmaceutical packaging materials. In 2012 it achieved ISO 14001, the environmental quality standard.
During 2015 it also became the first UK packaging manufacturer to be certified with the pressSIGN offset standard. This globally recognized accreditation allows brand owners and retailers to monitor and audit all aspects of color workflow, including file handling, proofing, viewing conditions and press performance.
"Certification for this involves rigorous testing in prepress and printing, and we far exceeded all necessary ratings," says Paul.
Connecting print quality controls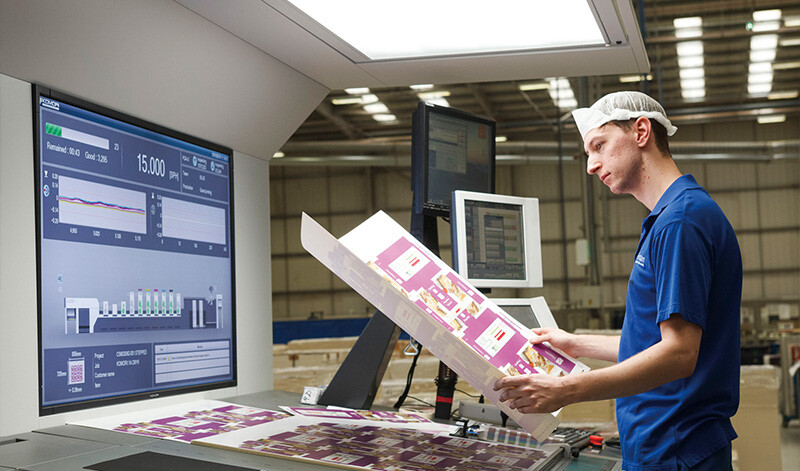 "We also have Komori's PDF Comparator on both our new Komori machines. Our six-color Lithrone GX40 was the first machine in the UK to have this system. Currently we're the only printers to have two installed, and it's obvious to see why our operators like it so much," says Paul.
"It has sensors that read the printed image for comparison with the original approved PDF, working in conjunction with the inline PQA-S quality assessment cameras that inspect every sheet. The operator is instantly alerted to any errors by a visual alarm, tab insertion, and the precise location highlighted on the console monitor. Our operators can then make their own judgments on the cause and effect of these errors and decide what remedial action needs to be taken, if any."
"For example, minor hickeys and temporary variations require different intervention from typographical errors. The connected quality control systems are sensitive to the smallest variations from the approved PDF, and even future maintenance alerts, such as the necessity for an upcoming blanket wash, are indicated in advance. The ability to automatically identify even minute differences, such as missing or incomplete characters, is especially beneficial to us when we're running foreign or multilanguage versions of packaging involving, for example, Cyrillic or kanji scripts."
Firstan and the environment
Firstan's truly extensive environmental measures include an innovative approach to exhaust heat management in the factory. All heat sources are identified across the entire production floor, with extraction made through ducting from each machine to a centralized location where the heat leaves the factory through a single outlet stack. Says Andrew Hartwig: "It's more efficient, and certainly one chimney on the factory roof rather than a series of stacks is far less intrusive," says Andrew.
"Komori Corporation's own environmental conscientiousness in incorporating so many energy conserving and eco-initiatives into its high technology Tsukuba factory, its press manufacturing and assembly processes and onward into the presses themselves certainly contributed to our decision to place the order with Komori for our two new Lithrones very soon after we saw them demonstrated at IGAS in 2015," he adds.
Reverse printing yields new design ideas
The company's design innovation center houses an eight-strong team whose unrivaled strengths include the creation of groundbreaking and, more often than not, unique designs ranging from folding cartons to printed pillow boxes. To help minimize lead times it offers a 3-D mock-up service, enabling customers to receive 3-D files of new designs to check shelf appearance in advance of printed mock-ups or proofs.
Firstan recently achieved recognition at the UK's prestigious Starpack and Pro Carton awards with its food packaging cartons, printed on the six-color Lithrone GX40 with coater.
The company's designers have also devised innovative anti-counterfeiting devices to guarantee product security. These include tamper-evident features such as its patented M-Lock® system, created initially for the pharmaceutical market but increasingly used in food packaging.
"Now that we have both Komori Lithrone GX40 machines installed, our team can devise new ideas for carton print utilizing the exclusive capabilities of the presses. We're the first in the world to have machines with this combination of specifications and that puts us in a niche category. It will certainly help us win more new business, and we're explaining the new possibilities to our customers and to external carton designers to encourage them to think 'outside the box,'" says Paul.
Coating and varnishing options galore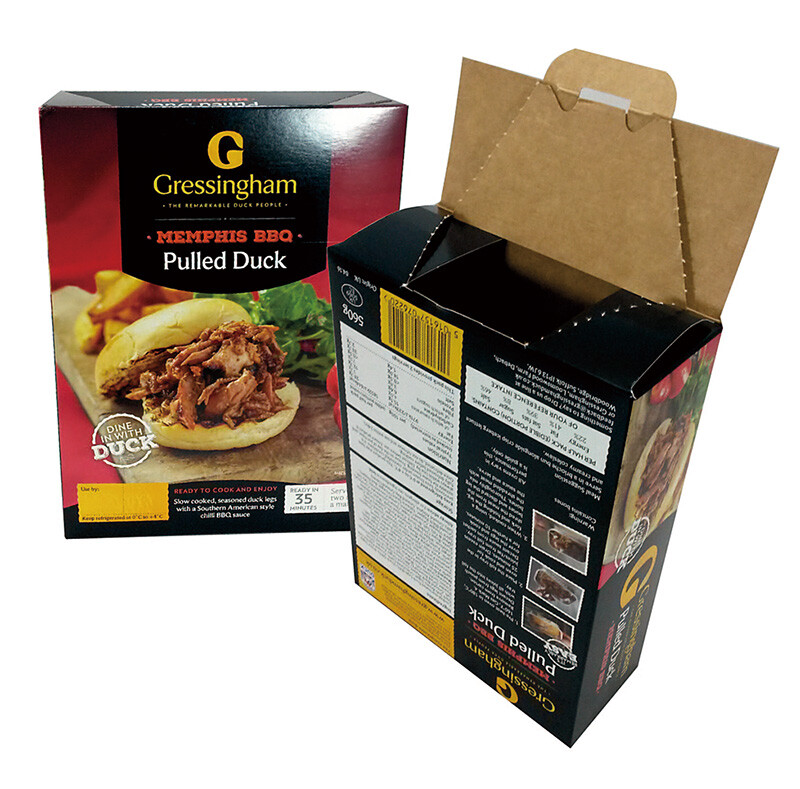 "The Lithrone GX40RP machine, in particular, creates new opportunities that would previously have been impossible to produce in a single pass on one press. The configuration combines two reverse-side printing units, multiple front-side printing units and a dedicated coater, facilitating many added value finishes such as reverse-side varnishing and front-side double varnishing for attractive effects, including drip-off, that we know will appeal to designers and marketers in their search for pack differentiation and shelf appeal," he explains.
Adds Andrew: "Our two front-of-press reverse-side printing units on the latest Komori aren't there just to print two colors on the reverse side of cartons. On the increasing number of jobs requiring substantial ink coverage, even on the inside of the carton and often for promotional purposes, we use the first reverse-side printing unit to print color and the second to varnish, prior to the sheets transferring to the multicolor front-side printing units."
"In the food industry especially, with its increasingly stringent regulations and more detailed information on the carton itself for ingredients, nutrients, calories and other consumer information, we see the Lithrone GX40RP capabilities becoming increasingly valuable."
"This also holds true for the pharmaceutical and ophthalmic industries, which now often require instructions and medical explanations to remain on the contents package rather than on a separate, enclosed leaflet."
Educating customers at the academy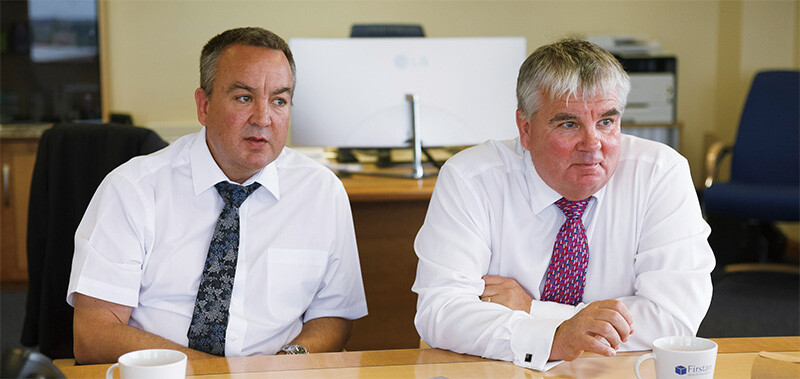 An integral and well-established component in Firstan's customer education program is the Firstan Training Academy, which runs courses to explain and demonstrate all the latest carton technologies and their applications. Over 500 visitors have participated, with attendees usually restricted to small groups of 10 to 15 people. Visitors include buyers, designers, planners and sales management. Customers regularly ask Firstan to talk to representatives from all of their departments.
"With the two Komori Lithrone GX40s adding a new wave of technology to production, we'll be accelerating the frequency of these courses," says Andrew. "We're now explaining to participants the Lithrone GX40RP configuration, the benefits of reverse-side printing on carton board without turning over the sheet and the capability to produce at maximum speed even on thick board. We're also showing them how multicoating can add value to their products."
The Lithrone GX40RP advantage on stock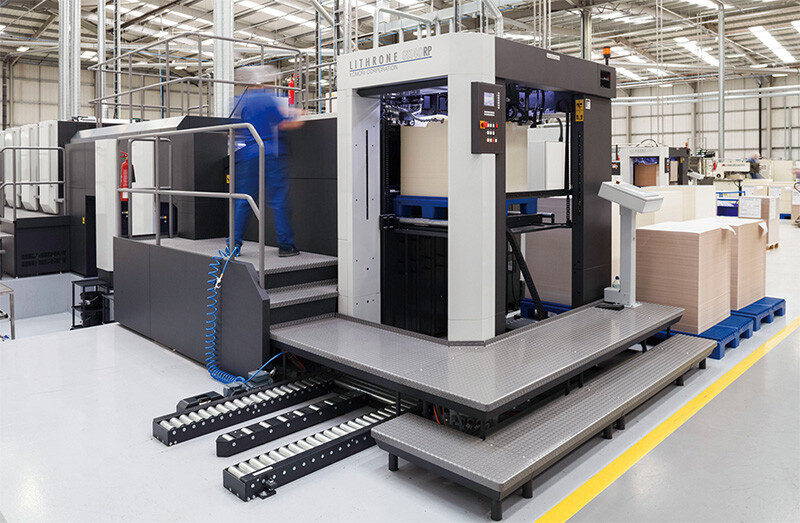 Paul says the Lithrone GX40RP also helps to save material and simplify prepress instructions: "The reverse-side units and the front-side units all grip on the same front edge. So we don't need to allow space on the sheet for an additional gripper edge, which would be necessary on traditional perfecting, where the sheet itself needs to be reversed."
"This also means that our dimensional instructions for layout and CTP are consistent for all plates. Furthermore, the larger sheet size of the Lithrone GX40 presses enables us to print more cartons up on a sheet — saving material on jobs such as pharmaceutical cartons."
The installation of the second Lithrone GX40 will substantially increase the volume of sheets heading to Firstan's finishing department for die cutting and creasing. As Paul explains, this has heralded a major investment in a new Bobst Expertcut 106 LER - the first of its type for Firstan: "The new Bobst produces blanks, thereby eliminating the time-consuming operation of separating the cartons. Until now we couldn't justify blanking technology, but we need it now to ensure we capitalize on the faster output created by the new machines, especially as we expect this will be accompanied by an increasingly varied range of carton sizes."
Convertible curing system
Adds Steve Turner, Komori UK's Director of Sheetfed Sales: "We're delighted that Firstan has also future-proofed itself by equipping both its new Lithrone GX40s with a system that uses traditional UV technology and also enables conversion to H-UV curing simply by changing the UV lamps. So at any time in the future, Firstan can switch to H-UV curing and add the further benefits of the system's additional environmental credentials."
Related Information
Contact Komori Europe