High-definition inkjet web: less downtime, more choices — Jet520HD boosts efficiency and opportunity
U.S, Admail West | Truepress Jet520HD
01 December 2017
Admail West continues to distinguish itself from the competition with its recent installation of a Screen Truepress Jet520HD high-definition inkjet web press and adoption of Screen's new groundbreaking SC Inks. Over the past 28 years, Admail West has enjoyed a leadership position in the region, in large measure because it has been an industry differentiator.
"We have been the first on many fronts," says Kathy Pescetti, President/CEO of this Women OwnedTM full service marketing firm based in Sacramento, California. "We had over-under inkjet first, dual head first, inkjetting in-line that we created for inserting. How we move forward in finding answers for our clients is vital to our company. With the help of the Komori and Screen partnership, we could see how well the Truepress Jet520HD and SC Inks fit in with where our industry is heading. You need these efficiencies to be competitive and to meet the challenges of today's market."
Admail West, with its focus on management of data relative to communications, chose the Truepress Jet520HD along with the proprietary SC Inks after a thorough vetting process that lasted many months. "It's safe to say that it's our service, operations and project management that allow us to handle client products with the most efficiency and greatest turn-time accuracy, and that has been true for decades in the company," says Ms. Pescetti. "We have always been exceptional in our turn time. And the efficiencies that the technology brings to us are tremendous."
"For example, using some of our older systems, one client's project took 130 hours to complete. By our calculations, it will take only eight hours on the Screen device. You can imagine what that will do for us in terms of turn times and production."
"An important consideration for us in going with the Truepress Jet520HD was comparative downtime," says Anthony Pescetti, Senior Vice President of Business Development. "It's become second nature with digital that we have to keep support staff on site to service the equipment since it has only a fifty to sixty percent uptime. That isn't necessary with the Screen device."
More choices in paper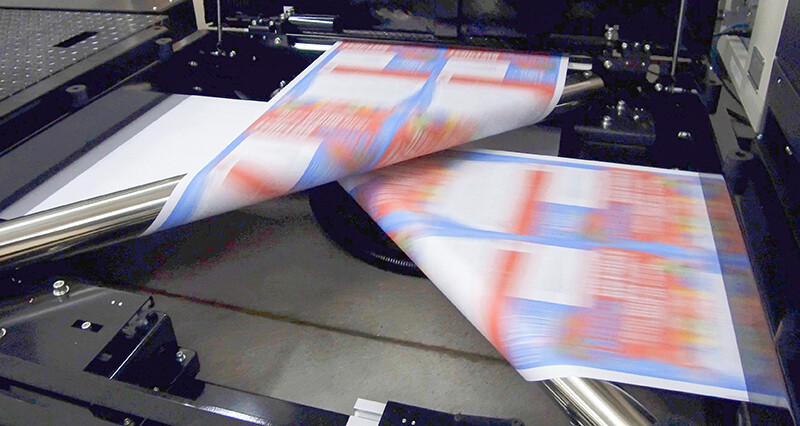 "We're very aware of the need to manage costs for our clients, so we performed testing and analysis for them, comparing inkjet to offset. To obtain a result that was acceptable using traditional inkjet, the cost of paper was very expensive," Ms. Pescetti says. "Printing on the Jet520HD with the new SC Inks, however, opens the door for lots more choices in paper, including standard coated offset stocks. We're solution oriented and want to make sure we give our clients as many options as possible for them to execute their marketing needs in print."
Ms. Pescetti explains, "The Jet520HD has already impacted our business. Clients who have been printing in our print room on sheetfed digital now have converted over. Financially, it has been a benefit for our company and given us the opportunity and motivation to add new sales people. We've hired four new sales professionals who are thrilled with the new technology! The company's been energized and we see good things ahead."
"You know, our relationship with Komori and Screen has been amazing. For 28 years I've purchased equipment for this company and very few of the vendors I have worked with have been as agreeable and supportive in partnering with us as these two. Yes, the word partner is used a lot, but in this case I can honestly say that it has truly been a wonderful partnership," she adds.
Komori and Screen joined forces in 2015, and Komori America is the sole distributor of the Truepress Jet520HD in the United States. "This partnership is one of the many ways Komori is working to build its product portfolio," says Jacki Hudmon, Senior Vice President of New Business Development for Komori America. "Our business continues to change and grow with the marketplace, and partnering with like-minded companies allows us to be a single-source solution for all of our customers print output device needs."
Powerful asset for solution provider
"Our clients now have a lot more flexibility with what they are able to produce from a digital print on demand perspective," says Admail's Director of Client Services David Lasko. "That flexibility is important not only to our direct clients but also to the trade individuals with whom we work. Part of our job moving forward is to become a solution provider, educating our clients on what the increased capabilities of a machine like this are and what that means to their organizations. The Truepress provides many new opportunities."
Related Information
Contact Komori North America