Digital finishing to power Impress line
U.S., Impress Communications | Highcon Euclid III
01 December 2017
Paul Marino, Owner
Impress Communications, located in Chatsworth, California, has a reputation for pushing the boundaries of printed communication. Owner Paul Marino has a passion for print that you can feel. "Impress Communications operates from a philosophy that print is powerful. Is the printed piece engaging its intended audience? Is it creating an emotional response? Is it challenging the way the consumer thinks about the product it's representing?"
Impress is known for its production of high end brochures, complex packaging and detailed point of purchase displays for an intelligent customer base. The company distinguishes itself from the competition by truly taking an interest in its customers' products. "We are firm believers that no one reaches for the ugly package and no one keeps the ugly brochure, so we strive to work with designers and brand owners to help them elevate their products to the next level," says Mr. Marino.
A longtime Komori user, Impress has once again chosen to push the technology envelope with the purchase of a Highcon Euclid III digital cutting and creasing machine, the first installation of this technology in the western United States. In late 2016, Komori America and Highcon, a global provider of digital cutting and creasing solutions, entered a strategic selling agreement. Komori America now sells and supports the entire Highcon product line in its area as part of its overall strategy to create new value for its customers.
"We are extremely excited"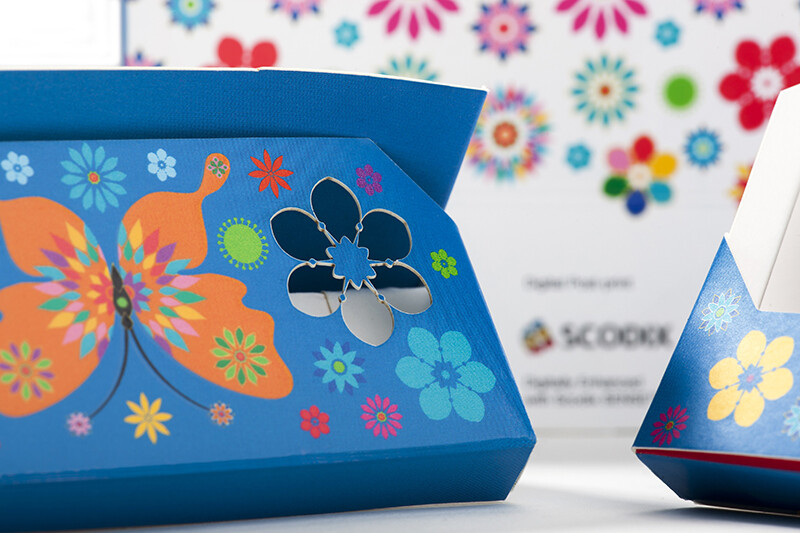 "The Highcon Euclid III really plays into the technology that Impress loves to work on and improve and make better," says Marino. "We are extremely excited about the Highcon's capabilities, and even more excited for the true innovations that will be realized once our customers can bring their full creativity to bear on the near limitless possibilities. Having the ability to precisely cut out intricate patterns, which would otherwise be impossible to achieve with traditional steel rule cutting dies, makes it possible for us to envision every job from a new perspective given the immense impact laser cutting brings to a design."
Jacki Hudmon, Senior Vice President of New Business Development for Komori America, is looking forward to seeing how Impress incorporates the Euclid III into their product offerings: "When we added the Highcon line to our expanding digital product portfolio, we were very excited to talk to Paul and his team about the Euclid III. We've worked with Impress for years, and it is a cutting-edge company. We know they will do some fantastic work and we can't wait to see Paul's vision come to life."
Powerful differentiator
Impress is home to three specialized Komori sheetfed printing presses: an eight-color Lithrone S40P with double coater and Komori's proprietary H-UV system, a six-color Lithrone SX29 and a four-color Lithrone S40P, both equipped with H-UV. Marino notes: "We have a long-standing relationship with Komori, and in fact worked with them on the design of our unique presses. When I learned Komori was partnering with Highcon, my interest was totally piqued." Marino had been following the technology since its release, but felt that the support Komori could provide made the decision to go forward much easier. "Once I knew they had a partner like Komori, who over the years has stood shoulder to shoulder with me, to help me improve my equipment, to help me with my business, to grow with me — it made the decision very easy. And it goes right along with helping Impress separate from the crowd by being able to create one-of-a-kind printed products that can make a difference and help our clients grow their business."
Fewer bottlenecks and more design flexibility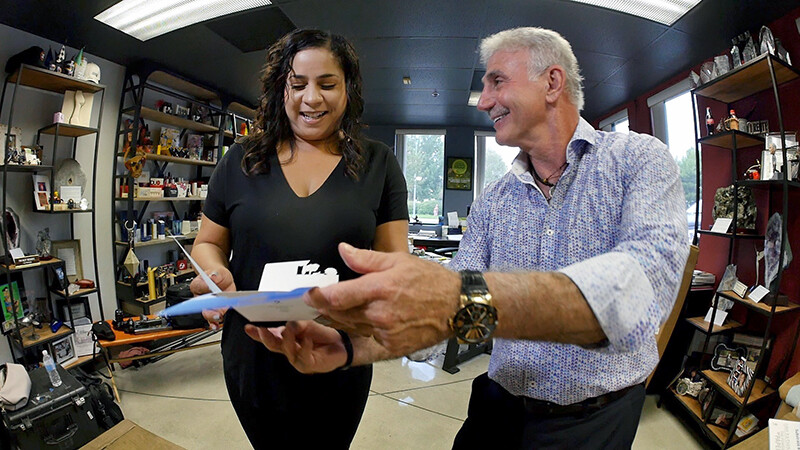 The Highcon Euclid III complements Komori's advanced printing systems with its ability to remove bottlenecks in the postpress process. Additionally, it delivers increased design flexibility by offering a wide range of applications that include distinctive packaging solutions, intricate cutouts, etching, unique scoring capabilities and 3D modeling.
"Komori is committed to offering solutions that provide the flexibility, innovation and faster time to market that are necessary to succeed today," says Hudmon. "We can't wait to see how Impress makes its mark with this exciting new product."
Related Information
Contact Komori North America