Chinese printer flourishes in partnership with Komori
China, GiGo Holding Co., Ltd. | Lithrone G40 [GL-540+C]
01 December 2017
On June 18, 2017, in Changchun, the capital and largest city of Jilin Province in Northeast China, a cloudless blue sky stretched to the horizon. At GiGo Holding, excitement spread through the firm. Wang Qimin, GiGo founder, had just received a plaque from Larry Yang, CEO of Infotech, the Komori distributor in China, designating GiGo a Komori Group global strategic partner. The future is looking bright indeed for GiGo.
After graduating from Northeast Normal University in 1991, Mr. Wang started the GiGo brand, rapidly increasing productivity and technological strengths to gain a competitive position in the printing market. In 2001, Wang installed the company's first advanced printing press. By using high-quality overseas production equipment, the company was able to meet increasing demands for new products and technologies.
Marketing and publishing printing are the two pillars that support GiGo Holding's business, which serves the automobile, pharmaceutical, real estate, financial, IT, agriculture and fast-moving consumer goods industries. By setting up branches in Beijing, Shanghai and Guangzhou in rapid succession and forming talented teams, GiGo achieved a string of successes. The first company in Jilin to roll out a print export business and become a global enterprise, GiGo now receives orders from throughout the world.
Original vision and perfect preparation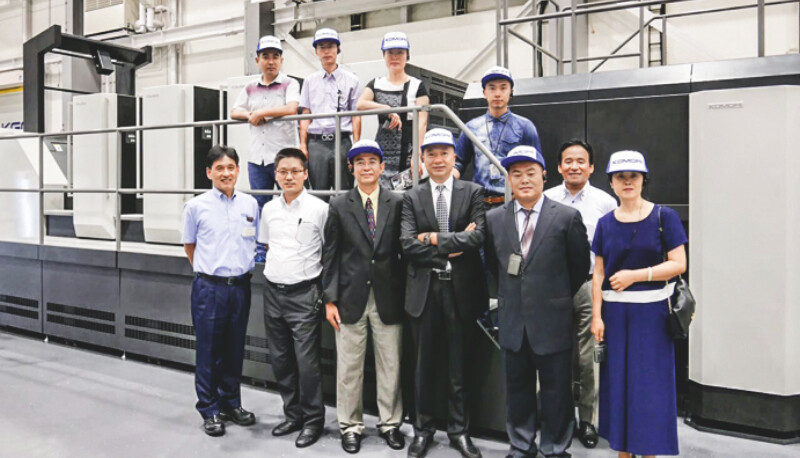 In pursuing its overseas expansion strategy, the GiGo team spares no effort. Han Xiaoming, Printing Technology Director, and Zhao Liming, Vice President for Production, have worked closely to standardize color control and printing processes. Customers routinely praise the company's outstanding product quality and on-time delivery.
The key tool for winning customer accolades and trust is found in the production facilities. Komori printing presses, featuring superior operation and excellent productivity, have won the confidence of GiGo. The company now operates an eight-color Lithrone S40SP and a five-color Lithrone G40 with coater. In August 2016, Wang led a group of managers to the Komori Graphic Technology Center Printing College & Training, closely studying the eight-color Lithrone GX40RP H-UV press.
High-speed start-up
GiGo's printing plant is on a single floor, organized to meet 6S lean manufacturing standards that ensure optimal efficiency. In just a few seconds the new five-color Lithrone G40 accelerates to the maximum printing speed. In the blink of an eye, the white coated sheets are transported to the first unit and, after five-color printing and coating, sophisticated advertising flyers are stacked in the delivery.
The five-color Lithrone G40 installed by GiGo is a high-spec machine, equipped with a fully automatic plate changer and automatic cleaning systems. "The level of automation on Komori presses is very high," says GiGo President Qiao Liangqi. "These machines allow us to significantly increase operating efficiency. They are also equipped with advanced smart functions, resulting in major cost reductions. Plus, the Komori service is exceptional and comprehensive."
Automation for higher efficiency
"The ink roller cooling system equipped on this Komori five-color plus coater press means that we can achieve high-level color uniformity and stability even on very long printing runs," says Mr. Han. "The operator's workload is greatly reduced, job changeover times are cut and production efficiency is higher because when sending a job ticket to the Lithrone, the CIP3 ink data from prepress is automatically sent to the console, the press automatically makes the ink presets, and automatic blanket washing and ink roller cleaning are started."
"Komori and the Infotech service team totally exceeded our expectations," says President Qiao. "They worked day and night hardening the surface for the installation of the Lithrone G40. Our team and Infotech's team cooperated closely — even working weekends to reduce the number of days needed for installation and to avoid losses," he adds.
Prospects: Continued growth based on diversification and innovation
Utilizing a smart, modern and unified control system across prepress, press and postpress, GiGo is determined to increase printing productivity, provide a user experience that integrates products and services, and raise user value across the board. This will let the company maintain its headquarters in Changchun, continue its rollout throughout Northeast China, and build a new, diversified service system that will expand all over China and overseas.
Based on the concept of "growth by creativity and increased power through business restructuring," as advocated by the Chinese government, GiGo will endeavor to expand business by taking advantage of Komori's outstanding presses and technologies — ensuring sunny prospects for its print business and the industry as a whole.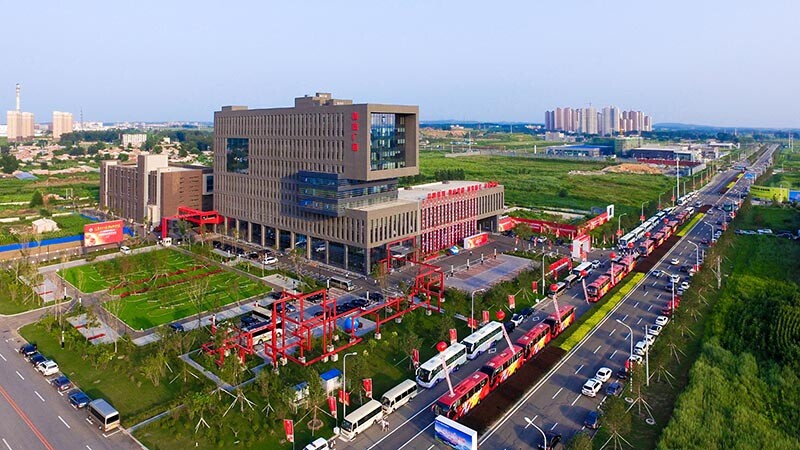 Related Information
Contact Komori China