First in complex packaging based on individual solutions
U.S., Nosco | Lithrone GX40 [GLX-640+C]
01 August 2018
Nosco is a full-service packaging solutions provider serving more than 400 customers across the healthcare industry. Headquartered in Gurnee, Illinois, the company is a subsidiary of Holden Industries, Inc., a 100 percent employee-owned company. Nosco finds value in a business model that results in virtually all employees "owning" the business — with a vested interest in creating extremely satisfied customers. And it is a model that is working.
From left: Clark Scherer, Director of National Accounts of Komori America; Melissa Cross, Quality Engineer of Nosco; 
Chris Rauscher, Director of Operations of Nosco
With over 110 years of experience, Nosco enjoys a loyal customer base that includes a roster of leading companies in the personal care, natural health, pharma and confectionery markets. This loyalty stems from the company's ability to understand its customers' packaging challenges and deliver innovative, customized solutions that are always supported by excellent customer service.
Internally, Nosco is committed to contin-uous improvement as well, working every day to optimize efficiencies related to supply chain, cycle time and lean initiatives. Every investment Nosco makes requires a thorough understanding of value, total cost of ownership and product lifecycle — and that includes the printing presses that it chooses to produce great packaging solutions. In 2017, the company made two acquisitions that added even greater capacity, and with these acquisitions they inherited two Komori presses in operation. The management team at Nosco was immediately impressed with the low maintenance, minimal downtime and productivity performance of the Komori equipment. Hence, in 2018, when it came time for the company to invest in new press technology, it was a Komori six-color Lithrone GX40 that was chosen over competitive machines being considered.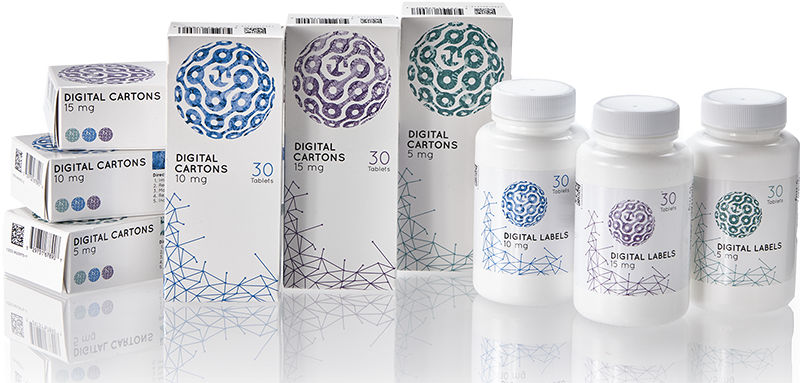 "We looked at several options, even some used options. We chose a new Lithrone GX40 largely because Komori's value proposition is aligned with an industry where the product lifecycle is changing rapidly — and that was very important to us," said Russ Haraf, President of Nosco. "You are no longer making a 20-year investment in technology because it isn't cost effective. The older presses can't keep up. A company must continuously improve efficiency to keep pace in this industry. Komori gets that and advances its technology to stay in step with a bar that keeps getting raised."
Customers at Nosco partner with an entire team devoted to developing a color-accurate folding carton project — no matter the run size. The company's packaging engineers work to meet a client's specific needs, providing CAD services, graphic design, packaging line services and serialization capabilities. And with the Lithrone GX40, Nosco has a powerful platform to meet clients' needs. It is designed with the leading-edge technologies necessary to achieve significantly shorter makeready times. Energy consumption has been reduced considerably by using modern eco-drive motors and DC blowers — vital for carton production. In addition, the press's overall efficiency equates to a dramatic reduction in cycle times and paper waste.
Moreover, the 40-inch multicolor press delivers high-speed printing with great stability, making it possible for Nosco to run high-quality print on paper boards and synthetic substrates ranging from 0.008 to 0.032 inch (0.2 to 0.8 mm) to meet complex packaging requirements.
"We have aggressive growth targets, and with this press we are able to meet them. Since purchasing the Lithrone GX40, the company has seen a 15 percent increase in capacity from the press it replaced without any additional direct labor," said Chris Rauscher, Director of Operations at Nosco.
Support that fosters productivity and growth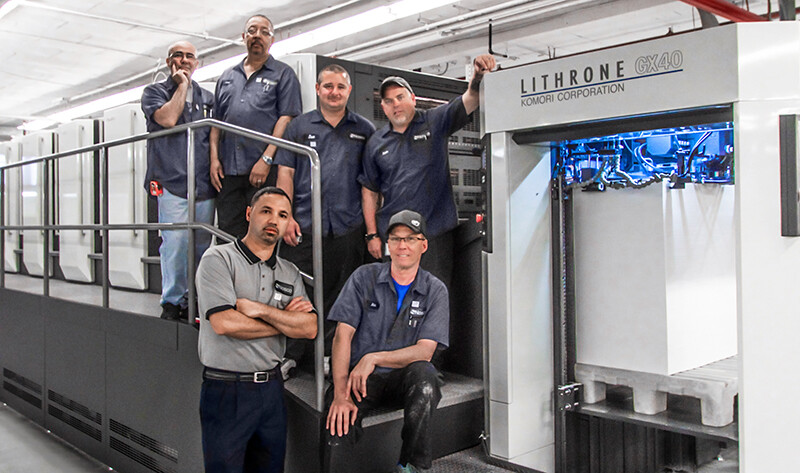 Other significant productivity improvements have been noted as well. In addition to extremely stable printing at the 18,000 sph maximum printing speed, even with heavy stock, the Lithrone GX40 delivers both exceptional print quality and enhanced agility for color changeovers. Both high-end print quality and speed are particularly important to Nosco, and Mr. Haraf reports the Lithrone GX40 is easily handling the challenges of the sophisticated carton printing applications Nosco delivers.
Haraf also notes that being able to access Komori America's Komori-Kare 24/7 service team shortens lead time for the parts and supplies needed to stay at top performance. "Komori's open platform allows quick and widespread access to parts and supplies, and enables us to do a lot of our own maintenance, improving uptime reliability," says Haraf.
Three tenets are the core on which all Komori products are based — product reliability, outstanding print quality and substrate flexibility. The Lithrone GX40 is delivering on all three for Nosco, expanding its ability to take advantage of a package printing market that continues to grow.
Related Information
Contact Komori North America