Loretoprint purchases first Impremia IS29 in Italy
Italy, Loretoprint | Impremia IS29
01 September 2019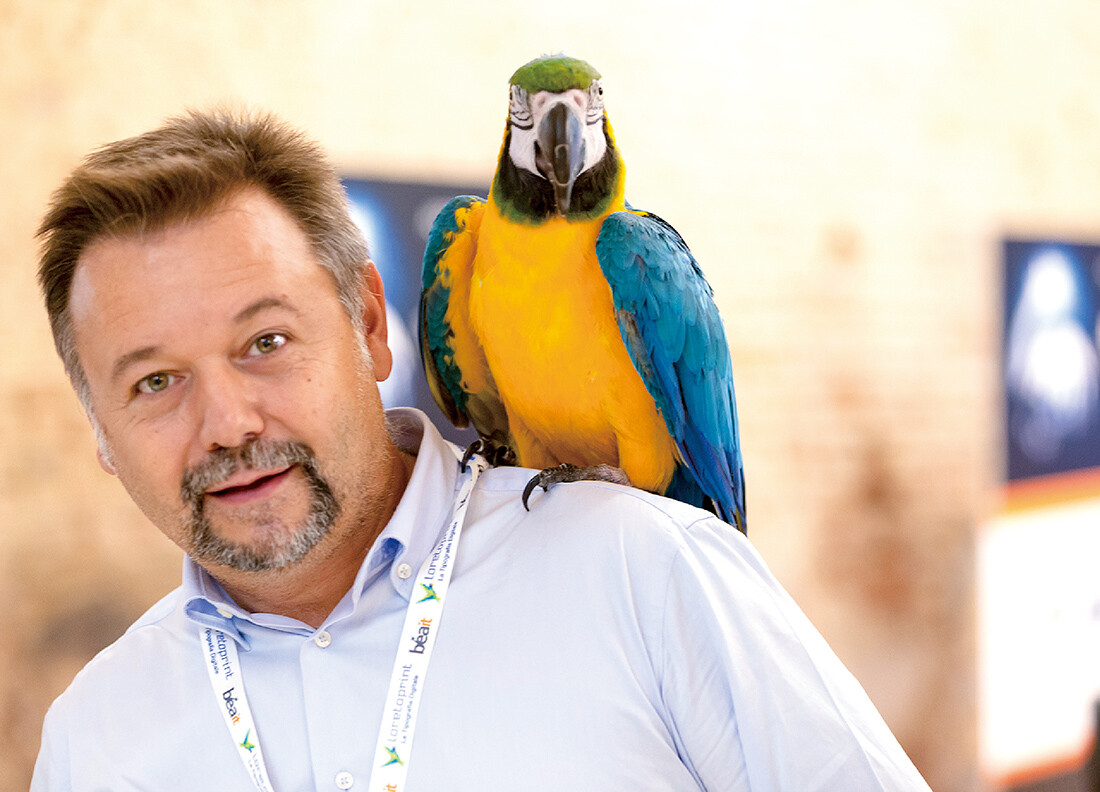 The year 2016 marks a half-century of business, but to all intents and purposes, Loretoprint is still a young company — ever keen to put itself to the test and face the new challenges of the market by continually investing in state-of-the-art technology.
Vito Ferrone, Owner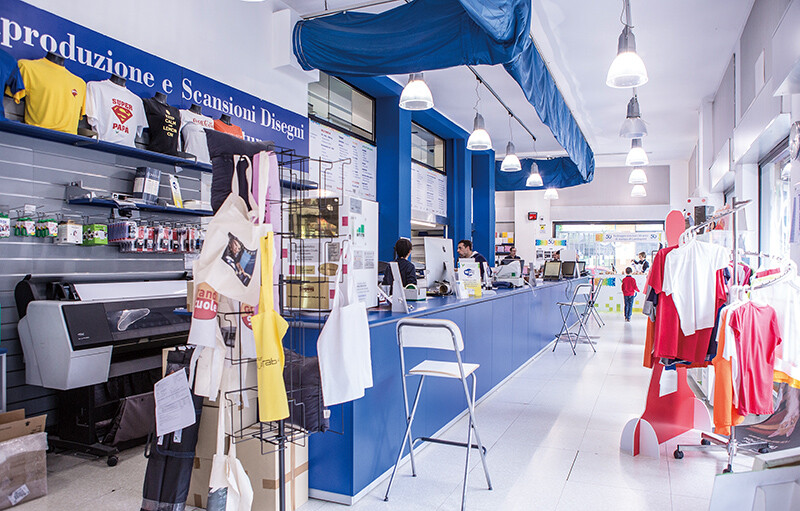 Unlike many of its competitors, it has managed to transform itself several times, evolving from a company that produced stamps (hence the original name Timbroloreto), nameplates and black-and-white photocopies in 1966 to the modern realities of digital printing under the new name Timbroloreto Copyline in 2003, and on to the company's rebranding in 2008 as Loretoprint. What has not changed in all these years is the location — via Andrea Costa, near Piazzale Loreto — right in the center of Milan, and the style of the store, with beautiful shop windows exhibiting some of the company's print products, such as standard or glossy business cards as well as personalized T-shirts, posters, photographic prints and much more.
To tell us about the history of the company and the most recent investment in particular, Vito Ferrone, owner of Loretoprint, agreed to meet with On Press. "Technological advancement has always been part of our DNA and has been the common thread throughout these 53 years of business. Over time, we have continued to expand our range of services and products, not to mention the actual floor space of the company! Just recently I bought 200 square meters of space above our store and now I am considering what activities to allocate to the new area."
Enter the Komori Impremia IS29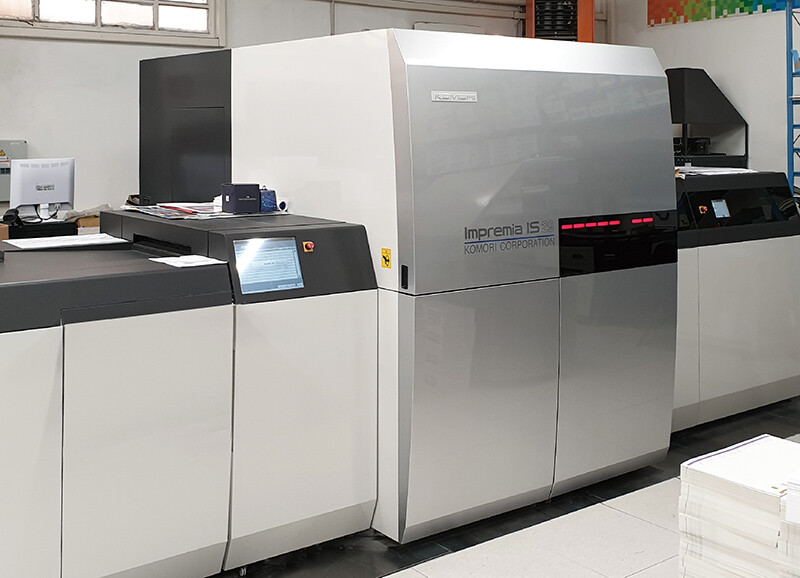 The new Impremia IS29 was installed in Loretoprint in September 2018, the first of its kind in Italy. The machine is the result of combining offset and digital, and has been designed with a precise objective: to meet the requirements of short runs with variable data. This UV inkjet combines the very best color quality and reliability of offset printing with the versatility of inkjet and the ability to print on a wide variety of media, including normal offset paper. It accepts 585 x 750 mm sheets and accommodates simplex printing (at a speed of 3,000 sph) and duplex printing (1,500 sph) without requiring the use of precoated paper.
"In choosing the Impremia IS29, we changed not only the format, migrating from 35 x 50 cm to 50 x 70 cm, but also the technology," Mr. Ferrone explains. "In fact, the Komori UV inkjet has replaced our previous digital printer that was built on electrophotographic technology. Before making this sizeable investment, I conducted some careful market analysis and examined a series of digital printing machines from other manufacturers offering the 50 x 70 cm format, mainly because the investments that I had made in the finishing, folding, varnish and laminating solutions, among others, were already compatible with that format. One maker's machine caught my eye due to excellent print quality, but it did not offer a duplex printing option. We concluded that another well-known system was already an old design from a technological point of view. I ran tests in several showrooms and demo centers before deciding on the make and manufacturer of machine. Certain elements pushed me toward an inkjet solution and toward Komori in particular, a supplier that immediately proved to be very customer oriented, with a dedicated team and fast, efficient decision-making processes."
Productivity doubled with Impremia IS29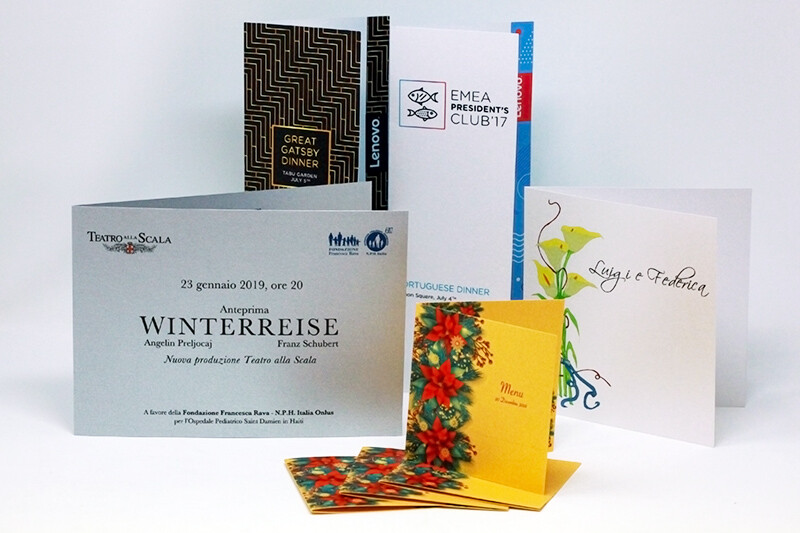 "For some years now, I have realized that we needed greater production capacity, and I began to think about switching to a larger format. However, I then realized that there were other fundamental parameters that needed to be assessed when choosing the machine, such as the production speed, which, for us, is essential given the extremely varied jobs that we receive from our customers, and also because of how many people come in to the store with last-minute requests. Today, thanks to the Impremia IS29, my print speed has doubled compared with the previous printer, and I have also expanded the range of media on which I can print: the machine allows you to print 0.06 to 0.6 mm in simplex and up to 0.45 mm in duplex and, thanks to LED UV curing, you can print on plastic substrates and especially on natural paper, which is now often preferred to its glossy counterpart.
Another great advantage with this Komori inkjet investment was that it allowed us to carry out a considerable part of the production in-house, work that until a short time ago was outsourced to traditional printers. This resulted in a considerable savings in cost and time. The first project that was carried out on the new machine was a book for a union with a run of 850 copies. We are now also producing posters for shops and billboards for advertising, for example, and the goal for the near future is to also produce cartons in-house." To this end, the company intends to invest in a folder gluer machine.
"Our real strength is the print finish," explains Ferrone, "so much so that we have processes in operation alongside the inkjet, such as a special system for our varnishing needs, and die-casting, paperback, trilateral and other types of processing solutions. With the Impremia IS29, we have overcome the difficulties that we were experiencing before with our print products that required a finish to be applied. Lastly, I was really attracted to the simplicity of use of the Impremia IS29, which has paper trays just like the offset machines and is currently being managed by two people over a shift and a half, an operator for prepress and one for print. We still run a 35 x 50 cm format machine next to the Komori machine."
Plans for the future: web-to-print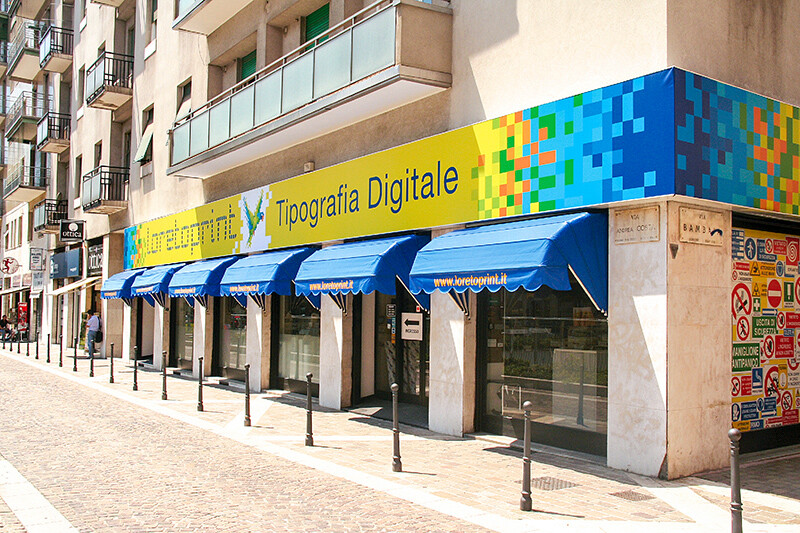 Loretoprint's next ambition is to manage the entire workflow more efficiently by automating some of the more time-consuming features, such as providing quotes.
Vito Ferrone showed us a preview of the web-to-print platform that he is planning to launch — having worked on this project for a good 10 years now with Dynamicsoft, a software house. This platform is something that is needed now more than ever, given the average 24,000 orders that Loretoprint manages annually. Loretoprint's customers range from visual design school students to small entrepreneurs, publishers to cosmetic houses and chains of shops in various sectors.
"The web-to-print platform will allow me to be more competitive on small print runs," concludes Ferrone. "The launch of the platform is imminent and I intend to advertise this new service on a variety of media."
Related Information
Contact Komori Europe