A super-configured Apressia line for a constantly evolving printer
Italy, Tipolito Martini | Apressia CTX132
01 September 2019
Tipolito Martini in northern Italy needed a solution for its packaging department. The printer required more production capacity from its cutting line and a system that would connect with its MIS. The Apressia CTX132 programmable hydraulic clamp cutting system proved to be just the answer.
Veronica and Marco Martini, Owners
Since 1963, when Giovanni Martini decided to launch his own company in a small shop in Borgo San Dalmazzo, about 80 kilometers south of Turin, many things have changed. Tipolito Martini, as the business was named, evolved in the 1980s into a modern organization of 1,500 square meters in the industrial area where the company still has its headquarters and where, shortly afterwards, Marco, Giovanni's son, took over the reins of the printer and set up a photolithography department to produce offset plates in-house.
Tipolito Martini has consistently invested in new technologies, including a five-color sheetfed offset press with coater, which toward the end of 2018 was retrofitted with an LED UV system.
In 2008, the arrival of the family's third generation represented by Veronica, Marco's daughter, brought a new wave of enthusiasm and desire for change.
Commercial printers by birth, but heading toward packaging
Today, Tipolito Martini employs 13 people and has a turnover of about 1.3 million euros. Although the core production is still driven by commercial printing, the company is getting more and more into packaging printing, which at the moment accounts for only 25 percent of the annual turnover but is targeted to reach 50 percent in the near future. "For us, packaging is the only real alternative to commercial printing, which is flat at the moment," says Marco Martini. "We design and manufacture product-customized packages for food, cosmetics and pharmaceuticals."
The Komori Apressia wins over the competition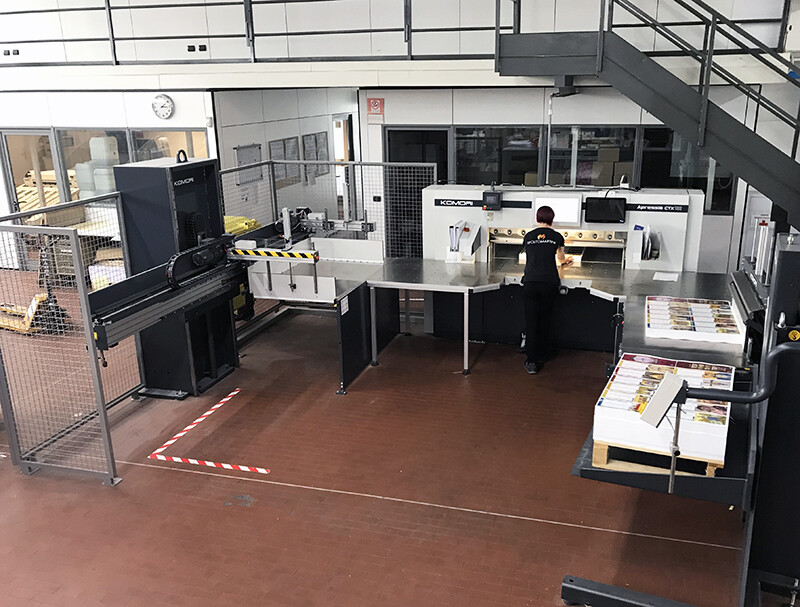 Last December, Tipolito Martini installed a complete Apressia CTX132 cutting system — the first of its kind in Italy — configured with a pile lifter, a jogger, and an automatic cutting and unloading device. With 44 cuts per minute, this line, which came into operation shortly before Christmas and replaced two Polar cutters, has significantly increased the company's production capacity.
"We chose a Komori solution for its excellent cutting quality and for the automatic loading and unloading of materials, which thanks to the stacked pallets brings a considerable physical relief to our three operators employed in the packaging department," continues Martini. "Moreover, Komori was the only manufacturer among those we researched to make it possible for us to connect the cutting line to the existing Edigit MIS, thus allowing us to meet Industry 4.0 requirements."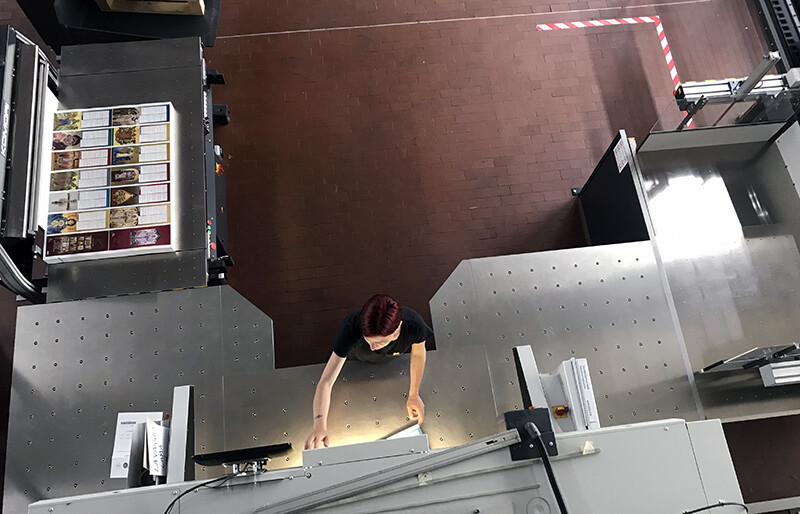 The setup of the Apressia was perfect teamwork coordinated by Roberto Camboni, head of the Komori Italia technical assistance department. A technical solution was implemented with the optional Cut Tronic, by which data from the cutting system is directed to the Edigit MIS for perfect end-to-end harmonization. The Apressia CTX132 productivity solution meeting current and future needs.
Related Information
Contact Komori Europe