Real Demonstration of World Class ROI Printing Press: 'Lithrone GX40RP/G40 advance' Open House
Tsukuba, Japan
21 October 2020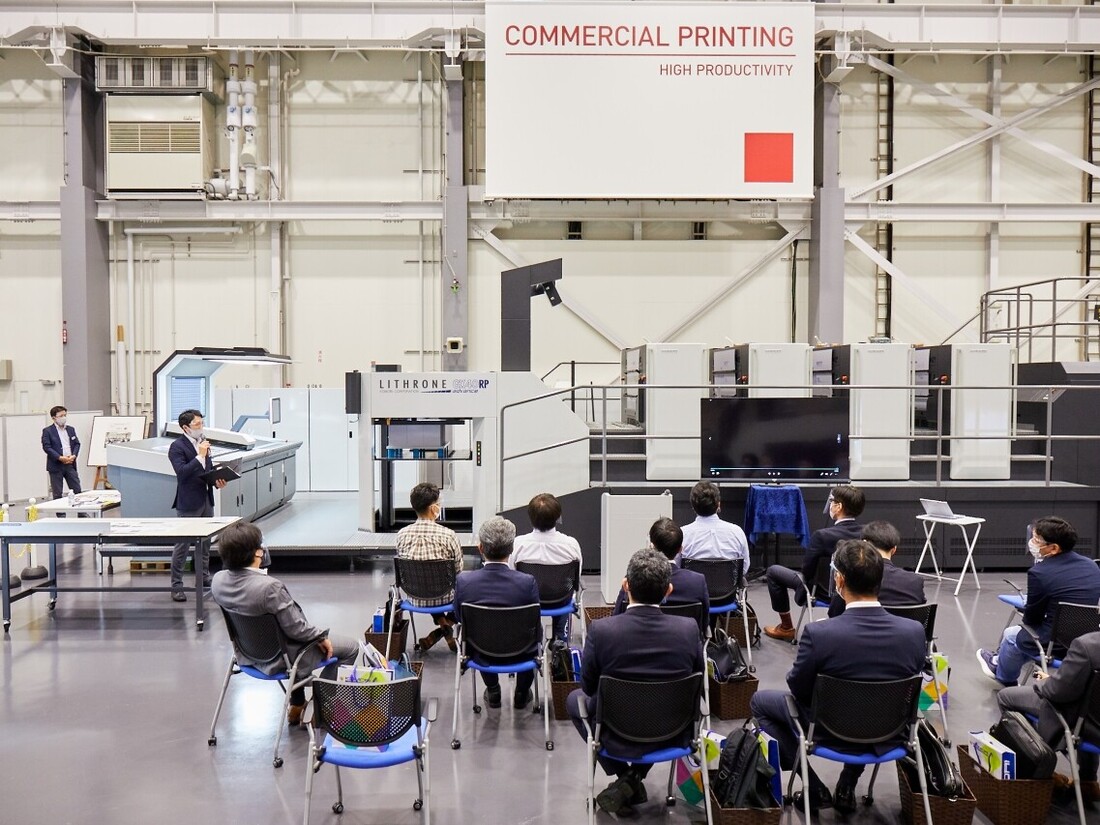 Komori held a special open house event, "Lithrone GX40RP/G40 advance," on October 6 to 9, 2020, at the Komori Graphic Technology Center (KGC) located in Komori Corporation's Tsukuba Plant.
The centerpieces of this event were the Lithrone GX40RP/G40 advance and KP-Connect Pro. Lithrone GX40RP/G40 advance is a new sheetfed offset press model designed to offer world-class ROI (Return On Investments). KP-Connect Pro is Komori's IoT and cloud solution, built around Connected Automation.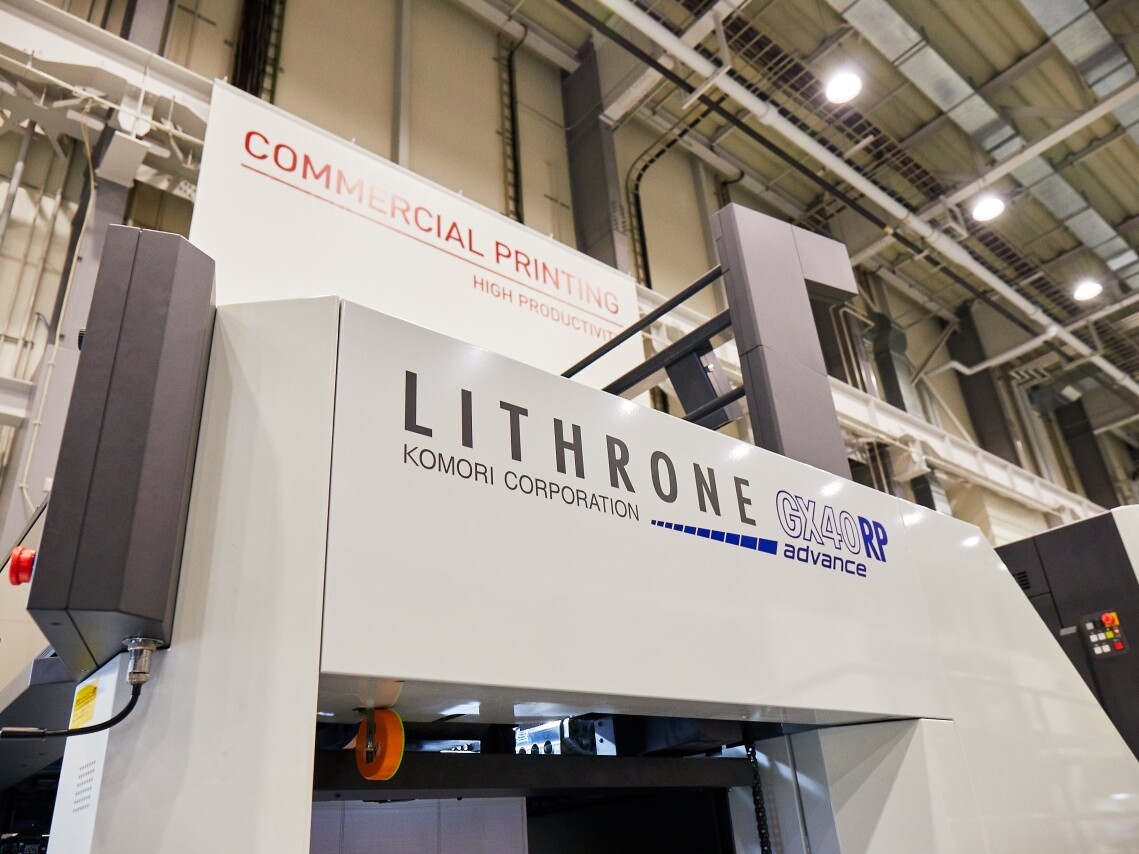 Drastic changes in the social and economic environment in recent years have demanded similar transformations in the printing industry. In particular, demands such as for short runs, high added value or quick turnaround have been growing. In light of these demands, increasing the productivity of printing processes is one of the most important issues facing printing company management, including urgent steps such as digitalization and the creation of smart factories. The Lithrone GX40RP/G40 advance, with its easy operability, high productivity and high print quality, is a powerful tool for addressing these issues. The added value of the Lithrone GX40RP/G40 advance makes it an easy choice for capital investments.
During the open house, speakers presented on the ways that Komori can help increase a business' productivity, including by linking processes and visualizing productivity with KP-Connect Pro, and through state-of-the-art technologies found in the Lithrone GX40RP/G40 advance.
Linking Processes and Visualizing Productivity with KP-Connect Pro
KP-Connect Pro is already used by many printing companies to visualize factory-wide issues and during process management.
Komori also discussed press automation, a new feature of KP-Connect Pro centered around Connected Automation. Using job ticket information sent from KP-Connect Pro, presses can automatically schedule job changeovers and configure job settings.
A demonstration was held, showing the press automatically switching jobs and initializing printing, without interference from operators.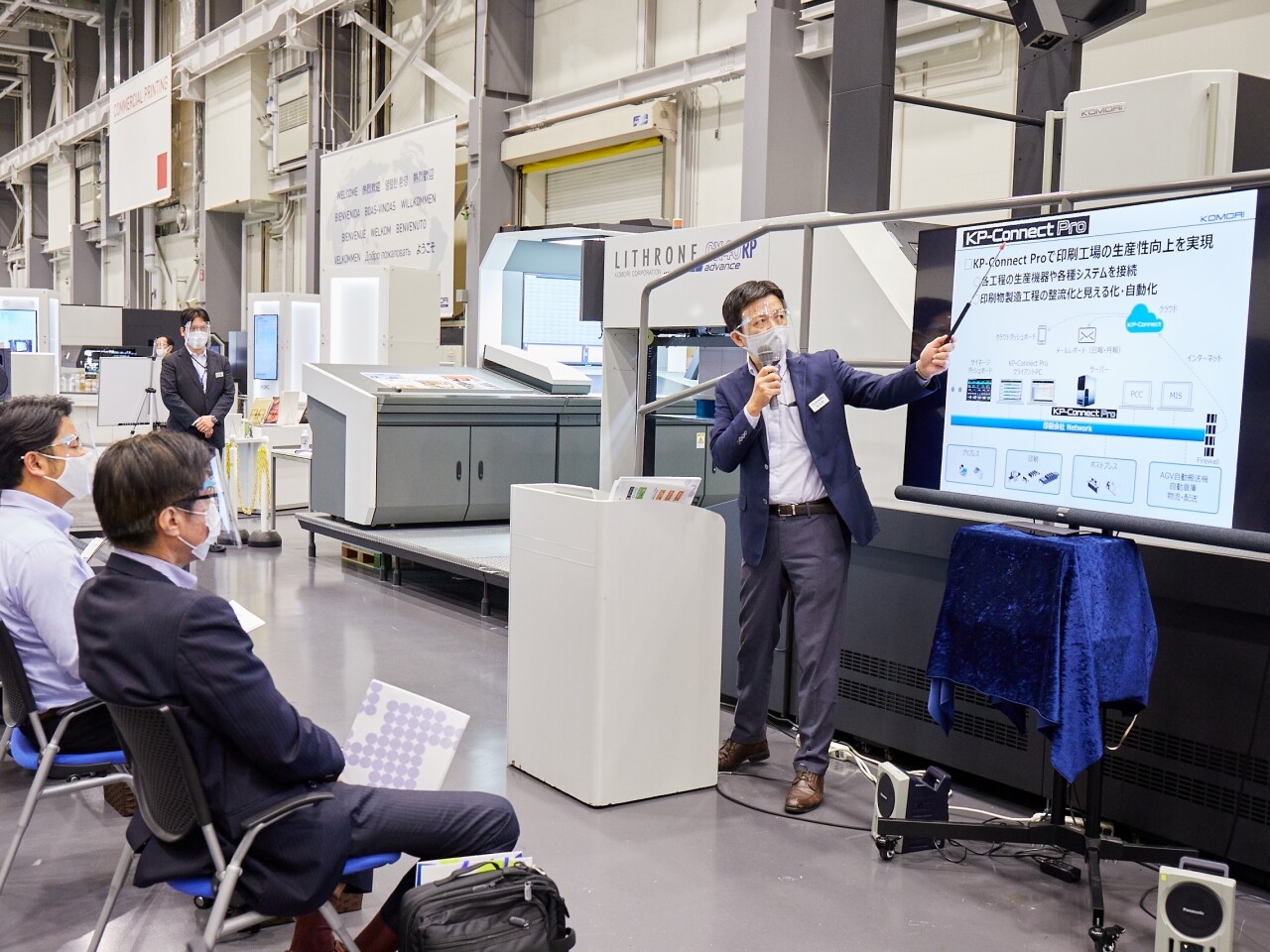 State-of-the-art Technologies in the Lithrone GX40RP/G40 advance
The Lithrone GX40RP/G40 advance offers world-class ROI. While discussing the model's great new advancements in functionality and performance, Komori mentioned three ways in which the model helps achieve high productivity: through significant improvements in basic paper feeding and delivery, stable high-speed printing for sustained productivity, and easy operability to minimize tasks that rely on operator experience.
Afterward, demonstrations were held featuring actual Lithrone GX40RP advance and Lithrone G40 advance presses.
Demonstration 1: Double-sided, one-pass printing at speeds of 18,000 sph with the Lithrone GX40RP advance
Touchless printing, from job changeover to test and production printing
The Lithrone GX40RP advance makes stable, double-sided one-pass printing possible for everything from thin paper to thick. As an example of Connected Automation, Komori demonstrated the handling of two jobs on the press, with no direct actions required by an operator. Job 1 was 500 copies on 880 x 625mm, 0.11 mm paper. Job 2 was 1,000 copies on 880 x 625mm, 0.07 mm paper.
The Lithrone GX40RP advance automatically linked with KP-Connect Pro. Komori demonstrated the machine receiving job preset data, automatically switching from test to production printing without stopping, switching from job 1 to job 2 thanks to Komori's autopilot feature, and proceeding with printing and completion, all without operator interference.
Those in attendance were impressed at the machine's ability to handle two printing jobs automatically. The Lithrone GX40RP advance was also equipped with the PQA-S V5 Print Quality Assessment System. The device was displayed on monitors for visitors, who paid close attention to the changes made in color density. The device reacted rapidly to keep colors within standard deviations, thus displaying the precision of Komori's color controls.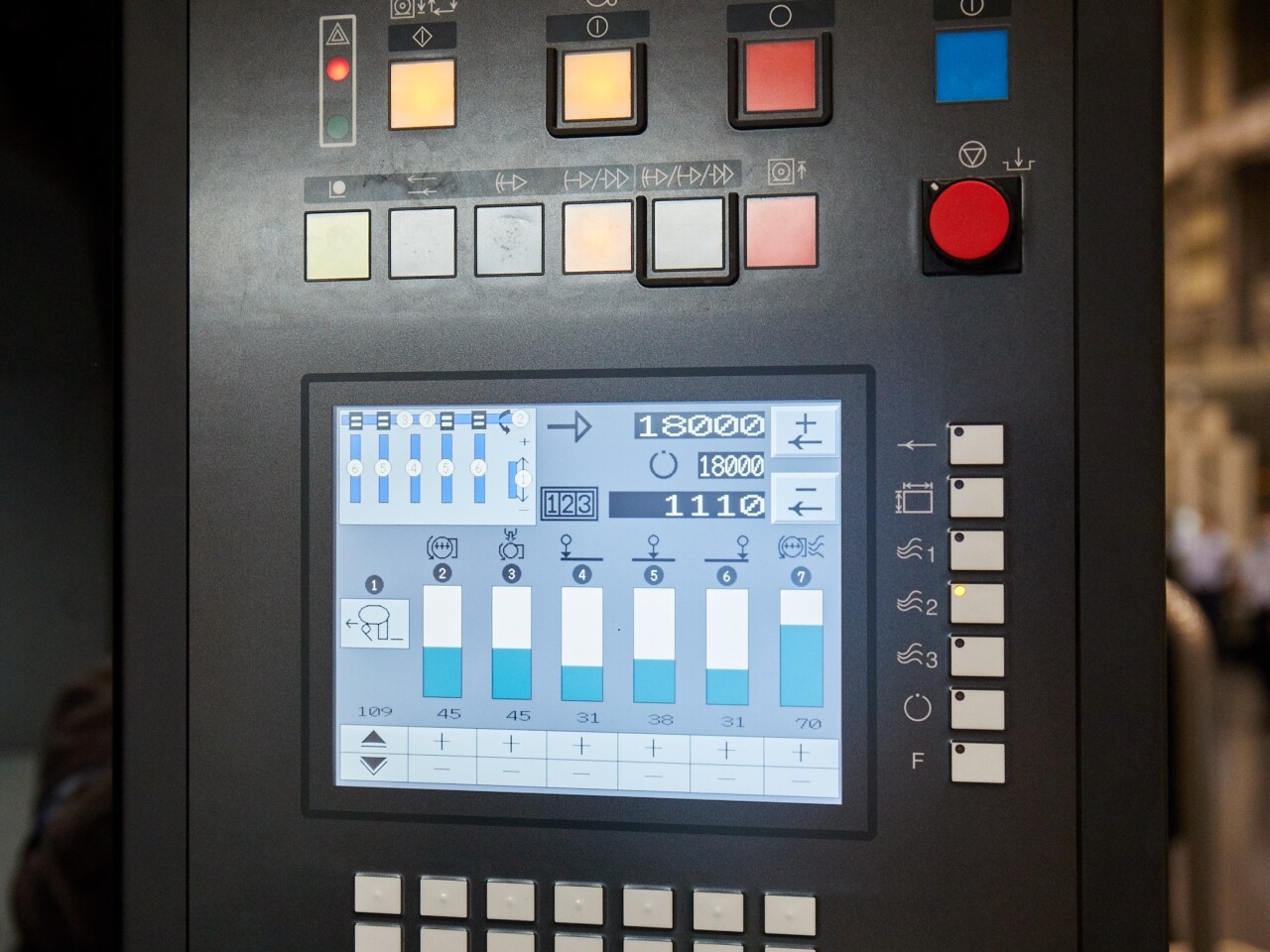 Demonstration 2: Standardization of special colors: Komori's special color reproduction technology, Smart Color
During the second demonstration, Komori used the Lithrone G40 advance to demonstrate their ability to reproduce special colors using Smart Color, Komori's special color reproduction technology in the development phase.
Demonstrating for package printing, Komori printed in Smart Color using a 4-color CMYK process, plus orange and green, on 500 sheets of 950 x 650, 0.45 paper. They then compared the newly printed sheets for packages to the previous sheets printed using special color ink.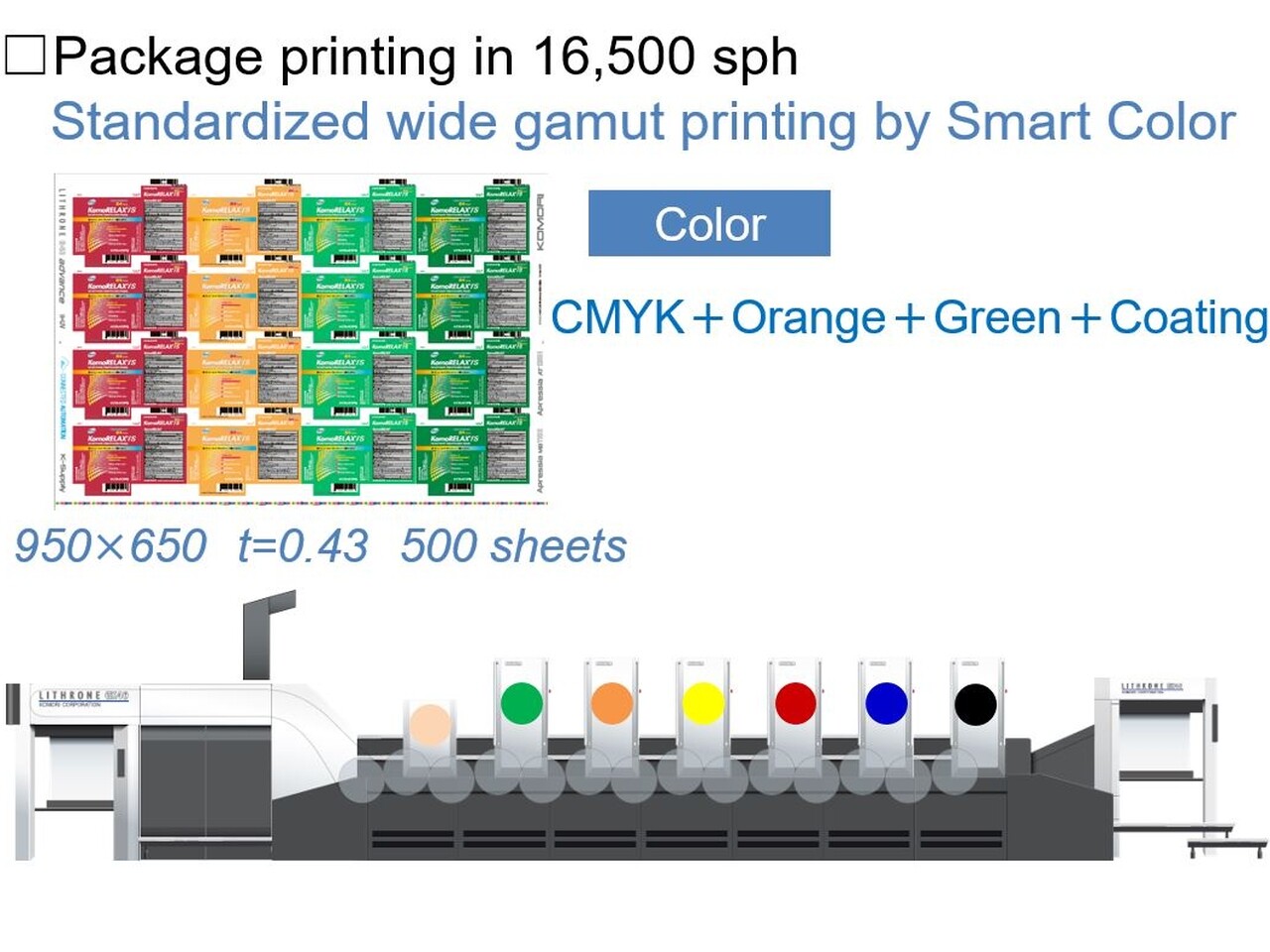 Variation was measured at red ⊿E=0.59, green ⊿E=1.64, and sheet irregularity at grey ⊿E=1.23. Smart Color was able to reproduce special colors in dots to a high degree of accuracy. According to the presenters, not only does Smart Color work with high-speed printing to help achieve short turnarounds, it also very useful for standardizing and reducing the time required for previously difficult customer requests for color changing.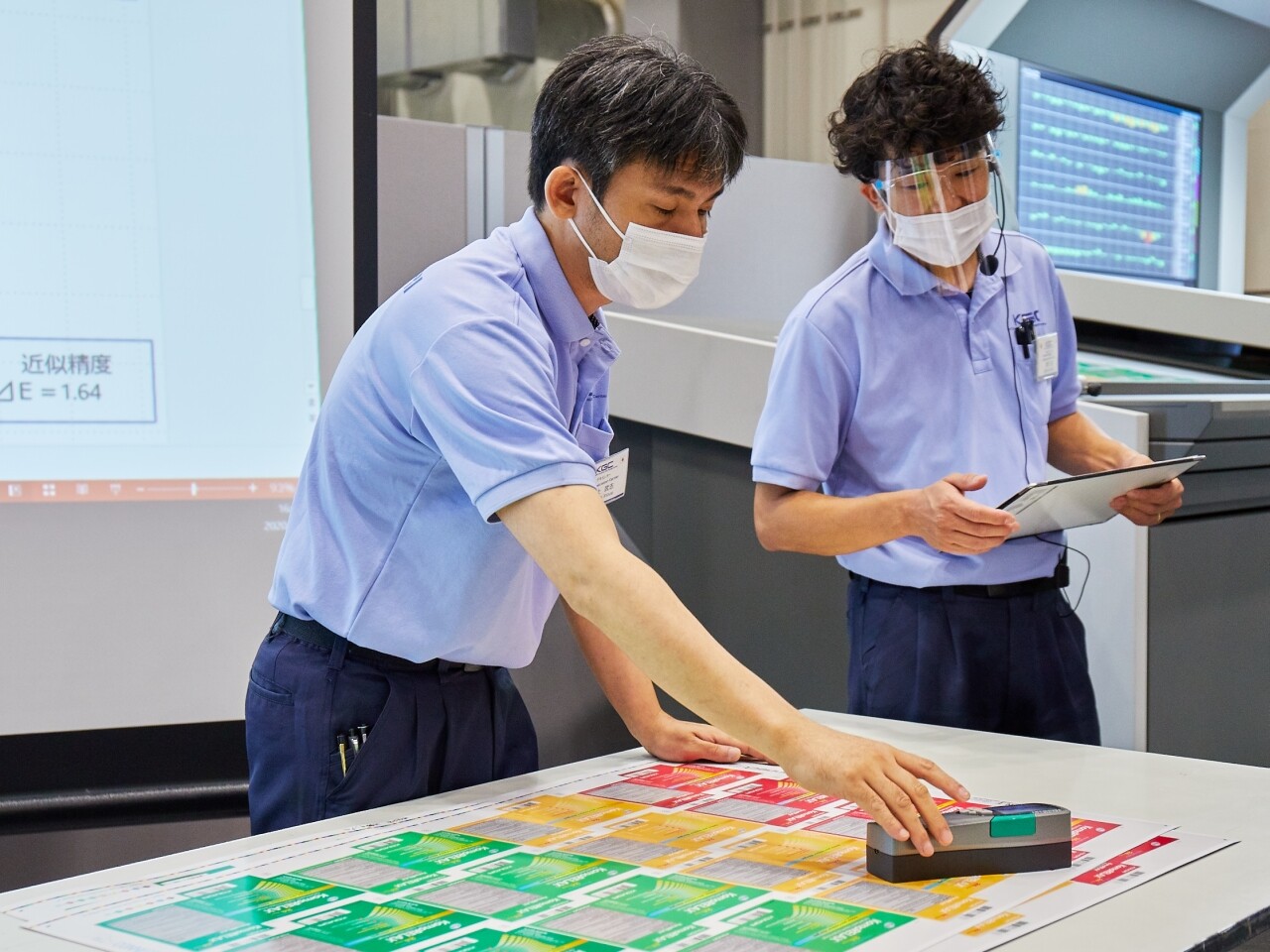 After these demonstrations, interested attendees were also shown the Impremia IS29 digital printing system and the posrpress Apressia series during additional, optional presentations. Presenters explained the machines' features in detail.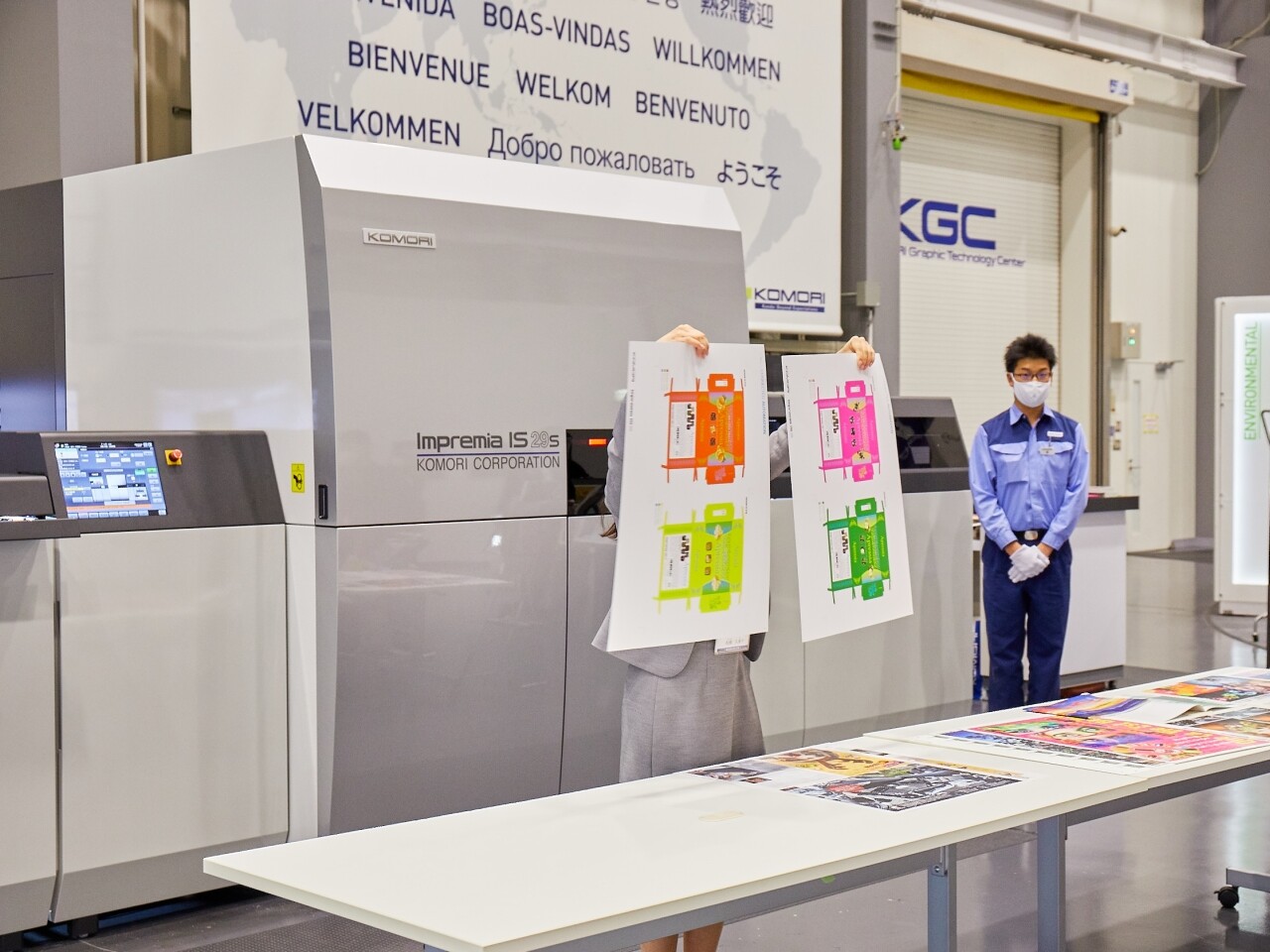 The Lithrone GX40RP/G40 advance uses IoT and self-learning technology to achieve easy operability, minimizing tasks reliant on operator skill and ensuring high productivity and print quality. Offering world-class ROI, it is a perfect match for a new era in printing company management.
From printing presses (such as the Lithrone GX40RP/G40 advance) and consumables and services (such as K-Supply ink), to Komori's cloud solution, KP-Connect, and the postpress Apressia series, Komori continuously provides next-generation products designed with customers in mind.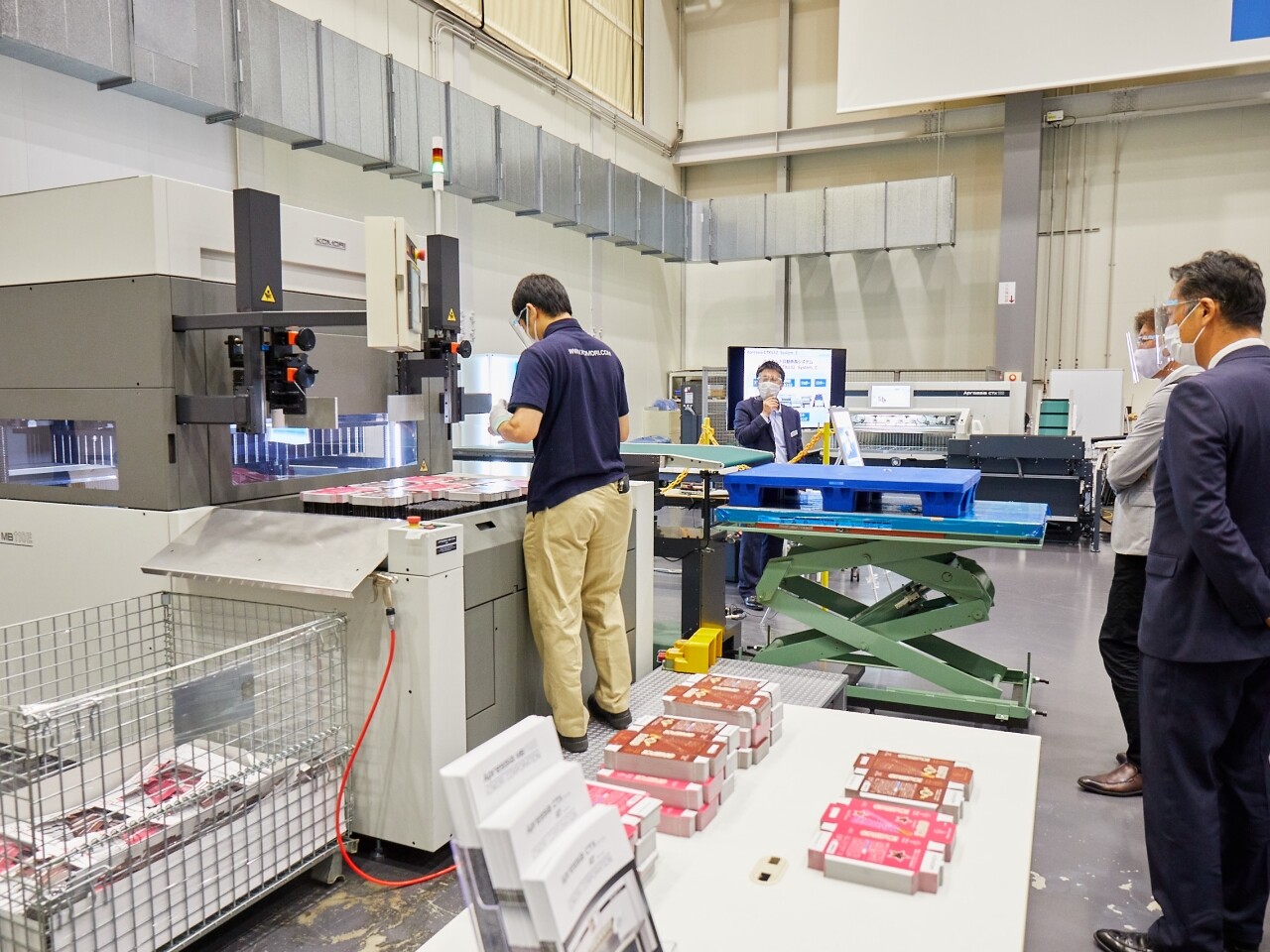 Related Information
Contact Komori South America, Asia, Oceania