Komori Lithographic Press on Display at Sakai Alphonse Mucha Museum
30 June 2022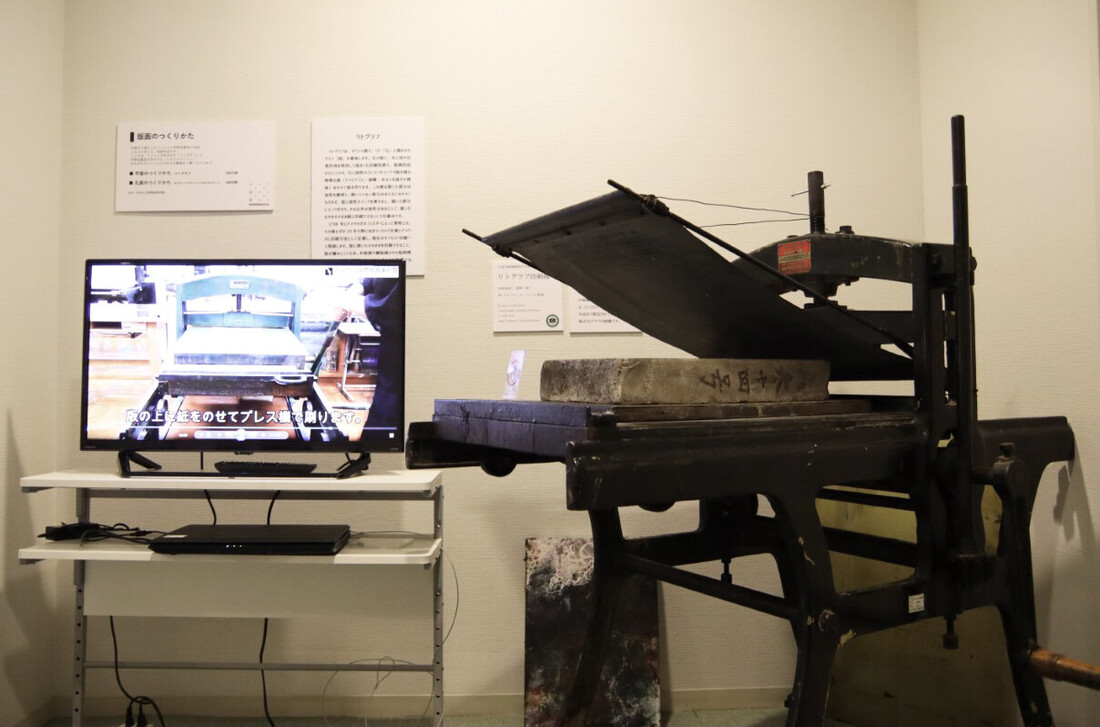 The Komori Printing Machinery Manufacturing lithographic press now on display. The video on lithographic printing was created by the Machida City Museum of Graphic Art.(Japan)
One of the earliest Komori lithographic presses is now on display at the Sakai Alphonse Mucha Museum, located in Sakai City, Osaka Prefecture, Japan. The Sakai Alphonse Mucha Museum is home to a collection of artworks by Czech artist Alphonse Mucha.

The press was donated to the museum after previously being used at Imamiya Technology High School (Osaka Prefecture) for practical lessons in lithographic printing. It was delivered to the school in 1967 and was used in lessons until around 2005.

The press plate bears the inscription "Komori Printing Machinery Manufacturing," making it likely it was manufactured around 1933. The press is a representation of Komori's earliest years, and as the company approaches its 100-year anniversary in 2023, this donation is a reminder of Komori's rich place in history.

The posters for which Mucha became famous and other decorative panels that adorn the walls of the room were all created using lithographic printing. There are also currently video exhibits on display at the museum describing lithographic printing techniques. We urge everyone to visit to enjoy the beautiful artworks of Alphonse Mucha and learn more about the important role that lithographic presses have played in artistic printing.


●Sakai Alphonse Mucha Museum
An art museum displaying works of art by Alphonse Mucha, from throughout his life and career.
・Website
・Sakai Alphonse Mucha Museum YouTube Channel

●Alphonse Mucha (1860-1939)
Born in what is now the Czech Republic, Alphonse Mucha was a leading figure in the Art Nouveau movement, which flourished from the late 19th to early 20th century. Mucha acquired sudden fame due to his poster for the play Gismonda, which featured Parisian actress Sarah Bernhardt. His artworks are known for their elegant curved lines and beautiful colors, while featuring exotic and classical ornamentation. Mucha also had a significant impact in Japan through cover designs for publications such as Myojo and Midaregami. Almost everyone has come across a Mucha piece at some point in their life. His works leave a lasting impression, and he remains immensely popular to this day.


Related Information
Contact Komori South America, Asia, Oceania