One-stop service for all processes: MBO joins Komori Group
30 June 2022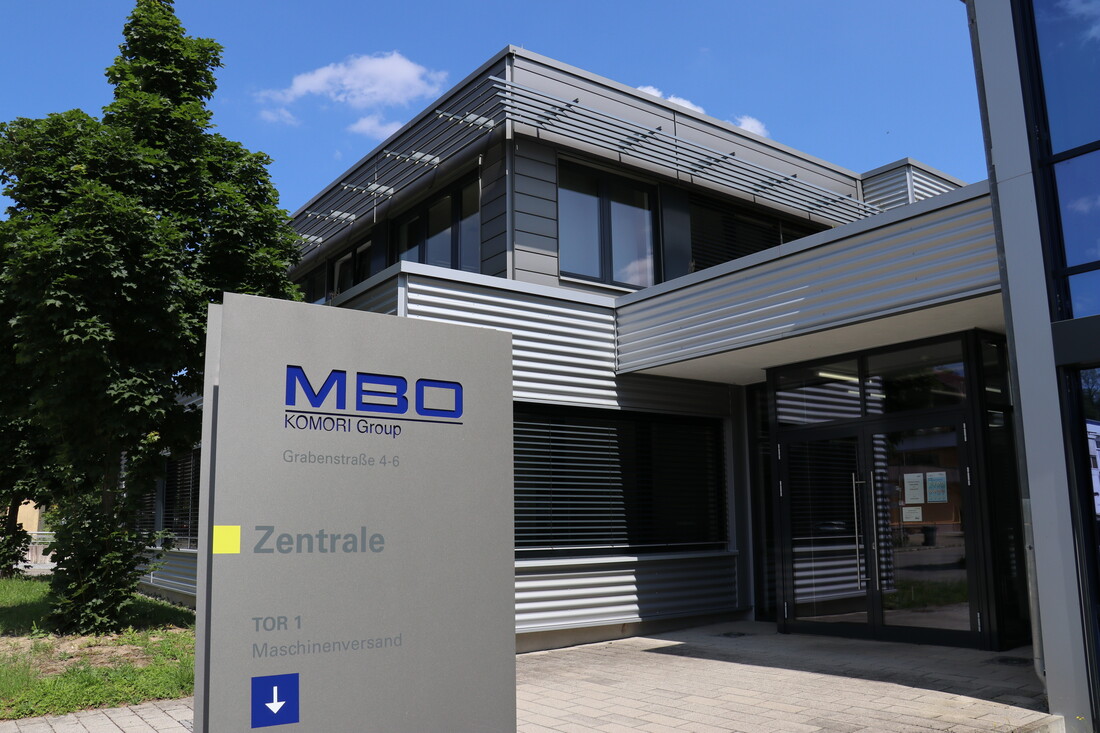 Through the use of Connected Automation, Komori makes possible the Smart Factory, connecting all production processes to increase the productivity of the entire printed product workflow. After many years of providing new offset press systems that increase the efficiency of the pressroom many times over, Komori understands that the largest bottleneck in production is postpress.
Located in a lush green environment: MBO headquarters in Oppenweiler, Germany.
In 2020, MBO Postpress Solutions GmbH (MBO), a leading postpress manufacturer in Germany that develops and manufactures high-end folding machines and digital finishing systems that support automation and digitalization, became a member of the Komori Group. The MBO Group is a leading global company with three manufacturing and assembly bases in Europe, as well as a worldwide sales network of more than 100 countries through distributors and direct sales channels.
MBO: the industry-leading brand trusted by customers
MBO, founded in 1965 by Heinz Binder in Oppenweiler, Germany, is the world's leading manufacturer of digitalized and automated high-end folding machines and digital finishing systems.
In 1972, MBO established the MBO Portugal manufacturing facility with the capabilities of making all parts and performing all assembly. From 1984 to 1985, sales offices were established in the United States, and the Portugal plant was expanded to take on the additional volume. Herzog+Heymann (now H+H GmbH & Co. KG), a German provider of special solutions for the direct mail and pharmaceutical markets, became a subsidiary of the MBO Group in 2000. More recently, in 2020, MBO Group became a wholly owned subsidiary of Komori, who can now offer an expanded solution portfolio to its customers for a wide range of printing and finishing processes.
Manufacturing powerhouse Germany: high development capabilities and quality control for the world
Thomas Heininger, CEO of MBO Group, says, "We have received several awards in Germany for our manufacturing, including the World Market Leader Champion award. The reliability of our machines is our greatest strength, and our production plant in Portugal manufactures according to German quality standards.
Datamanager 4.0: digitalization and automation of postpress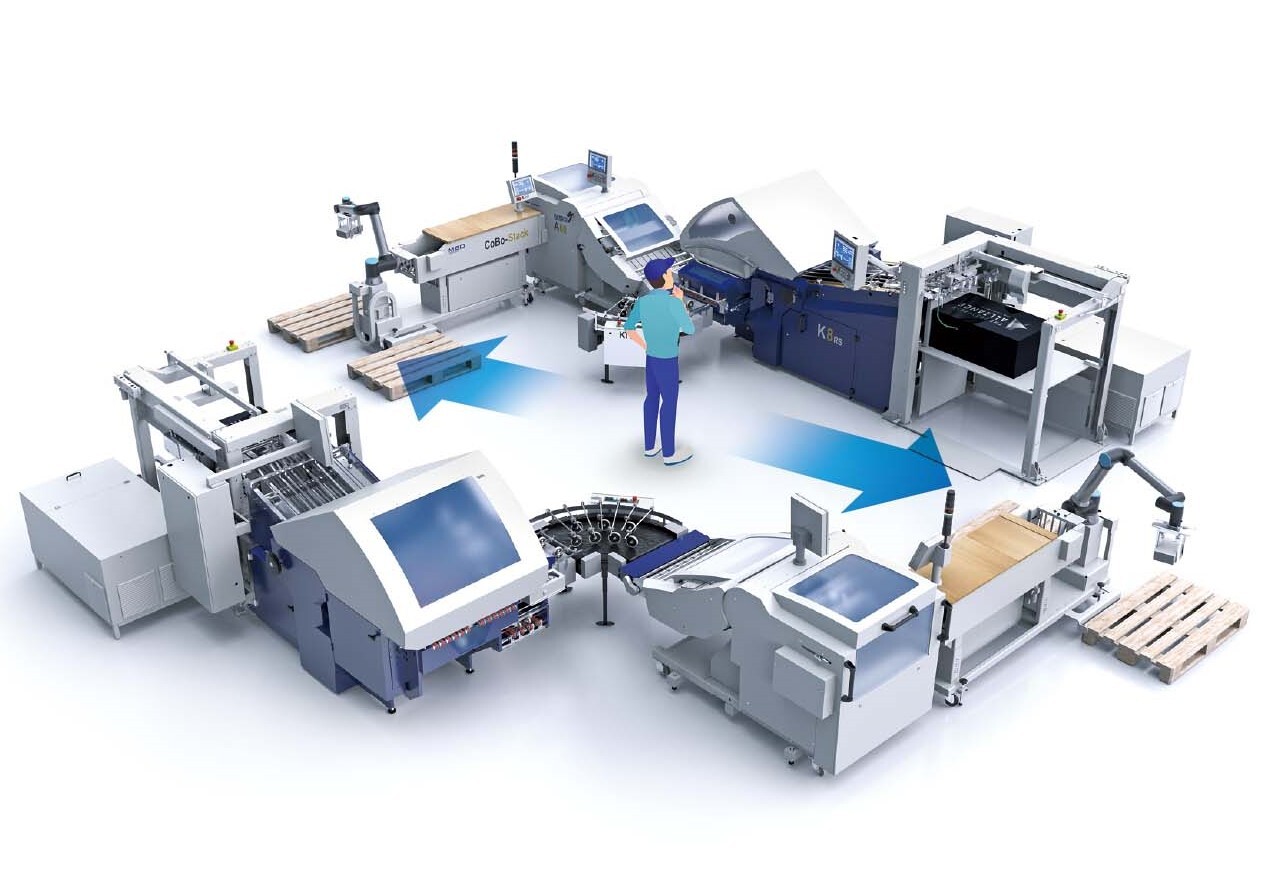 "Datamanager 4.0 is an open software platform that provides connectivity with postpress, KP-Connect Pro, and other related finishing equipment, enabling the visualization of production information to improve production efficiency.
*Some devices may not be able to be connected.
Postpress Alliance Partners: providing a wide range of postpress equipment
"The Postpress Alliance was formed in 2020 by seven machine manufacturers in the finishing sector: Baumann Maschinenbau Solms, Bograma, H+H, Hohner Maschinenbau, MBO Postpress Solutions, Perfecta, and Wohlenberg. The aim is to offer a wide variety of postpress products to meet a range of customer needs. The Postpress Alliance brand is gaining ground in the marketplace. We invite you to visit our virtual showroom at any time.
Freeing operators from heavy labor: collaborative robot MBO CoBo-Stack

"Until now, stacking after folding has been a very heavy workload for operators. MBO partnered with a Danish automation company to automate this task, and in just one year commercialized the MBO CoBo-Stack. Since its market launch in 2019, over 100 units have been sold.
"With the MBO CoBo-Stack, all you have to do is set basic data such as pallet size and fold size, and the cobot hand then picks up stacks of folded signatures and loads them on pallets. The CoBo-Stack is a collaborative robot which is designed to work alongside a human workforce and is safe without a protective cage, unlike a classic robot.
"Operators can increase productivity by having more time to perform other tasks such as administrative processes, paper feeding, or quality control.
MBO K80: one of the world's highest speed paper folding machines
"The MBO K80 offers a high ROI due to its reduced preparation time by the automation of various presets and high-speed operation. The K80 can be used with the MBO CoBo-Stack and other peripheral options to further improve production efficiency depending upon the application and is suitable for 24/7 production.


Related Information
Contact Komori Europe