IGAS2022: Connected Automation: Opening Doors to Production Innovation
08 November 2022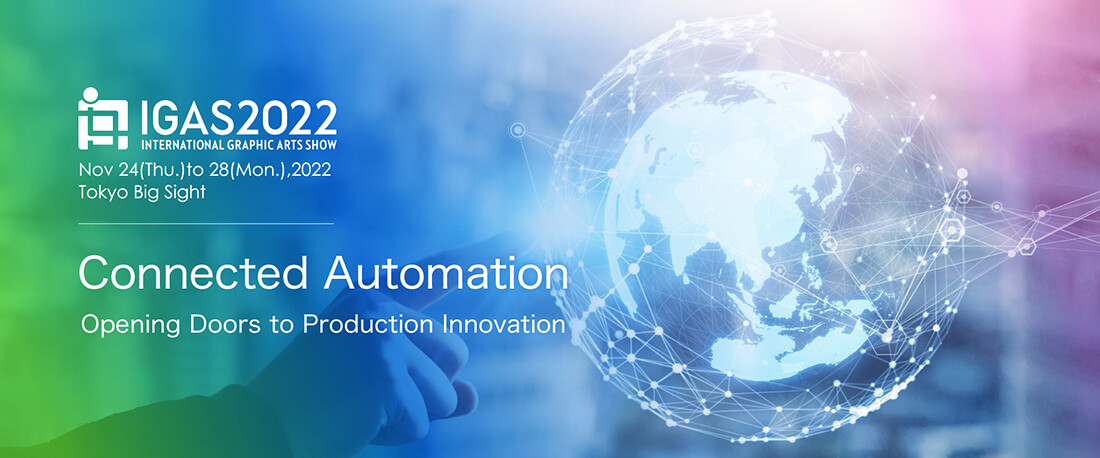 IGAS2022 (International Graphic Arts Show) will be held from November 24 to 28. Komori will build a Smart Factory in our booth under the concept of "Connected Automation" (Opening Doors to Production Innovation). Hardware such as the latest Komori printing presses and postpress equipment as well as KP-Connect Pro, software that connects these machines, will bring about DX (Digital Transformation) of the printing workplace. Komori is planning an exhibit that will allow visitors to experience how a variety of problems are solved and will open new doors for you. Here are some of the highlights.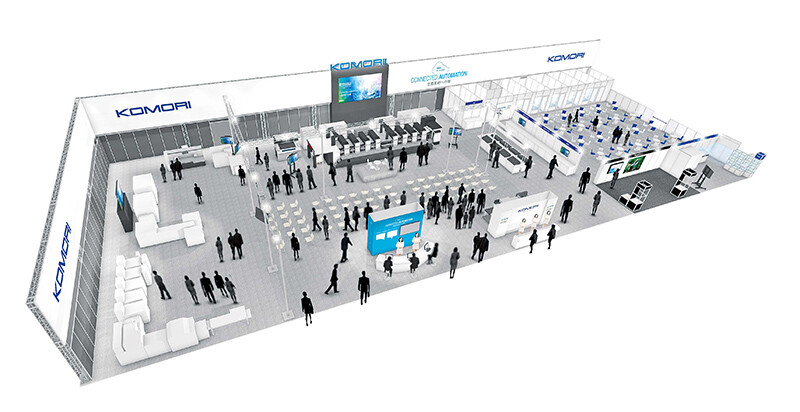 Rebuilding the Production System: IGAS to Present Specific Measures
Printing consists of many processes due to its historical background of specialization. Today, automation, labor saving, and robotics have made it possible to improve the productivity of each process. However, individual production processes are managed by analog means, so each process is fragmented. By connecting the entire production process through digitalization, it is possible to improve production efficiency, visualize costs, and increase profitability. In this way, creating production innovation through digital transformation at the printing site is the Connected Automation way of thinking.
With KP-Connect at the core, Komori has proposed improving the performance of each piece of equipment and maximizing productivity by optimizing the entire process through connecting the MIS (management information system) with prepress, press, and postpress equipment.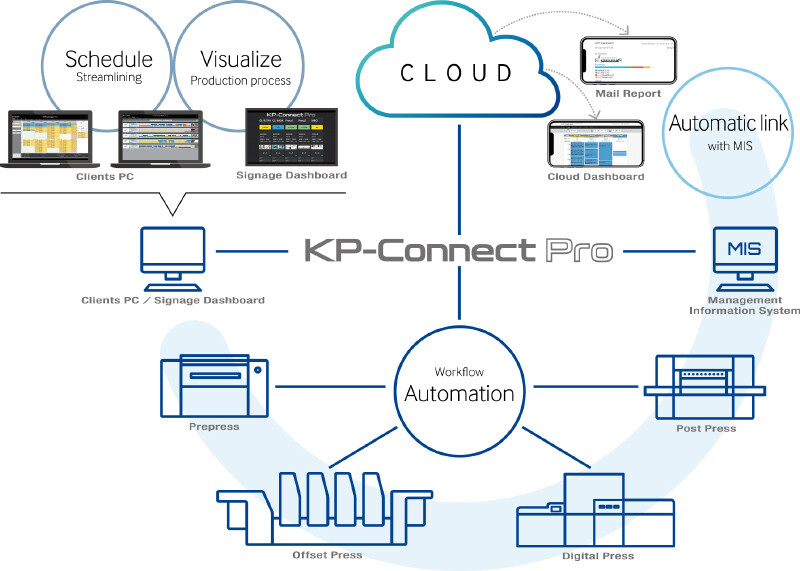 At IGAS2022, Komori will set up a Smart Factory in the booth and present solutions for both commercial and package printing. Please take a look at the integrated production with all processes seamlessly connected and overall process downtime dramatically reduced.
Commercial Solutions for a New Era of Automation and Robotics

The centerpiece of the IGAS2022 Komori booth will be a Smart Factory for commercial printing that will be built throughout the site. KP-Connect Pro will connect printing presses, cutting systems, folders, and saddle stitchers that pursue automation and laborsaving, and also an Auto unmanned forklift (AGV) will transport paper between processes. In addition to high productivity machines, incorporating robotics into the production line will enable production with minimal human intervention. 
Some printing plants have already realized automatic transport by AGV. And now with the KP-Connect Pro Scheduler function, the AGV will automatically check the progress of the before and after processes and run by itself along the three transport routes at the optimal timing. (Figure 1) At a time when labor shortages and rising labor costs are inevitable, we believe that output and productivity can be maximized by collaborating with robots to perform tasks that require a large amount of manpower and time. 
In the demonstration, the Lithrone G37P advance (37-inch Eight-color Convertible Perfecting Offset Printing Press) will show end-to-end production with double-sided one-pass printing by automatic operation and logistics (with automatic transport by AGV) up to postpress folding and binding.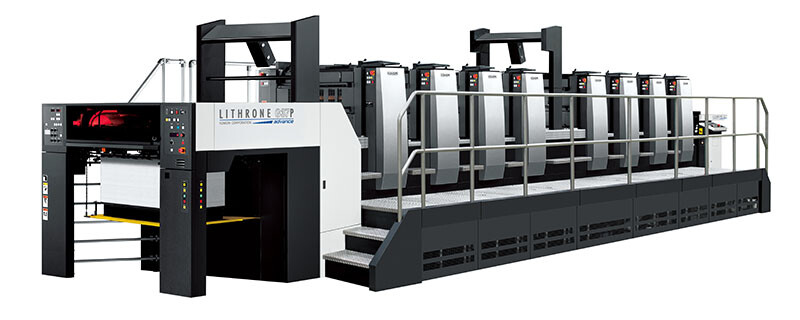 The Lithrone G37P advance is a press that offers the world's highest-class ROI, especially in A4 16-page printing, due to its efficient plate size and double-sided one-pass printing. At the exhibit, the press will run two A4 16-page jobs to produce a 32-page booklet. In particular, please pay attention to the innovative automatic operation where the press goes into full production printing and completes the job after automatically determining the OK sheet.
Next, the Apressia CTX115 (Programmable Hydraulic Clamp Cutting System) is a high-end cutting system with a wide range of cutting options that provides automation and laborsaving while maintaining safety in postpress processes, which are often bottlenecks in the pursuit of overall optimization of the print production process.
The subsequent folding process will be performed by MBO, which newly joined the Komori Group in 2020. The MBO K80 (B1 size Combi Folder) will be exhibited for the first time at IGAS. This world-class paper folder is capable of operating at a high speed of 230 m/min while reducing preparation time through various preset automatic functions. In addition, the MBO CoBo-Stack, a collaborative robot connected to the delivery of the folder, will be shown performing unmanned loading of pallets.
Also, a saddle stitcher from Hohner, a member of the Postpress Alliance (see note), has been added as part of a collaboration project to provide integrated production from printing to folding and binding. All processes are seamlessly connected by KP-Connect Pro, a commercial solution that dramatically reduces downtime of the entire process. Experience the full potential of this solution.
Packaging Solutions with No Color Changes Necessary and Reduced Makeready Costs
The Komori booth and the Komori Graphic Technology Center (KGC) at the Tsukuba Plant will be connected via relay to show a demonstration of high-mix, small-lot production without inventory by reducing makeready costs for package printing.
The demonstration will be performed on the Lithrone GX40 advance (40-inch Seven-color Sheetfed Offset Printing Press) with double coater packed with a variety of the latest changeover time reduction technologies. We will present a solution that eliminates color changes, the biggest bottleneck in package printing, and dramatically reduces preparation time and materials.

The technology that makes this possible is Komori's Smart Color which uses six colors -- CMYK plus orange and green -- to reproduce a range of special colors. In addition, Super Short Makeready, which minimizes makeready time to the same level as general commercial printing, will also be unveiled for the first time. Please also take a look at the new high added-value printing with decoration by a double coater.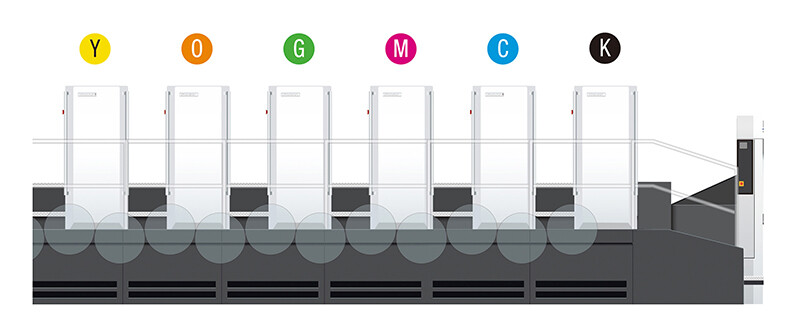 In addition, as postpress processing for package printing, the Apressia DC105 (40-inch Automatic Flatbed Die Cutting and Creasing Machine) and the Apressia MB110E (High Performance Blanking System) will also be introduced. By mechanizing the postpress processing of packaging, which is often done manually, not only improving efficiency but also concentrating on tasks that can only be done by human operators will become possible.
Go Beyond the Norm: Next-generation Digital Printing System to Expand Your Business Domain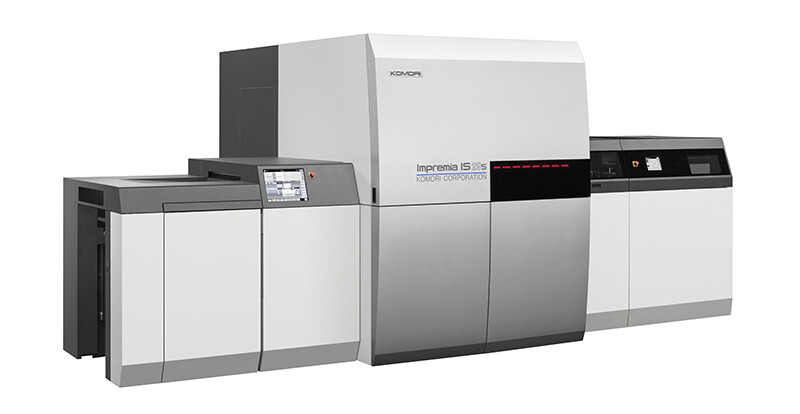 The Impremia IS29s, a B2 digital printing system, will showcase the new HD mode to reduce graininess when printing images such as of human skin or metallic surfaces and prints on a wide range of environmentally friendly special substrates such as banana paper and YUPO. In addition, the machine will perform package cutting and ruled line processing in conjunction with the Duplo die cutter. Please take a look at this as one of the business models for package production using digital printing systems.
In addition, the Impremia NS40, the latest B1 digital printing system, will collaborate with the Tokyo Camera Club to showcase large works consisting of 100 million pixels. Please come to see the stunningly powerful and intricately detailed beauty of these works and experience the new possibilities of digital printing systems.
A Variety of Products and Printing Samples at Each Corner
The Komori booth will feature a service corner introducing products and solutions with the theme of environmental friendliness and cost reduction in printing plants as well as products and printing samples from each of the Komori Group's businesses, including the currency and Printed Electronics (PE) businesses.
In the KP-Connect Corner, which embodies the exhibition concept of Connected Automation, visitors can actually confirm the performance of KP-Connect and experience the functions that support DX in printing plants. Komori will propose the best methods from a broad variety of customer cases, such as successful DX by digitalizing process management. If you have questions about DX in printing, please come in for a consultation.
With the large signage at the venue, the status through integrated management of the schedule, progress, and results for all machines installed at the site will be displayed in real time, so please be sure to follow the action.
Komori has actively promoted collaboration with various companies. As "connection" is one of the key concepts of IGAS2022, we are planning an exhibit that will enable customers to imagine building a Smart Factory by connecting products from various manufacturers.
Please come and experience "Opening Doors to Production Innovation" brought about by connections at IGAS2022.
(Note) The Postpress Alliance was formed in 2020 by seven machine manufacturers in the finishing field to provide a wide variety of postpress products. Data is linked between machines* of the member manufacturers, enabling visualization of production information and consolidation with integrated systems such as KP-Connect Pro and MIS*.
Contact Komori South America, Asia, Oceania