FAGUIER Print & Pack Invests in a Five-Color Lithrone G37 for Both Commercial and Packaging Applications
France, FAGUIER Print & Pack | Lithrone G37 [GL-537]
19 July 2023
When French printing company FAGUIER Print & Pack went looking for a 37-inch offset press capable of addressing commercial and packaging applications, they decided on a Komori five-color Lithrone G37.
Commercial printing or packaging printing? How about both? This is the motto of FAGUIER Print & Pack, a printing company created in the early 1980s in Western France. The company has 18 employees and generated annual revenue of €2.8 million in 2022, serving a customer base of corporate clients, local authorities, and associations and producing brochures, flyers, catalogs, and magazines. In the packaging space, it addresses clients in the food, industry, and luxury goods markets.
From left: Stéphane Mignot, Sales Manager; Denis Auguste, Packaging Design Office Manager; Pierrick Lemarchand, Production Manager
The company is now in the hands of two former employees, Production Manager Pierrick Lemarchand and Sales Manager Stéphane Mignot, who took the helm of the company in 2018. The pair was joined a year later by Denis Auguste, in charge of packaging design with a background in folding carton packaging. Today, the company generates 85 percent of its turnover in commercial printing and 15 percent in packaging. But the three partners aim to grow their packaging business to 25 percent of overall revenue by 2025.
A €1.6 million (US$2.0 million) investment plan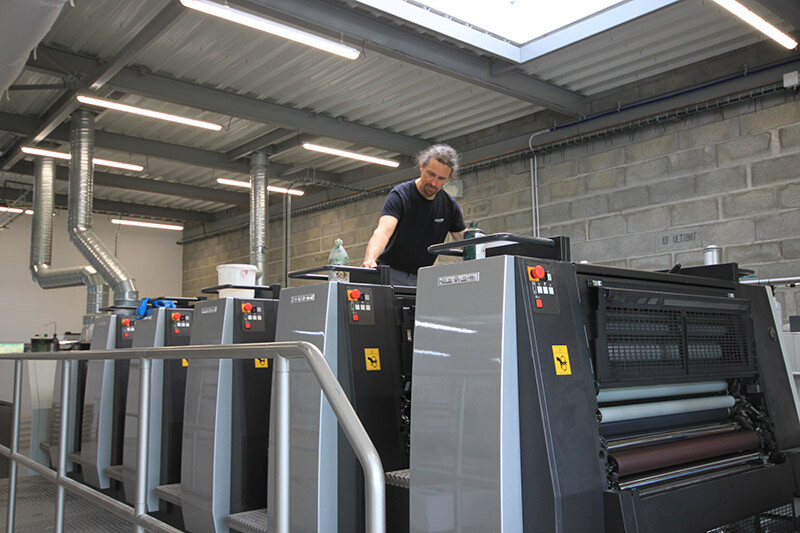 If the Covid pandemic proved to be a tough challenge for most print shops, it was also the starting point of an ambitious growth strategy for this printing company. "Back then, we intended to upgrade our printing infrastructure," says Lemarchand. "But the French government's stimulus plan, France Relance, opened new opportunities for recovering industrial businesses." The company applied for a grant that was accepted in June 2021, financing 40 percent of a €1.6 million (US$2.0 million) investment plan. "We invested in five new systems," explains Lemarchand. "We implemented a workflow system, we acquired a new CTP unit, and we also invested in a five-color Lithrone G37 with coater to replace our legacy offset press. We also purchased a new cutting system as well as a folding and gluing line."
A printing press for today's market environment
In 2016, the printer installed a 37-inch press. The reason it selected the same size machine this time, the Lithrone G37, was explained by Lemarchand: "The 37-inch format proved to be perfectly suited for our activities. The cost of such a unit is approximately 15 percent below that of a 40-inch press. Yet it allows us to print 8-up signatures of A4 catalog pages. So we aren't restricted in any way, especially since the 94 x 64cm format of the Lithrone G37 is slightly larger than that of our previous press."
The Lithrone G37 also offers many further benefits. "The print format fits the largest imposition forms that we are given to produce," underscores Lemarchand. "This allows us to limit paper waste and optimize our paper purchases. Also, our plate budget is 20 percent below what it would be with a 40-inch press. Finally, power consumption is significantly below that of a larger press. In the current market conditions, the Lithrone G37 is an economical printing press that allows us to be fast and competitive."
Also a packaging machine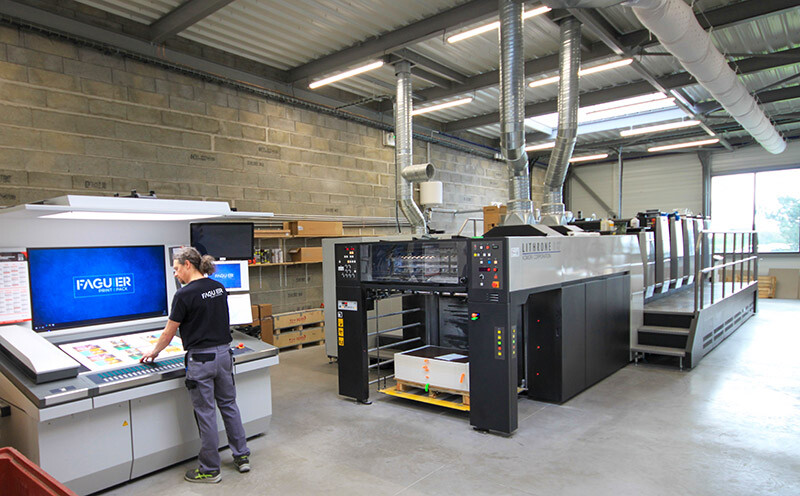 The new press perfectly matches FAGUIER Print & Pack's ambitions in the packaging space. "We chose to fit our new Lithrone G37 with an automatic color control system," says Lemarchand. "The result is excellent color stability throughout the print run, which is a prerequisite for packaging jobs. We have also chosen an acrylic coating unit. This allows us to quickly move to finishing after a print job. And we produce the high-quality gloss that many packaging customers demand. Additionally, we have equipped the press with features dedicated for packaging that allow us to print on 0.8mm thick cardboard, something that wasn't possible with our legacy offset press. All these new features built into our Lithrone G37 ensure we can confidently grow our business in both commercial and packaging printing."
Backed by a trustworthy supplier
Printing professionals generally tend to stick with their offset equipment manufacturer whenever they reinvest in new presses. FAGUIER Print & Pack, however, decided to switch to Komori. "We did a full survey of the available equipment," remembers Lemarchand. "Komori was the vendor who best responded to our requirement of addressing both commercial and packaging applications with a 37-inch offset press. We were also very pleased with Komori's presence and technical support during the installation and early production phases."
Today, the company is completely satisfied with its decision to invest in the Lithrone G37. "We usually do 13,000 sheets per hour print runs, which is a significant improvement over our previous offset press and is quite sufficient, given our average run length," concludes Lemarchand. "And we know the Lithrone G37 can produce up to 15,000 sheets per hour whenever required. The press' high level of automation allows for shorter makeready times. The interface brings an added level of day-to-day comfort for our press operators. In hindsight, I don't think we could have made a better choice."
Speed and efficiency for finishing
Investing in the cutting system took the company's modernization efforts all the way to the finishing steps in the production workflow. "The new guillotine has a motorized lifting table," notes Lemarchand. "This speeds up the overall process and makes things a lot more convenient for our operators. The interface makes it easy to program cutting presets, which saves time in day-to-day production. This means we are not losing at the finishing stage the time we saved upstream at the printing stage."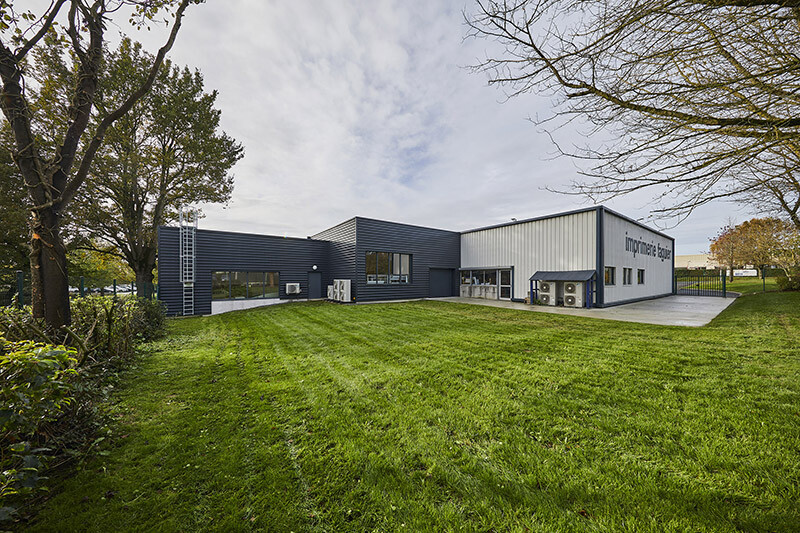 Related Information
Contact Komori Europe