First European 8-color Lithrone G37P goes to Linderoths
Sweden, Linderoths Tryckeri | Lithrone G37P [GL-837P LED]
01 April 2019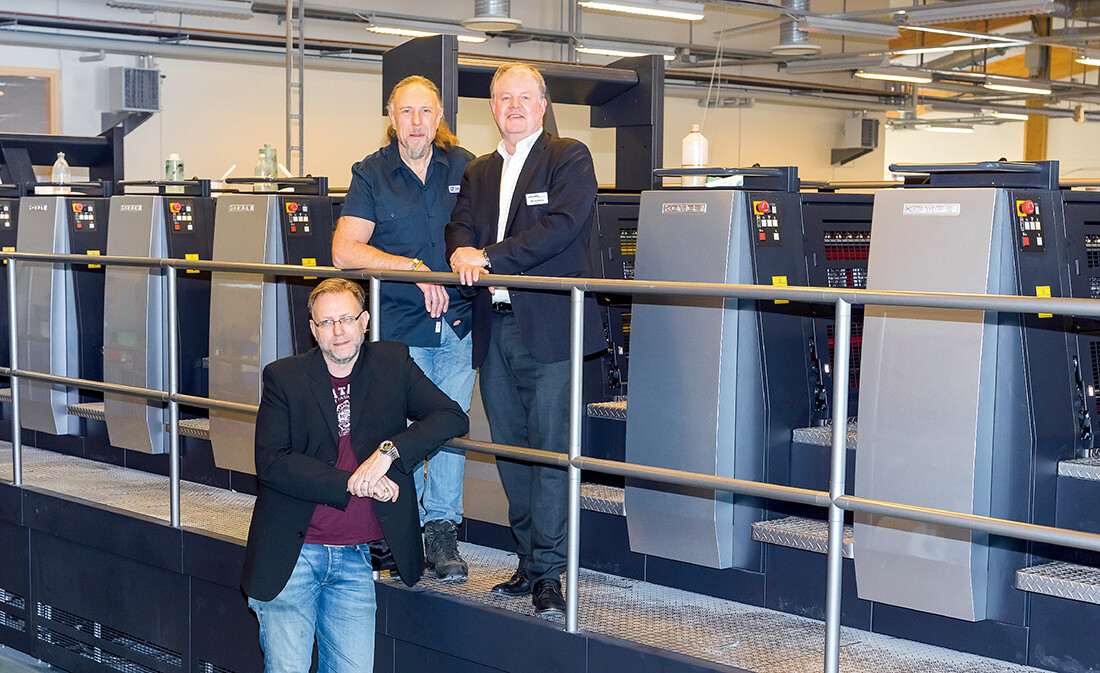 Mats and Jonas Wangenfors have been Managing Directors of Linderoths Tryckeri since taking over from their father and uncle, who succeeded the founding Linderoth family in 1951. Together, the Wangenfors brothers in 2018 were responsible for a turnover of 2.3 million euros and a staff of 25. Founded in 1898, Linderoths Tryckeri is based in Vingåker, 170 km from the Swedish capital of Stockholm.
Upper from left: Mats Wangenfors, Managing Director; Per Lundberg, Owner of Lundbergs Grafiska Lower: Jonas Wangenfors, Managing Director
The current Managing Directors have a keen sense of business, combining innovative equipment that pushes both print quality and processes with old-school techniques. That is certainly the case with the Komori eight-color Lithrone G37P LED perfecting press, the first-ever installation of this model in Europe. The Lithrone G37 was reborn as a new model combining functionality and design in 2018. Now an eight-color Lithrone G37P perfector capable of one-pass double-sided printing has been added to the lineup. This press features outstanding performance and advanced Komori technologies, including the ability to feed 940 x 640 mm sheets and the capacity to print 16-page A4 impositions. The paper thickness range of 0.04-0.45 mm offers Linderoths the option of choosing the paper type for each printing job. Jonas Wangenfors: "We specialize in commercial printing, advertising and package printing. We also have 'old' machines such as letterpresses, which allow us to expand our service by punching, embossing and printing. We combine classic techniques with innovative technologies to meet customer demands all under one roof. We mostly work for direct customers, small and midsize companies who are located up to 200 km from Vingåker."
Choosing a press unseen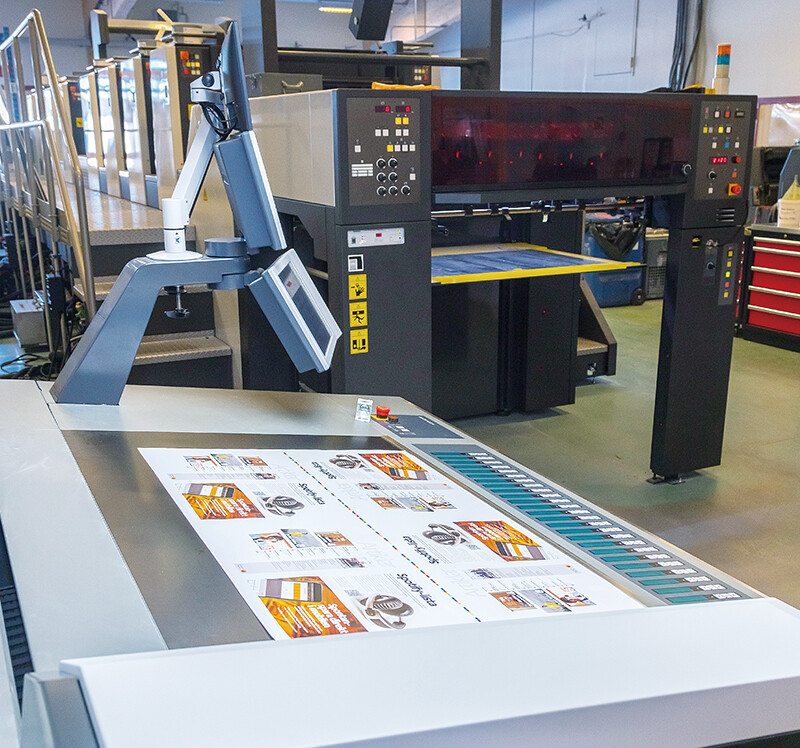 Per Lundberg is the owner of Lundbergs Grafiska, the Komori Swedish distributor for over 15 years now: "It says a lot about the level of trust Linderoths has in Komori that they choose a press unseen. Being the first European printing company to purchase an eight-color Lithrone G37P means that we could not experience a demonstration of this specific press. We visited the Komori Graphic Center-Europe instead, where they witnessed the processes and workflow of a five-color Lithrone G29 and saw how a somewhat similar press works. The Linderoths team has relied on the possibilities the perfecting press offered them on paper as well as on Komori's reputation for reliability in the printing industry. They knew that they could count on Komori and their Service Department if needed, which gave them the confidence to choose this press."
"We had a pretty straightforward installation process and experienced no major problems. Whenever you change your main press, you must stop production, which is the biggest problem we experienced. However, it is a step you take to redefine yourself as a professional printing company," says Jonas.
Changing the day-to-day job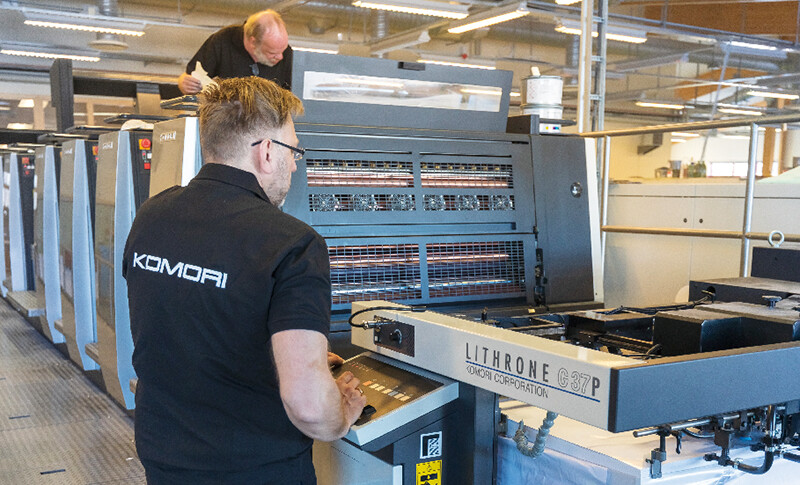 "This is our first Komori press and the first one that prints on A1 format, a more common format in Sweden. We needed to respond to that difference and decided to change all the equipment in our pressroom. We can also double production by printing 16 pages at once, which means we can meet customers' demands for fast delivery. And when they visit us, we show them final results due to instantly dried sheets because of the LED technology. The built-in camera helps our operators secure a stable printing run and we have a reduced makeready time. All of these are major benefits that increase our productivity and change our day-to-day jobs," he adds.
Future forward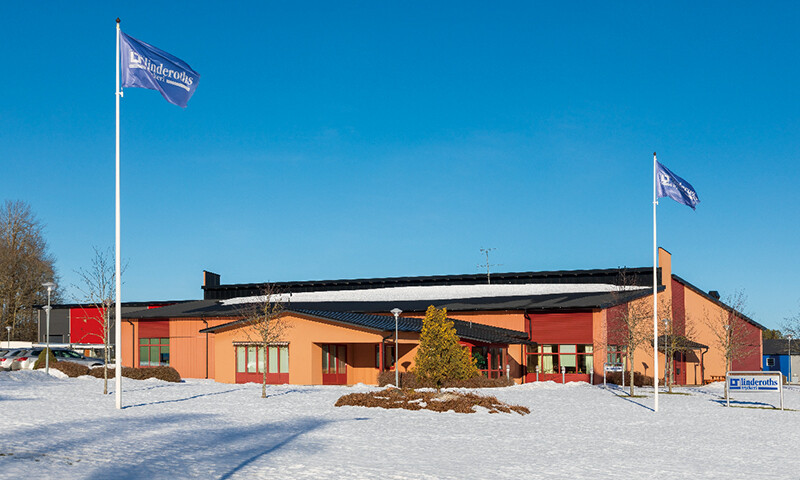 By bringing this new Komori eight-color Lithrone G37P perfecting press into their pressroom, Linderoths Tryckeri is working toward a promising future. "This press allows us to maintain a high level of quality and service, while simultaneously improving our workflow. We intend on staying a small to midsize printing company, with a focus on customer relationships and satisfaction. We added more work space a couple of years ago, have now changed our equipment, and are looking forward to the years ahead," concludes Jonas.
Related Information
Contact Komori Europe