KP-Connect: Eyes on the Pressroom
01 September 2019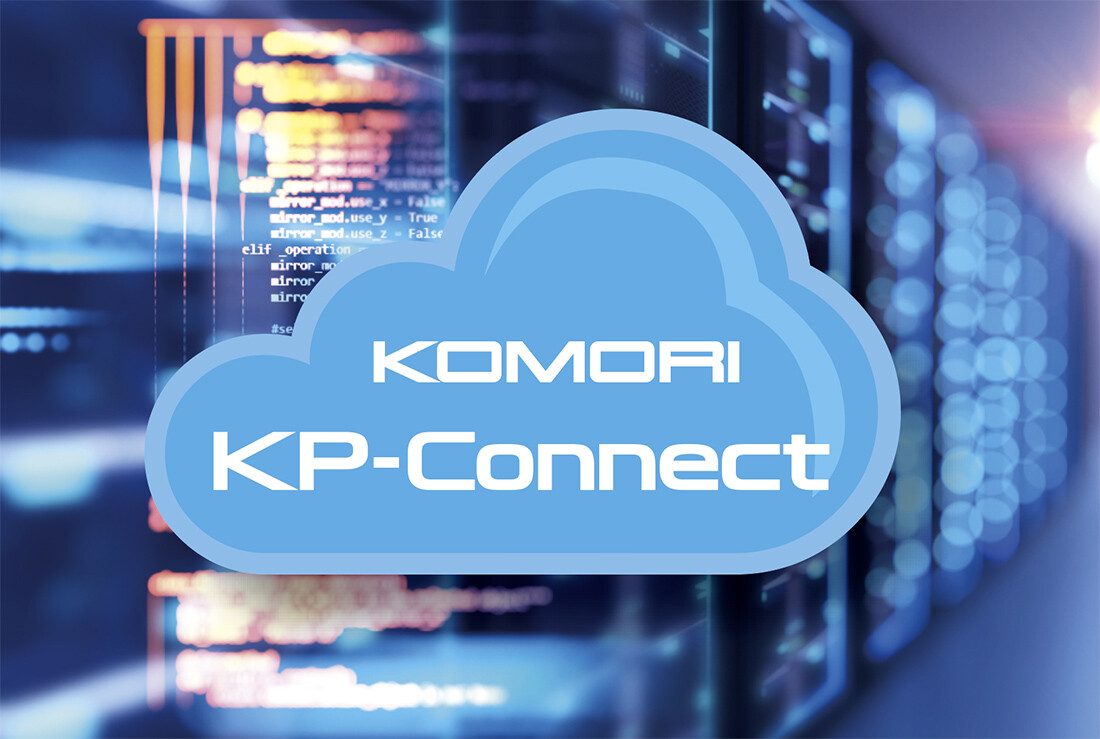 KP-Connect from Komori. The system doesn't just make machine operating conditions clear and provide visibility. KP-Connect is a tool that figures out pressroom bottlenecks, improves productivity and increases customer revenue. The printing industry is facing severe conditions, including an increase in work characterized by many different products, small lots and short turnarounds as well as falling unit prices. A variety of efforts are being made by companies to raise productivity, but many of these endeavors have not yet found a breakthrough. However, one is gaining attention — KP-Connect, the Komori solution that promotes press and printing optimization by providing printing companies and Komori with detailed press operating information using the secure environment of the cloud.
Where does productivity improvement start?
It should start by objectively understanding the important factors that affect productivity, such as whether the printing presses are operating efficiently and whether the operators are getting the best performance from the machines. The starting point, in other words, should be making press operating conditions visible. Just as starting a diet begins with checking your weight and making a record of your meals.
Why is visibility important?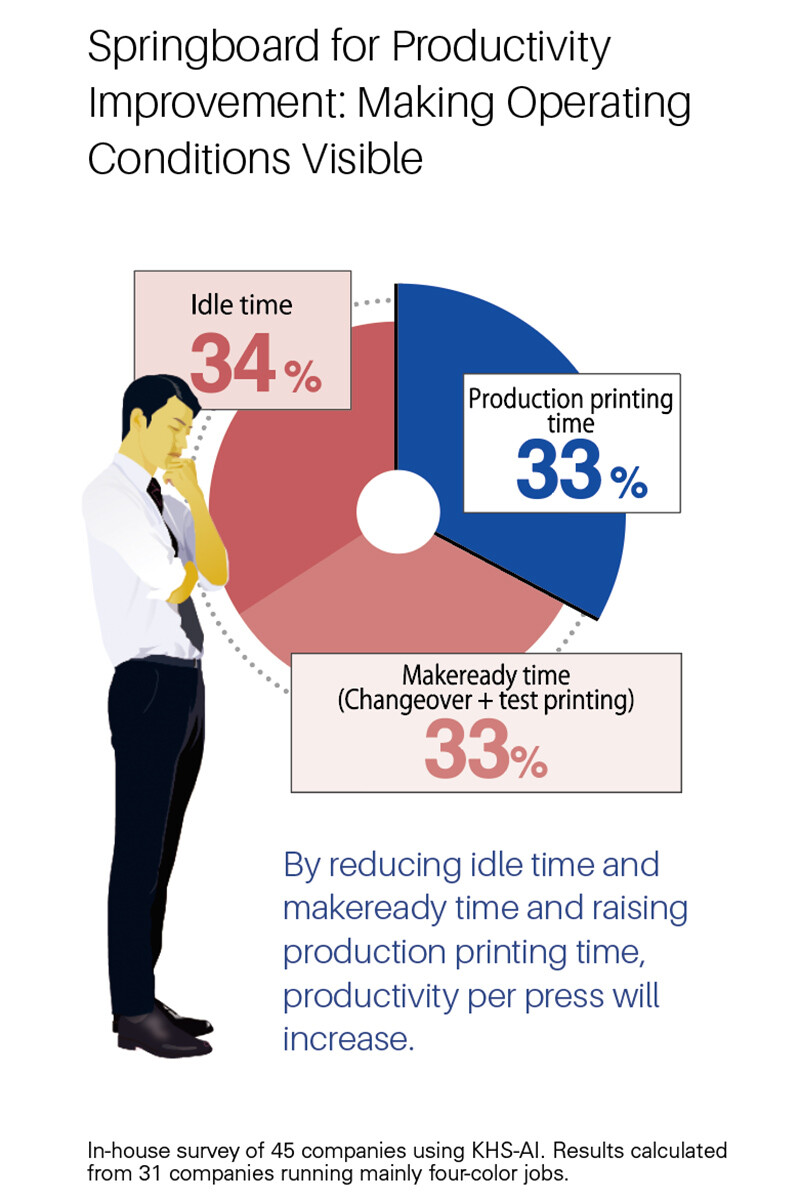 It is important because it lets you know the problems to be solved. Because without visibility, the specific problems that are hampering productivity cannot be understood and it will not be possible to take concrete actions.
How well are the presses operating? How many waste sheets are used for each job? Is the condition of the presses good or bad? Are operators' work methods free of problems? Only by making these things visible does it become possible to take actions for improvement.
However, Komori found out that many printing companies are having difficulty making visibility a reality.
Why is visibility difficult to implement?
In 2013, Komori started a service that analyzed KHS-AI data collected in USB memory using software that automatically recorded press operating conditions. We discovered that the time used for production printing by these valuable printing presses — the percentage of time that the machines are making money, in other words — is just 33 percent. The number of waste sheets at print start-up was also higher than estimated.
These actual conditions of printing press operation are major issues that must be solved. But even more important, many printing companies are not aware of these conditions. Many companies were surprised when they saw our report. They had no system for obtaining visibility of their own printing operations. In this state, it's impossible to know where to start on improvement.
What can Komori do for visibility?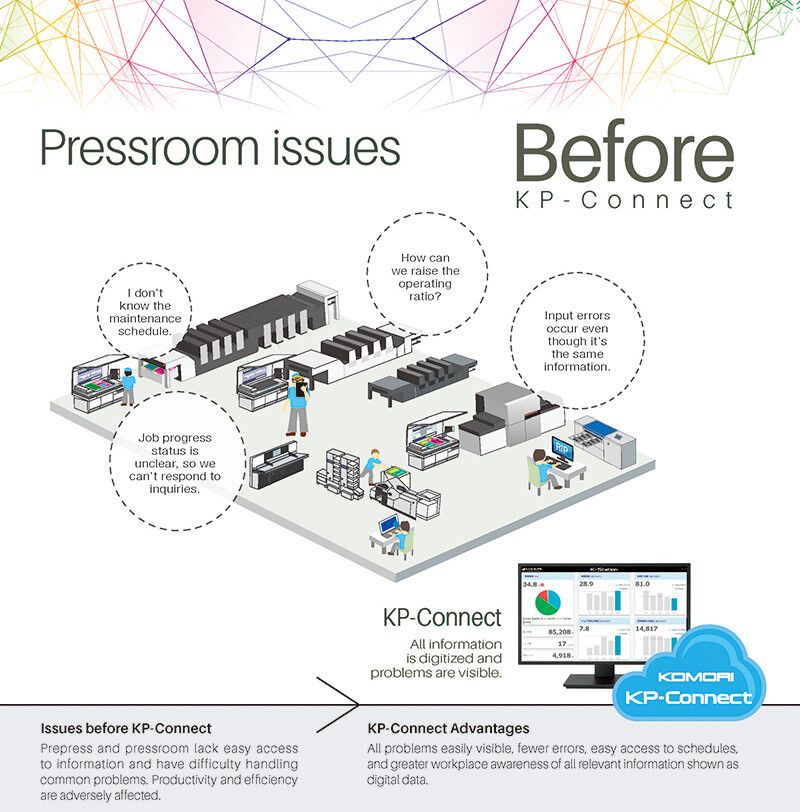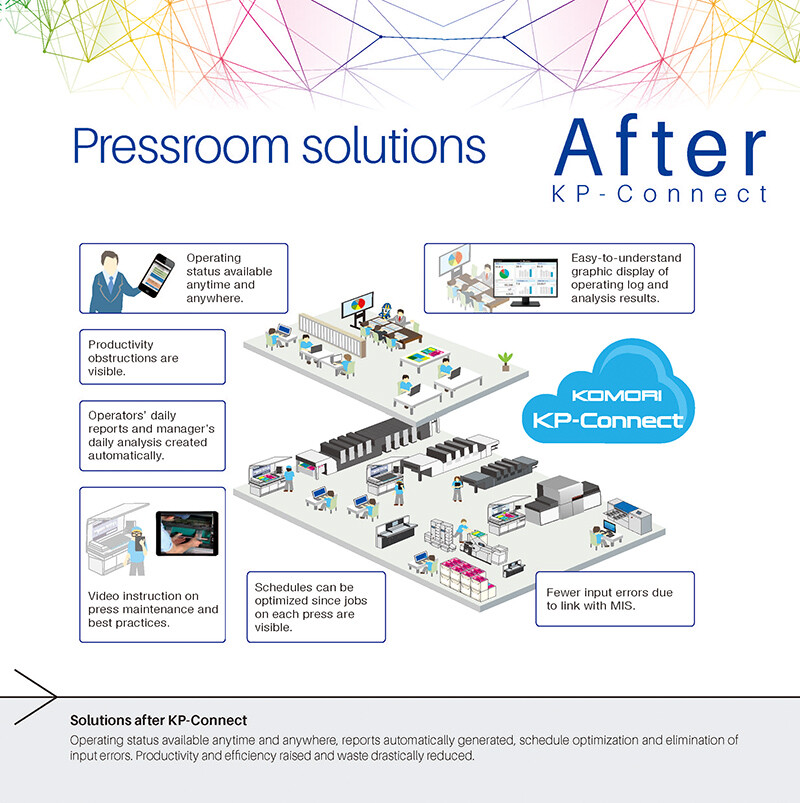 KP-Connect was developed as a support system for improving printing productivity and has been offered to customers since 2016. It is already boosting effectiveness by implementing visibility on many presses. KP-Connect is a cloud-based system that uses the Internet of Things (IoT). Press operating information is automatically sent to the cloud, and visibility is realized in a variety of forms. Simply speaking, think of it as a system that automates the creation of the operators' daily reports and the analysis of the printing manager's daily reports.
Specifically, it's possible to check press operating conditions from not just a personal computer but also the browser of a tablet or smartphone using KP-Connect's Cloud Dashboard function — thus providing users with significant convenience. The many items that can be checked with KP-Connect, including operating results and analysis findings such as daily, weekly and monthly reports, press maintenance conditions, job progress status every 30 minutes and detailed trend analysis, are displayed in an easy-to-understand format. Press operating conditions can be checked anytime and anywhere with an Internet browser.
In addition, users can take advantage of video instruction on press maintenance and best practices that was created by trainers at the KGC Printing College, the Komori training facility.
KP-Connect is not used simply for finding problems by providing visibility. The important thing in productivity improvement is standardization of improvement actions. In other words, it is critical to not terminate short-lived improvement efforts but to ensure that the same effectiveness is attained even if the operator changes and to guarantee that the effectiveness will be sustained even six months or a year later. The ability to always grasp objective digital data with KP-Connect makes it the foundation of improvement actions.
Support for both the press and the operator
Generally speaking, printing press manufacturers are seen as thinking primarily of the sale of the press. For printing companies, on the other hand, the challenge begins with the installation of the press. How high can the press operating ratio be raised? How much can pressroom productivity be increased with a state-of-the-art press? As a Print Engineering Service Provider (PESP), Komori is committed to total support for printers. For this reason, KP-Connect is available as a tool to provide visibility to areas of customer concern.
How is KP-Connect installed?
KP-Connect Basic can be installed immediately on any KHS-AI Version 5/6-equipped press with Internet access. For customers without an Internet environment, an optional mobile closed network arrangement is available. A trial period for KP-Connect Basic is also offered.
Related Information