New Arrival at KGC-A Debuts to an Enthusiastic Crowd
05 June 2020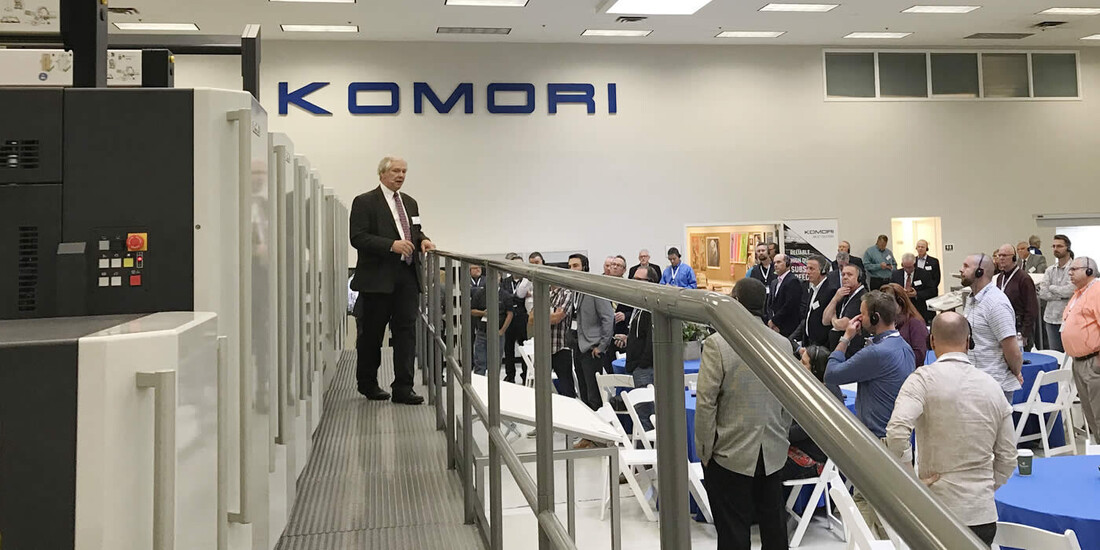 Komori Graphic Center-America (KGC-A) recently installed the new eight-color Lithrone GX40P with inline coater, LED curing, PDF Comparator System, dual PQA-S and A-APC with parallel control. Komori America had been planning for months for its arrival, which included a build-out of 89 square meters to accommodate the new press.
Right after installation, modifications and testing began to prepare the press and ensure optimal operating conditions for the October Open House as well as demonstrations for new business opportunities.
This new Lithrone GX40P debuted on October 2, 2019, to an enthusiastic crowd of Komori America's key account customers. Prominently displayed in the showroom, the press made an impressive sight.
Thirty-four customers representing nineteen companies were welcomed by Representative Director, President and CEO of Komori Satoshi Mochida and Komori America's Acting President Robert Rath along with the Komori management team and staff. The day-long event provided the perfect opportunity to present Komori's future direction as well as to listen to clients' groundlevel experience and views regarding current industry trends.
Komori's senior executives kicked off the event with an address on "Meeting the Challenges of the Industry," followed by graphic communications strategy consultant Mike Philie offering his perspective on accommodating emerging market demands in his talk, "Changing Your Business Model for Success."
How to achieve the best business outcomes was shown through live demonstrations of the Lithrone GX40P. Seeing it run at 18,000 sph, the attendees were impressed with both its speed and quality. In addition, a demonstration of the Impremia IS29 and an overview of the Impremia NS40 digital printing system were provided. A demonstration of added value packaging production with the five-color Lithrone G40 offset press with K-Supply was also presented. "It was a great day at Komori's key account open house," said Kevin James of American Greetings. "As a longtime Komori customer, it was good to reconnect with old friends and hear about Komori's future direction. The demonstration of the Lithrone GX40P with its speed and efficiency was very impressive. All in all, a day well spent. Thanks, Komori!"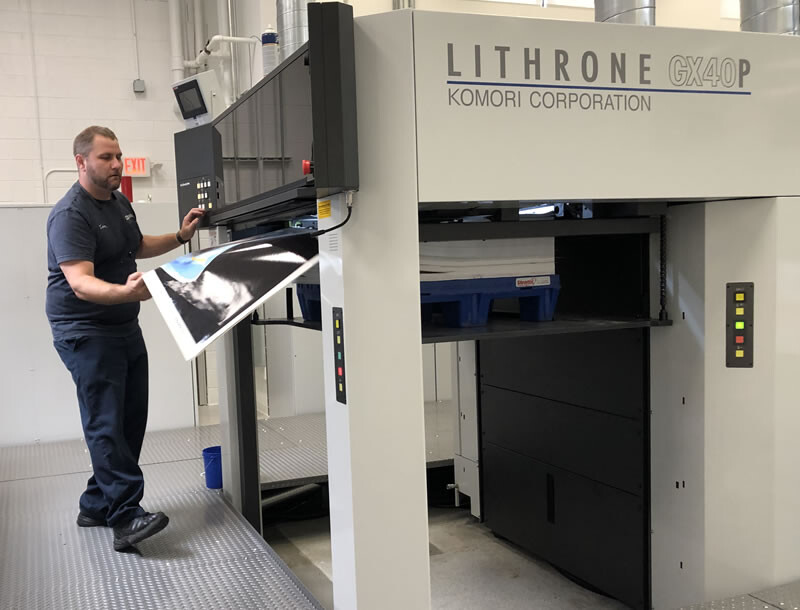 Contact Komori North America